iOS 8 Security and Privacy Features Explained
Posted on October 16th, 2014 by Kirk McElhearn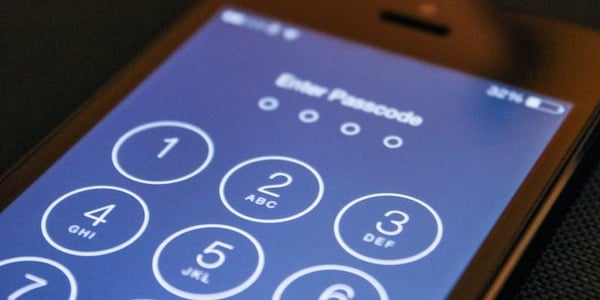 If you've updated your iPhone or iPad to iOS 8, or you're new to iOS, it's a good idea to take a look at the many security and privacy features this version of Apple's mobile operating system offers. Especially if you've got an iPhone 6, and are new to Touch ID, you should see how this feature makes using your iOS device much easier. In this article, we're going to take a look at iOS 8's security and privacy features, and show you how to configure them.
Lock it down
The first thing you should do with your iOS device—either when you set it up, or when you upgrade it to iOS 8—is set a passcode. This is a four-digit code that you type to unlock the device. Go to the Settings app, then to Touch ID & Passcode (if you have a device that supports Touch ID), or to Passcode (if you don't). If you've already set up a passcode, you'll be prompted to type it to access these settings; after all, you wouldn't want just anyone to be able to change them.
If you haven't set up a passcode, tap Turn Passcode On, then type the passcode you want to use; type it a second time to confirm it. A number of settings let you choose when you need to type your passcode (Require Passcode: Immediately, After 1 minute, etc.).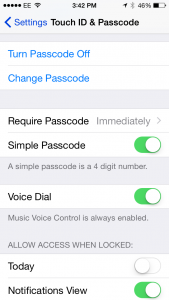 If you want to use a more secure passcode—one with more than just four digits—you can do so; toggle off Simple Passcode.
RELATED: How to Steal an iPhone's Passcode (from up to 150 feet away!)
After disabling Simple Passcode, your iOS device will display a new dialog, with a keyboard below it, allowing you to set a passcode with letters, numbers and other characters. This will take a bit longer when you need to enter it, but it will be more secure.
Also, if you are using Touch ID, which uses the enhanced security of your fingerprints, it's a fair trade-off to have quick one-touch access, and a slightly longer passcode, for the handful of times you have to type it, to enhance the security of your device.
First introduced with last year's iPhone 5s, Touch ID is a wonderful technology that makes unlocking your iPhone both easier and more secure. Instead of typing a code—digits or letters—the iPhone records your fingerprint. You merely touch a finger on your iOS device to unlock it. Touch ID is currently available on the iPhone 5s and iPhone 6, and is likely to be added to the next iPad that Apple releases.
RELATED: New Fingerprint Scanner for iPhone – The Good and the Bad
To set up Touch ID, go to Settings > Touch ID & Passcode, and enter your passcode. Tap Add a fingerprint… Follow the onscreen instructions as you touch your finger or thumb, then lift it up, and do this repeatedly. This takes about a minute; when it's finished, your iPhone will tell you that it has saved your fingerprint.
You can record several fingerprints: I've recorded my thumb and forefinger, but you can record others; you can even record a fingerprint of your spouse or partner, if you want them to be able to unlock your iPhone. You can save up to five fingerprints, and you can name them. If you want to do this, tap one—they're named Finger 1, Finger 2, etc.—and edit the name field. From the same screen, you can delete a fingerprint, if you wish.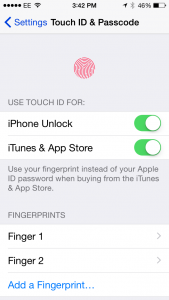 Touch to turn it on
Using Touch ID is easy. If your device is asleep, but the screen is lit up, just tap the home button with one of the recorded fingers for about a half-second. If not, press the home button, and hold it for about a half-second after pressing. It won't take you long to get used to this "long press" to unlock your iPhone, and you'll find it much easier than tapping a passcode.
If you are using Touch ID, you can set the Require Passcode delay to Immediately, since it's so easy to unlock the device. This gives you even more security; no one can pick your iPhone up from your desk, after you've stepped away, and access your data, as long as you've locked the screen. (Just press the power button to do this.)
RELATED: How to enable the "Kill Switch" on your iPhone or iPad, right now!
And, after setting Touch ID, choose, at the top of the screen, whether you want to use it to unlock your iPhone, and to valid iTunes & App Store purchases, or both.
Keep it private
The other iOS 8 security settings are the Privacy settings. In the Settings app, tap Privacy to choose which apps can access your location, and which can access certain types of data or features of your iOS device.
You don't want all your apps recording your location, and sending it to their servers, do you? On the other hand, there are some apps that work better if they know where you are. Tap Location Services, then toggle this on if it isn't.
As you scroll down, you'll see the apps that have requested your location. For each one, you can choose Always or Never, or, for some apps, Always or When Using. For example, you probably want, say, Maps to know where you are, and Camera to be able to tag your photos with your location. But you may not want Facebook, Twitter or others to know your location, because they may post it. So tap each app to choose whether or not to allow it to access your location. As you install new apps, they'll ask permission the first time you launch them; if you allow or deny them on launch, you can always come back here and change the settings.
RELATED: Why App Permissions on Androids are so Much Sloppier than iPhones
Below Locations Services are entries for specific apps or features, such as Contacts, Calendars, Photos, Microphone and Camera. Again, apps will ask permission to access any of these, but you might want to check here from time to time to see which apps you've allowed and denied. Tap any of the entries to check which apps have access, and which you've refused.
iOS 8's security and privacy features are powerful and easy to set up. Make sure you take a few minutes to adjust them to your needs, so you can save time, and be more secure.
Further Reading:
About Kirk McElhearn
Kirk McElhearn writes about Apple products and more on his blog Kirkville. He is co-host of the Intego Mac Podcast, as well as several other podcasts, and is a regular contributor to The Mac Security Blog, TidBITS, and several other websites and publications. Kirk has written more than two dozen books, including Take Control books about Apple's media apps, Scrivener, and LaunchBar. Follow him on Twitter at @mcelhearn. View all posts by Kirk McElhearn →