The Complete Guide to Apple Watch Bands in 2023: Sizing, Styles, and More
Posted on by Kirk McElhearn

One of the cleverest things Apple did when it released the Apple Watch in 2015 was to develop a system that allows users to quickly change watch bands (or straps, in the UK). Changing normal watch bands, using little spring bars, is difficult and delicate, so most people rarely change them unless they're worn out. With the Apple Watch, you can change your band in seconds, so you can use a different band according to your mood or activity, or to match your outfit. This is especially useful if you want a waterproof band for swimming or working out, and a fancier band for when you go out on the town.
To date, Apple has released more than 700 bands in more than a dozen different styles. Here's a complete guide to all the Apple Watch bands that are currently available.
In this article:
Apple Watch band compatibility
Apple has iterated the size of the Apple Watch over the years. The first models, through the Series 3, came in 38mm and 42mm case sizes. The Series 4, 5, and 6, and the SE, were 40mm and 44mm. The Series 7 and 8 are 41mm and 45mm. And the Apple Watch Ultra is 49mm.
Apple says that "You can match most bands with any Apple Watch Series 3 or newer case of the same size." So a 41mm band works with a 40mm or 42mm watch, and a 45mm band works with 42mm, 44mm, and 49mm models.
If you want all the details about every band that Apple has sold, the free Bandbreite app has a complete database of Apple and Hermès bands.
Apple Watch band materials
As of September 2023, Apple sells bands in three materials: rubber, textile, and stainless steel. With the release of the Apple Watch Series 9, they ceased selling leather bands, both their own and those made by Hermès. Previously, Apple didn't use the terms rubber or textile, and you only see these when ordering a watch and choosing a band. On the Apple Watch bands page, there is no longer a menu to choose by material.
Apple has also introduced carbon neutral bands. These include the Sport Loop, Alpine Loop, and Trail Loop.
Sport Band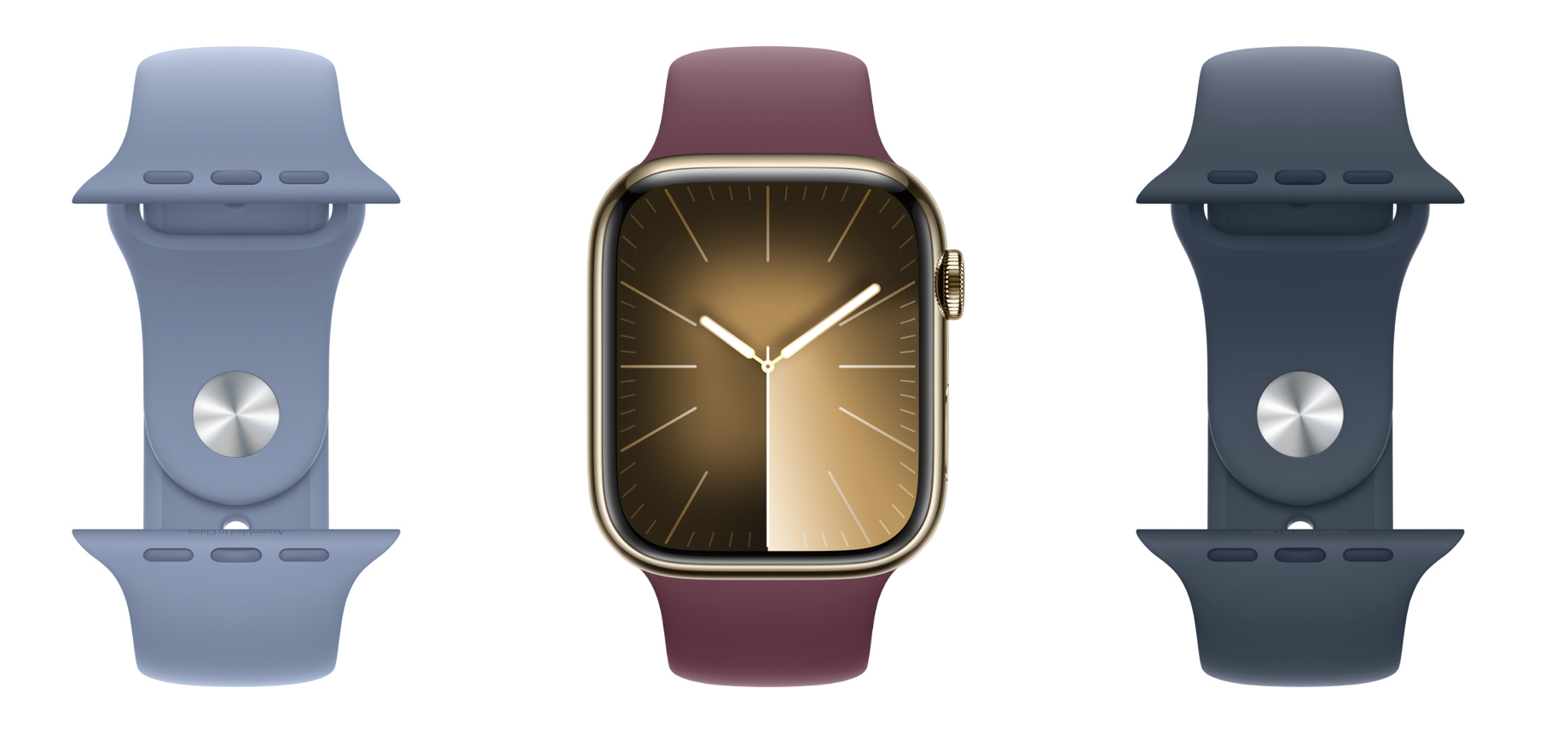 The Sport Band could be considered the default Apple Watch band. It was one of the first bands Apple released, and has been iterated in more than 130 different colors over the years, more than any other band. Made from comfortable fluoroelastomer, it doesn't stick to your skin when you sweat, and is robust. It's ideal for working out, swimming, and dancing. At $49, it's tempting to get several, such as a bright color for when you want to express yourself, and a more sedate band for when you dress up. Like most Apple Watch bands, the range of colors changes over time, with new collections in the spring and fall of each year.
The Sport Loop comes in two sizes for each watch size (41mm and 45mm), S/M and M/L.
Solo Loop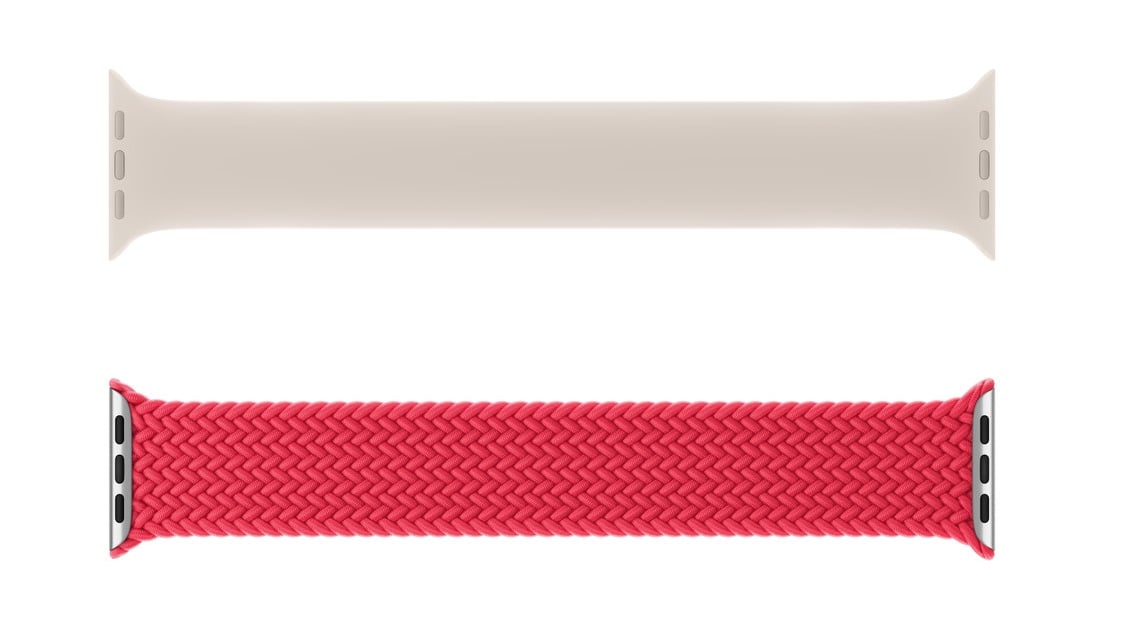 Apple released the Solo Loop in fall 2020, in two versions: the "liquid silicone rubber" $49 Solo Loop, and the $99 Braided Solo Loop, made from "stretchable recycled yarn interwoven with silicone threads." As a single piece of material without a clasp, you have to get these bands in the correct size for your wrist. If you get a Solo Loop that's too tight, it can feel like wearing a rubber band.
Apple says that these bands can stretch as you put them on and take them off. In my experience, wearing a Braided Solo Loop for a few months stretched it to the point that I can no longer wear it, whereas the standard Solo Loop barely stretches.
The 41mm models come in sizes 1 to 9, and the 45mm models in sizes 1 to 12. You can download a printable sizing tool from Apple's website, or you can get your wrist measured in an Apple Store.
Sport Loop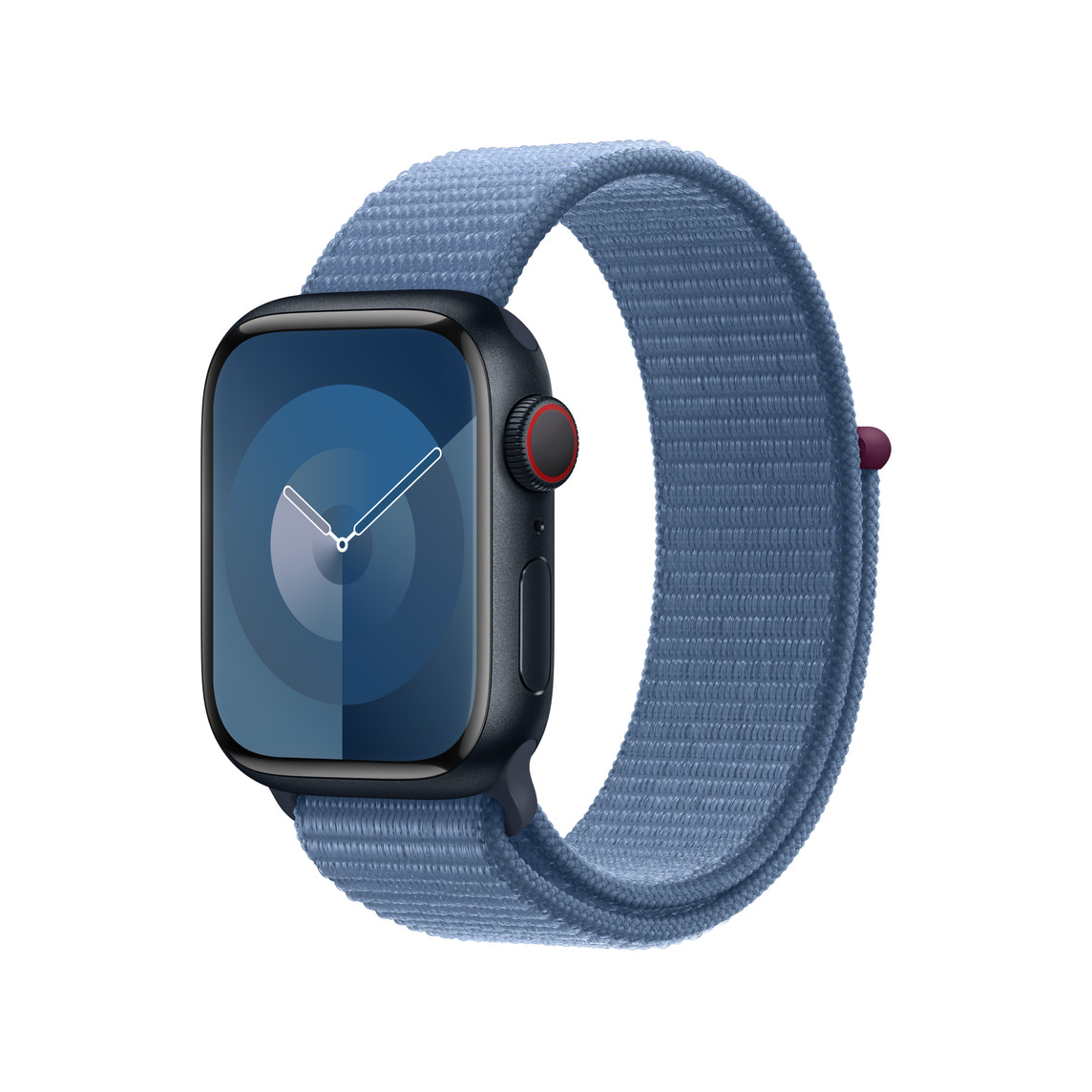 The $49 Sport Loop is a lightweight, nylon band with a hook and loop fastener. It is infinitely adjustable, and comes in a variety of colors and patterns. It absorbs water, so may not be ideal for swimming, and needs a good rinse after workouts. This is the lightest Apple Watch band.
The 41mm models are for 130mm – 200 mm wrists, and the 45mm model is for 145mm – 220mm wrists.
Nike Sport Band and Sport Loop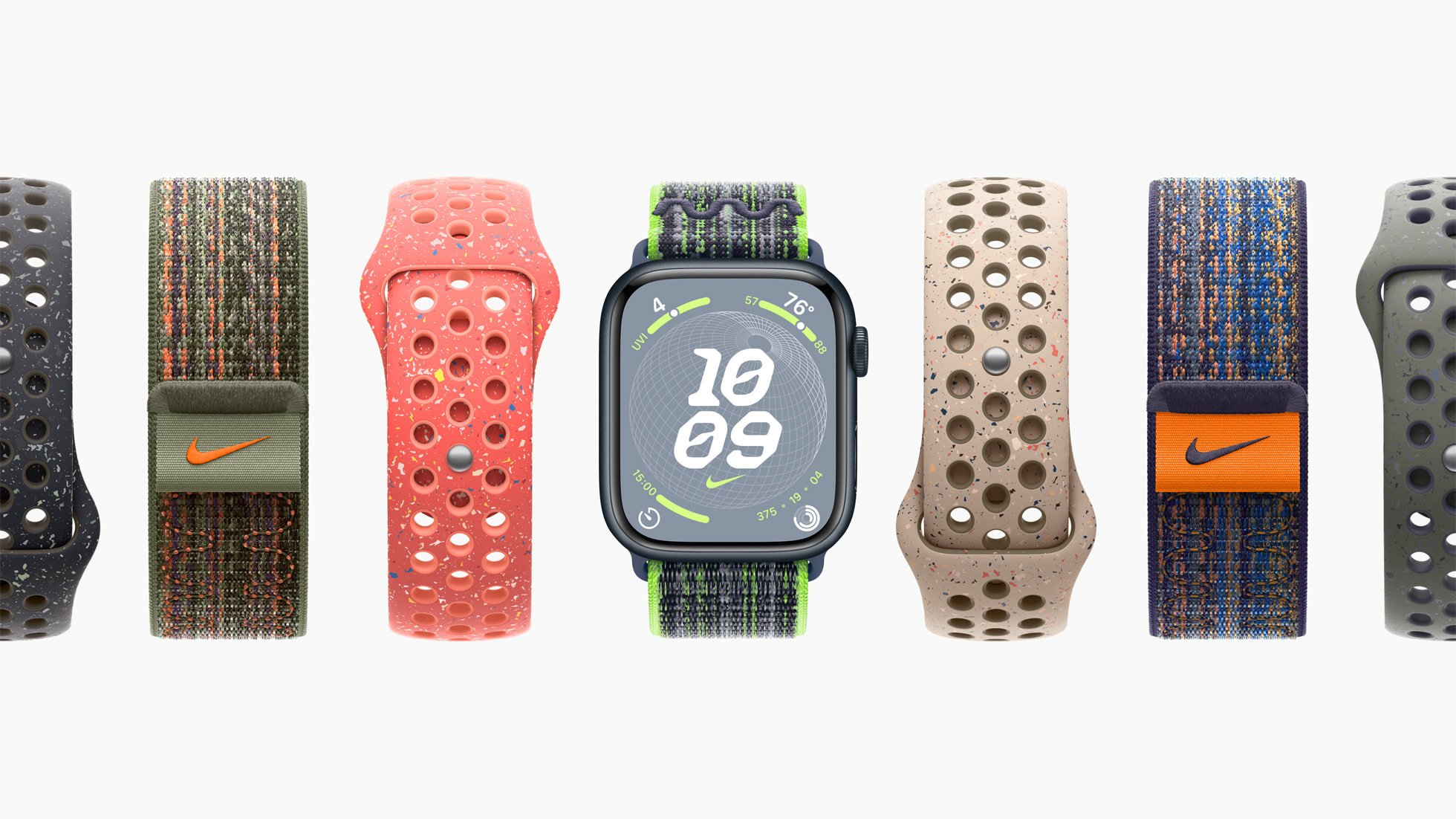 Apple has sold Nike Sport Bands since 2016, and Sport Loops since 2018. The Nike Sport Band is the same as the standard Sport Band, but has perforations; the Nike Sport Loop just has Nike branding. Apple has added recycled material to these bands, as of September 2023, so each band is unique.
Both cost $49, and fit the same Apple Watch models and wrists as the plain Apple versions. For several years, Apple sold a Nike branded watch, with special faces and bands, but now sells the bands separately and the faces are available for all models.
FineWoven bands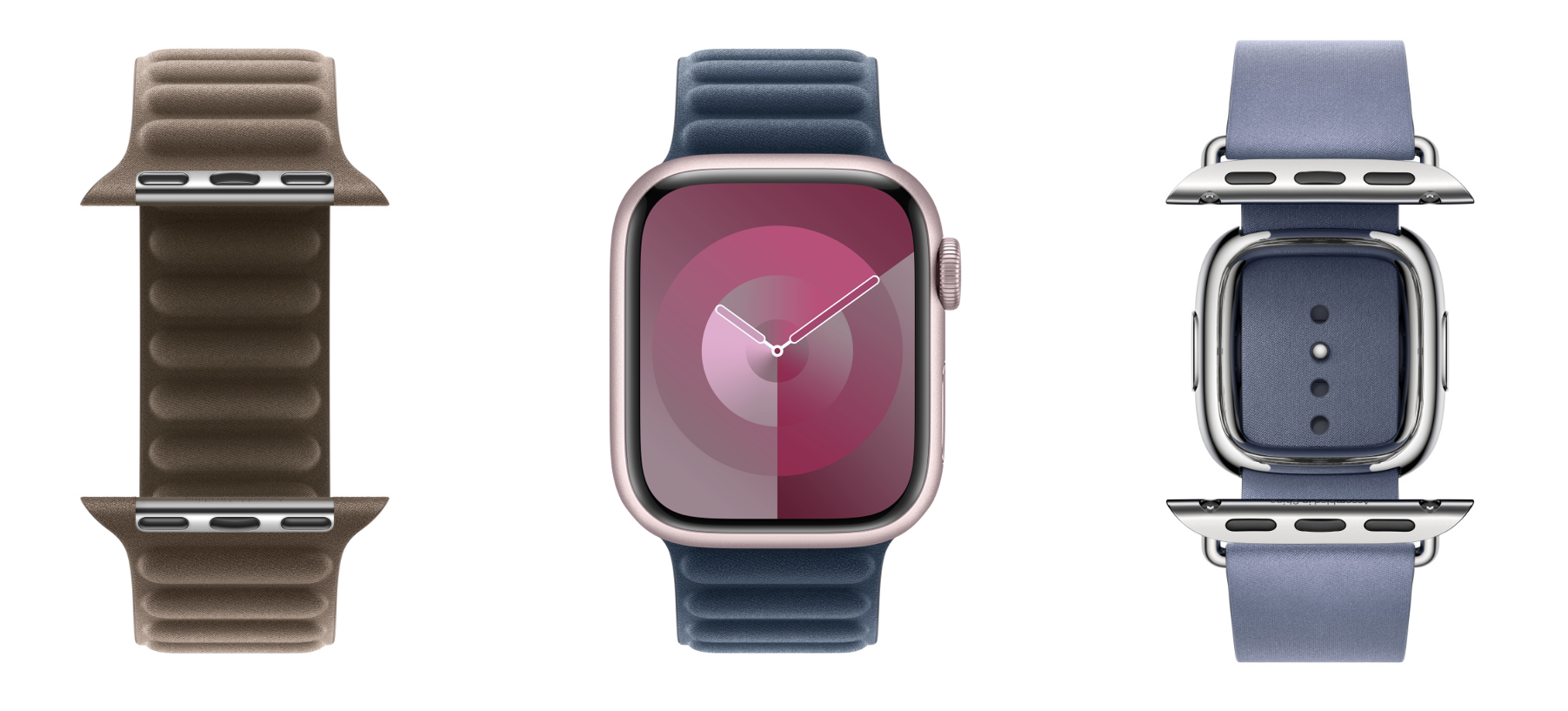 In removing leather bands from its product line, Apple developed a new material they call FineWoven. This is available on two bands.
The $99 Magnetic Link is a two-piece magnetic band that snaps shut when you put the watch on. It is adjustable and comfortable, though it's a bit heavy. It is available for 41mm watches and 45mm watches, in S/M and M/L sizes.
The $149 Modern Buckle is the FineWoven version one of the original bands, which had previously been made of leather. It only fits the smaller watch models (38mm, 40mm, and 41mm), and comes in three sizes (135 – 150mm wrists, 145mm – 165mm, and 160mm – 180mm). It is slightly adjustable, with a pin and five holes under the buckle, but you should probably check it out in an Apple Store before buying to get the right size.
Stainless steel bands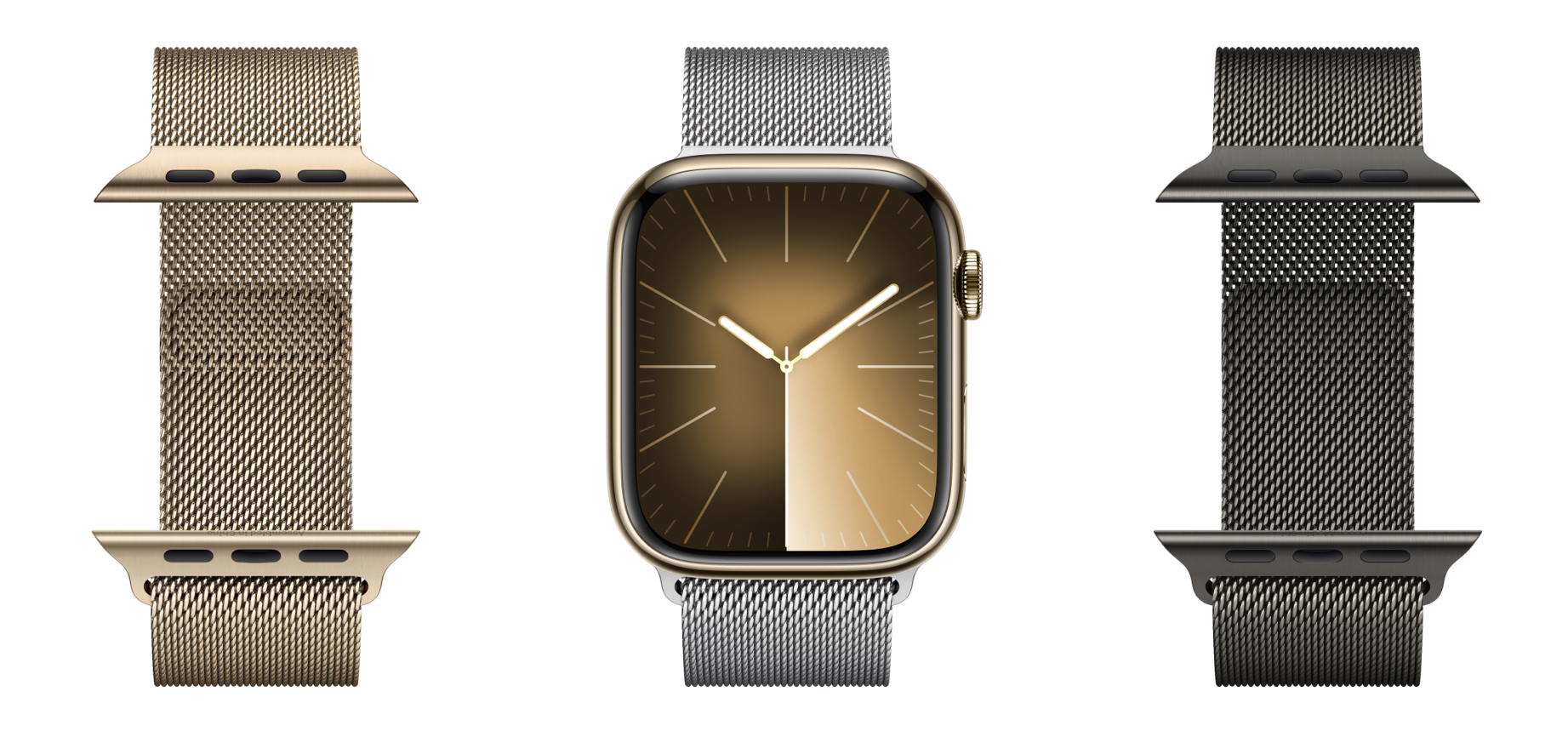 Another of the original bands is the $99 Milanese Loop. This braided mesh band uses a magnetic clasp, and is easy to adjust to any size wrist. (With limits, of course: the 41mm model fits 13mm – 180mm wrists, and the 45mm model fits 150mm – 200 mm). In gold, silver, and graphite, these bands are subtle and classy.
The Link Bracelet is the biggest, heaviest band that Apple makes. In two colors, Silver ($349) and Space Black ($449), this is also the most expensive. These are finely machined bands, but the price is prohibitive. Available for 38mm watches (135mm – 195mm wrists) and 42mm (150mm – 200mm), you can also buy a $45 set of five additional links for even larger wrists. And Apple has invented a clever way to adjust these bands by easily removing or adding links, so you can get the perfect fit.
Apple Watch Ultra bands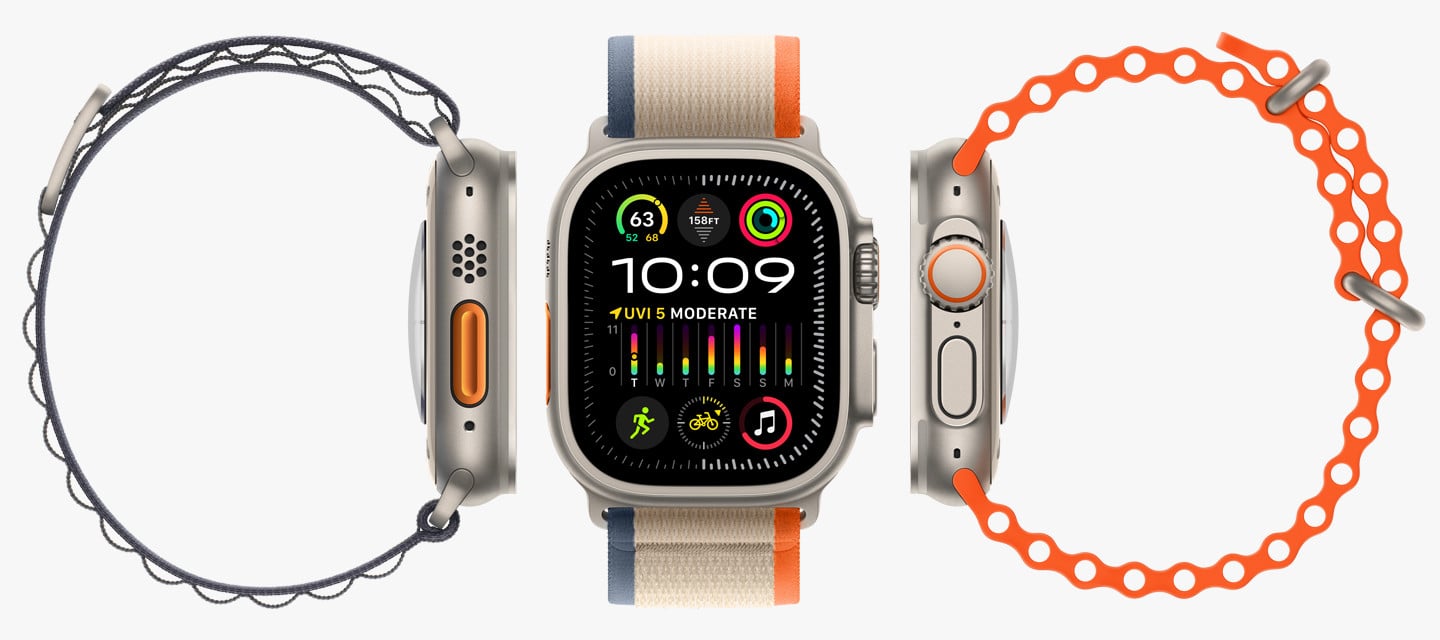 With the release of the Apple Watch Ultra, in fall 2022, Apple started selling three new types of bands designed for these models. Even though the Apple Watch Ultra has a 49mm case, these bands work with 44mm and 45mm watches.
The $99 Alpine Loop is a slightly stretchy band with a titanium hook that you insert into loops to close it. It's a very light band, and looks a bit like "gear." Available in small (130m – 160mm), medium (145mm – 190mm), and large (165mm – 210mm), there is some leeway, with the loops on the outside of the band, but it's best to make sure which size fits you.
The $99 Trail Loop is similar to the Sport Loop, but has titanium lugs, a tab to make it easier to adjust, and is about 1mm wider. The materials are slightly better, but, other than having lugs to match an Apple Watch Ultra, there's not much advantage to this band over its cheaper sibling. It comes in two sizes, S/M (130mm – 180mm) and M/L (145mm – 200mm).
The $99 Ocean band is made with a tubular elastomer, it can fit even over a wetsuit (and you can get a $49 extension if you need more length). It's a bit bulky for everyday use, but is great for water sports.
Hermès bands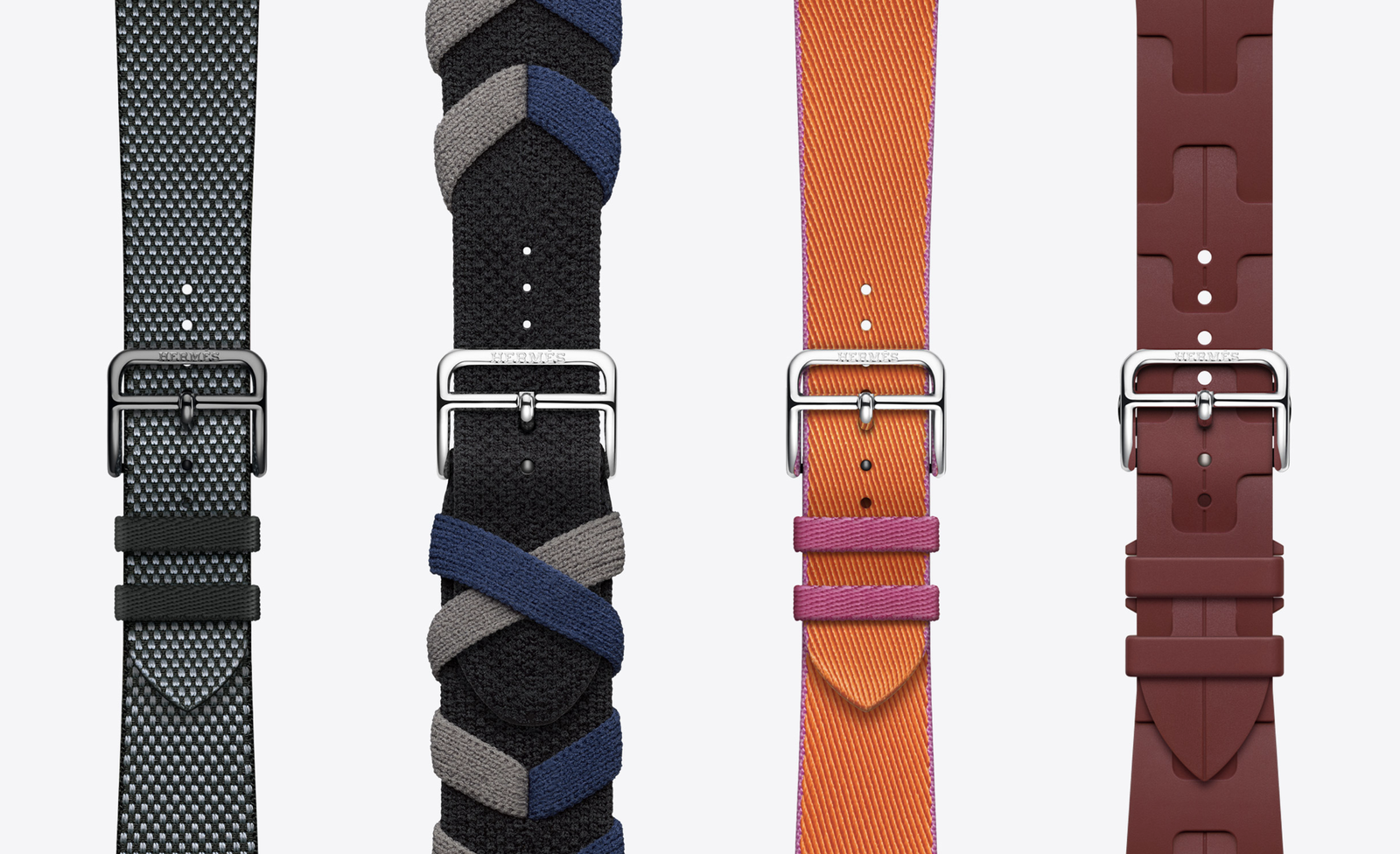 Apple also sells bands made by the French company Hermès, in several knit, woven, and rubber models, with stainless steel lugs and buckles. These are classy bands, but you pay a luxury price: they cost from $349 to $449. While Apple no longer sells Hermès leather bands, the company still makes a wide range of bands, available from them.
Apple also sells Hermès Apple Watch models, which are standard Apple Watches with a Hermès band, which also give you access to exclusive Hermès watch faces. When you buy an Hermès watch, you get two bands: the leather or nylon band you choose, plus a Hermès branded sport band, in black or Hermès orange, which are not sold separately.
Choosing the right Apple Watch band
This article has focused on Apple Watch bands that Apple itself sells in its stores. As you might imagine, lots of third-party sellers offer unofficial Apple Watch bands, commonly available via online retail stores such as Amazon. The quality of these third-party bands is often (though not always) inferior to the genuine Apple bands. But if Apple doesn't sell the exact design you want, or if you want extra options for accessorizing — or if you want to save a bit of money in exchange for a potentially lower-quality product — then a band from a third-party seller might also be worth considering.
You have lots of options for Apple Watch bands. Some are sporty, some are classy, and since they're so easy to change, you may end up buying several to wear on different occasions. It's a great way to personalize your Apple Watch.
And if you need help picking your next Apple Watch model, we've got an article that can help you with that, too: Which Apple Watch is right for you?
How can I learn more?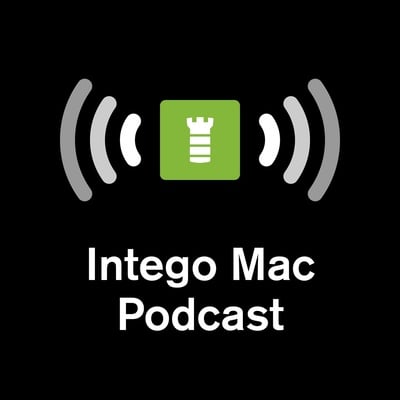 Each week on the Intego Mac Podcast, Intego's Mac security experts discuss the latest Apple news, including security and privacy stories, and offer practical advice on getting the most out of your Apple devices. Be sure to follow the podcast to make sure you don't miss any episodes.
You can also subscribe to our e-mail newsletter and keep an eye here on The Mac Security Blog for the latest Apple security and privacy news. And don't forget to follow Intego on your favorite social media channels: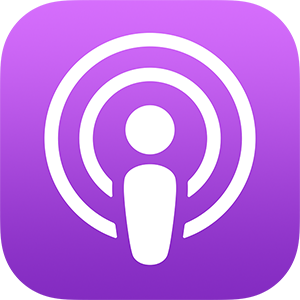 About Kirk McElhearn
Kirk McElhearn writes about Apple products and more on his blog Kirkville. He is co-host of the Intego Mac Podcast, as well as several other podcasts, and is a regular contributor to The Mac Security Blog, TidBITS, and several other websites and publications. Kirk has written more than two dozen books, including Take Control books about Apple's media apps, Scrivener, and LaunchBar. Follow him on Twitter at @mcelhearn. View all posts by Kirk McElhearn →