Which Is Better: Apple's Hide My Email or DuckDuckGo Email Protection?
Posted on by Kirk McElhearn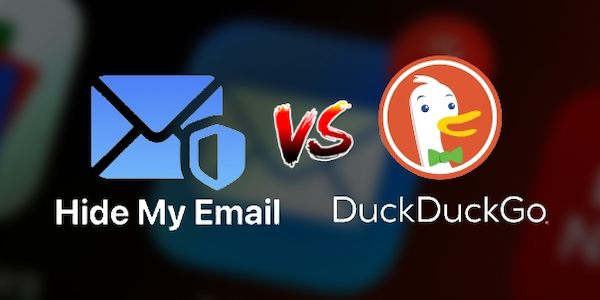 You give your email address to lots of websites and services. Sometimes you have to sign up for an account, or to receive a newsletter (often to get a one-time discount). Other times you may just want to access content on a website, like a white paper or ebook. Companies often collect email addresses in exchange for free content so they target you for potential sales.
But you don't always want to give out your personal email address. After all, you know you might get spammed, and that it is sometimes difficult to unsubscribe from newsletters. If you just need one-time access to a content site and never want to hear from them again, you can sometimes use a disposable email service. However, many content sites block addresses from disposable mail services because they want your real address.
A great alternative is to use a unique, per-service, anonymous email address that forwards to your main email account. Two such services are Apple's Hide My Email—which is built into macOS, iOS, and iPadOS—and DuckDuckGo Email Protection.
In this article, we'll look at these two services and discuss the pros and cons of each one.
Why you need an email forwarder
An email forwarding service can help you reduce spam and ensure that you can cut off emails from a specific website or service when you want. (There are other uses of automatic email forwarding, such as directing emails sent to generic business addresses to a group of specific employees, but I won't address that usage in this article.)
Email forwarders lets you create throwaway addresses that you only use for websites and services with whom you don't necessarily expect to have a long-term relationship, or which, for privacy's sake, you don't want to know your real address.
Say you sign up for a newsletter from a website, informing you about sales and discounts. You may find that you get too many emails, try to unsubscribe, but still continue to get emails from the company. Part of the problem may be that some companies sell your address to others, multiplying the amount of spam you receive. Using a one-time address for each website like this means you can just turn off the forwarding for any address and prevent spam from these companies.
Apple's Hide My Email
Hide My Email is part of Apple's iCloud+ service, which all Apple users can access as long as they pay for additional iCloud storage. This starts at $0.99 per month for 50 GB, and includes other services.
Hide My Email is easy to use. When you create a new email message in Apple's Mail app on a Mac, iPhone, or iPad, you have the option of using Hide My Email. Tap the From address to see your options. You'll see others email accounts you have, as well as a Hide My Email option.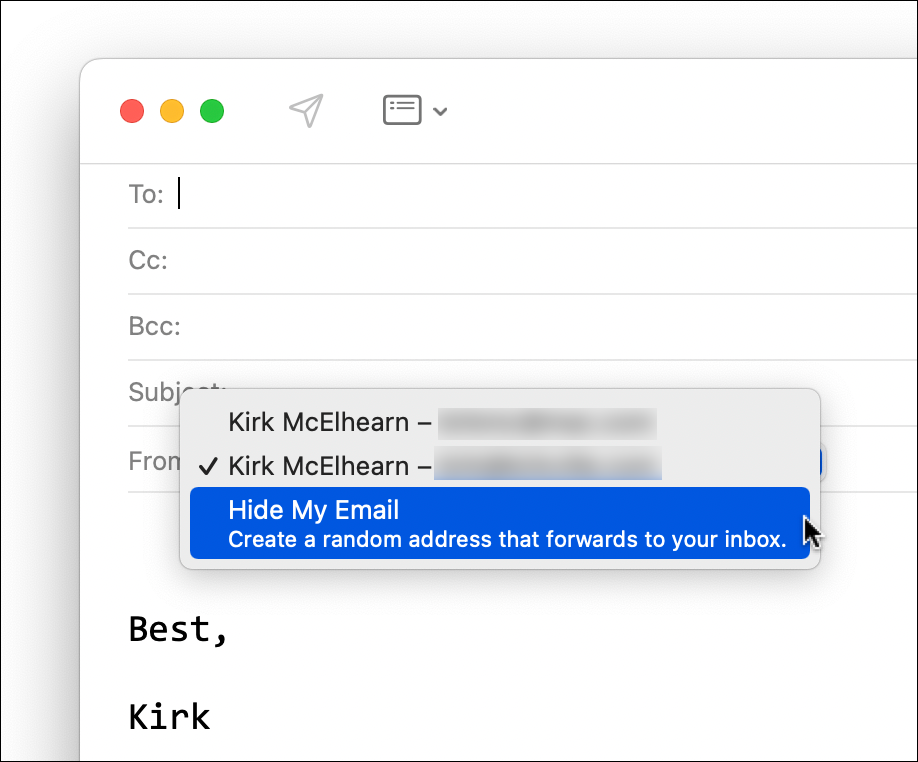 With Hide My Email, Apple creates a pseudo-random email address that forwards to your iCloud account. Here's an example. (I've already deleted this address, so any spammers who may encounter this post won't be able to bother me.)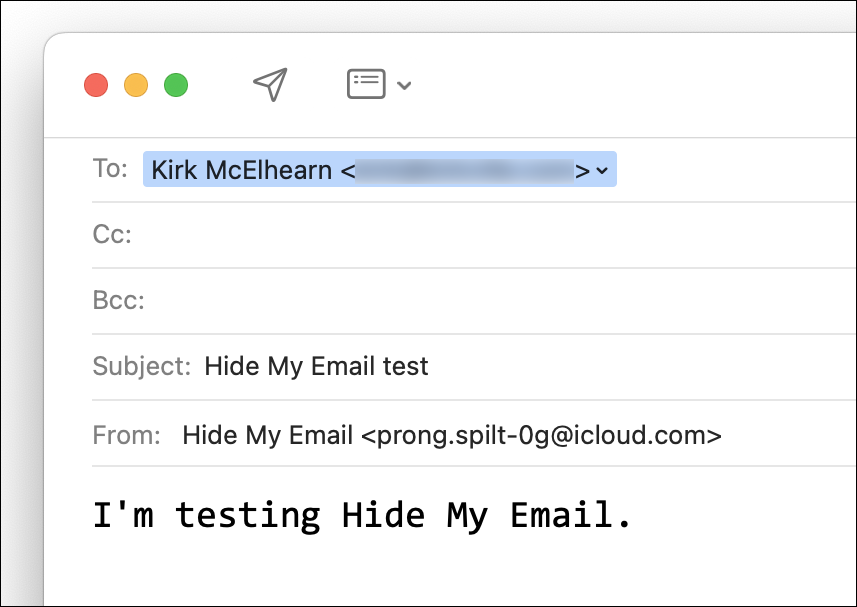 You can manage your Hide My Email addresses on a Mac, iPhone, iPad, or on iCloud.com. On macOS, open System Preferences, then click Apple ID. Next to Hide My Email, click Options. You'll see something like this: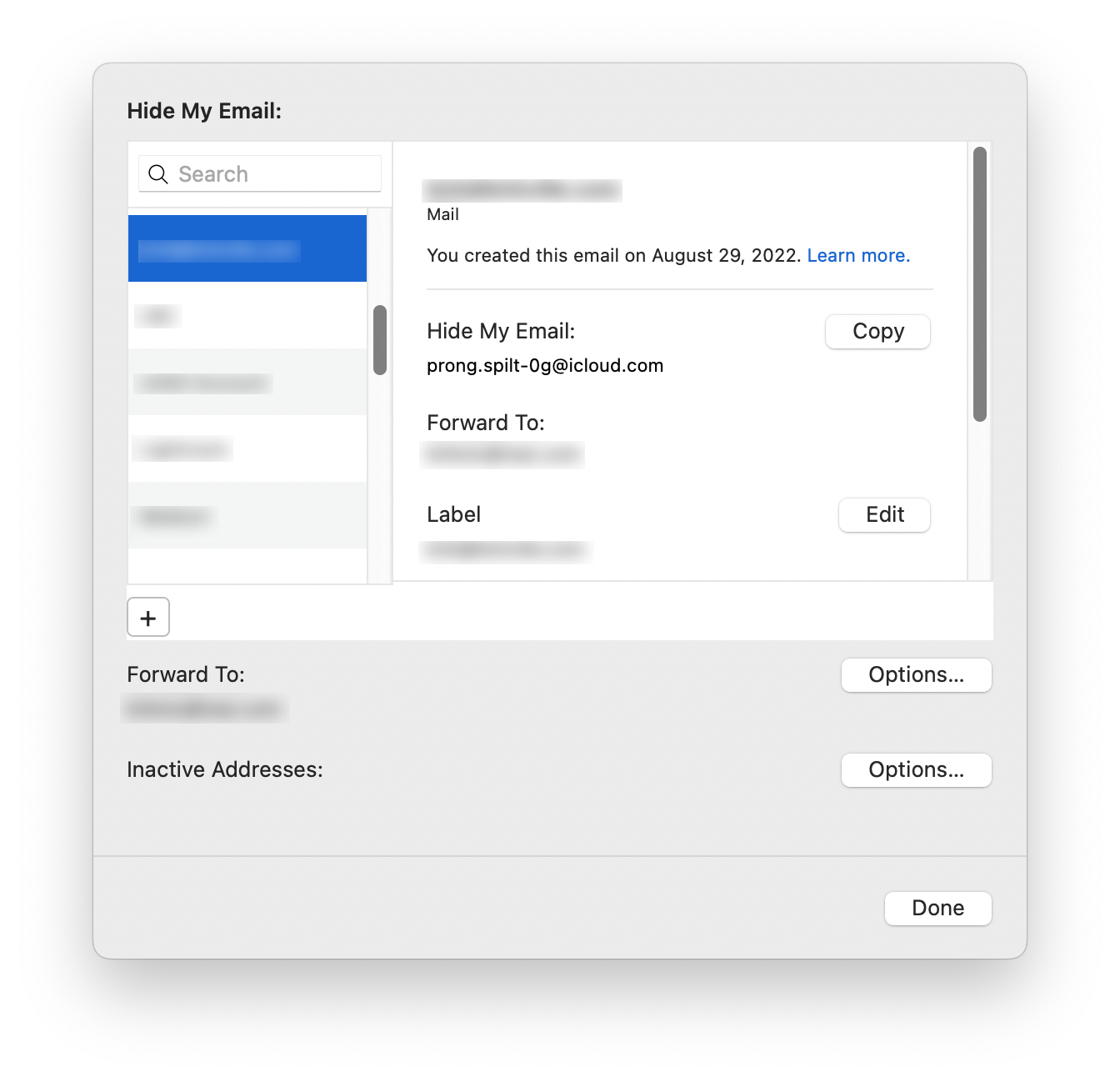 You can see the addresses you're using, the sites, services, or contacts you've used them with, and the date you set them up. You can copy addresses to re-use them, and you can edit the label, the name of the site, service, or contact. Scroll down a bit and you see a Deactivate Email Address button; click this to turn off this address. You can later reactivate the address in the Inactive Addresses section of the preference pane, or delete it completely.
You may notice two types of addresses in this list. The ones ending in @icloud.com are Hide My Email addresses; the ones that end in @privaterelay.appleid.com are Sign in with Apple addresses. Apple introduced the latter service first, as a privacy-respecting way to create accounts with sites and services that support signing in with your Apple ID. Sign in with Apple uses the same back end as Hide My Email, and it also lets you have a unique forwarding address for each website or service.
When Hide My Email was launched, Apple announced that you could only use 100 addresses. Apple no longer says how many you can have at a time. Anecdotally, several users have recently said they have made more than 200 Hide My Email addresses in total.
When using Hide My Email, although you may remain anonymous, websites and services can at least infer that you are using an Apple device, because of the email domain used. This could be valuable information for companies, since Apple users tend to have more disposable income.
The ability to easily create, manage, and delete addresses using Hide My Email, and the fact that it is baked into Apple's operating systems, makes it a simple and practical service to use for anyone who owns Apple devices.
DuckDuckGo Email Protection
DuckDuckGo's Email Protection service claims to do more than Hide My Email. The company says it is, "The easy way to block most email trackers and hide your address." In addition to simply forwarding email, Email Protection blocks tracking pixels that, according to DuckDuckGo, "can detect when you've opened a message, where you were when you opened it, and what device you were using."
Unlike Hide My Email, which requires spending at least 99¢ per month, DuckDuckGo E-mail Protection is free. Presumably the service is monetized by encouraging the use of the DuckDuckGo search engine, which generates revenue though ads that ostensibly respect your privacy.
To use this service, you either need to download the DuckDuckGo app for iPhone or iPad, or install the DuckDuckGo extension for your web browser. At least for now, the browser extension does not work in Safari on the Mac, but works with Firefox, Chrome, Brave, and Edge. (There is a DuckDuckGo Privacy for Safari extension for the Mac, but it is only a cookie and tracker blocker.) DuckDuckGo is currently working on a desktop app for Mac, which suggests that they may not be integrating this service into Safari in the near future.
There are two ways to use the service. You start by creating a memorable @duck.com address, which you will use for your DuckDuckGo login, and enter a real email address to which you want your mail to be forwarded. You can use your main duck.com address anywhere, or you can use the DuckDuckGo app (iOS or iPadOS) or browser extension to create random Private Address any time you are asked for an email address.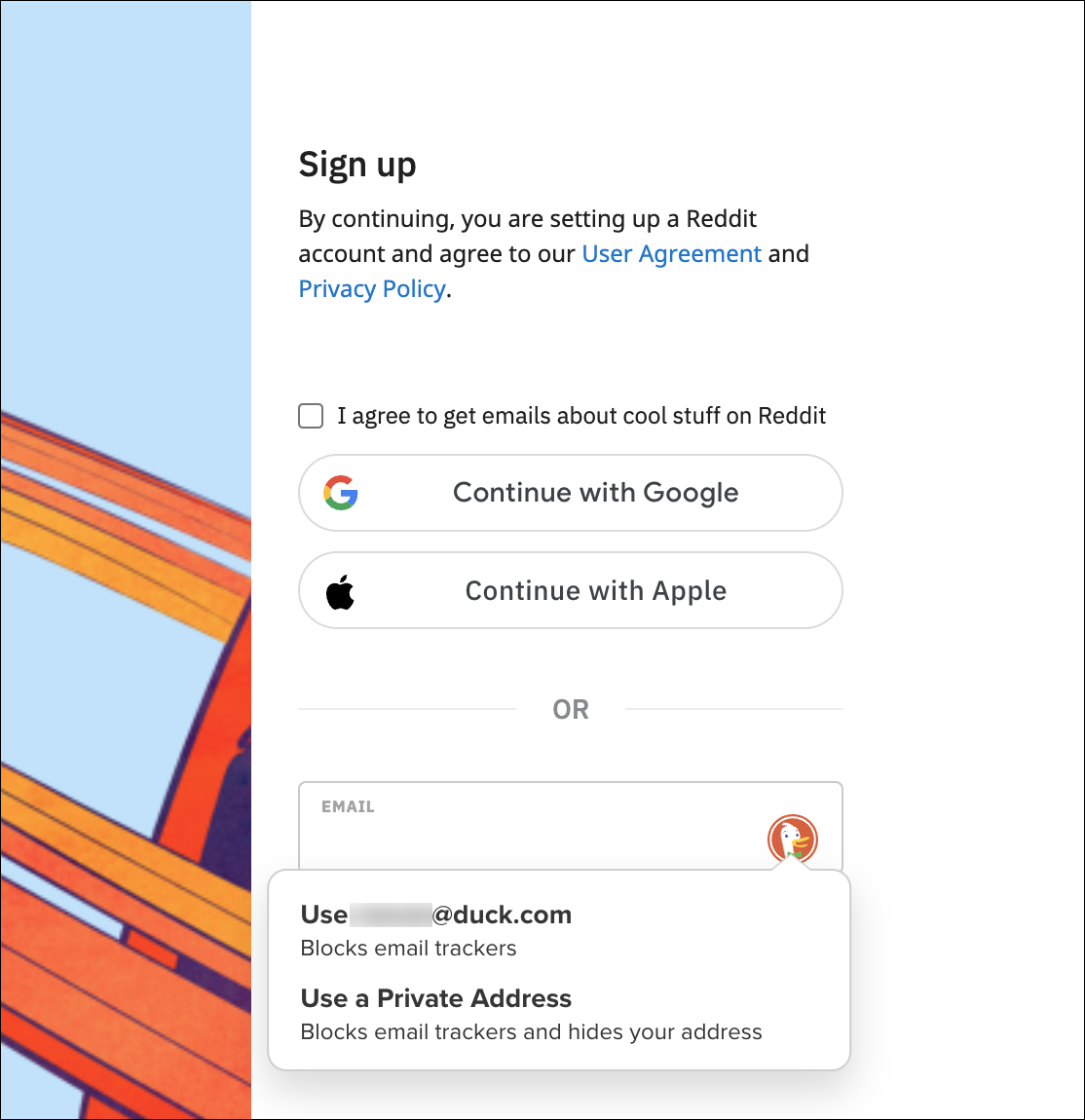 When DuckDuckGo forwards emails, it strips trackers. Because of this, there is some worry that companies might decide to block duck.com addresses from signing up, since they know their trackers will be blocked. If this occurs, you could work around this by creating a Gmail account, auto-forwarding it to your duck.com address, which in turns forwards to your main personal address. Companies won't block Gmail or iCloud email addresses, so this solution, while a bit convoluted, could work for some if it becomes necessary.
If you want to use duck.com addresses, yet you mainly use Safari, you could use the DuckDuckGo app on your iPhone or iPad, go to Settings > Email Protection, then generate a private Duck access. You can then copy the address and paste it into Safari on your iPhone or iPad, or, using Universal Clipboard, paste it into Safari on your Mac.
You can delete duck.com addresses by clicking the More → link in the DuckDuckGo banner at the top of a forwarded email.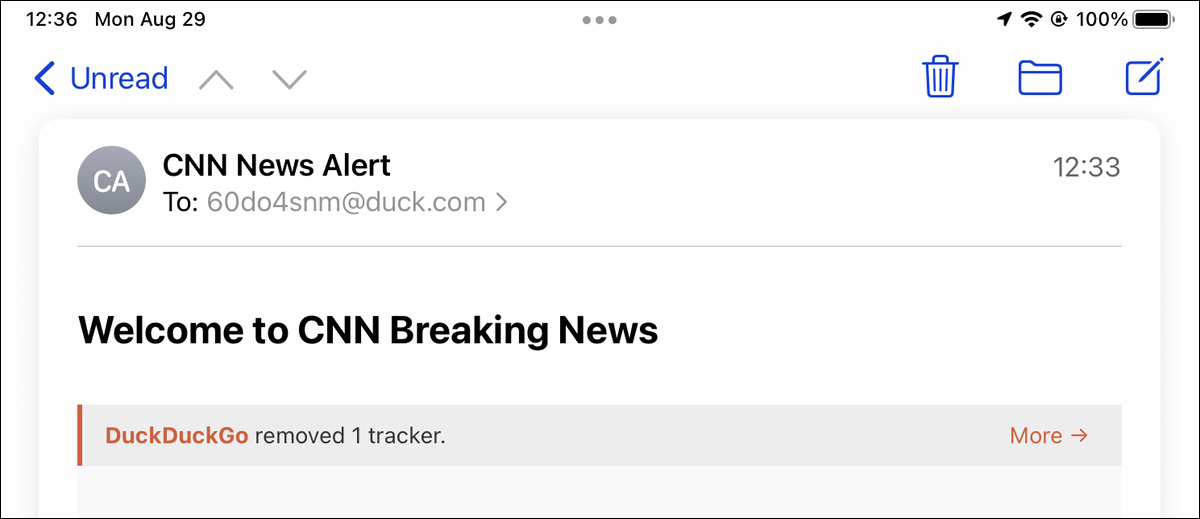 This takes you to the Email Protection Report page, where you can click the Deactivate button to deactivate the address.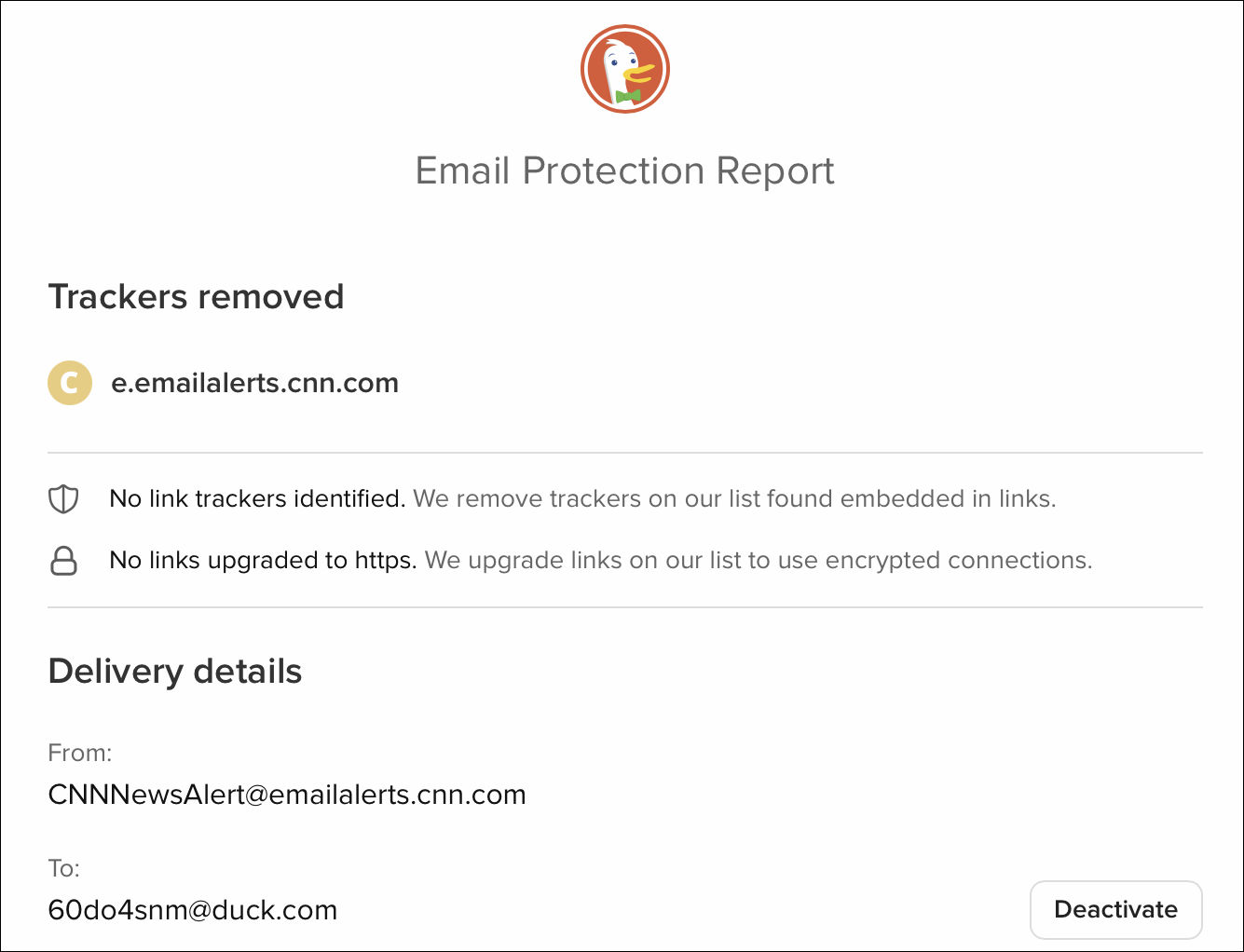 There is reportedly no practical limit to the number of duck.com addresses you can create.
DuckDuckGo Email Protection allows you to forward mail to any personal email address you choose. This differs from Hide My Email, which will only forward to the email address associated with your Apple ID.
Which is better, Hide My Email or DuckDuckGo Email Protection?
Each service has advantages and disadvantages. Here's an overview of the pros and cons of each service.
| | Hide My Email | DuckDuckGo Email Protection |
| --- | --- | --- |
| Free service | ❌ | ✅ |
| Hides your email address | ✅ | ✅ |
| Reply without exposing your real address | ✅ | ✅ |
| Hides your IP address | ✅ | ✅ |
| Compatible with Apple operating systems | ✅ | ✅ |
| Compatible with Windows and Android | ❌ | ✅ |
| Deletes email trackers | ❌ | ✅ |
| Forwards to any email account | ❌ | ✅ |
| Hides that you use Apple products | ❌ | ✅ |
| Compatible with Chrome, Firefox, Edge on Mac | ❌ | ✅ |
| No third-party app or extension needed | ✅ | ❌ |
| Compatible with Safari browser on Mac | ✅ | ❌ |
| Compatible with Apple Mail | ✅ | ❌ |
Both of these services obfuscate your email addresses. While DuckDuckGo offers the additional feature of stripping trackers, Hide My Email is tightly integrated into Apple's operating systems. Try them both out and see which works for you.
How can I learn more?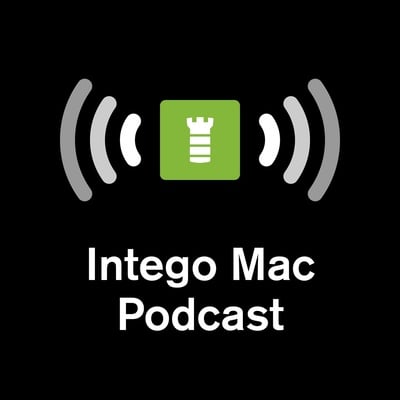 Each week on the Intego Mac Podcast, Intego's Mac security experts discuss the latest Apple news, security and privacy stories, and offer practical advice on getting the most out of your Apple devices.
This week, Kirk and Josh discuss more about the latest Apple updates on episode 255. Be sure to follow the podcast to make sure you don't miss any episodes!
You can also subscribe to our e-mail newsletter and keep an eye here on The Mac Security Blog for the latest Apple security and privacy news. And don't forget to follow Intego on your favorite social media channels: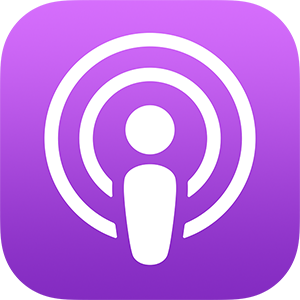 About Kirk McElhearn
Kirk McElhearn writes about Apple products and more on his blog Kirkville. He is co-host of the Intego Mac Podcast, as well as several other podcasts, and is a regular contributor to The Mac Security Blog, TidBITS, and several other websites and publications. Kirk has written more than two dozen books, including Take Control books about Apple's media apps, Scrivener, and LaunchBar. Follow him on Twitter at @mcelhearn. View all posts by Kirk McElhearn →