How to Improve Apple Music 'For You' Suggestions
Posted on by Kirk McElhearn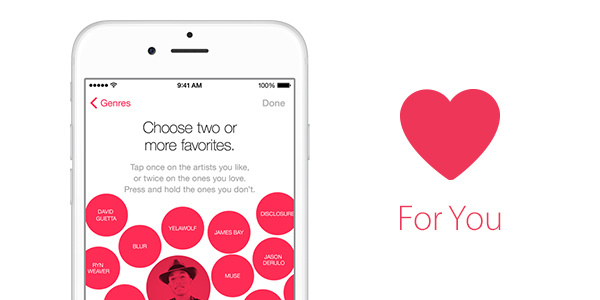 While you may use Apple Music just to listen to Beats 1 radio or to search for some of the latest hits and listen to them on repeat, the real advantage of this service is its ability to recommend music to you. Apple Music presents a variety of music in the For You section of iTunes or the iOS Music app. You'll find both playlists and albums in For You, and you can listen to any of them, add them to your My Music library,
While Apple has not outlined exactly how this works, I suspect that it leverages Apple's Genius technology, and takes into account the following:
Music that's in your iTunes library, or on your iOS device.
Music you've purchased from the iTunes Store.
Music you've added to your My Music library.
Music you've listened to on Apple Music.
And, music that you've told Apple Music that you like.
Here's an overview how to improve "For You" suggestions and help Apple Music understand what you like.
(Note that you need to have iCloud Music Library turned on for the following to work. If this isn't the case, go to iTunes > Preferences, click General, and check iCloud Music Library. On iOS devices, go to Settings > Music, and toggle iCloud Music Library.)
Love to Love You Baby
iTunes has always allowed you to rate music, from ★ to ★★★★★, but these ratings exist to help you spot the songs and albums you like best, and to make smart playlists of your favorite music. With iTunes 12.2, Apple introduced a new way to rate music, the Love button: ♥.
In iTunes, you can use either star ratings or ♥ ratings, but with Apple Music, you can only use the latter. So, to tell Apple Music that you like a song, album, or artist, you need to click or tap the ♥ button for that item. Here's an example with an album; I've tapped the ♥ so it shows as solid, rather than as an outline, which displays when you haven't yet loved an item.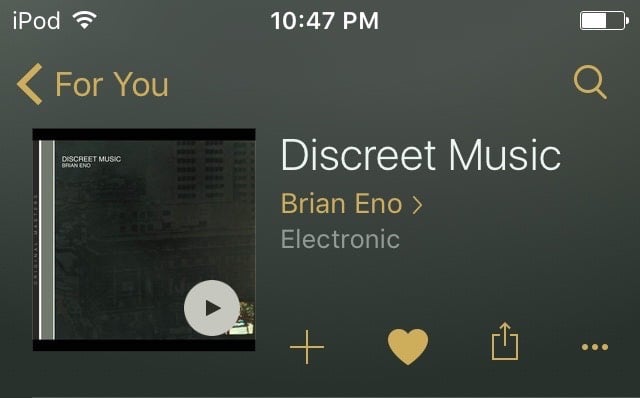 It's not always easy to do this, though. If you're listening to a playlist, and find a song you want to love, you can do so from the Now Playing screen, or even from the lock screen.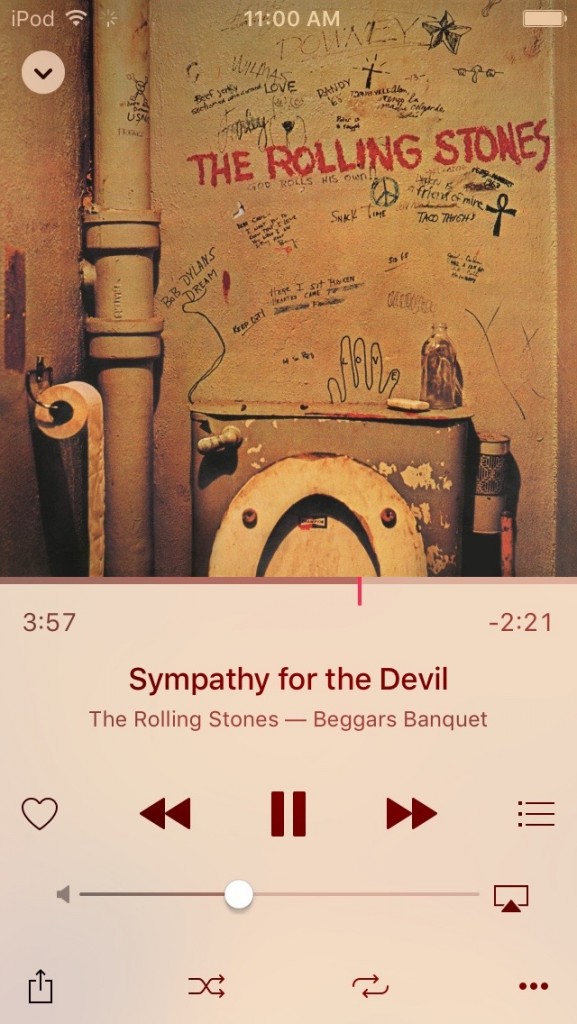 You can also tap the "…" button to the right of a track, and then tap the ♥ button at the top of the menu.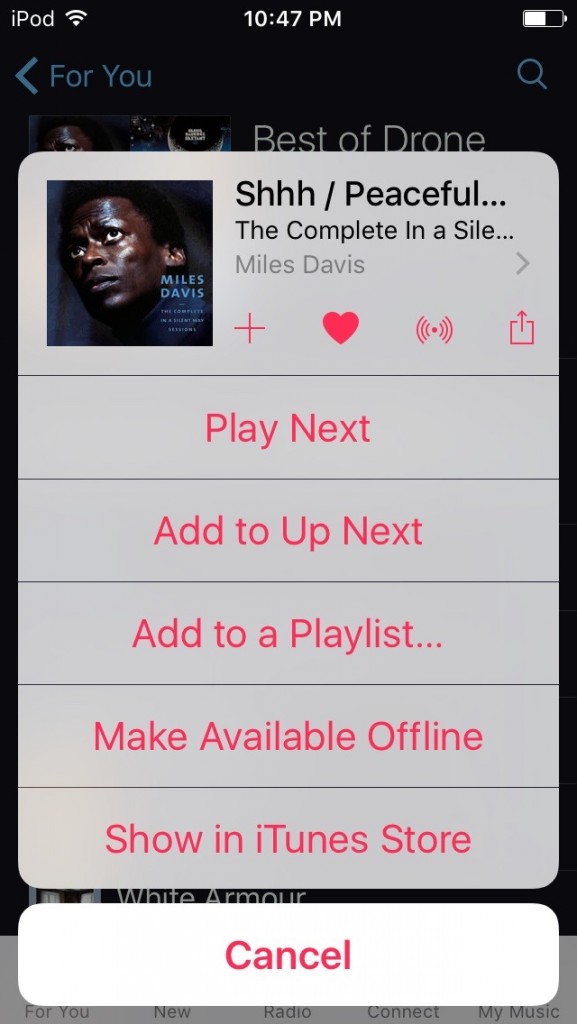 In iTunes, the ♥ is near the top of the window when you select an album or playlist, and you can hover over any song to display one as well.
Check it Out
It's not clear whether Apple is using music that you've added to your My Music library or listened to, to make suggestions, but in my tests, I've found that by simply listening to one Bruce Springsteen album and adding it to my library I get inundated with For You recommendations of The Boss's music. I've seen many of his albums in For You, along with playlists of his early music, his live music, an introduction to Bruce Springsteen, his greatest hits, his best ballads, and so on. Suffice it to say that, while I like Bruce Springsteen, I'd have expected more useful recommendations than this scattershot approach.
Nevertheless, if you want to add any item to your My Music library, tap the + button you can see in the first screenshot above. It becomes a ✓.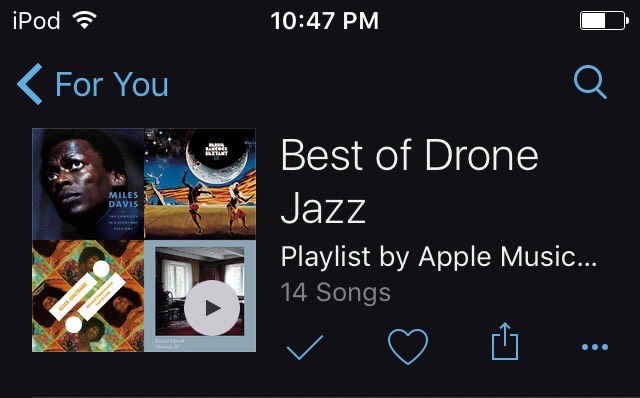 If you ever want to remove it from your My Music library, just tap the ✓ and it becomes a + again, which removes it from the My Music library on all your devices.
Like, Don't Like
All the above lets you tell Apple Music what you like, but what about telling it what you don't like? If, somehow, For You shows you Alvin & The Chipmunks' Greatest Hits, and you really, truly, don't like that album (you probably prefer their early work), then you can tell Apple Music that you don't appreciate that suggestion. To do this on an iOS device, tap and hold the item until a menu displays, and then tap I Don't Like This Suggestion.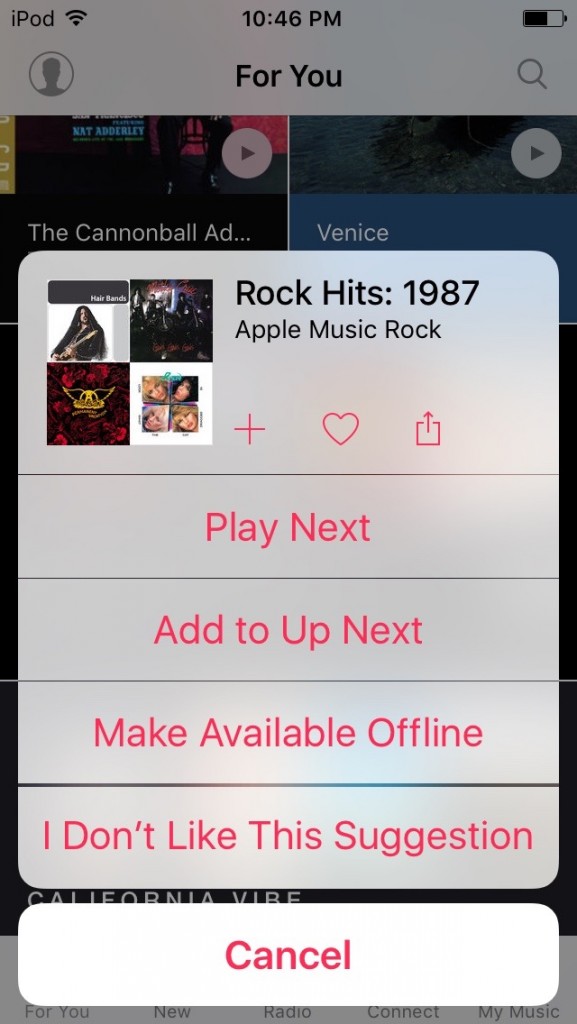 You can do this for albums or for playlists. At the time of this writing, with iOS 8.4.1, you can do this on an iPhone or iPod touch, but this menu doesn't display on an iPad when you tap and hold a playlist. I assume this is a bug that will be fixed soon.
You can also do this in iTunes, on your computer. Click the "…" button next to any song, album, or playlist, and choose Recommend Less Like This.
So, make sure to tell Apple Music what you like and what you don't like so your recommendations will be better.
Further Reading: 
About Kirk McElhearn
Kirk McElhearn writes about Apple products and more on his blog Kirkville. He is co-host of the Intego Mac Podcast, as well as several other podcasts, and is a regular contributor to The Mac Security Blog, TidBITS, and several other websites and publications. Kirk has written more than two dozen books, including Take Control books about Apple's media apps, Scrivener, and LaunchBar. Follow him on Twitter at @mcelhearn. View all posts by Kirk McElhearn →