6 Workarounds for the Biggest Apple Music Annoyances
Posted on by Kirk McElhearn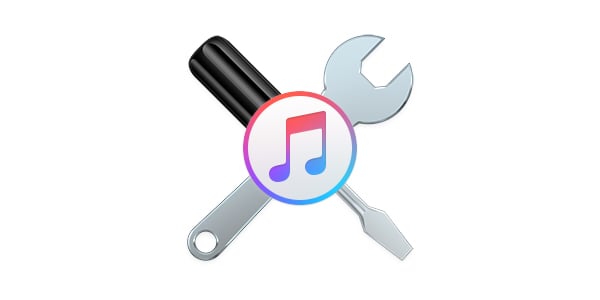 Apple Music went live two weeks ago. While much of the service works well, there are a few annoyances. In some cases, there are workarounds that allow you to avoid the most exasperating issues, but some are intractable. Here are the 6 most irksome Apple Music annoyances and what you can do to work around them.
1. iCloud Music Library Can Mess Up Tags and Artwork
If you turn on iCloud Music Library, in iTunes' General preferences, you may find, as I did, that your library gets mangled. Artwork and tags were changed for many of my albums. Some albums were split into several groups, and some songs were matched to different versions.
iCloud Music Library replaces iTunes Match, and is also used by Apple Music to match and upload your music, as well as store music you've decided to add to your library from Apple's cloud library.
If you've spent a lot of time tagging your music and adding album artwork, you might want to wait to turn this on. Apple released an update to iTunes—version 12.2.1—but it hasn't fixed this problem for everyone.
2. Too Many Menus?
Apple Music includes lots of features, and, as such, it has many menus—and these menus have a plethora of options. They can be confusing. In iTunes, there are several types of contextual menus, and on iOS, menus also have lots of options.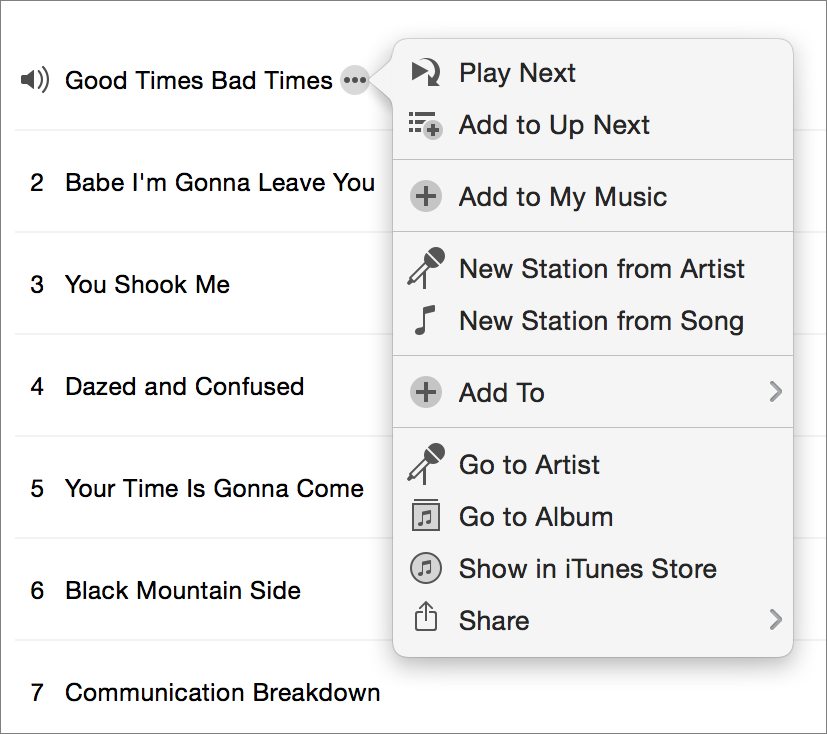 These menus let you do things such as "love" songs and artists, add music to your library, create Apple Music Radio stations, and more.
Take some time to explore all the menus—and buttons, in iOS—that control iTunes and the Music app. You should especially check out all the Apple Music features. You'll eventually get used to hitting the ones you want, when you want.
3. Erratic Recommendations
When you first sign into Apple Music, in iTunes or on an iOS device, you're asked to choose some genres and artists that you like. Apple Music uses this to determine what it recommends to you in the For You section.
At first, my recommendations were all over the place. I was seeing albums and playlists that were not in any way related to my choices. Apple knows what's in my library, and they have my purchase history, so the recommendations should have been better.
Over time, they've improved, because I've been careful to tell Apple Music what I like and what I don't. This isn't easy, however.
To start, you should "love" albums and playlists that you like. There's a heart button in many locations: on album or artist pages, on playlists and next to songs. (In iTunes, you may need to hover your cursor over a track or album to see it, depending on your view.) Tap or click this button when you like something to help Apple Music better recommend similar music.
Next, tell Apple Music what you don't like. Unfortunately, you can't do this in iTunes; this option is only available in the iOS Music app. Tap and hold an item in the For You section—an album or playlist—that you don't like, and choose I Don't Like This Suggestion.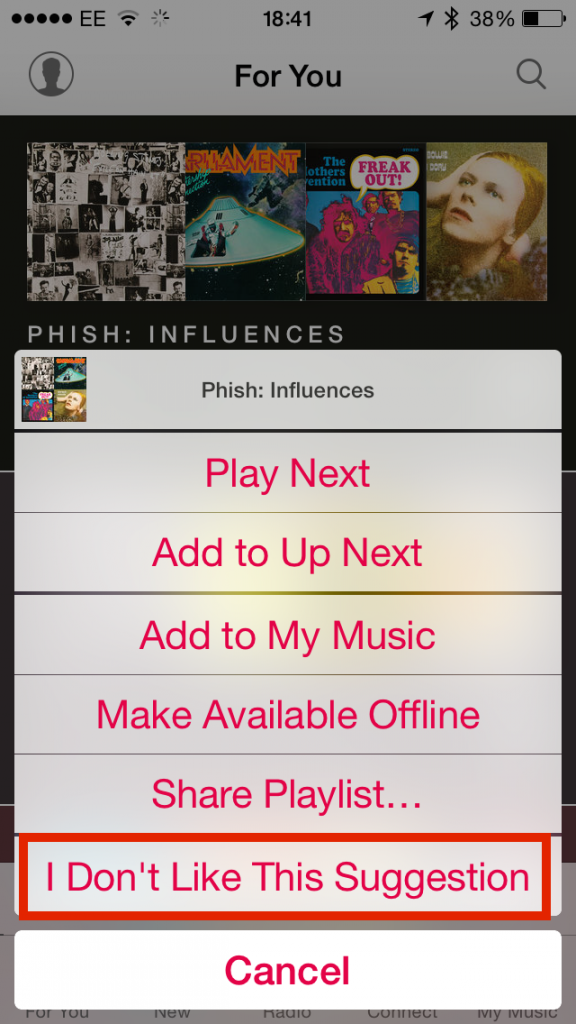 Over time, your recommendations will get better. I hope Apple adds the ability to tell Apple Music what I don't like to iTunes, because that's where I use Apple Music the most. So, for now, make sure to go through the For You section on an iOS device, so you can refine these recommendations.
4. Forgotten Love
I mentioned just above that you can "love" items in Apple Music. But what happens when you do? Other than telling Apple Music what you like, these loves you apply so parsimoniously just get forgotten. Like roses at the end of summer, they wilt and fade away.
I'd like to be able to love the items that I hear when listening to Apple Music Radio stations, or on For You playlists, and then go back and find them later. For now, there's no way to see a list of loved items.
The only workaround is to add everything you like to your Apple Music library. To do this, click the "…" button next to a song, album, or playlist, and then choose Add to My Music. The item will be added to your iCloud Music Library, and you can later go through all this music to see if you like it enough to want to listen to it often, or check out more music by the same artist.

5. How Do I Find the Rest of an Album?
As you go through the recommendations in the For You section, or in the many curated playlists on Apple Music, you may hear a song you like and want to check out the rest of the album it's on. Or you may simply want to discover more by the same artist.
Unfortunately, there's no easy way to do this. You can tap the "…" button next to an item and choose Show in iTunes Store, but you can't see that item in its native habitat within Apple Music.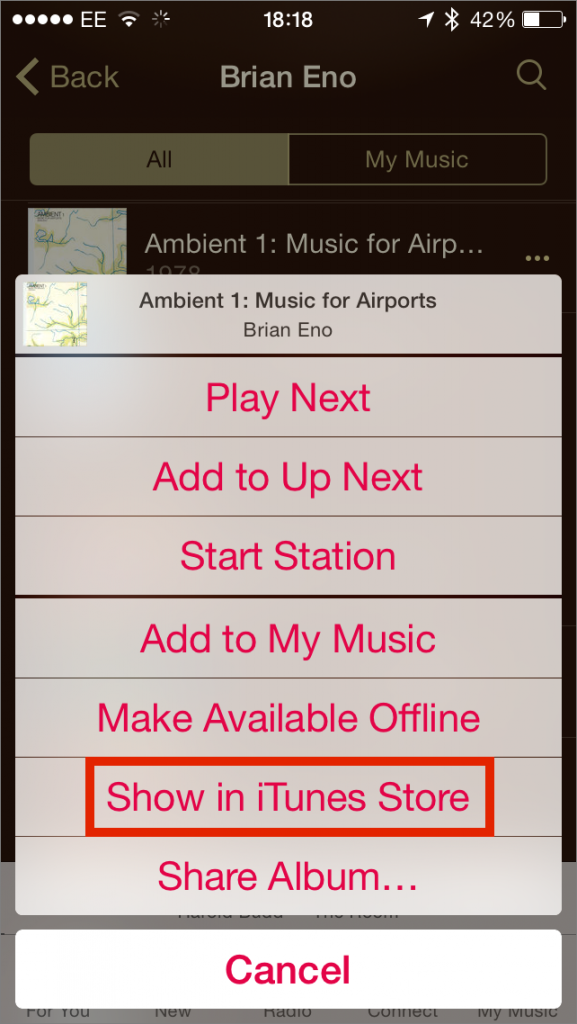 The only workaround for this is to search: tap the search icon in the iOS Music app, or type in the search field in iTunes. When you find what you're looking for, you can then play an album, or listen to more by the same artist.
6. Apple Music Caches Can Get Big
Apple Music caches files on your computer, and on your iOS device. Unfortunately, you can't set a limit for this cache. As such, your computer may end up using a lot of space for these cached files.
You can delete this cache on your computer. Go to the article linked just above, and you'll see how to find the folder. On iOS, this process is a bit different. Go to Settings > Music, and toggle off iCloud Music Library. Wait a couple of minutes, then turn it on again. This should clear the cache.
There's a lot of great stuff in Apple Music. Apple will probably fix some of these annoyances over time, but, for now, it's good to know how to deal with them.
About Kirk McElhearn
Kirk McElhearn writes about Apple products and more on his blog Kirkville. He is co-host of the Intego Mac Podcast, as well as several other podcasts, and is a regular contributor to The Mac Security Blog, TidBITS, and several other websites and publications. Kirk has written more than two dozen books, including Take Control books about Apple's media apps, Scrivener, and LaunchBar. Follow him on Twitter at @mcelhearn. View all posts by Kirk McElhearn →