Hands On with Apple's New M1 iMac and M1 iPad Pro
Posted on by Kirk McElhearn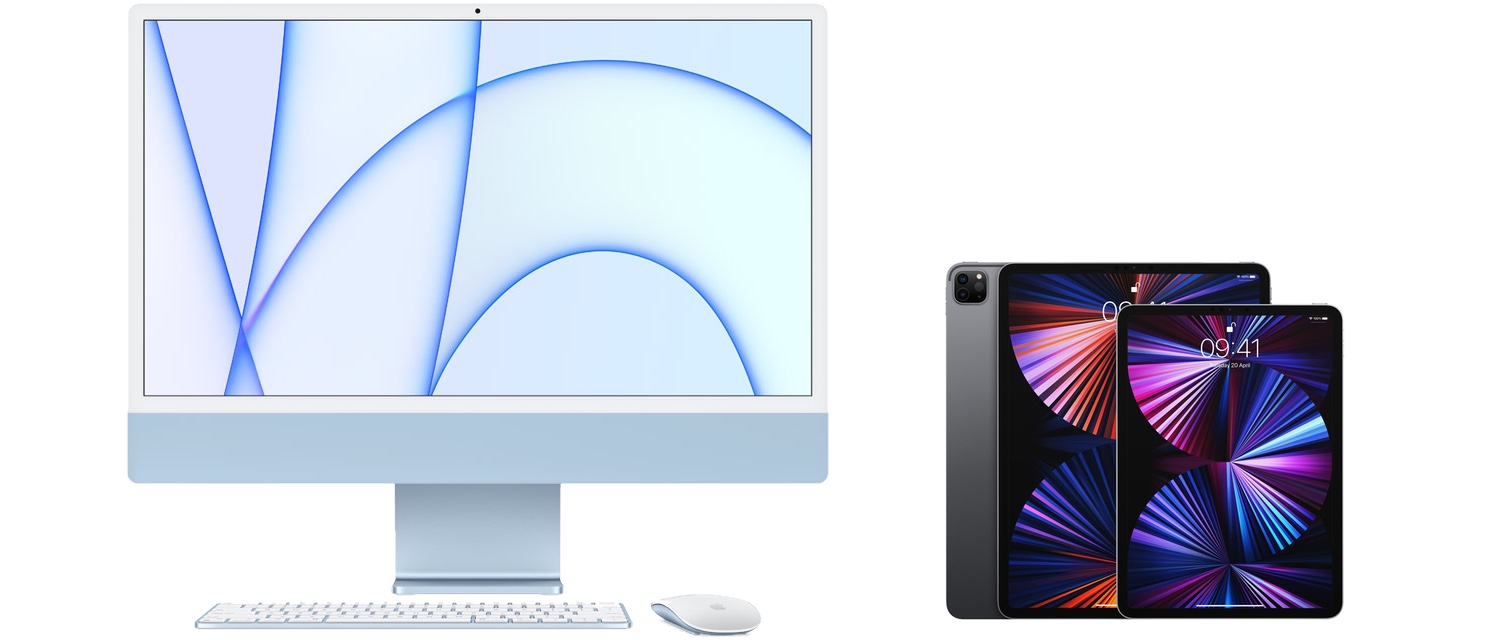 We've finally got the second delivery of Apple's M1 Macs, after the first salvo, last fall, with updated versions of the Mac mini, MacBook Air, and 13" Mac Pro. But these models were simply new gets in old clothes; the new 24" iMac has a totally new design, replacing the older 21.5" model. This new iMac increases the display from 4K to 4.5K, with only small changes in the computer's size. We also now have Apple's M1 chip powering the latest iPad Pro models, both at the same size as previously, 11" and 12.9".
Here's what's new in these devices.
The 24" iMac
The 24" iMac is the first major change in form factor for the iMac – other than increasing "thinness" over the years – since 2007. It replaces the 21.5" iMac, but it's actually not a 24" diagonal, but rather 23.5". Why Apple called out the point-five in the previous model, but not in this one, is strange; in fact, why are they even labelling it as larger than it really is?
You could expect that an increase of 2" diagonal would mean that the new model is much larger than the previous, but the size increase is marginal. Put the two side by side, and you can see that the body of the two devices is very similar in size: the new model is larger by just about 1 cm in height, and 2 cm in width.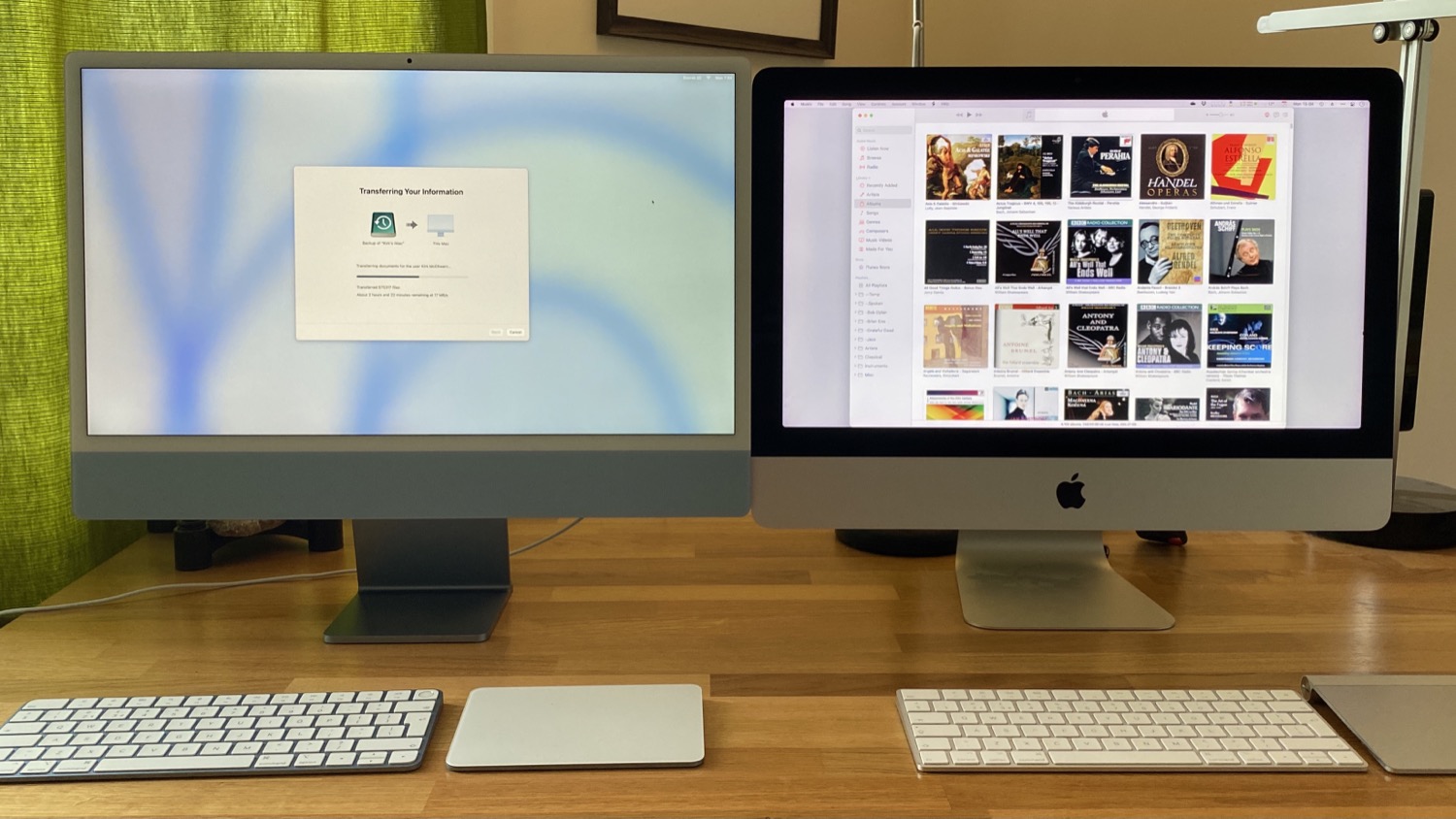 Because of the smaller bezels, the display itself is about 4cm wider; you can see this clearly in the photo above. But the overall form factor is so close in size that you won't have to change much on your desk with the new model.
The amazing thinness of this Mac – which looks more like a giant iPad on a stand, because of its flat back – means that the device weighs about 1/6 less than the previous model (4.48 kg vs. 5.44 kg). You notice this immediately when you unpack it and set it up.

Inside, it's exactly the same as the other M1 Macs, with the exception of the number of ports available: the higher-end configuration has four ports (two Thunderbolt, and two USB 4), which only the Mac mini offers; both M1 laptops are limited to two ports.
There are some welcome additions to this new iMac. Finally, the FaceTime camera resolution has increased to 1080p, which is very useful in this Zoom era. Its M1 image signal processor adapts better to uneven lighting, but it tends to make people's skin look a bit waxy.
It comes with a keyboard that includes Touch ID (though not with the least expensive configuration). And it comes in colors; I opted for blue, because I think the brighter colors like orange and purple might be distracting, but you can choose from seven colors to match your decor.
Build-to-order configurations are limited: you can upgrade the RAM to 16 GB, which seems to be a limitation of the M1 processor, and you can opt for up to 2 TB flash storage. Aside from that, you have no options, other than mouse or trackpad.
Improvements to the audio include a six-speaker system, "wide" stereo sound, and spatial audio, if you're watching a movie with Dolby Atmos, or listening to Apple Music tracks with Dolby Atmos (coming soon). And the microphone is improved with a new three-mic array; again, a welcome addition in the time of covid and work from home.
Raw performance will be the same as for the M1 MacBook Air, which I got last fall. I chose to get the cheapest model of that Mac, with only 8 GB RAM, whereas I maxed out the RAM on the iMac to 16 GB, so that will offer some improvements to demanding tasks, but my initial usage of the new iMac shows that it performs demanding tasks leisurely, and I haven't heard its fans yet, even doing tasks that caused my previous iMac to spin its fans audibly.
One thing that many people will need to adapt to is the fact that the new iMac has only USB-C ports for peripherals. The previous model had two USB-C ports and four USB-A ports, and this one only has four USB-C ports. This means people will need hubs, dongles, and adapters. We've been living in a USB-C world for a few years, but it is now the only way to connect to the latest Macs.
In the end, it's really just another iMac. Faster, with a larger display, and some other new hardware, but after a while, it just becomes another computer, a little better than the one you had before.
The M1 iPad Pro
While there are lots of differences between the new iMac and its predecessor, the new iPad Pro is very similar to the previous model. The form factor is the same, and with the 11" model, the changes are minimal. I don't have the 12.9" model, with what Apple calls XDR Liquid Retina, which has been widely lauded, but even on the 11" model, the display is much better than before. The liquid retina display has better contrast, but seems darker overall, like a display with high gamma.
As for the audio, the four speakers provide "cinema-like" sound, and also support Dolby Atmos, but I find the sound a bit aggressive, and less subtle than before. It's very bassy, and when watching movies or TV series, it sounds like it's trying too hard.
The addition of a 12 MP front camera – up from 7 MP – is another nod to home workers, and Center Stage video, which follows you around when on video calls, is a surprisingly useful feature. Center Stage is great when you're on a video call and need to move around, and it makes these calls feel a lot more human.
These new iPad Pro models have Thunderbolt connections, 5G cellular options, and a powerful processor, which seem wasted. Software for iPadOS won't exploit the power of the M1 processor – yet – and unless you're working with video a lot, you won't benefit from the Thunderbolt connector.
The iPad Pro is indeed for pros, and with the Magic Keyboard, can replace a laptop for many needs. But when you look at the entire iPad line, you'll see that, for most people, the pro models are overkill.
Apple has made great leaps with its M1 processors, and the new iMac is a welcome change in form factor from what we've known for a long time. While the iPad Pro, also with the M1 processor, is a step forward, you won't likely benefit from the extra power that processor offers; yet.
How can I learn more?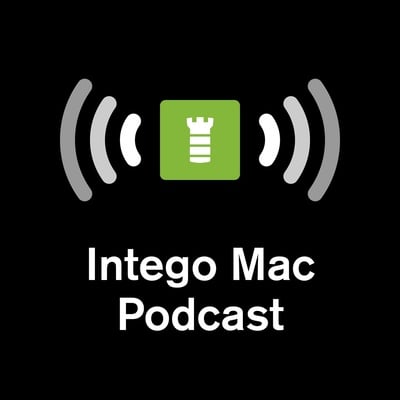 Each week on the Intego Mac Podcast, Intego's Mac security experts discuss the latest Apple news, security and privacy stories, and offer practical advice on getting the most out of your Apple devices. Be sure to follow the podcast to make sure you don't miss any episodes.
You can also subscribe to our e-mail newsletter and keep an eye here on Mac Security Blog for the latest Apple security and privacy news. And don't forget to follow Intego on your favorite social media channels: Facebook, Instagram, Twitter, and YouTube.
About Kirk McElhearn
Kirk McElhearn writes about Apple products and more on his blog Kirkville. He is co-host of the Intego Mac Podcast, as well as several other podcasts, and is a regular contributor to The Mac Security Blog, TidBITS, and several other websites and publications. Kirk has written more than two dozen books, including Take Control books about Apple's media apps, Scrivener, and LaunchBar. Follow him on Twitter at @mcelhearn. View all posts by Kirk McElhearn →