The Magic Keyboard Turns the iPad into a New Computing Device
Posted on by Kirk McElhearn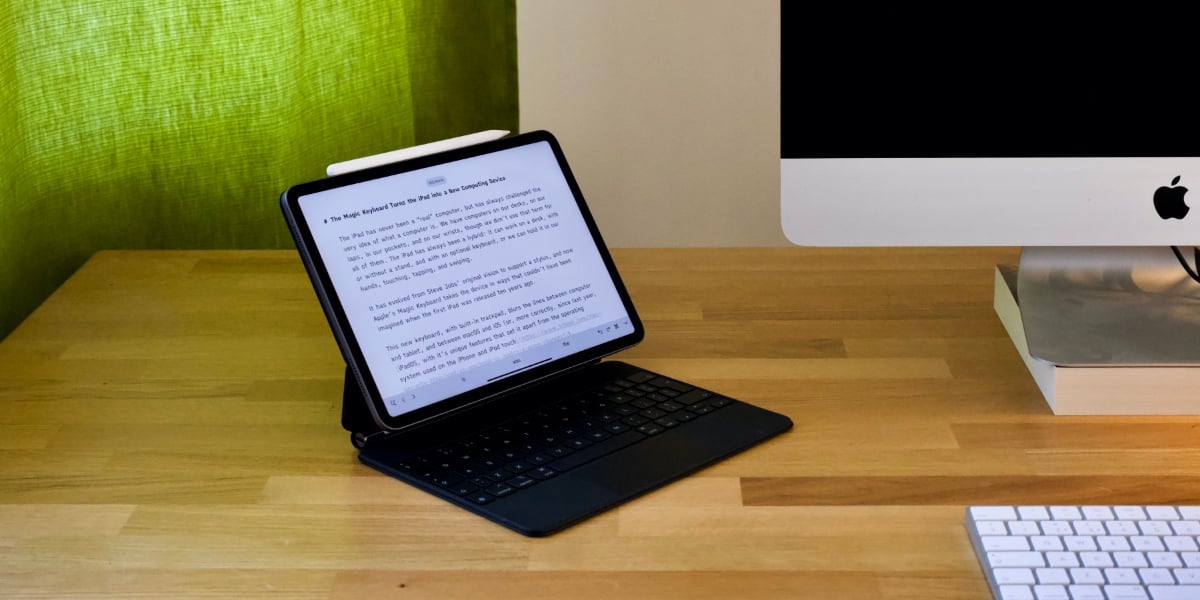 The iPad has never been a "real" computer, but has always challenged the very idea of what a computer is. We have computers on our desks, on our laps, in our pockets, and on our wrists, though we don't use that term for all of them. The iPad has always been a hybrid: it can work on a desk, with or without a stand, and with an optional keyboard, or we can hold it in our hands, touching, tapping, and swiping.
It has evolved from Steve Jobs' original vision to support a stylus, and now Apple's Magic Keyboard takes the device in ways that couldn't have been imagined when the first iPad was released ten years ago.
This new keyboard, with built-in trackpad, blurs the lines between computer and tablet, and between macOS and iOS (or, more correctly, since last year, iPadOS, with it's unique features that set it apart from the operating system used on the iPhone and iPod touch).
The Magic Keyboard is the next step in shifting the definition of what a computer is. This device goes further than the company's previous iPad keyboard case to include a trackpad, and has a clever way of holding the iPad firmly in the air, allowing it to tilt to different angles (though the tilting is limited), as well as a USB-C passthrough to charge the iPad.
The trackpad is smaller than the ones on laptops, but it's not a problem; I've always felt that the massive trackpads Apple includes on laptops just get in the way. This one is both wide enough and tall enough to let you scroll, tap, and swipe all you need, but it's narrow enough that you won't accidentally touch it with your hand. Trackpad support is brilliantly implemented in iPadOS, with the new cursor that changes from a dot to a vertical line, and there are a number of adjustments you can make to the trackpad's behavior, such as tap to click, in Settings > General > Trackpad.
The keyboard is essentially the same as Apple's laptop keyboards. The keys are a bit slimmer than on a laptop, and the non-letter keys at either side – tab, caps, caps lock, etc. – are noticeably narrower, so they take getting used to. There's also no row of function keys, or Touch Bar; there's not enough room for either. The keys are a bit mushy compared to my MacBook Pro, with a bit more travel, but I found it immediately easy to adapt to. The depth of the 11" keyboard is interesting (I haven't tried the 12.9" model): if I rest the heels of my hands against its front edge, my fingers are in the perfect position to type, even to get to the top row. (I touch type, and have long fingers.)
One important consideration is the weight of the Magic Keyboard. Apple curiously does not specify this information on its website, but the 11" model weighs about 600g, and the 12.9" model weighs 710g. This means that for the 11" iPad and Magic Keyboard, count about 1,070g, and for the 12" combo about 1,350g. An iPad with the Magic Keyboard could replace a laptop for many of your tasks, but the combo won't be lighter. Compared to a 13" MacBook Pro (1,370g) or MacBook Air (1,290g), those numbers are a bit surprising.
The Magic Keyboard is solid: it has heft, and you feel it even before you unbox it. Connected magnetically to an iPad, it doesn't feel like a keyboard case, but more like the two are melded into a unified device. Yet it's easy to pull the iPad off and use it in your hands, giving a new level of flexibility to this tablet. Together with the Apple Pencil, you can do so much more with an iPad than ever before.
I like to watch movies on my iPad in bed, and one thing that I particularly like about the Magic Keyboard is its ability to serve as a stand so I can do this hands free. I can put a pillow on my chest, place the iPad and keyboard on top if it, and tilt it downward, making it the perfect angle for watching videos. Perhaps that's why Apple has included that slight forward angle option (about 85°).
The Magic Keyboard isn't cheap: $299 or $349, for the 11" and 12.9" model. And if you want the full kit – iPad, Apple Pencil, and Magic Keyboard – that will cost a minimum of $1,227 or $1,477, and that's with the wi-fi only iPad Pro and the base amount of storage, 128 GB. If you want a cellular iPad and more storage, you could pay well north of $2,000.
But it's hard to express how much this feels like a totally new computing device. It's nothing more than a combination of three existing devices: a keyboard, trackpad, and iPad, but something about the way it works, together with iPadOS 13's new features such as multi-tasking and trackpad support, brings the best of both worlds: the flexibility of a laptop together with the simplicity of iOS. Naturally, there will always be people who can't do everything they want on an iPad, and I certainly cannot, but this new combination is making me rethink much of what I do on a laptop. In recent years I've been lamenting the complexity and inflexibility of macOS, and have been looking for more reasons to work on my iPad. I think this new Magic Keyboard has confirmed that the iPad is going in new directions that the Mac can't follow.
About Kirk McElhearn
Kirk McElhearn writes about Apple products and more on his blog Kirkville. He is co-host of the Intego Mac Podcast, as well as several other podcasts, and is a regular contributor to The Mac Security Blog, TidBITS, and several other websites and publications. Kirk has written more than two dozen books, including Take Control books about Apple's media apps, Scrivener, and LaunchBar. Follow him on Twitter at @mcelhearn. View all posts by Kirk McElhearn →