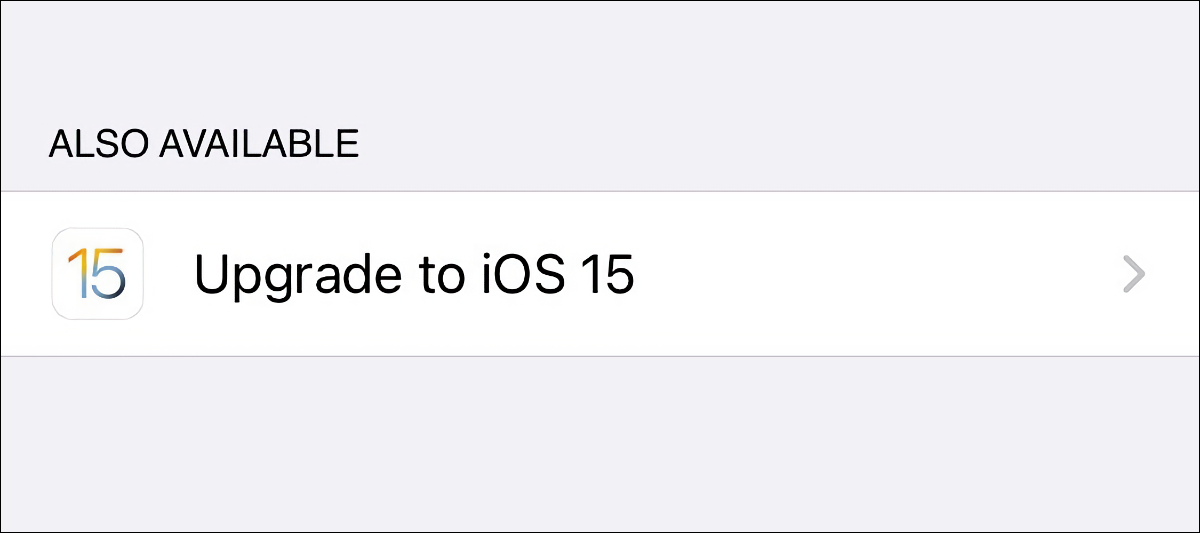 Apple released iOS 15 and iPadOS 15 on Monday, September 20, and, as usual, many people updated their iPhones, iPads, and iPod touches to the new operating systems. But unlike in the past, Apple is not pushing people to make the upgrade. For the first time, Apple is going to maintain the previous operating system for users who don't want to upgrade. You can choose to remain on iOS 14, and still get essential security updates, if you'd rather not move to iOS 15. (When I mention iOS in this article, I also include iPadOS.) This is similar to the way Apple manages macOS; you can upgrade to the new version, or continue to receive security updates on the previous version.
While we're only a few days into the new operating systems, it's clear that fewer people are making the transition. In general, the uptake is pretty quick, but after two days, it seems that iOS 15 adoption is much lower than for iOS 14. Last year, in the first two days, 14.5% of users had updated, but this year, over the same period, only 8.5% of users had made the switch.
Where's the red badge?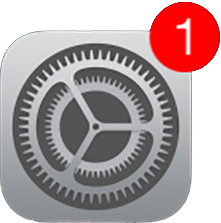 You're certainly familiar with the red badge that displays on the Settings app on an iPhone or iPad when there's an update available. This notification prompts people to open Settings to see what's new, but with iOS 15, Apple isn't badging the app. In fact, there isn't even a notification when there's an update for iOS 14.8, which fixes two serious vulnerabilities that have been "actively exploited" in the wild.
Even if you open the settings app, tap General, then Software Update, it's not that obvious that there's a new version of iOS. We looked at a number of iOS devices, and what we saw was interesting.
Several iPhone models with smaller screens, including the iPhone 6S, SE (1st generation), iPhone 7, iPhone 8, and SE (2nd generation), as well as the iPod touch (7th generation), in some cases may not display the "Upgrade to iOS 15" option if iOS 14.8 has not yet been installed. It's below the visible part of the screen, and you'd have to scroll to see it.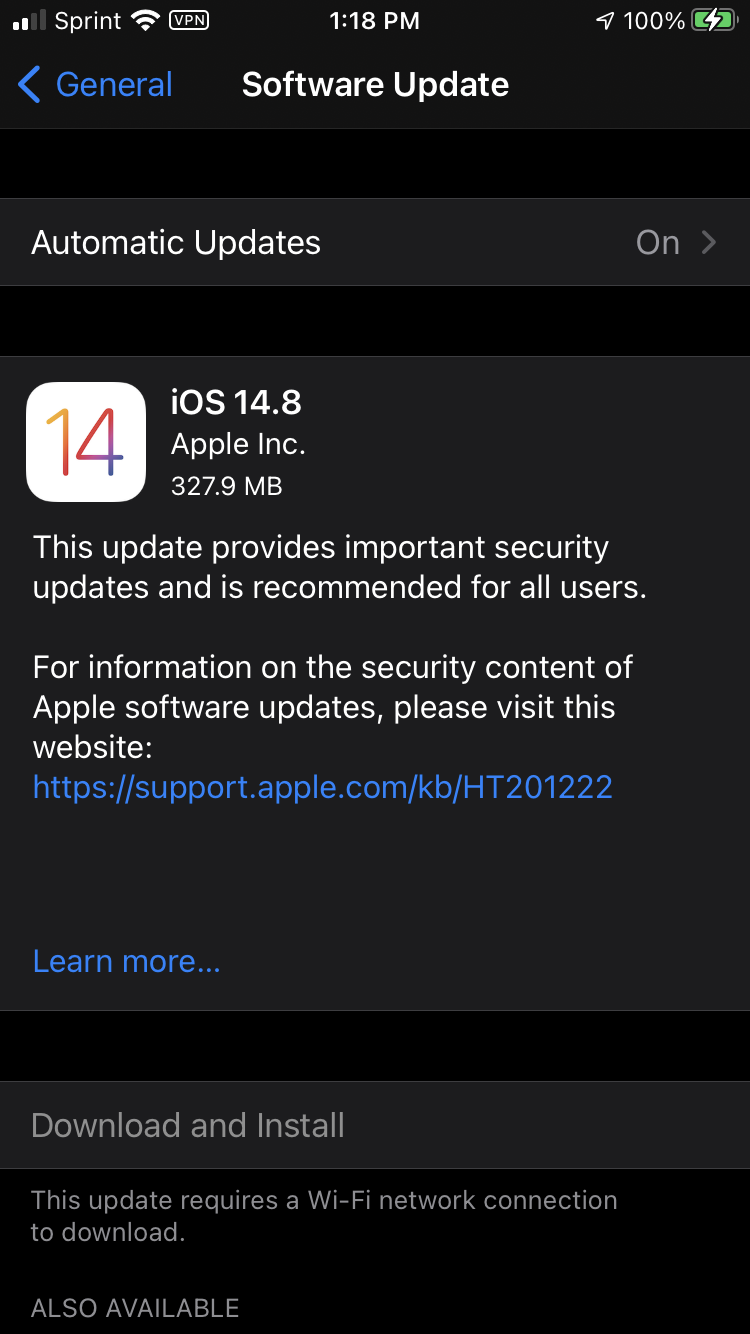 Older iPhone models hide the iOS 15 upgrade option.
In addition, even if the device is running iOS 14.8, Apple doesn't notify the user by displaying a red badge, and the prompt to upgrade to iOS 15 isn't very prominent.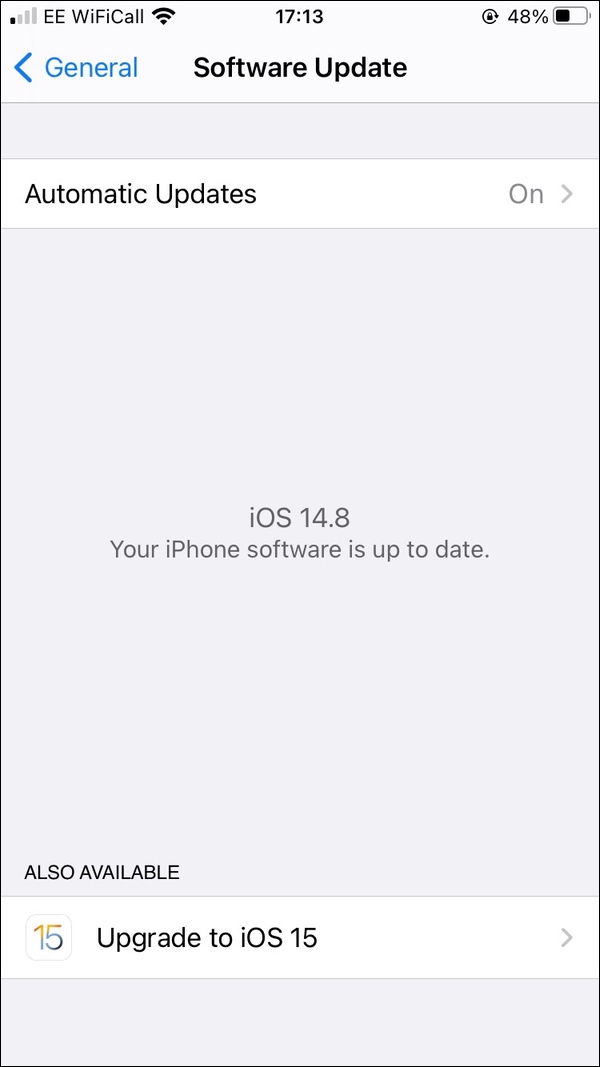 On an iPhone SE (2nd generation), with iOS 14.8 installed, the prompt for iOS 15 is very small.
Why isn't Apple prompting users to upgrade?
With iOS 15, Apple has changed to offering two paths for iOS users. As the company explains in its feature notes for iOS 15:
"iOS now offers a choice between two software update versions in the Settings app. You can update to the latest version of iOS 15 as soon as it's released for the latest features and most complete set of security updates. Or continue on iOS 14 and still get important security updates until you're ready to upgrade to the next major version."
One reason for this may be because of the urban legend that Apple intentionally slows down older phones with new versions of iOS to get people to upgrade their devices. While some older models will run more slowly with a new operating system, you'd have to go back several generations for this to really have an effect on your device. Apple says that all devices that can run iOS 14 are compatible with iOS 15, and that goes as far back as the iPhone 6s, which was released in September 2015. It's possible that a six-year old iPhone may be sluggish running the latest operating system, and if you have a device that old, you may want to wait and see how other users fare, but more recent iPhones will certainly not be affected much.
Another reason may be to allow enterprise customers or school districts, who don't want to have to update potentially thousands of devices, to be able to continue on a path with minimal, but essential updates. This could be the case if a business is using in-house software on devices, and doesn't want to update it, or if they use hardware devices with their iPhones and iPads that aren't compatible with iOS 15. For example, many businesses use iPads as point-of-sale devices, and may not want to have to update the software or attached hardware.
It's important to note that Apple will likely only continue offering these iOS 14 security updates for one year; when iOS 16 is released, they'll probably allow users to remain on iOS 15, but they won't be supporting iOS 14 forever, so this option only allows users to stay secure without using the latest operating system for one year.

Which is more secure: iOS 14.8 or iOS 15?
The final major version of iOS (and iPadOS) 14 is the recently released 14.8. Future versions of iOS 14 will probably primarily focus on patching security vulnerabilities of the "in the wild" and "likely to be exploited" varieties. We don't know yet whether Apple intends to patch all known security vulnerabilities that apply to iOS 14, but if history is any indication, Apple might leave some issues unresolved—i.e. perpetual zero-days. As for new features, future version of iOS 14 will likely not include many significant ones (if any at all).
But as of right now, is iOS 14.8 or iOS 15 more secure?
Let's start with the assumption that iOS 15 is more secure. After all, it's a higher version number, and it was released a week after iOS 14.8.
iOS 15 addresses a larger quantity of vulnerabilities, when comparing the number of CVEs (named vulnerabilities) addressed in the 14.8 and 15.0 security update notes. As of today, Apple identifies 13 separate CVEs fixed in iOS 14.8, and 22 CVEs fixed in 15.0.
However, those raw numbers don't tell the whole story.
Apple's security release notes for iOS 14.8 identify two "actively exploited" vulnerabilities, one of which was leveraged by the Pegasus spyware. But, strangely, iOS 15's security notes make no mention of either of those vulnerabilities. This could potentially mean several things, such as:
iOS 15.0 may fix the vulnerabilities, but Apple forgot to document this.
iOS 15.0 may not have been vulnerable to one or both of these vulnerabilities.
Apple may plan to address the vulnerabilities in a future iOS 15 update.
Unfortunately, we don't know which of these is correct. Intego reached out to Apple on Monday to ask about this, but Apple has not yet responded to our inquiry.
However, assuming that the two in-the-wild vulnerabilities remain unaddressed in iOS 15, then perhaps it's safer to stay on iOS 14.8 for the time being.
Once Apple addresses those vulnerabilities in iOS 15, it will presumably be safer to use than iOS 14. Based on how Apple handles macOS security updates, more vulnerabilities will presumably be fixed for the latest OS. (Intego's Chief Security Analyst, Josh Long, will give a presentation about macOS update disparity next week at the OBTS v4.0 conference.)
Could iOS fragmentation become a problem for app developers?
A real risk with this change is that iOS and iPadOS will become fragmented. Developers will have to decide whether to upgrade software for iPhones and iPads to only be compatible with the latest version of the operating system. In some cases, this could mean that they won't be able to roll out certain new features to all users, and their apps will perform differently on devices that haven't been upgraded.
Over time, it's likely that third-party apps will require at least iOS 15, so at some point you may lose out on app updates if you don't move to the latest major iOS version.
Is this just a temporary change?
It's possible that Apple may just be waiting to push iOS 15 more aggressively until version 15.1 (which is already being beta tested) is available to all consumers.
However, this doesn't explain why iOS 14.8 is not being pushed as a critical update that warrants a red badge on the Settings app.
To upgrade or not?
For the first time, iOS users have the option to upgrade or not, yet still stay secure. It's worth noting that Apple's new iCloud+ bundle, which includes a number of useful security and privacy features, is available for iOS 14 and later, so you won't miss out on this if you don't upgrade. But there may be other features that aren't available with iOS 14.
It will be interesting to see what the rate of adoption of iOS 15 is in a few months. Naturally, all new iPhones and iPads being delivered soon will ship with iOS 15, but as existing users aren't prompted to upgrade, perhaps many will not make the switch. Apple likes to tout the high percentage of devices using the latest operating system, on an App Store page on their developer website, so check there in a month or two to see what the numbers are.
How can I learn more?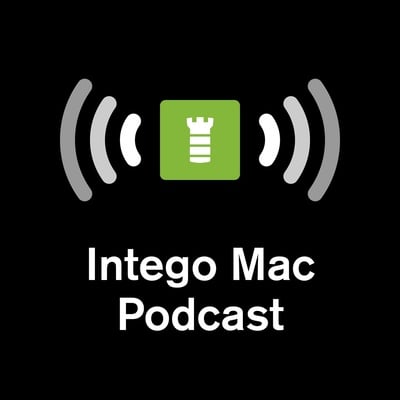 Each week on the Intego Mac Podcast, Intego's Mac security experts discuss the latest Apple news, security and privacy stories, and offer practical advice on getting the most out of your Apple devices. Be sure to follow the podcast to make sure you don't miss any episodes.
We discussed iOS 15 upgrades and more on episode 206 of the Intego Mac Podcast.
You can also subscribe to our e-mail newsletter and keep an eye here on Mac Security Blog for the latest Apple security and privacy news. And don't forget to follow Intego on your favorite social media channels: Facebook, Instagram, Twitter, and YouTube.
About Kirk McElhearn
Kirk McElhearn writes about Apple products and more on his blog Kirkville. He is co-host of the Intego Mac Podcast, as well as several other podcasts, and is a regular contributor to The Mac Security Blog, TidBITS, and several other websites and publications. Kirk has written more than two dozen books, including Take Control books about Apple's media apps, Scrivener, and LaunchBar. Follow him on Twitter at @mcelhearn. View all posts by Kirk McElhearn →