The Apple TV: the real digital hub
Posted on December 12th, 2018 by Kirk McElhearn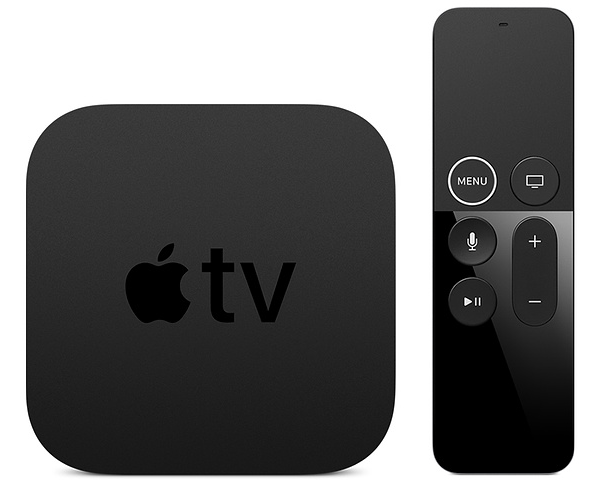 Apple has created a handful of products that have changed the technological landscape, and done so very quickly. The original Macintosh computer, the iPod, and the iPhone are examples of this. But some Apple products are slow burners. The Apple TV, first released in 2007—and once described by Steve Jobs as "a hobby"—has come into its own in recent years. It has become a true digital hub, a concept that Apple promoted back in the days of the first iMac.
Things have changed since Jobs uttered those remarks. More and more people are "cord cutters," ditching expensive cable and satellite TV packages, and Apple's ability to offer more than just content from the iTunes Store has shifted the landscape in set-top boxes. While the first Apple TV was little more than an iPod for the living room – it started with 40 GB onboard storage that you could sync from your iTunes library via Wi-Fi – today's Apple TV is more versatile, offering streaming from Apple and from other sources via apps.
In same ways, today's Apple TV is the apotheosis of Jobs's vision of a digital dub. First launched around the time of the iPhone, the device has grown from a simple streaming device to an app-based set-top box, expanding the range of possibilities.
AirPlay
In addition to streaming from the iTunes Store, you can stream to an Apple TV using AirPlay. This means you can send your own videos from your Mac, iPad, or iPhone to the device, and watch them on your TV. You can also stream music, from your iTunes library, or from an iOS device. The Apple TV helps make the TV an entertainment center, and if you have an amplifier connected to your Apple TV, you can listen to music with quality sound. It's easy to use this device as a receiver for music, even with the TV off.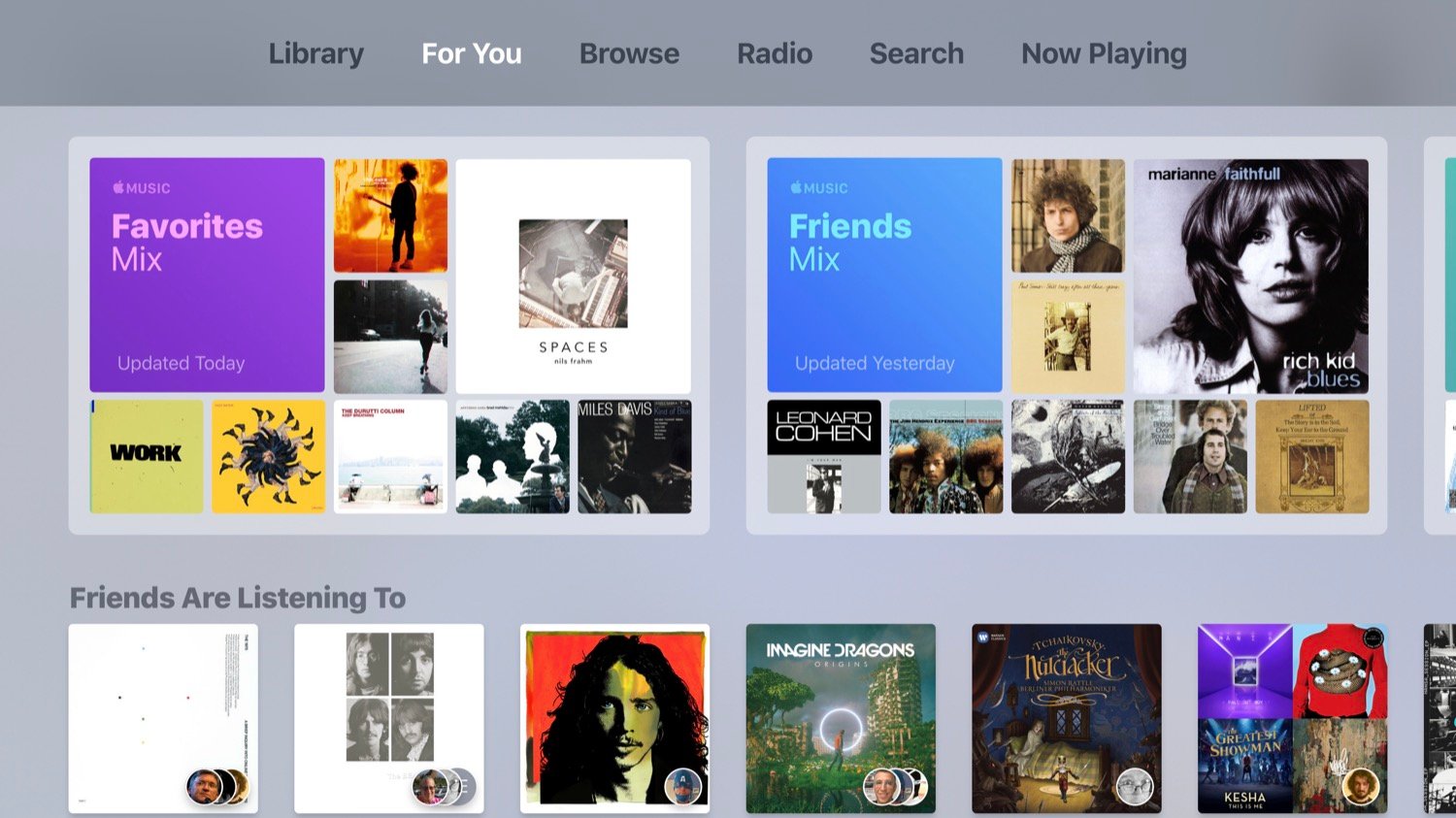 And this year's AirPlay 2, the latest iteration of the technology, allows you to stream to multiple devices in sync: Apple TV, HomePod, AirPort Express, and some third-party devices.
Siri
Siri is everywhere, and with the Apple TV's Siri remote, you can search across channels to find what you want to watch. You can control playback – telling Siri to fast forward, pause, etc. – you can check the weather, check sports scores, open apps, and even have the Apple TV play a sound on one of your devices when you can't find them. See this Apple page for more about Siri on the Apple TV.
Integration with the Apple Ecosystem
The Apple TV not only plays videos from your iTunes library, but also integrates fully in Apple's ecosystem. If you use iCloud Photos, you can view your photos on your TV; if you use Apple Music, you can listen to your favorite tunes on your TV as well. And you can, of course, watch all of Apple's new product announcements on the Apple TV through a dedicated app.
4K, HDR, and Dolby Atmos
For several years, the Apple TV was a bit slow in keeping up with changing technologies. It took a while for Apple to go HD, then to offer 4K support, but now the Apple TV can handle today's high-resolution TV sets, high dynamic range, and can play back content encoded in 7.1 surround sound, and with Dolby Atmos (three-dimensional audio, if your amplifier or soundbar supports this). This brings the Apple TV up to date with the latest technologies, offering you the best quality video and audio in your living room.
Apps
The future of TV is apps, said Tim Cook in 2015. While app support took a while to reach the Apple TV, most video providers quickly offered apps that can access their programs. (And there are even games and other apps that you can download to the Apple TV, some of which you already own on your iPhone or iPad.) There are apps for Netflix, Amazon Prime Video, HBO, Hulu, Showtime, and many other networks. Sure, you may have some of these apps built into your smart television, but having them all on the Apple TV means that you don't have to switch back and forth between the TV's interface and the Apple TV.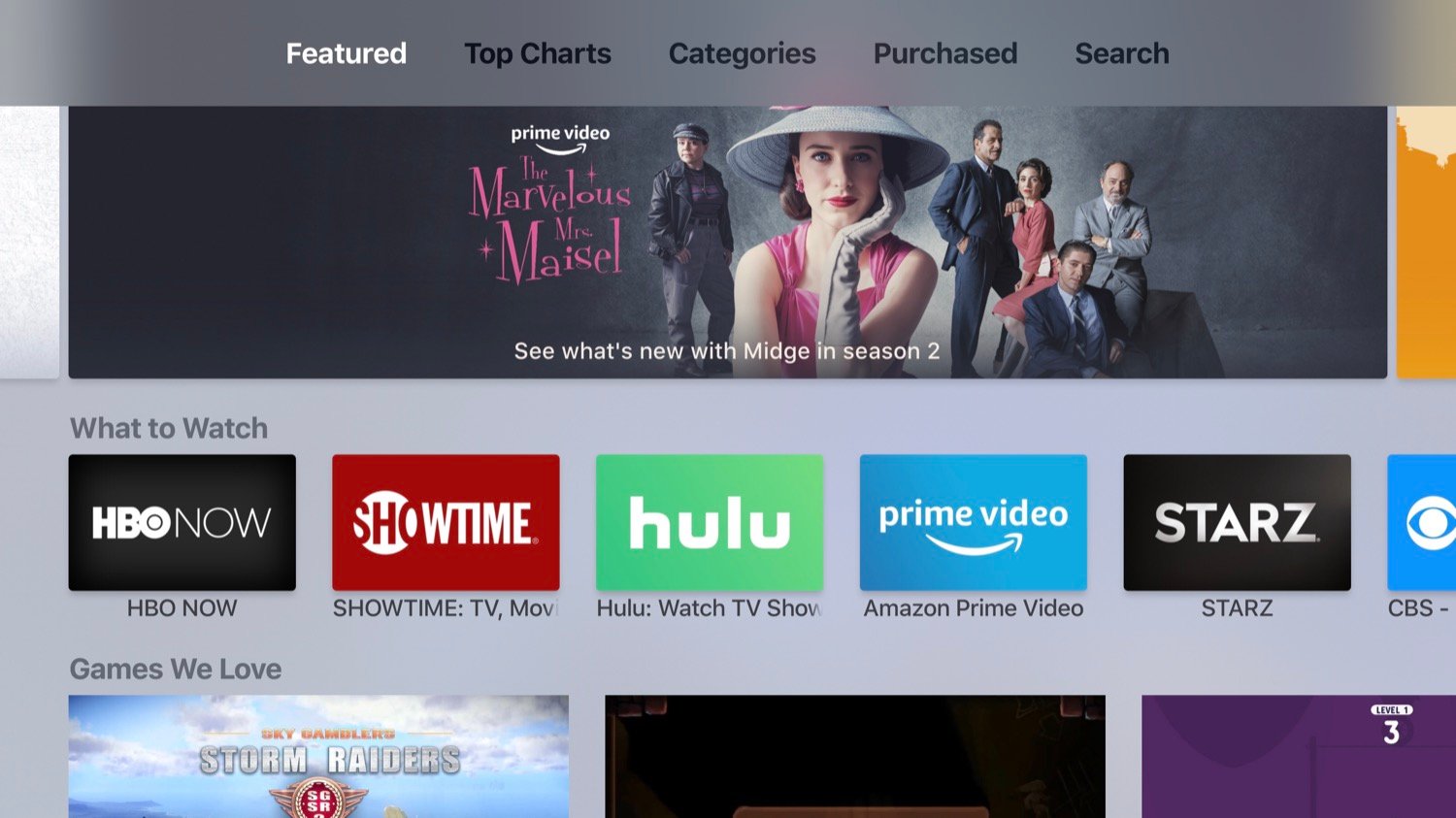 Because the Apple TV is, first and foremost, a gateway to the iTunes Store for TV and movie purchases and rentals. As Apple transitions to become a media company, notably through an original content video streaming service that will probably be launched in 2019, their set-top box ensures that Apple users can view this content with no friction.
This naturally raises the question of whether Apple's video service will be available on streaming devices such as the Roku, Amazon Fire TV, and others, as well as on smart TVs. Given Apple's approach, this is unlikely, though some have suggested that Apple may release a less expensive streaming stick, similar to Google's Chromecast or Amazon's Fire TV Stick.
As is often the case with Apple's minor products, the Apple TV shines if you are committed to the company's ecosystem: if you already get video content from the iTunes Store, subscribe to Apple Music, use iCloud Photos, or even if you simply own other iOS devices or Macs. With a base price of $149 for HD or  $179 for 4K, it's not the cheapest set-top box, but if you're an Apple user, it's certainly the most convenient, and one of the most capable devices you can get.
Did you find this article useful? Subscribe to the blog so you won't miss future posts! You can also catch this article's author, Kirk McElhearn, on the weekly Intego Mac Podcast.
What are your favorite Apple TV features and apps? Share your thoughts by leaving a comment below.
About Kirk McElhearn
Kirk McElhearn writes about Apple products and more on his blog Kirkville. He is co-host of the Intego Mac Podcast, as well as several other podcasts, and is a regular contributor to The Mac Security Blog, TidBITS, and several other websites and publications. Kirk has written more than two dozen books, including Take Control books about Apple's media apps, Scrivener, and LaunchBar. Follow him on Twitter at @mcelhearn. View all posts by Kirk McElhearn →