How Apple is changing from a hardware company to a services and media company
Posted on by Kirk McElhearn
The iPhone has been Apple's biggest product for many years now, and Apple has leveraged it to become the first trillion-dollar company. But things are starting to change. In Apple's recent earnings call, the company said that it would no longer break out unit sales of the iPhone or its other products. As CFO Luca Maestri said, "a unit of sale is less relevant for us today than it was in the past given the breadth of our portfolio." This change comes as Apple's iPhone sales have been essentially flat for the past two years – they peaked in the holiday quarter of 2016 – signaling the first time that the company is facing up to the slowing growth in the smartphone market.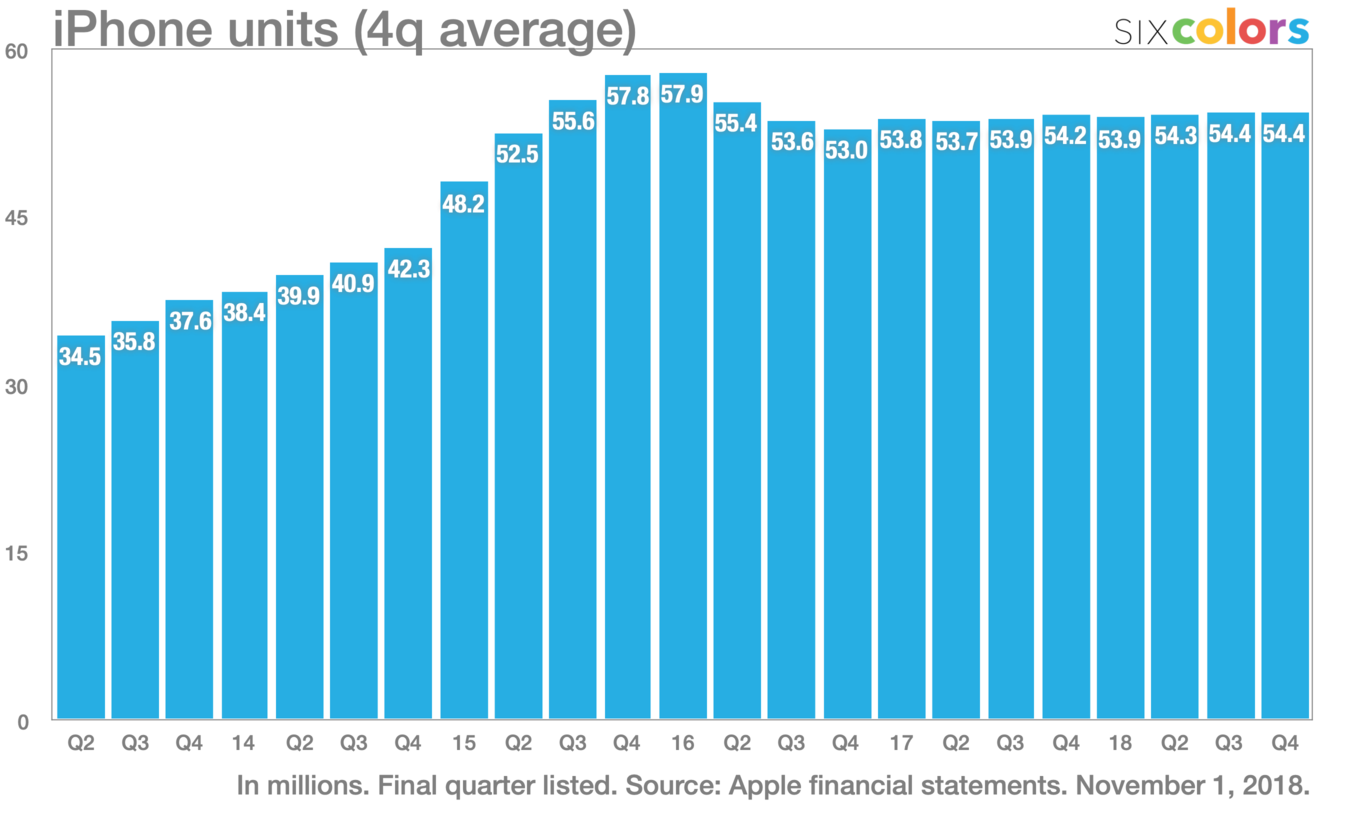 (iPhone sales by quarter. Charts courtesy of SixColors.)
Maestri isn't wrong; as Apple increases the average selling price of their device, unit sales are less important, and they don't want to highlight the fact that they're not growing any more. But there's a lot more to it than just the iPhone.
Services, services
Apple's "services" revenue for the last quarter was about $10 billion; or about $37 billion for the past year. Services revenues – which include income from the App Stores, the iTunes Store, Apple Music, iCloud, Apple Pay, and AppleCare, along with the money that Google pays Apple to be the default search engine on its operating systems – bring in nearly as much money as the Mac and iPad combined and represent 16% of Apple's income. That business alone would put Apple around number 80-85 in the Fortune 500. (Apple's total annual revenues are around $229 billion.) Services are the fastest growing segment of Apple's many income streams, and Apple has planted seeds to grow this exponentially in the future. Growth in Apple Music subscribers has compensated for the sharp drop in music download sales, and Apple's coming video service will likely be another money-maker.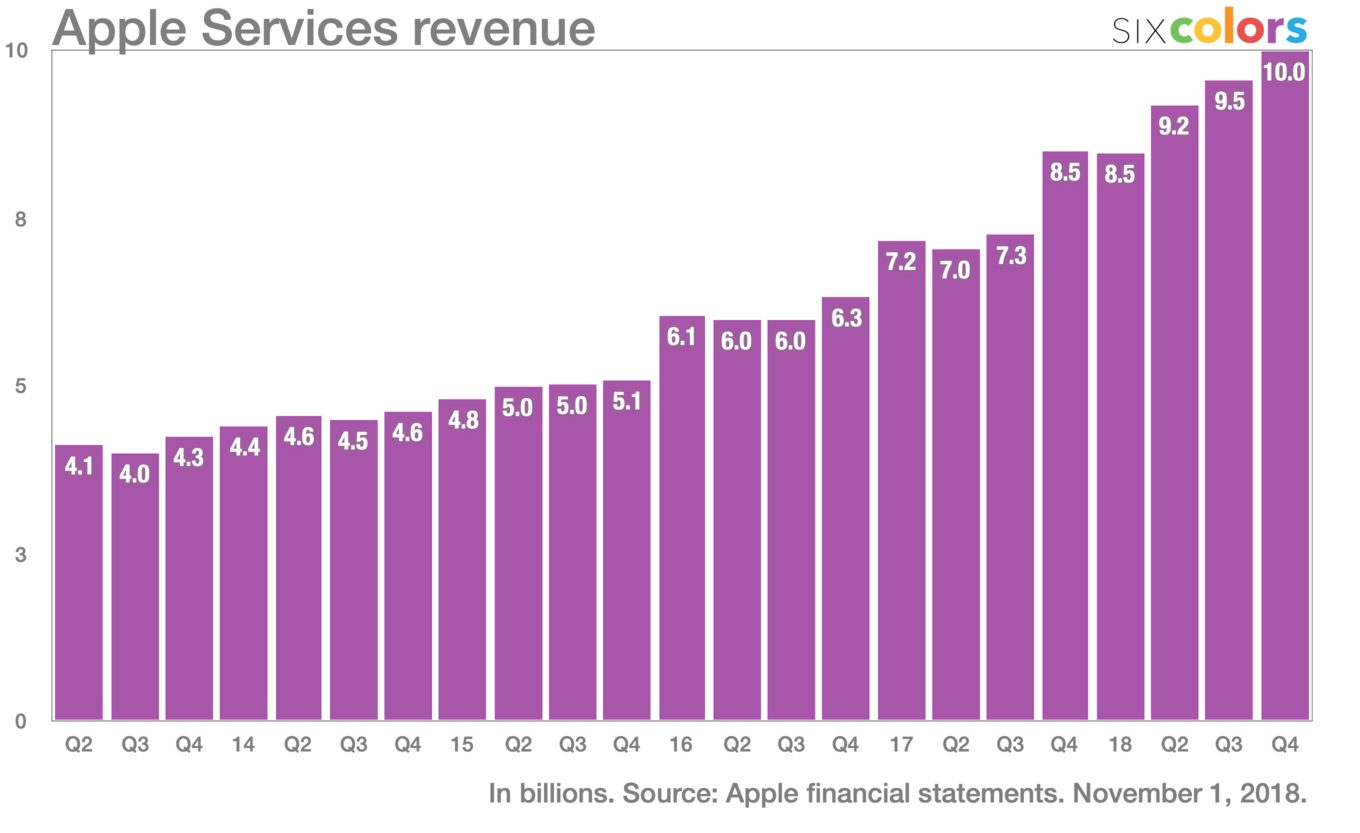 (Apple's services revenue by quarter.)
Many services are subscription based; they don't depend on people upgrading a device or making an impulse purchase, but rather bring in money every month. This is the case for iCloud storage, Apple Music subscriptions (though you can subscribe for 12 months at a time), and the coming video and Apple News services. Against falling iPhone sales in countries like China and India and flat sales overall, services growth, while it won't replace lower iPhone revenue, will prop up the company.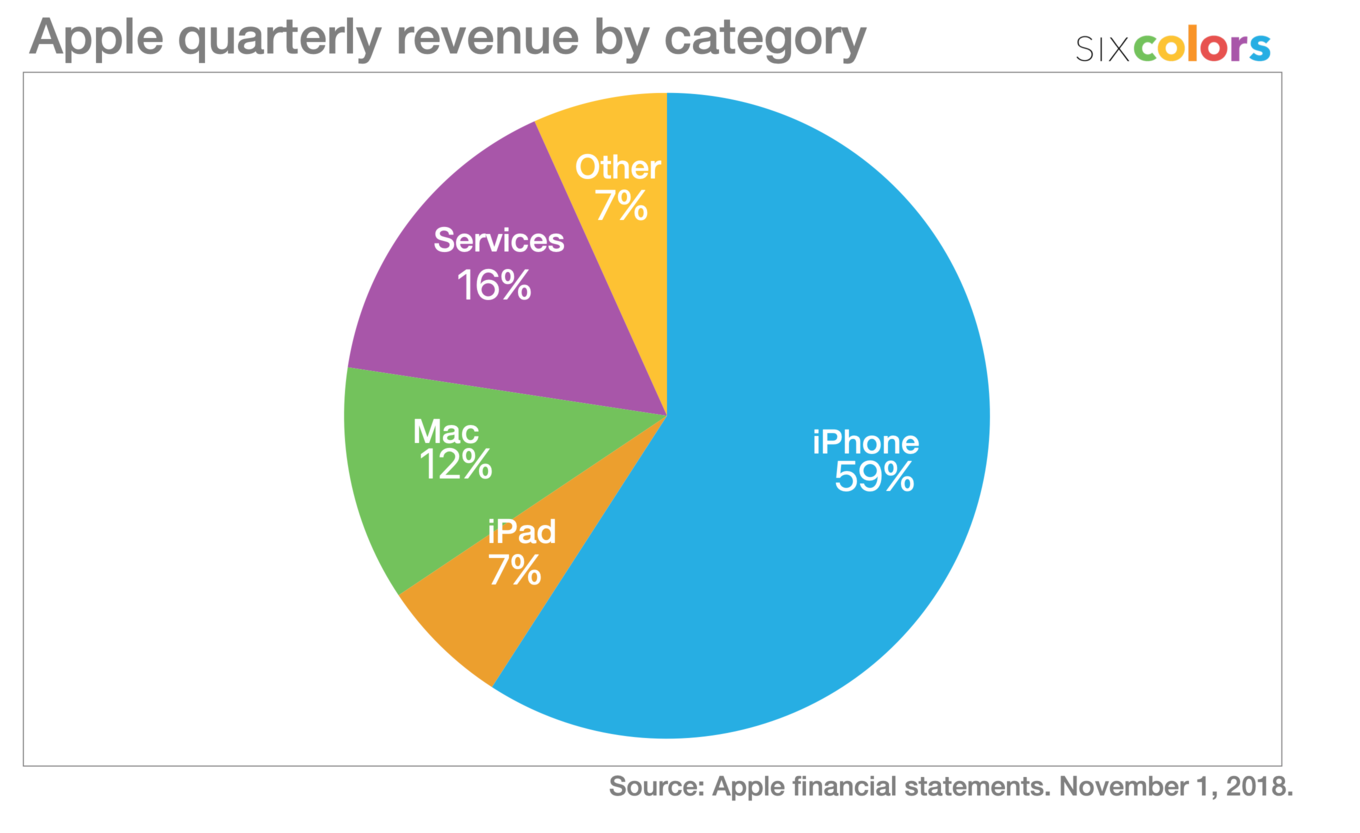 (Breakdown of Apple's quarterly revenue by category)
One subscription?
This has led a number of analysts to consider the idea of an "Apple Prime" subscription service; one subscription to all of Apple's services (perhaps including AppleCare). Apple has already taken steps to mitigate the increasing price of iPhones by launching their iPhone upgrade program; for a monthly fee, you can buy an iPhone with AppleCare and upgrade after a year. No more restrictive carrier plans, no more worries about the high cost of the phone outright, and no worries about selling a used phone when you want a new one.
It's fair to say that most Apple services depend on platform lock-in; with the exception of Apple Music, which you can use on Android, all these services require one or more Apple products. As such, the customer base is easy pickings. Imagine a single monthly fee for Apple Music, Apple's video service, additional iCloud storage, and perhaps other perks. This would be an easy sell if it were priced right, and it's a lot easier to get people to pay for a bundle of services than individual services. It would also take the sting out of the nickel-and-diming of iCloud storage (no matter how many devices you have, you only get 5 GB free, and need to pay $1 or more a month to store all your data in the cloud).
Apple could go even further: they could become a mobile virtual network carrier (MVNO) and offer cellular plans to their customers. This would, as I suggested in 2015, "extend [Apple's] user base and enhance customer loyalty." (At the time, I also suggested a monthly fee for the iPhone with the ability to upgrade when a new model is released which Apple has since implemented.) Back then, Apple Music was just a rumor. There were no public plans for a video service, so an Apple Prime service would have been much more limited than it can be today.
With all this in mind, it looks more and more like Apple is going to morph into a media/services company that just happens to make iPhones, iPads, Macs, and other devices. Yes, there are 100 million Mac users and Apple won't abandon them any time soon, but they're looking into the future. Yes, the Apple Watch is the leader in its sector, but in a sector that is still young and uncertain. The smartphone has become commoditized and Apple's customer base is shifting toward the high end users who could be more willing to pony up a monthly fee for a bundle of services. (The average selling price of iPhones this quarter was $760, more than $100 up over the past year.)
An Apple Prime subscription would help solidify Apple's user base and increase the company's revenues in the area where growth is potentially unlimited. The company's ability to control the hardware, software and services areas of their ecosystem sets Apple apart from other smartphone manufacturers and looks like an ideal foundation for the future.
Related article (March 25, 2019):
How can I learn more?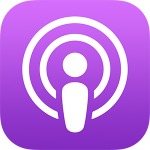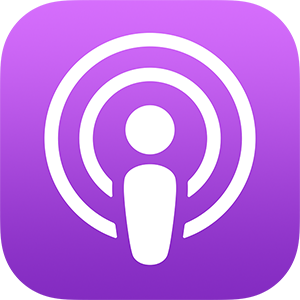 Every week we discuss Apple news and security topics on the Intego Mac Podcast, so be sure to subscribe to make sure you don't miss the latest episode. You'll also want to subscribe to our e-mail newsletter and keep an eye here on The Mac Security Blog for updates.
You can also follow Intego on your favorite social and media channels: Facebook, Instagram, Twitter, and YouTube (click the ? to get notified about new videos).
About Kirk McElhearn
Kirk McElhearn writes about Apple products and more on his blog Kirkville. He is co-host of the Intego Mac Podcast, as well as several other podcasts, and is a regular contributor to The Mac Security Blog, TidBITS, and several other websites and publications. Kirk has written more than two dozen books, including Take Control books about Apple's media apps, Scrivener, and LaunchBar. Follow him on Twitter at @mcelhearn. View all posts by Kirk McElhearn →