OceanLotus OS X Malware Disguises Itself as Adobe Flash Update
Posted on by Graham Cluley
Intego VirusBarrier users are protected against the OS X version of OceanLotus, a sophisticated Trojan horse that has been used to spy against businesses and government agencies.
In May last year, Chinese security firm Qihoo360 published a technical paper examining a malware campaign that was said to be targeting critical areas of Chinese infrastructure — including government offices, research institutes, maritime agencies, construction and shipping enterprises.
Sadly, Qihoo360's paper is in Chinese (a language I don't read!) and Google's online translation is not perfect, but it is clear that the security firm had also seen a version of OceanLotus made specifically for the OS X platform.
A recent report by AlienVault has brought this OS X version of OceanLotus back into the spotlight.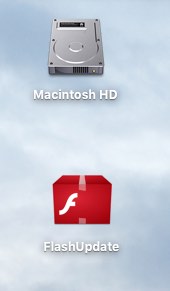 There's nothing particularly novel about the social engineering that OceanLotus uses to dupe users into infection, posing as an update to Adobe Flash.
But then, an attack's social engineering doesn't need to be sophisticated if it is effective. Malicious hackers know that their targets are used to being prompted to install updates to widely-used applications — such as Adobe Flash — and many will not be surprised to see a pop-up appear on their screen and will click to run code without thinking carefully about the potential dangers.
And, you may be asking, how did the criminals get the fake version of Flash to users in the first place in order to hit them with the OceanLotus malware? It appears that OceanLotus has been spread via two different methods.
Firstly, the malware was distributed via watering hole attacks. This is where a particular legitimate website is compromised by online criminals, who inject malicious code into its pages. Innocent visitors to the poisoned webpages have their computers infected via a drive-by download attack, or are socially engineered into installing software that then compromises their systems.
Examples of possible watering hole sites include websites that might cover news about a particular topic, or forums that deal with a particular industry. Online criminals target particular sites, knowing that their targets are likely to regularly visit it. Examples would include the OSX/Tibet malware that was distributed in the form of a poisoned Java applet on compromised websites, or OSX/Pintsized that successfully infected computer systems at Facebook, Twitter, Apple, and Microsoft, amongst others.
The other way that OceanLotus has been distributed is through spear-phishing attacks, where emails carrying malicious attachments or links are targeted at workers at specific organisations with the intention of tricking them into infection.
Files used by the malware include:
FlashUpdate.app/Contents/MacOS/EmptyApplication
FlashUpdate.app/Contents/Resources/en.lproj/.DS_Stores
FlashUpdate.app/Contents/Resources/en.lproj/.en_icon
The malware's loader is encoded and it decodes itself to be able to decode other files, which are used to deploy the threat locally. This makes analysis (and the creation of protection routines) harder. When the Trojan is installed, a persistent daemon runs and performs several tasks from a command & control (C&C) server. During Intego's laboratory tests, the C&C servers appear to be currently offline.
In the below image you can see Intego NetBarrier alerting on an attempt by the malware to receive commands from the command & control servers, in order to download additional payload code. If you see such a message you should obviously block the connection.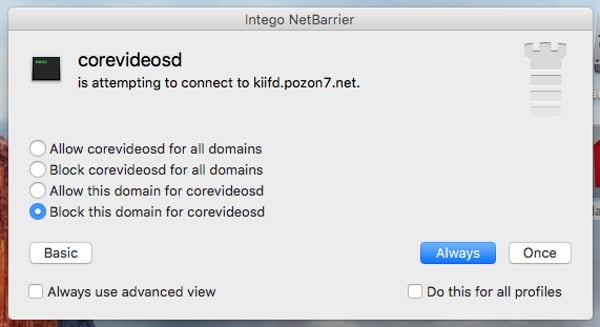 Intego VirusBarrier with up-to-date virus definitions will detect and eradicate the OSX/OceanLotus malware.
Users are reminded that the only safe place to download security updates for Adobe Flash is directly from the Adobe website itself.
About Graham Cluley
Graham Cluley is an award-winning security blogger, researcher and public speaker. He has been working in the computer security industry since the early 1990s, having been employed by companies such as Sophos, McAfee and Dr Solomon's. He has given talks about computer security for some of the world's largest companies, worked with law enforcement agencies on investigations into hacking groups, and regularly appears on TV and radio explaining computer security threats. Graham Cluley was inducted into the InfoSecurity Europe Hall of Fame in 2011, and was given an honorary mention in the "10 Greatest Britons in IT History" for his contribution as a leading authority in internet security. Follow him on Twitter at @gcluley. View all posts by Graham Cluley →