iOS Lock Screen: Guide to Keep Data off Your iPhone Lock Screen
Posted on July 20th, 2018 by Kirk McElhearn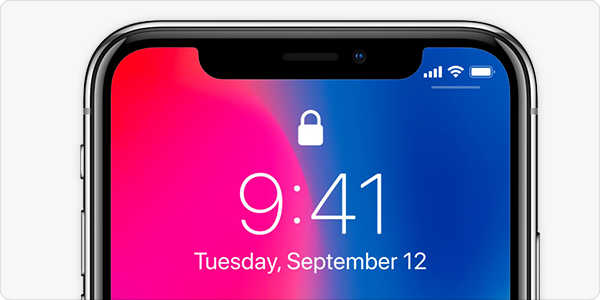 We use our iOS devices to keep us up to date on important information. With notifications that can display on your iPhone lock screen, you can see who's emailed you, important messages, and much more. But with the default iOS settings, sometimes private data that you don't want others to see can display on your lock screen, and anyone who can see your iPhone or iPad can potentially access personal information on your iPhone, even if it's locked.
This means if your iPhone is lost or stolen, whoever has your iOS device will not need your passcode to look at the information that displays on the iOS lock screen. Even someone who randomly walks by your phone when you're not there could potentially see sensitive information displayed on it while it's locked.
Fortunately, Apple's iOS contains a number of privacy settings to control what data can display on your lock screen, but many people ignore these options. Want to keep your sensitive information private? In this guide, we'll show you what you can control and how to change these settings to keep private data off your iPhone lock screen.
Lock Screen Notifications
You've certainly seen it often: you tap your iPhone, or pick it up, and its display wakes up showing a number of notifications on the lock screen. You can scroll through them, view some of the information, and even reply to messages, and more. You don't even need to enter your passcode or use Touch ID (or Face ID). This is because there is a setting that allows the iPhone to display recent notifications.
To hide these notifications, go to Settings > Touch ID & Passcode (or Face ID & Passcode, if you're using an iPhone X). Scroll down a bit to the Allow Access when Locked settings.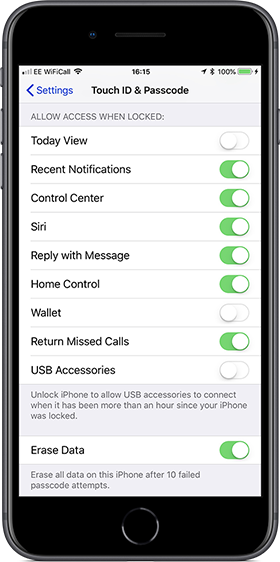 As you can see, there are many types of information that you can hide here. Following is a deep dive into what each notification can display on your lock screen and how to make this information private.
Today View
If you use Today View—this is the ability to display widgets that display when you swipe to the right on the iPhone display—then you might find it handy to view this information without unlocking your iPhone. But if you do, then anyone who picks up your phone can see this data as well.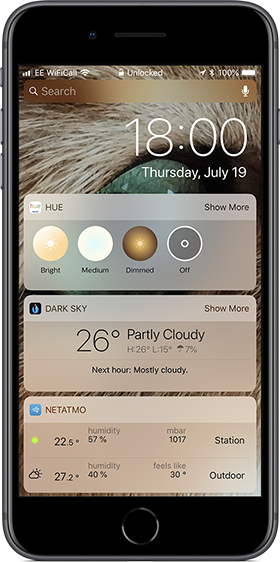 Depending on the type of widgets you use, it may be possible for strangers to see a lot of personal information: notifications from various apps, messages, emails, your calendar, and a lot more. It's a good idea to turn this off, unless your Today View widgets don't show any personal information.
Recent Notifications
Recent Notifications can display on the lock screen. These can be email notifications, which can display subject lines; messages, which can display the entire text of short messages; and all sorts of other messages from any app that displays notifications. If you turn this off, you won't see notifications on the lock screen. In some cases, the notifications will display after you unlock the phone; in others, you'll be able to swipe down from the top of the screen to see notifications.
Control Center
Control Center is the small palette of buttons and sliders you can use to control certain things on your iOS device. From the Control Center, you can turn on or off both Wi-Fi and Bluetooth, control music playback, adjust the brightness, and more. I use this often for the above, and also to turn on the flashlight on my iPhone.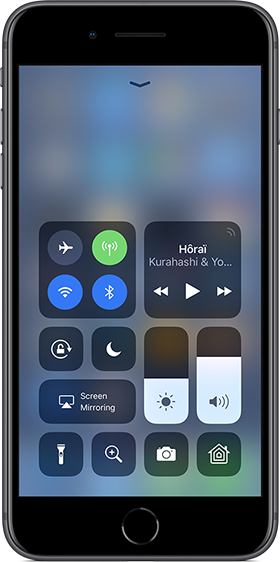 There's no real access to your personal information from Control Center, with the exception of the Home button, which could allow someone to control smart devices that you have set up to use Apple's HomeKit.
Siri
Siri knows a lot about you. And Siri can tell others a lot about you. However, if Siri is available from the lock screen, then anyone can find out some of the information on your iPhone, but also to send messages and make phone calls that seem to be coming from you. While using Siri from the lock screen is practical, it can be a risk.
For example, if Siri is active, ask, "Who does this iPhone belong to?" The phone will display a contact card, if the user has set their contact card in Settings > Contacts > My Info.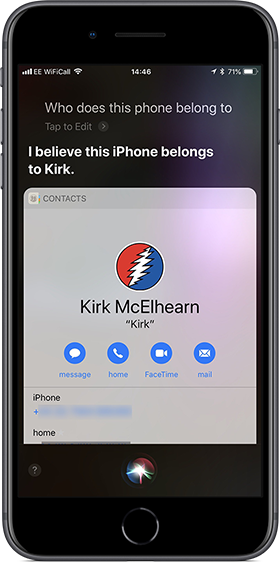 However, if you turn it off, you'll lose out on the ability for anyone who finds your phone to find out who it belongs to.
Reply with Message, and Return Missed Calls
Both of these settings make it possible to reply to messages or return phone calls without unlocking the phone. If these are active, anyone, literally anyone, can reply to people who contact you, either getting personal information about you, or impersonating you. By all means, turn these off, unless you're absolutely sure you'll never lose your iPhone.
Home Control
As mentioned above, you can access your Home controls from Control Center. I only have a few smart lightbulbs, but if you have things like a smart doorbell and lock, then it's a good idea to turn this off.
Wallet
Do you really want anyone to be able to access your Wallet—with ApplePay and your credit and debit cards—when your iPhone is locked? If not, and this should really be the case for everyone, turn off this option.
USB Accessories

New in iOS 11.4.1, this setting tells the iPhone or iPad to use USB accessories only when you have entered your passcode, if you haven't unlocked the device in more than one hour. You can read about this interesting new security feature, called USB Restricted Mode, here: Anti-Hack Feature Comes to iOS 11.4.1… But Is It Good Enough?
Bottom Line
Take some time to look through these settings. You may be surprised how much information people can access when your iPhone or iPad is locked. It's easy to turn these off, and, while some of these features are convenient, you need to weigh them against the possibility of someone who finds or steals your phone, or just passes by your desk, finding out more than you want them to.
Further Reading:
About Kirk McElhearn
Kirk McElhearn writes about Apple products and more on his blog Kirkville. He is co-host of the Intego Mac Podcast, as well as several other podcasts, and is a regular contributor to The Mac Security Blog, TidBITS, and several other websites and publications. Kirk has written more than two dozen books, including Take Control books about Apple's media apps, Scrivener, and LaunchBar. Follow him on Twitter at @mcelhearn. View all posts by Kirk McElhearn →