How to Use iCloud Drive and Get the Most Out of It
Posted on by Kirk McElhearn
If you use a Mac, iPhone, or iPad, you can store files in iCloud Drive, Apple's cloud storage service. This is just one of the many iCloud features available, ranging from privacy and backups to cloud sync of your photos and music library.
iCloud Drive is especially useful if you have two Macs; you can sync your Desktop and Documents folders to iCloud Drive, so you can easily switch between working on a desktop Mac and a laptop. And you can even access these files on your iPhone or iPad.
In this article, I'll explain how iCloud Drive works, and tell you how you can get the most out of this service.
Understanding iCloud Drive storage
When you buy an Apple device, you get 5 GB iCloud storage. You don't get more if you have multiple devices, and, for most people, this 5 GB is paltry. If only to back up an iPhone and store some photos in the cloud, you quickly use it up. Apple has always sold multiple tiers of iCloud storage, and the current offer is the following:
50 GB: $0.99 per month
200 GB: $2.99 per month
2 TB: $9.99 per month
Apple now calls any storage plan iCloud+, because it includes some new security and privacy features. You can use iCloud Private Relay, Hide My Email, HomeKit Secure Video, and you can host your own domain for email. See How to Use iCloud+, with Additional Security and Privacy Features, and More.
If you only use iCloud Drive to store a handful of files, the 50 GB tier is probably sufficient. Remember, though, that this iCloud storage is shared with all the other iCloud services, and, for many people, the Photos library takes up most of the space. Here's my current iCloud drive storage (you can see this in System Preferences > Apple ID on Mac, or in Settings > Apple ID > iCloud on an iPhone or iPad):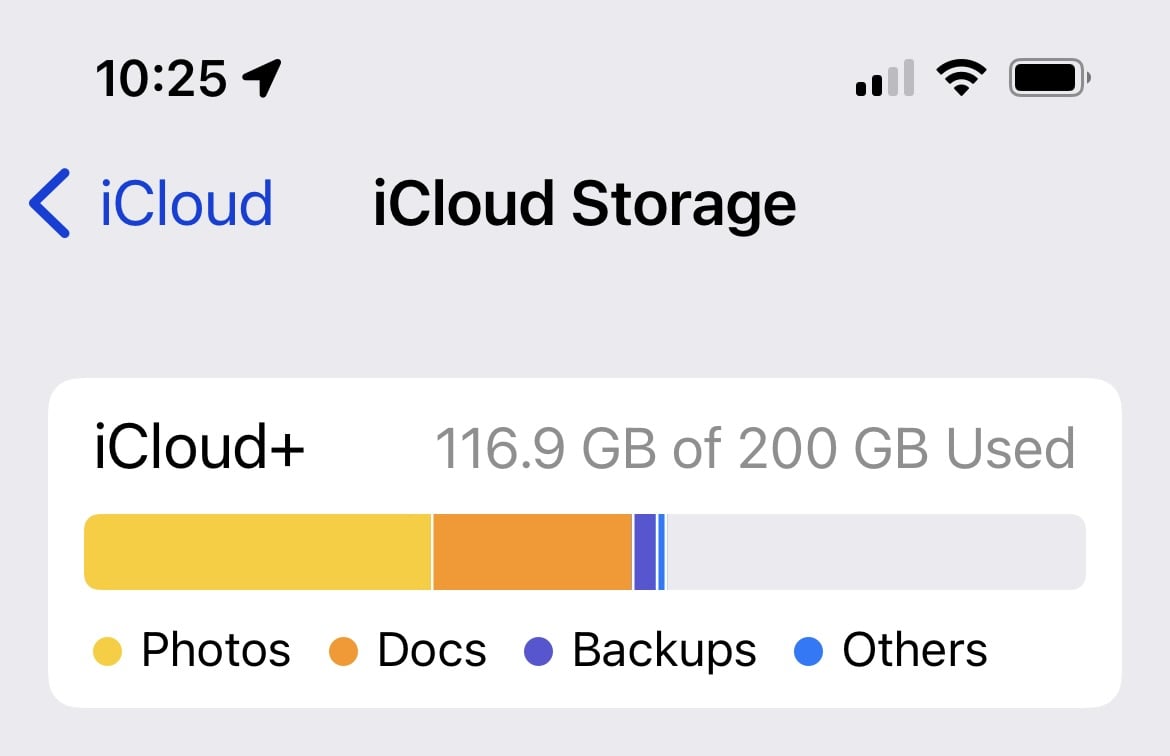 You can see that I have used more than half of my 200 GB, and that photos take up about a third of my total storage, and documents about a quarter.
How does iCloud Drive work?
iCloud Drive works like other cloud storage services, such as Dropbox or OneDrive. On a Mac, there is an iCloud Drive folder, to which you can add folders and files. You'll find iCloud Drive in the Finder sidebar, in the iCloud section.
Any app for Mac, iPhone, or iPad can store files on iCloud Drive, and you will see folders for these apps. Here are some of the folders in my iCloud Drive: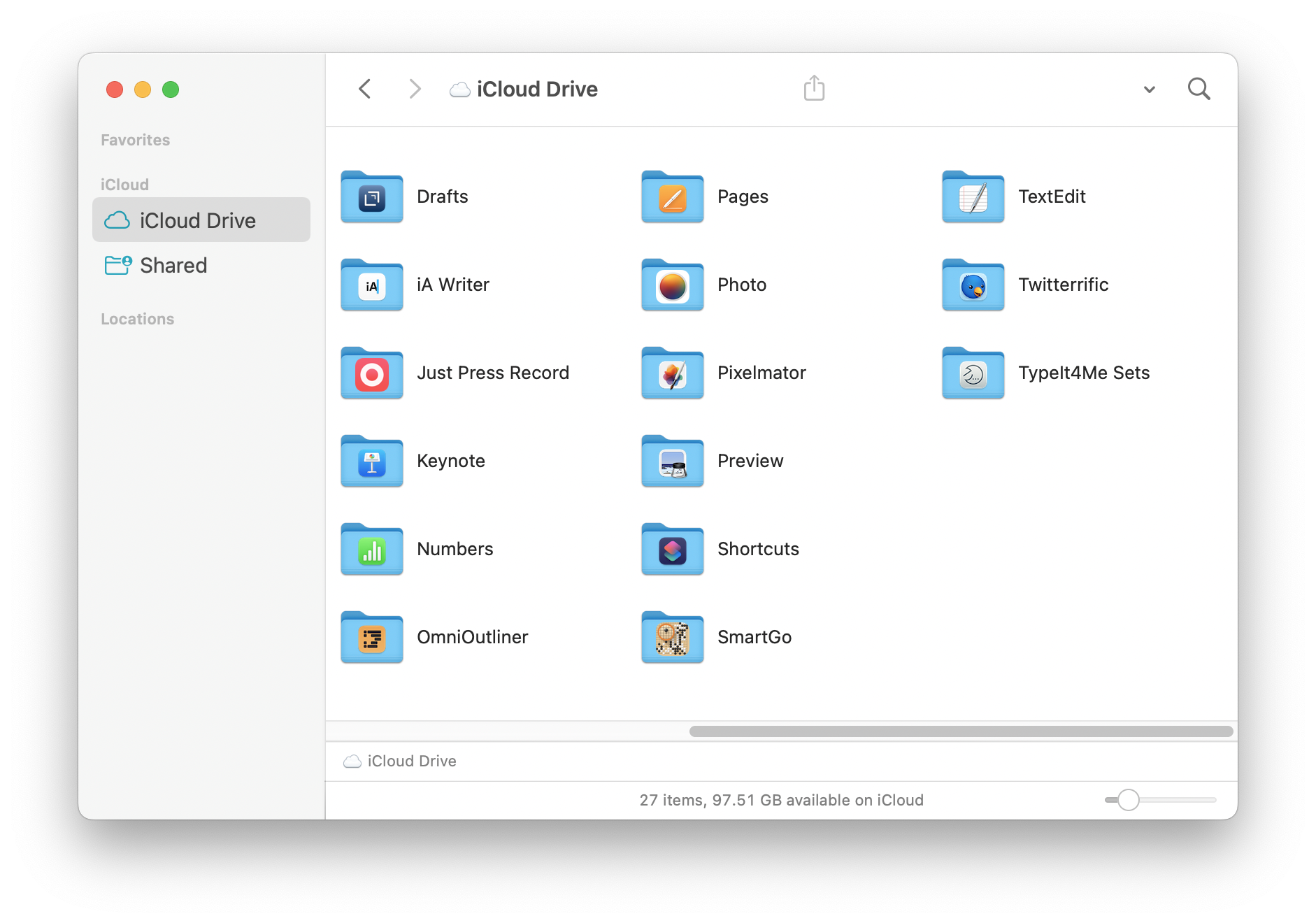 Some of these are apps that are available for Mac, iPhone, and iPad – such as Apple's Keynote, Numbers, and Pages – and some are only iOS/iPadOS apps. You can open these files either from the Finder, or the apps themselves; on an iPhone or iPad, you can open them from the apps, or, in some cases, from the Files app. (See below.)
If you want to make a file on your Mac available to an iPhone or iPad app, via iCloud Drive, you can just drop it into that app's folder. You can also save a file to iCloud Drive, or move a file that you saved on the Mac to iCloud Drive.
How to use the Files app on iPhone and iPad
The Files app lets you access files in iCloud Drive on an iPhone or iPad. When you open the app, you'll see locations – iCloud Drive, On My iPhone / iPad, Shared, and Recently Deleted. You may also see other locations; if you tap …, then Edit, you can see toggles for other cloud services whose apps are on your device.
You can tap iCloud Drive, and navigate the folders it contains, or type part of a file name into the search field. In some cases, you can see files but not open them; this will be the case if you store files from your Mac in iCloud Drive, and there are no equivalent apps for iOS / iPadOS.
How to save files to iCloud Drive
When saving a file on a Mac, click the Where menu, and choose one of the two iCloud Library options.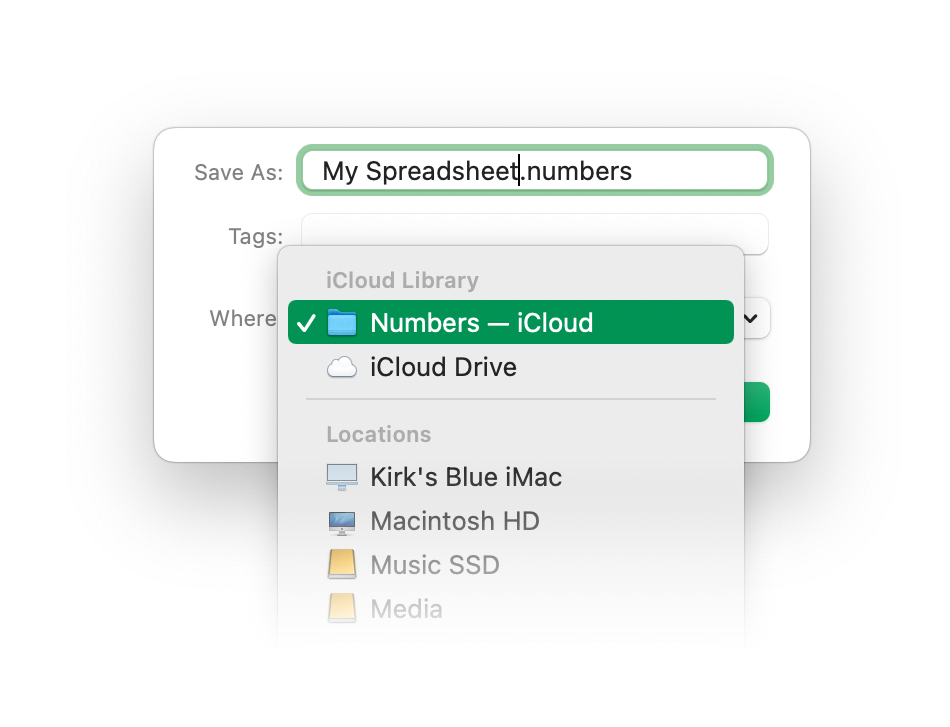 You can save to the Numbers folder in iCloud, or, if you choose iCloud Drive, you can navigate to a specific folder. You will want to do this if you're saving a file to a shared folder, for example.
You can also move files from the Finder to iCloud Drive, and vice versa. Open a file, then choose File > Move To, and choose where to move the file. The dialogue is similar to that above.
On an iPhone or iPad, apps that save files will do so either to their own cloud storage, if any, or to iCloud Drive.
How to open files from iCloud Drive
The way you open files from iCloud Drive depends on the app. On the Mac, apps like Keynote, Numbers, and Pages launch with an Open dialogue, which will either show the last used folder, on the app's iCloud Drive folder in the Finder sidebar. For other apps, you can navigate to the app's folder in iCloud Drive, then double-click a file. If you've already worked on a file, launch an app, then choose File > Open Recent, and select the file.
On iOS or iPad OS, since you don't directly have access to the file system, you can open files when launching an app; different apps have different ways of accessing files in iCloud. Or you can use the Files app to find the file you want to work with, and tap it to open it.
How to sync files and folders across Macs
One key feature of iCloud Drive is the ability to sync the content of your Mac's Desktop and Documents folder to iCloud. You'll see this option when setting up a new Mac, but you can manually enable it if you haven't already.
This has several benefits. If you work on two Macs – a desktop Mac and a laptop – then you can switch seamlessly from one to the other, as long as you have the bandwidth for files to sync. It also means that all these files are easily accessible on an iPhone or iPad, via the Files app, and you can even access them via icloud.com.
To enable this, go to System Preferences > Apple ID, then click iCloud in the sidebar. Next to iCloud Drive, click Options. You see a list of apps that store documents in iCloud, and you can uncheck any that you don't want to store files there.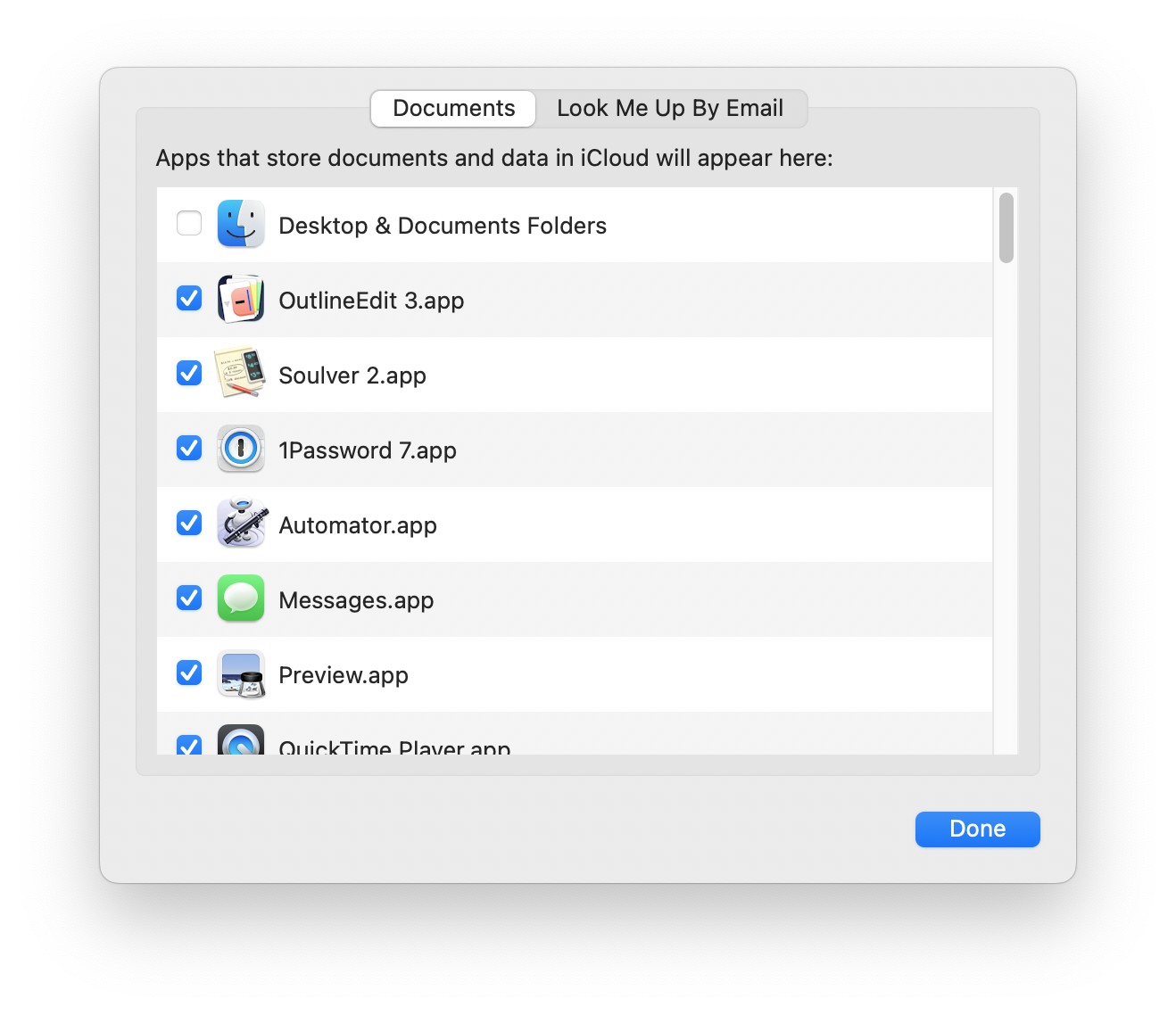 If you check Desktop & Documents Folders, then check Done, your Mac will start sending these files to the cloud.
Before you start this, make sure you have enough storage on iCloud Drive. If you have large files that you don't want to put on iCloud Drive, or don't need to sync, then you should move them from your Documents folder. Create a new folder (or folders) for these files at the top level of your home folder (the one with the house icon and your name). For example, if you use virtual machines to run Windows or Linux on your Mac, these files can be several dozens of gigabytes. You may not have enough storage (unless you have the 2 TB plan), or you may not need them on more than one Mac. Also, they take a long time to sync, so when you finish working with them, you need to make sure your Mac doesn't go to sleep.
How to share folders and files from iCloud Drive
In addition to storing your own files and accessing them on your other devices, you can share folders and files that are on your iCloud Drive.
To share an item, right-click on a folder or file in your iCloud Drive, then choose Share > Share Folder. You see a number of options: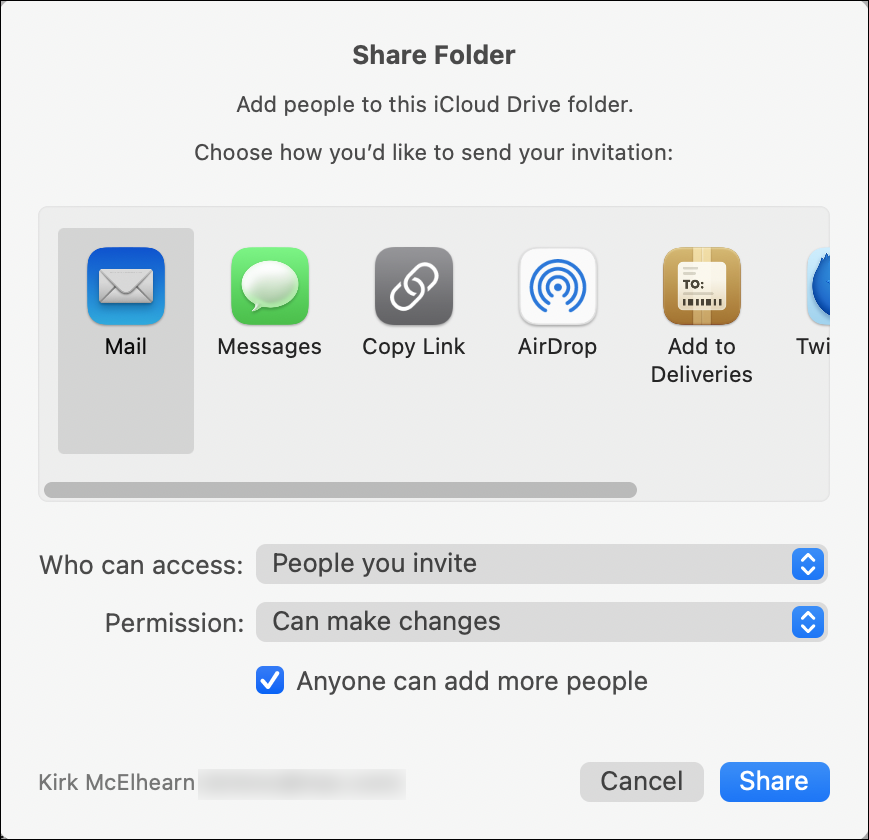 When you share an iCloud Drive item, you send a link to someone who can then access it. You can send this link via Mail, Messages, AirDrop, or you can copy the link to send another way. (For some reason, other apps that appear in the macOS share sheet show up here, such as Deliveries and Twitterrific in my screenshot.)
There are other sharing options:
Who can access: if you choose People you invite, only those people you invite directly can access the item. Click the menu to choose Anyone with the link to make the item available to anyone. You might want to do this in a business for a folder with shared assets, but this means that anyone can access the folder and its contents.
Permission: if you choose Can make changes, then people accessing the a folder will be able to add and delete files, or delete a shared file. If you choose View only, people can access files but not change them or delete them.
If you check Anyone can add more people, then others who have access to the item can share it as well.
Once you have shared folders or files, they show up in the Shared section of the Finder sidebar. If you right-click an item, you can choose Share > Manage Shared Folder / File to remove access to the item, to stop sharing, or to send a link to others.
See this Apple document for more on iCloud file sharing, including how to access and manage shared files and folders on icloud.com.
iCloud Drive is a great way to store files in the cloud, especially because it's built in to your Apple devices. You may find that iCloud Drive is more practical than a third-party service, such as Dropbox or OneDrive, so try it out and see how it works for you.
How can I learn more?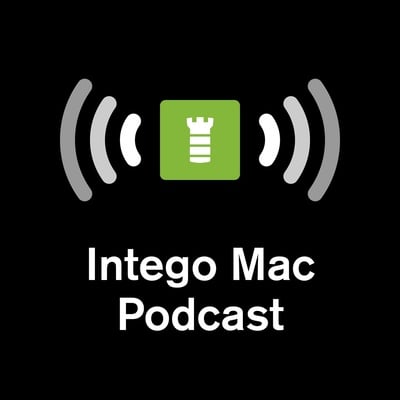 Each week on the Intego Mac Podcast, Intego's Mac security experts discuss the latest Apple news, security and privacy stories, and offer practical advice on getting the most out of your Apple devices. Be sure to follow the podcast to make sure you don't miss any episodes.
You can also subscribe to our e-mail newsletter and keep an eye here on The Mac Security Blog for the latest Apple security and privacy news. And don't forget to follow Intego on your favorite social media channels: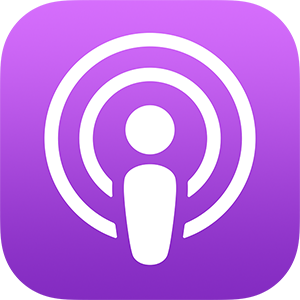 About Kirk McElhearn
Kirk McElhearn writes about Apple products and more on his blog Kirkville. He is co-host of the Intego Mac Podcast, as well as several other podcasts, and is a regular contributor to The Mac Security Blog, TidBITS, and several other websites and publications. Kirk has written more than two dozen books, including Take Control books about Apple's media apps, Scrivener, and LaunchBar. Follow him on Twitter at @mcelhearn. View all posts by Kirk McElhearn →