Apple + How To + Recommended
Earlier this week, I discussed the future of macOS Server. Apple is deprecating a number of services, "To focus more on management of computers, devices, and storage on your network." Many of the services that will be deprecated—hidden from the Server app, but still available via the command line—are not very useful for those not running an enterprise-type solution, but macOS High Sierra already provides access to a number of Server services that small businesses, and even home users, may want to use.
In this article, I'm going to discuss the most commonly used services of macOS Server and how you can turn on the same features with a standard Mac running macOS High Sierra. This guide is an overview about using macOS High Sierra with three basic services: file sharing, Time Machine, and content caching.
How to turn on File Sharing
Macs have long been able to use File Sharing. You can set your Mac up so others on your network can access your files. You can limit access to specific users—who will need accounts on that Mac—or allow guest access, and you can choose which folders these users can access.
File Sharing is the easiest service to set up in macOS. In System Preferences, go to Sharing, and then check the box next to File Sharing. In the Shared Folders pane, click + and choose a folder you want to share. When that folder is selected, you can choose which users can access it in the Users pane.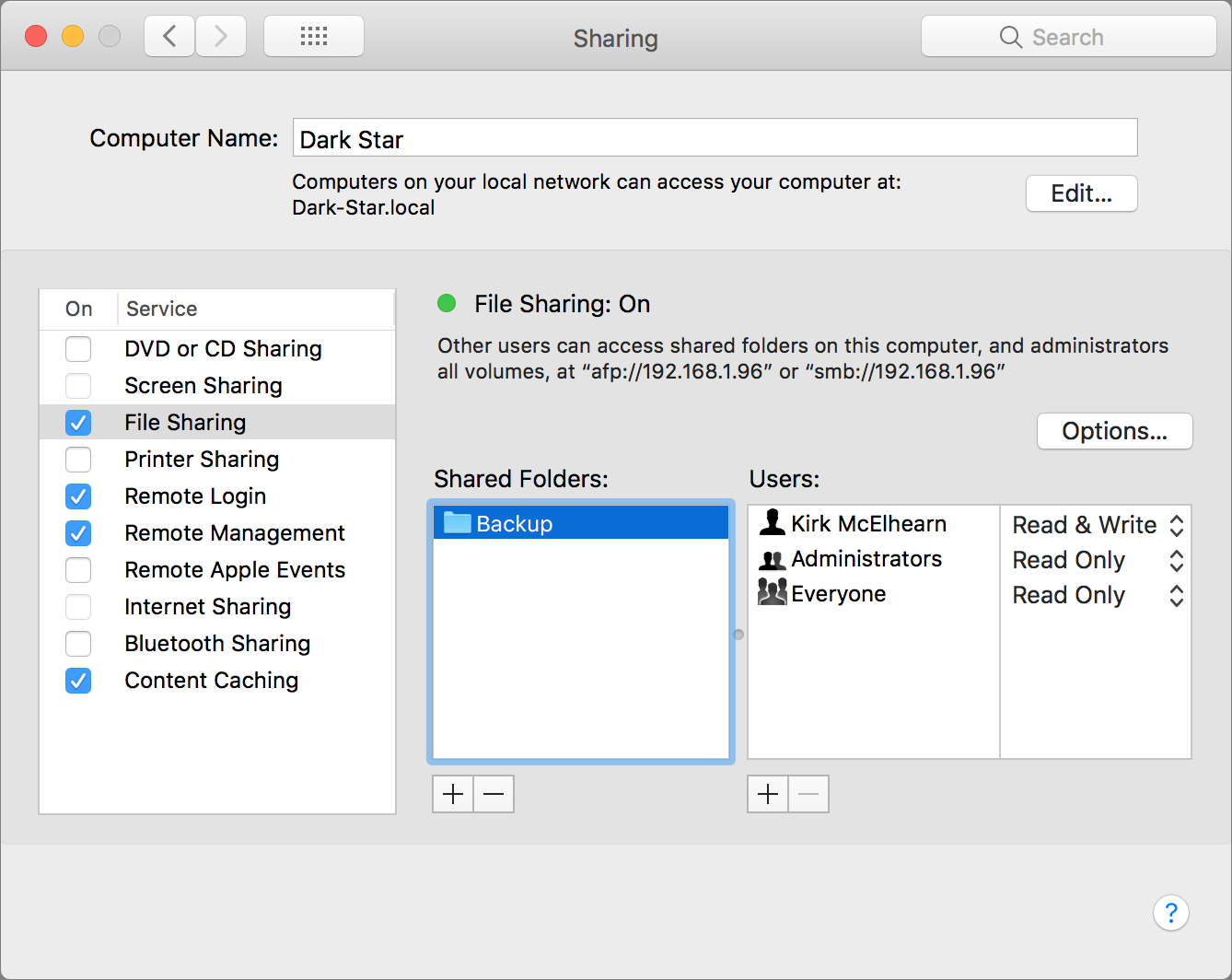 Other users won't be able to access any files in other locations on this Mac, but they will be able to access any folders within the folder you select. So don't select, say, your Documents folder to share with others; instead, only select the specific folders you want users to access.
If you share files a lot, it's a good idea to put these shared folders on an external disk, rather than in your own user account. This way you won't be backing up these shared files each time you run a backup.
How to turn on Time Machine backups
As you may know, you can use Time Machine on any Mac by connecting an external hard drive to it. You can also use network drives, and if you turn on the Time Machine service on a Mac, that computer will display when other computers on your network look for a drive to store its backups. One of the most useful services in macOS Server is its ability to set a Mac as a target for Time Machine backups.
As above, you create a shared folder, but once you've done that, right-click on that folder name and choose Advanced Options. Check "Share as a Time Machine backup destination," and then click OK. As you can see in the screenshot below, you can limit the size of your Time Machine backups. It's a good idea, if you're backing up multiple Macs, to store these backups on an external drive, where you'll have plenty of space.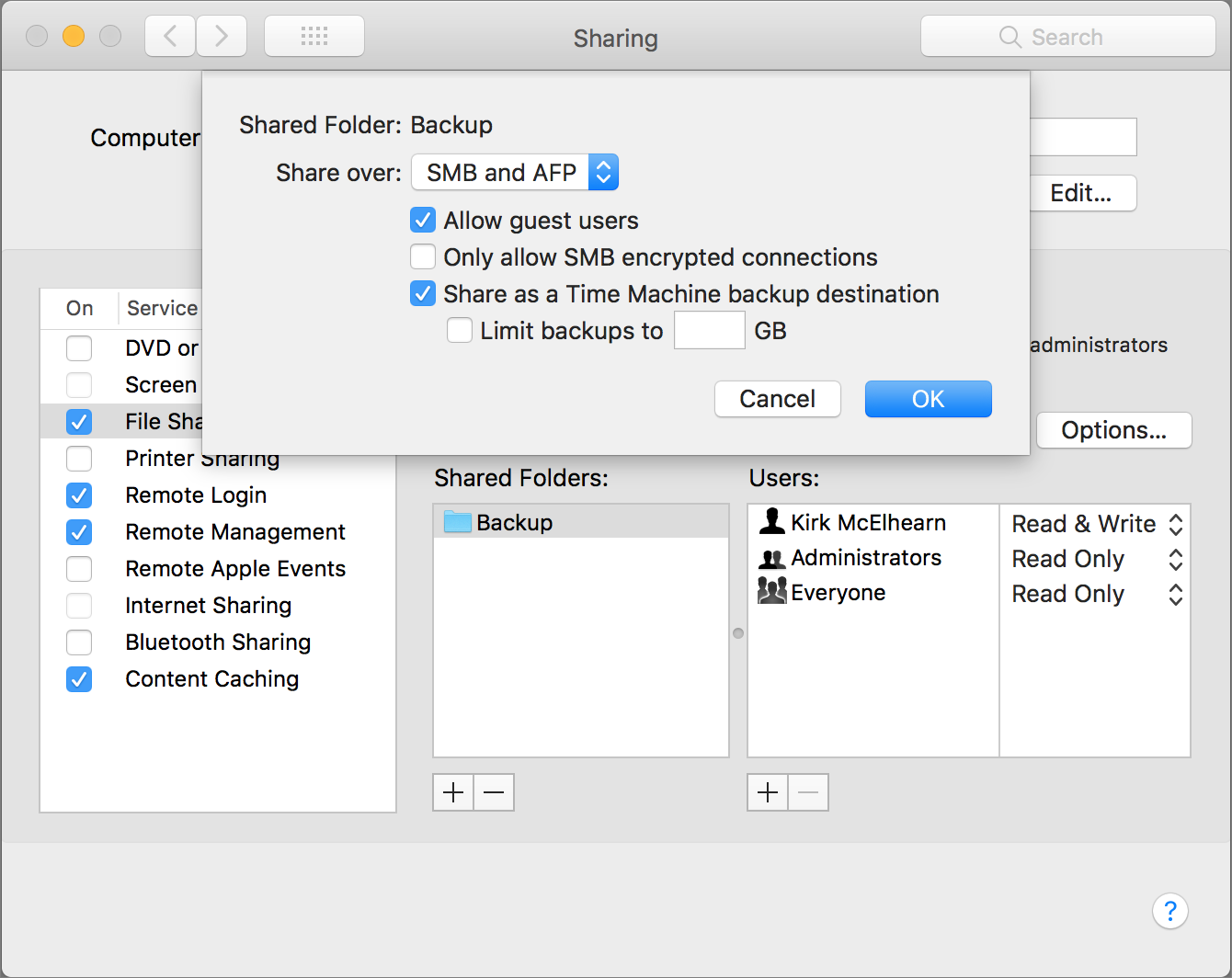 To use this folder for another Mac's backups, go to System Preferences > Time Machine on that Mac, and click Add Backup Disk, the Mac whose folder you set up for Time Machine will show as a target for your backups.
How to turn on Content Caching
macOS Server has a feature that caches content for software updates, downloaded apps, and other iCloud content that any device on your network downloads. You can turn on this service on any Mac running macOS High Sierra. If this service is on, your other devices—Macs and iOS devices—will first check to see if the content they requested is available in the cache. If not, they will download it, but will do so via the computer running the content caching service, so it is cached for other devices to use.
Again in the Sharing preferences, check the box next to Content Caching. By default, this now caches software updates and apps. If you check "Cache iCloud content," it also caches iCloud data, such as photos and documents. This doesn't make your documents available to other users, but will make it faster to download items that have already been downloaded on another device.
Click the "Options…" button to choose a location for the cache, set a size for the cache, or click Reset to delete all cached content. You can't see what content is cached, and in my experience, it doesn't help that much, since iOS apps, for example, are different for each type of device. But it may save you some bandwidth and some time.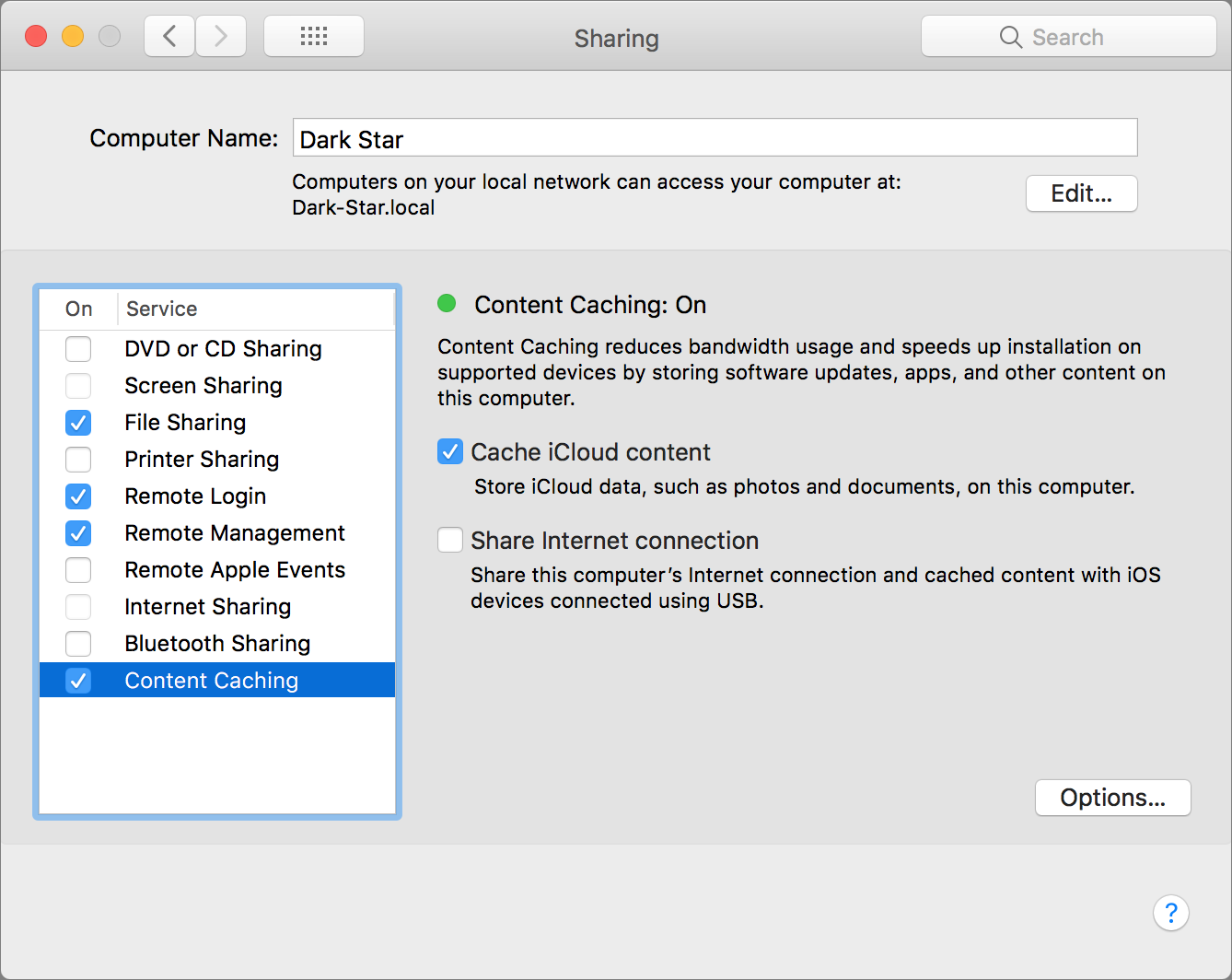 Activating these three services can replace the most commonly used services of macOS Server. In fact, as long as you have a Mac that is on often enough, you my find that, if you had only limited use of macOS Server, you can just run standard macOS High Sierra and get the same features.
Have something to say about this story? Share your comments below!
About Kirk McElhearn
Kirk McElhearn writes about Apple products and more on his blog Kirkville. He is co-host of the Intego Mac Podcast, as well as several other podcasts, and is a regular contributor to The Mac Security Blog, TidBITS, and several other websites and publications. Kirk has written more than two dozen books, including Take Control books about Apple's media apps, Scrivener, and LaunchBar. Follow him on Twitter at @mcelhearn. View all posts by Kirk McElhearn →