How to Report Abuse and Harassment on Twitter
Posted on July 25th, 2017 by Kirk McElhearn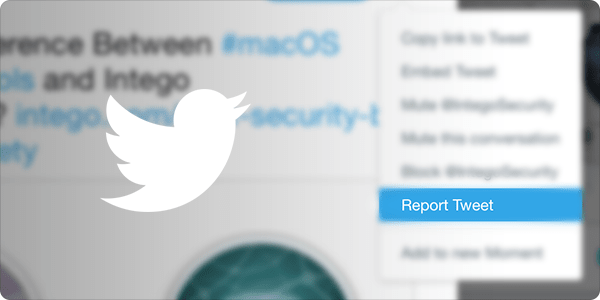 If you use Twitter, you know that abuse is rampant. Mindless trolls and bots reply to your tweets and insult you, even threaten you. Twitter has been very slow to come up with procedures for dealing with this, and lots of people just give up on Twitter because they have bad experiences.
Fortunately, the company has rolled out new ways to report tweets and direct messages, and presumably has a team that will examine these reports and suspend or remove accounts guilty of abuse or harassment. Here's how you can let Twitter know when you or someone else has been a victim of abuse.
Reporting Tweets
You can now use Twitter's reporting system to report abusive tweets, and even spam. If you find a tweet you want to report, tap or click the arrow at the top-right of the tweet and choose Report Tweet.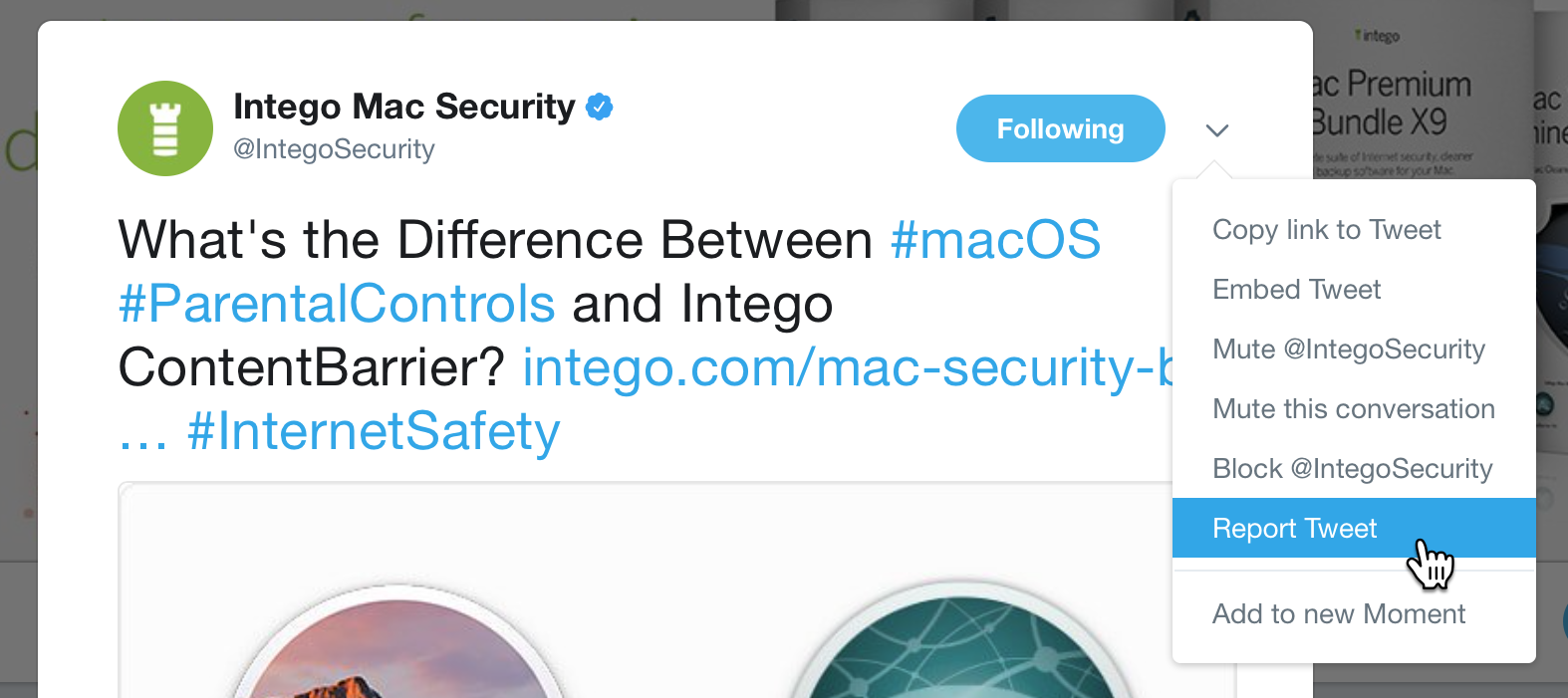 You'll see several options: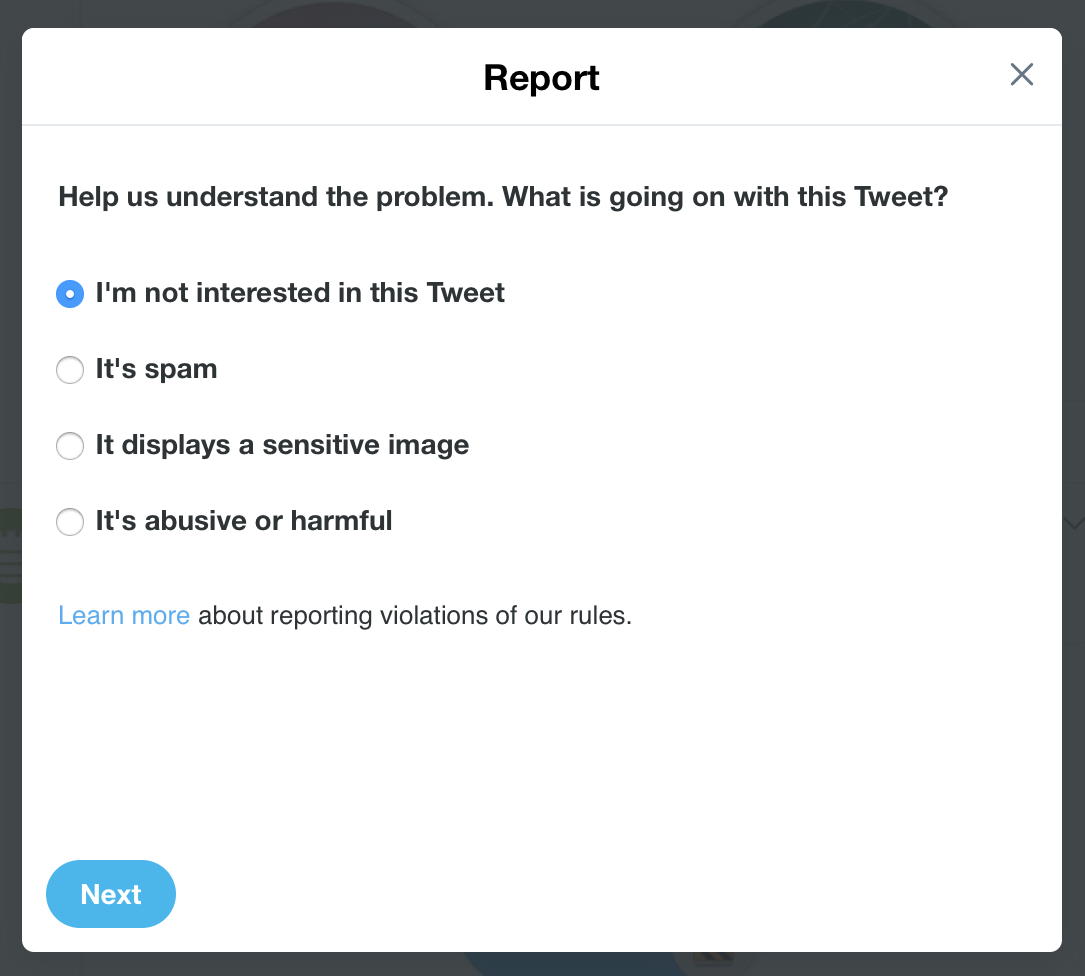 You can choose:
I'm not interested in this tweet
It's spam
It displays a sensitive image (this only displays if there is an image attached to the tweet)
It's abusive or harmful
After you make your choice, click Next, and you have a number of options.
If you say you're not interested in the tweet, Twitter tells you that you can unfollow the account, mute it, or block it.
If you say that it's spam, Twitter thanks you, then offers to block or mute the account.
If you say it displays a sensitive image, then Twitter offers similar options: to block or mute the account.
Twitter gets more thorough when you say that a tweet is abusive or harmful. It starts by offering the following options: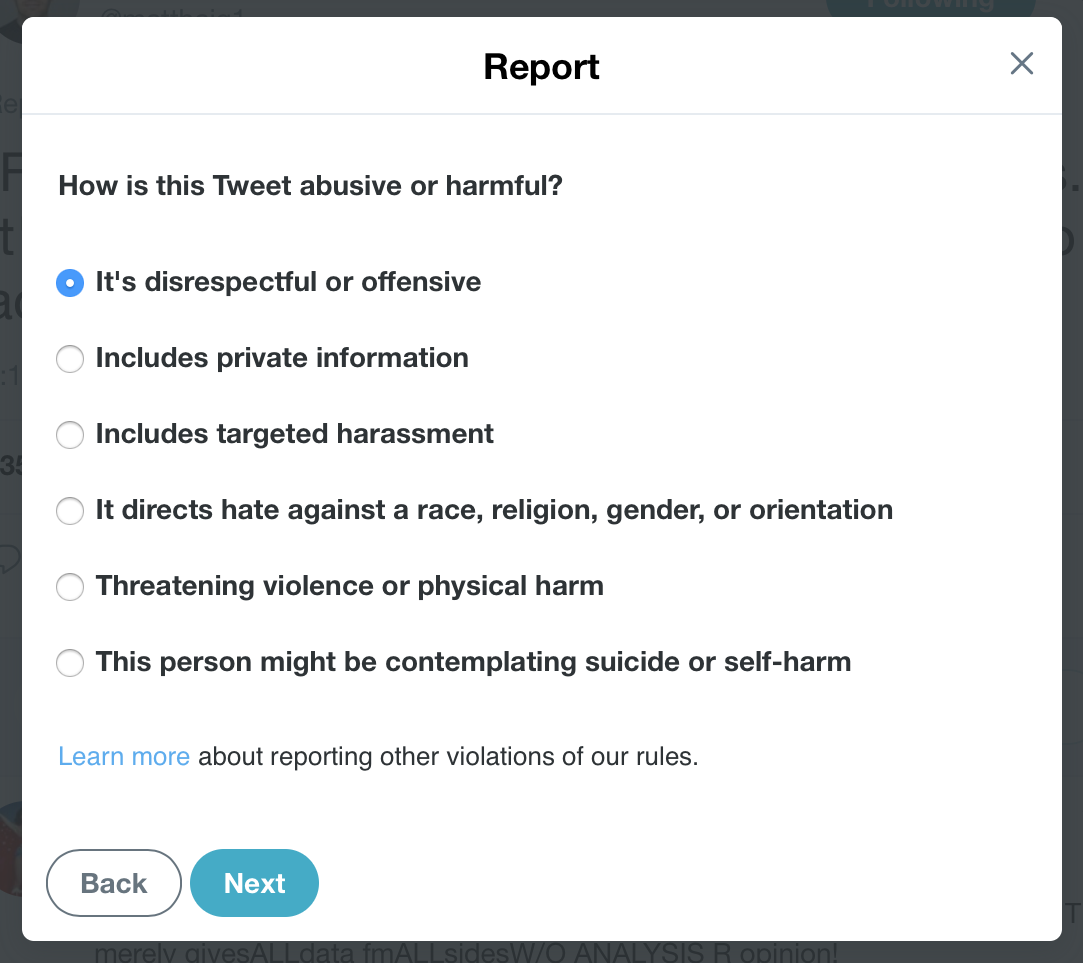 As you can see, Twitter displays a number of categories, which presumably filter your report to different areas of the company's reporting team. After you've selected a category, the next screen asks whether the tweet is targeting you, someone else, or a group of people (these choices differ depending on which category you choose).
When you've chosen the above, click Next, and you are then given the option to select up to five tweets from the same user to add to your report. This is very useful if you have been the victim of repeated harassment, or to show that the user has a history of harassing others. It will also give Twitter a better picture of the user's tweets. Select from one to five tweets, then click Add.
Twitter will hopefully get around to investigating your report. I've reported a few abusive tweets since the new system was rolled out and I've received emails confirming my reports, but nothing yet about any decisions regrading those reports.
Reporting Direct Messages
In a recent article about Twitter's privacy and data options, I explained how to make sure that only people you follow can send you direct messages. If you haven't set this option, or if, perhaps, you need to allow anyone to send you direct messages, you can report any messages that are abusive.
To do this, tap and hold the direct message (in the Twitter app for iOS), or hover your cursor over a message (in a web browser). In the first instance, choose Report Message; in the second, click the do not enter icon. Follow the instructions; they're similar to what you do to report a tweet.
If you want to report an entire conversation, tap the report icon (the flag icon in the Twitter iOS app), or click the More icon (…) at the top of the message thread in a web browser. Choose Report Conversation, then follow the instructions.
Note that when you report tweets or messages, they disappear from your timeline. So if you need to save any of them, you must do so beforehand, by copying their text, or by taking a screenshot. You might want to do this to keep a record of what you've reported.
These new procedures are a big improvement over what Twitter offered in the past, which was more or less nothing. I hope you won't need to report tweets or messages, but if you do, the process is relatively simple. It remains to be seen how effective this will be, if Twitter will really take action.
Have something to say about this story? Share your comments below! 
About Kirk McElhearn
Kirk McElhearn writes about Apple products and more on his blog Kirkville. He is co-host of the Intego Mac Podcast, as well as several other podcasts, and is a regular contributor to The Mac Security Blog, TidBITS, and several other websites and publications. Kirk has written more than two dozen books, including Take Control books about Apple's media apps, Scrivener, and LaunchBar. Follow him on Twitter at @mcelhearn. View all posts by Kirk McElhearn →