How to Manage Privacy Settings on Popular iOS Apps
Posted on by Kirk McElhearn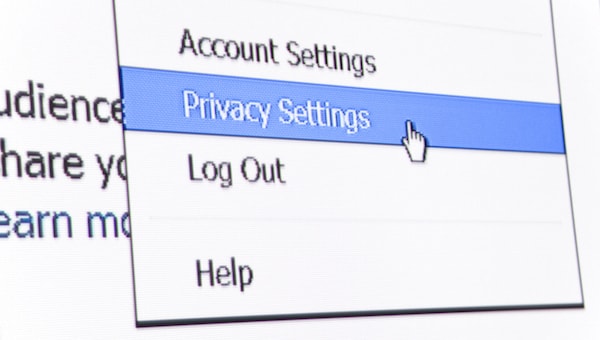 Kids and teens are using apps to stay in touch with friends, follow celebrities, and get news — they're all doing it. These social media apps allow them to share their lives online, but there's a danger in children telling too much. Earlier this week we explained what your kids should never tell anyone online, and today we'll discuss how you can manage privacy settings on some of the most popular iOS apps.
Most social media apps have privacy settings that can help keep kids safe, but they're not always easy to find. It's a good idea to ensure that none of these accounts are public, so your kids won't be harassed. They can still tweet and view photos from others, and they can invite their friends to share with them, but they'll be safe from online predators and bullies.
Following is a look at some of the popular social media apps for iPhone and iPad, and how you can set up your kids' accounts so they stay private.
Facebook Privacy Settings
While Facebook has become more for adults than kids, it's still quite popular. Its easy to change Facebook's settings regarding the visibility of an account in the iOS app. (You can also access these settings from a web browser.)
From the main screen, tap the down arrow at the top right, then tap Settings. Tap Privacy, and you'll see a list of options, under three sections: Who can see my Stuff?, Who can contact me?, and Who can look me up?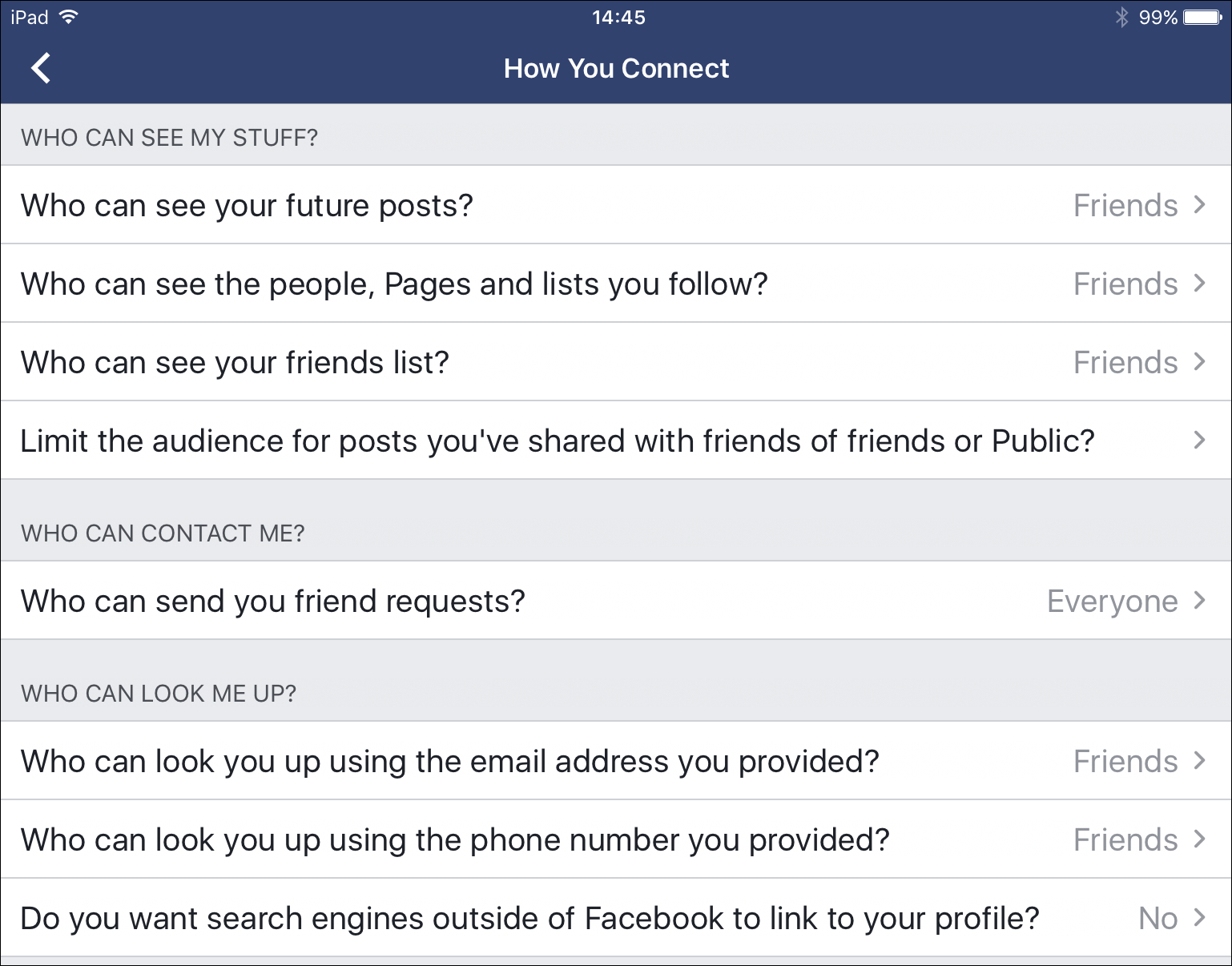 Tap one of the options — such as who can see my future posts — and you'll see a number of choices, such as Public (anyone can see them), Friends (only people who are friends can see them), and a number of other options, such as Close Friends or Acquaintances (custom lists you can create), people in certain smart lists, such as one for your company, or Only Me, which will keep all the posts private.
It's good to not allow friend requests to come from just anyone. Under Who can contact me?, there are two options: Everyone and Friends of Friends. If you select the latter, anyone asking to connect on Facebook already knows at least one of your child's friends. This said, it's possible that one of their friends accepted someone they really don't know, who can then ask your child to be their friend…
The final section, Who can look me up?, lets you choose who can find your child by searching Facebook. You probably want to turn off these options, and most likely don't want search engines outside of Facebook to be able to display the profile.
Facebook Messenger Privacy Settings
Facebook split off its messaging platform some time ago, and Facebook Messenger is a standalone app. Many kids may use this to chat with friends, even if they don't use Facebook much. Messenger inherits the privacy settings of your child's Facebook account, so if you've made the changes above, you won't need to do anything to protect that account on Messenger.
Note that if you access Facebook through a web browser, the platform's messages come through the Facebook website.
Twitter Privacy Settings
Your child may use Twitter to tweet and follow celebrities, but also to send and receive messages; its direct messaging system is practical and easy to use. Twitter has an all or nothing privacy system. On the web, or in the app, you can access privacy settings. In the iOS app, tap Me, then tap the gear menu; one of the options that displays is Settings and Privacy. Tap Privacy and Safety to access these options.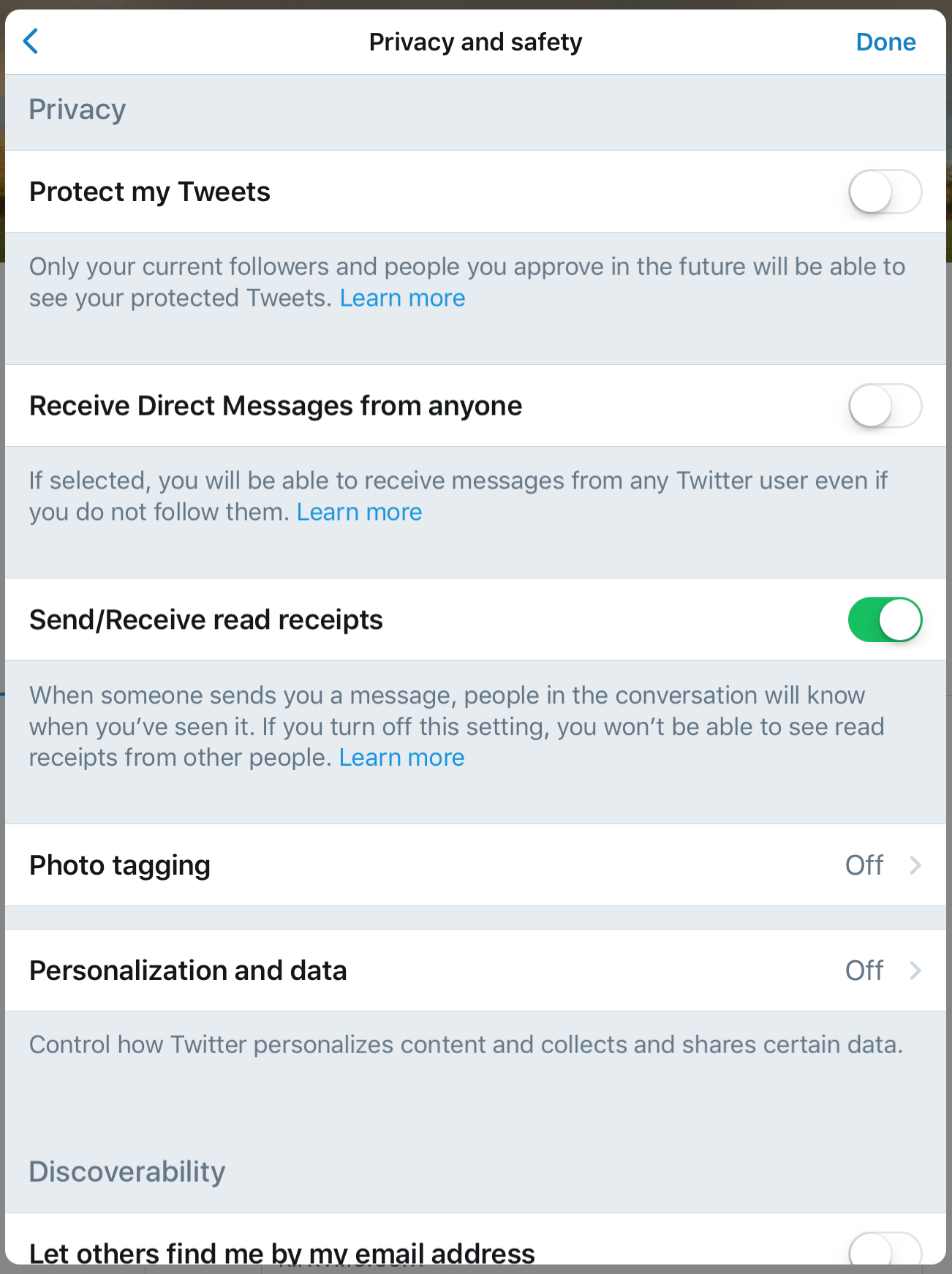 The setting here that makes an account private is Protect my Tweets; toggle this on, and your child will have to approve anyone who follows them. If you activate this setting, their tweets will also be protected from being retweeted. You should keep off the Received Direct Messages from anyone setting. This way, only followers will be able to DM your child, and if their account is protected, then only those friends they've selected to view their tweets will be able to also send them messages.
WhatsApp Privacy Settings
WhatsApp is a way to communicate via text, audio, and video, and all communications are encrypted from end to end. Your child needs a phone number to use WhatsApp, and has to validate that phone number when setting up an account, by entering a code that is sent by text message.
If you tap Settings, then Privacy, you'll see those settings that regulate account visibility.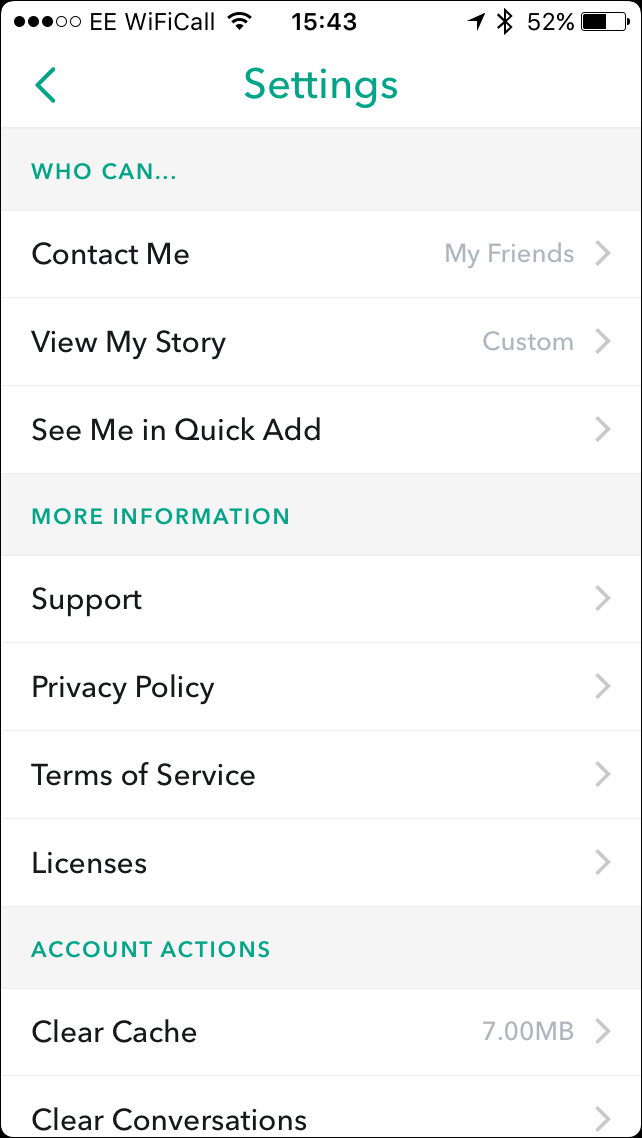 Last Seen, Profile Photo, and About offer three options: Everyone, My Contacts, and Nobody. It's best to not allow this information to be accessible to everyone. Status lets you choose all contacts, a set of contacts except for certain people, or just a selected list of contacts. Since these contacts are those that your child has selected, it's up to them if they want all their friends to see their status.
Snapchat Privacy Settings
This is another messaging service, and, as above, you can choose who can contact your child, who can view their "story," and who can add them using the Quick Add feature, which displays users to others who may be friends of theirs.
Tap the ghost icon, and then the gear icon to access settings. Scroll down a bit until you see the Who Can… section.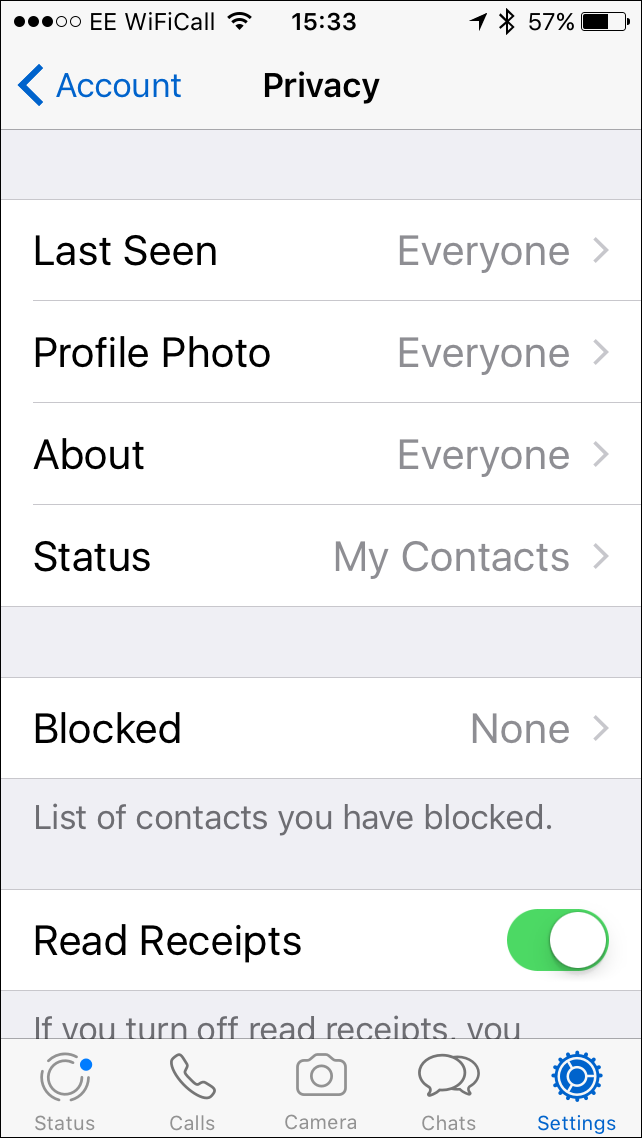 Here you have options for who can contact your child and who can view their story. Both of these offer the options Everyone and My Friends. As above, it's best to turn off Everyone. The Quick Add section is a toggle; it says Show Me in Quick Add. It's best to toggle this off.
Instagram Privacy Settings
Instagram is a platform for sharing photos you've taken with your friends, but it has also became a huge place to follow celebrities. People comment on photos, and their comments are seen by others, even complete strangers. Instagram is available for the iPhone, or on the web, but not for the iPad.
To access Instagram's settings, tap the head-and-shoulders icon, and then the gear icon.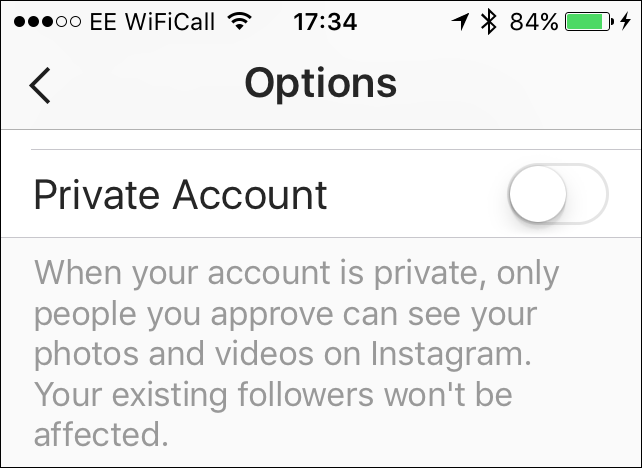 You'll notice the Facebook settings at the top; this is because Instagram is owned by Facebook, and your child can easily follow their Facebook friends, and vice versa. But scroll down a bit and you'll see a toggle for Private Account. If you turn this on, then only approved people can see photos or videos that are shared from the account.
Back near the top, in the Story Settings, you can choose who can reply to messages: Everyone, People you Follow, and Off. The middle choice is probably the best, because your kids will want their friends to be able to reply to them.
Before You Go…
As you've seen above, all the social media and messaging services allow users to make their accounts private. It can take some digging to find these settings, so if your children use other services and apps, have a look around their settings to see how to protect them.
But remember that there are no true parental controls on these apps. You can change the privacy settings, but your kids could always change them back. It's important to have a conversation with your children as to why it's important to protect their accounts, and maybe check from time to time to see if they've changed the settings or if they've added more social media apps that you're not aware of.
Have something to say about this story? Share your comments below! 
About Kirk McElhearn
Kirk McElhearn writes about Apple products and more on his blog Kirkville. He is co-host of the Intego Mac Podcast, as well as several other podcasts, and is a regular contributor to The Mac Security Blog, TidBITS, and several other websites and publications. Kirk has written more than two dozen books, including Take Control books about Apple's media apps, Scrivener, and LaunchBar. Follow him on Twitter at @mcelhearn. View all posts by Kirk McElhearn →