How to Enter and Exit Full Screen Mode in macOS
Posted on March 2nd, 2017 by Kirk McElhearn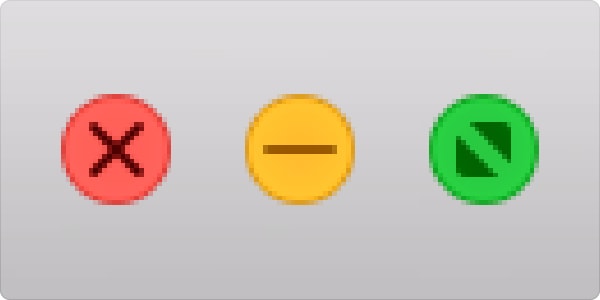 The size of your Mac's display can affect the way you work. If you have a gloriously large 27-inch iMac, you've got lots of room to stretch out. You can have several windows visible, large and small, each organized efficiently. On the contrary, if you have a smaller Mac, like a 12-inch MacBook, there's not much room for multiple windows. Fortunately, macOS offers a "full-screen mode," which you can use for most of your apps.
When you've got limited screen space available, it's a good idea to use every pixel of it. By default, macOS displays the Dock at the bottom of the screen, and it's always visible. When you open an app, its window only stretches from the top of the display to the top of the Dock, so you're missing out on some valuable space.
In a recent article on the Mac Security Blog, about getting to know your Mac's Dock, I explained how you can either position the Dock to the left of the display—getting more vertical space at the expense of slightly less horizontal space—or hide it entirely.
In this article, I'm going to discuss how you use full-screen mode in macOS, and how you can get the most out of this feature to work efficiently on a small display.
How do you make a window full screen on a Mac?
Beyond repositioning your Mac's Dock, you can go further with full-screen mode. Even if the Dock is visible, switching an app into full-screen mode makes its window fill your display from top to bottom, and from left to right. The Dock is hidden; in fact, you cannot (easily; see below) access the Dock at all when in full-screen mode.
To activate full-screen mode for any app on a Mac, it's really quite simple, and there are three ways you can do this:
click the green button at the left of its toolbar,
or press Command-Control-F,
or choose View > Enter Full Screen.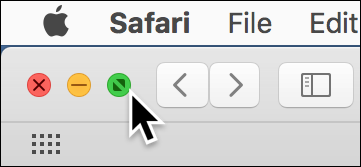 You'll see the window expand, your menu bar slide away, and the Dock slide off the screen (if it's visible). This window now fills the screen.
(Note that some windows can't display full screen; if their size is fixed, then you won't see the green button. You can see this in the System Preferences app, for example, in preference or setting windows of apps.)
Another way to fill the screen is to press the Option key and then click the green button. This expands the window to take up as much space as possible, while not hiding the menu bar and Dock. This is not the same as full-screen mode, but it takes advantage of as much of your display as possible.
How to exit out of full screen mode in macOS 
When you want to leave full-screen mode, move your cursor to the top of your display to show your app's toolbar, and click the green button. Another way you can exit full screen mode is to press Command-Control-F, or choose View > Exit Full Screen.
How to switch apps in full screen mode
When you're in full-screen mode, you may need to change the way you switch apps. If you're used to clicking icons in the Dock or clicking parts of windows to switch from one app to another, it's time to learn some new techniques. Here's how you can switch apps in full-screen mode:
Use the Application Switcher. Press Command-Tab and keep pressing Tab until you find the icon for the app you want to switch to, then release the keys.
Swipe left or right with four fingers on a trackpad or Magic Mouse. Admittedly, this isn't easy on a mouse, and four fingers may be a bit of a constraint even on a trackpad. If you go to System Preferences > Trackpad > More Gestures, you can change this to a three-finger swipe.
Press the Control key, then press the right-arrow key or left-arrow key to move back and forth among full-screen apps.
Press the Mission Control key (the F3 key) on an Apple keyboard, move your cursor to the top of the screen, then click one of the app thumbnails at the top of the display.
Here's what Mission Control looks like with three full-screen apps. Note the icon at the top left corner of the Preview window; click that to restore it to a standard window.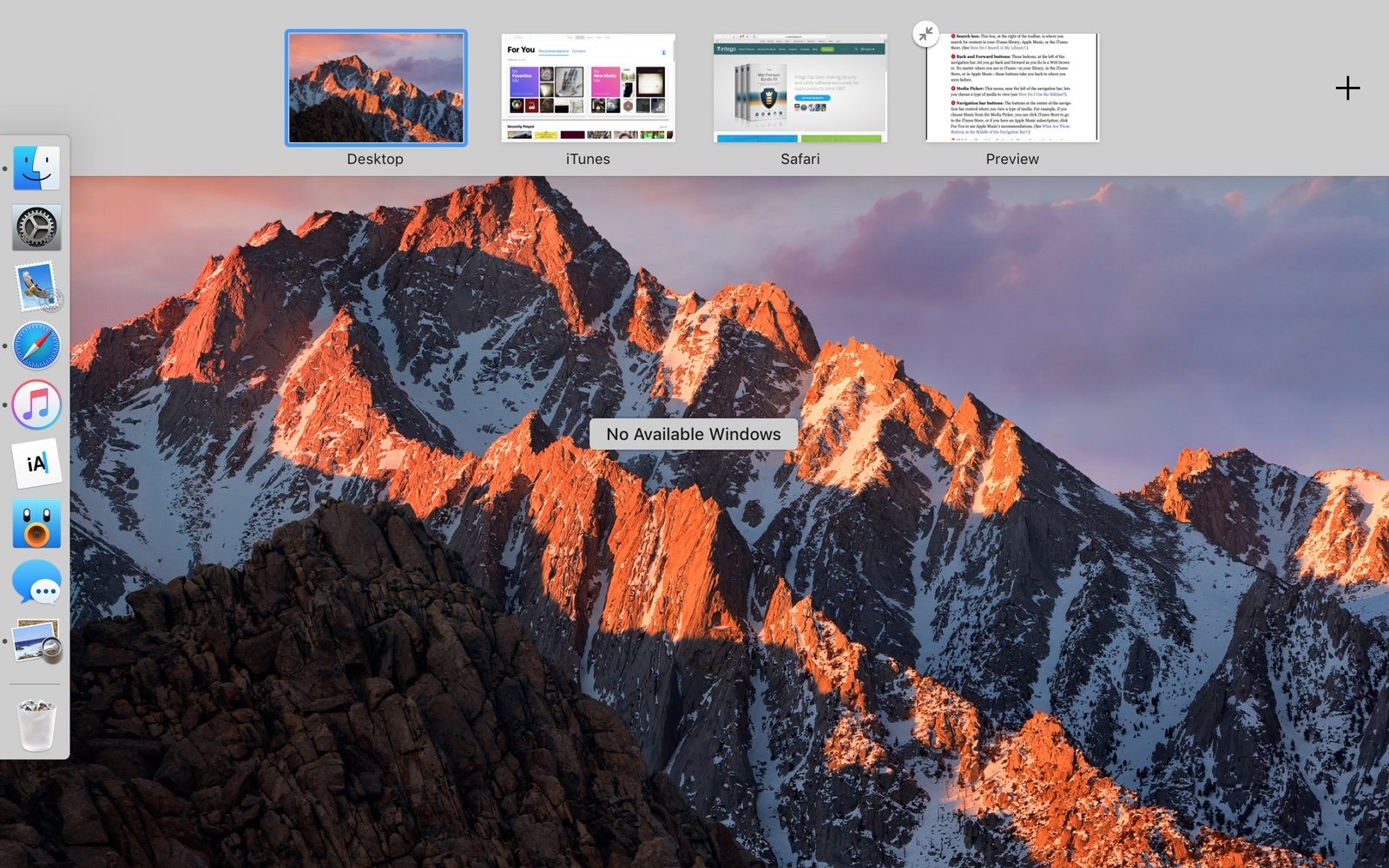 Here's a another handy tip. I said above that the Dock disappears, and that's correct. However, if you move your cursor to the edge of the screen where the Dock is, then move it again—as if you were trying to slide it off the display—the Dock will slide out. It's a tricky gesture, but if you get the hang of it, you may find it useful for opening apps, or for accessing folders you store in the Dock.
Why go full-screen mode on a Mac?
The Mac has long had a multi-window interface. This is practical if, say, you're researching something in Safari and writing a paper or report in another app. Another reason to go full-screen could be if you're working in Photoshop editing a number of graphics in a folder visible in the Finder. It's easier to have both windows visible—if you have the space—rather than switching back and forth from one to the other.
That said, on a smaller display you might not have enough room for two windows to be easy to access. Rather than feel cramped, you can use all your display for each app.
You also have fewer distractions if you have a single app filling your display. As I write this article, for example, Mail is partly visible behind my text editor, and if I get new emails, I see them display in my inbox. Conversely, I might have a page open in Safari that I don't need to see when I'm working on a spreadsheet, and be distracted by graphics or ads. Using full-screen mode removes all those extraneous items.
While your apps fill the screen, you can still access the menu bar; just move your cursor to the top of the display and it slides down so you can access menus.
When should you use full-screen mode?
As you've seen above, full-screen mode is useful if you have a small display. Even on a larger desktop Mac, it can be practical because you may want to eliminate distractions when you're working.
If you're a writer, you'll find apps that have a more subtle full-screen mode than simply filling a window. For example, Scrivener has a Composition Mode, which fills the screen, but lets you control the width of the text, colors, and more. It's the ideal way to write without distraction.
If you're viewing a PDF with Preview, full-screen mode lets you easily view two pages side by side. And if you're watching a video on your Mac, then full-screen is the best way to do so.
One scenario in which you probably don't want to view a web browser in full-screen mode is when you're using a large display. This is simply because most webpages might look odd, with content either centered between huge margins or with text running the full width of the display.
Try out different apps and see which are easier to use in full-screen mode. You may discover a new way of working with your favorite apps!
Have something to say about this story? Share your comments below! 
About Kirk McElhearn
Kirk McElhearn writes about Macs, iPods, iTunes, books, music and more on his blog Kirkville. He is co-host of the Intego Mac Podcast and PhotoActive, and a regular contributor to The Mac Security Blog, TidBITS, and several other websites and publications. Kirk has written more than twenty books, including Take Control books about iTunes, LaunchBar, and Scrivener. Follow him on Twitter at @mcelhearn. View all posts by Kirk McElhearn →