How to delete apps on a Mac, or uninstall them
Posted on by Kirk McElhearn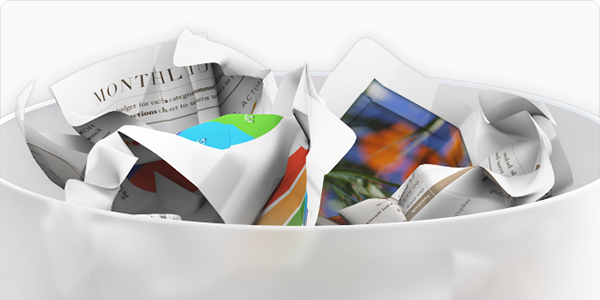 When you set up a new Mac, dozens of apps are pre-installed on the computer. These include basic apps like Calendar, Contacts, and Notes, media apps like Music and TV, and Internet tools such as Mail and Safari. In addition, you can download, via the App Store app, Apple's iWork suite: Pages, Numbers, and Keynote, and the "iLife" apps: iMovie and GarageBand. Your Mac running macOS Sonoma also comes with a couple dozen utilities.
In addition to all these apps, you might occasionally download apps from a third party. For example, you may use Microsoft 365, Adobe Creative Cloud, or other productivity and creativity apps. And you might occasionally try out free apps or trial versions of apps that you are curious about.
Over time, these apps can take up a lot of space, and you may need to clean out your Mac in order to have more room for your documents. Or you may want to uninstall Flash Player from your Mac (or other apps that are no longer supported).
For the most part, it's relatively easy to uninstall apps on a Mac. There are several ways to do this, depending on the app. Here's everything you need to know about how to remove apps from your Mac.
1. Use an app's uninstaller (if it has one)
Note that most simple Mac apps don't use an installer, and don't require an uninstaller. If you "installed" an app by dragging the app icon to the Applications folder, skip this section and go to the "Move an app to the Trash" section instead.
The advantage of using an uninstaller is that it can remove more than just the app itself; it can also delete support files, preferences, and other files that may otherwise be hidden and left behind on your Mac, taking up space.
If an app, or a suite of apps, includes an uninstaller, you'll generally find this in a folder containing the apps, or in a folder with the name of the app vendor. Suites like Microsoft 365 (aka Microsoft Office) and Adobe Creative Cloud place uninstallers on your Mac's drive. Many printers include uninstallers to remove their drivers and software.
How to locate an app's uninstaller
First, check your Applications folder: click on the Finder in the Dock, then press Command-Shift-A.
If you can't find the relevant uninstaller in the Applications folder, you can try using Spotlight to search for them: press Command-Space, type "uninstall," and scroll down to the Applications section. (Caution: If you see a Mac App Store suggestion for a generic uninstaller app, it's best to avoid such apps; some may be unreliable or may do more harm than good.)
If you still can't find an uninstaller for your app, you can try doing a Web search using your favorite search engine; you may be able to find uninstallers for apps that offer this feature. For example, if you need to remove Intego security software, a support page guides you through this process, telling you how to acquire the uninstaller. (Again, an important caveat: Malware makers may buy ads to get at the top of search results, so check the links carefully to make sure you're going to an official website of the company that makes the app.)
In some cases, the uninstaller comes on the disk image from which you installed the app. You may no longer have this disk image, or it may be buried in your Downloads folder. But fret not; searching a vendor's website should allow you to find and re-download the original installer (or a newer version of it). You can check that disk image for an uninstallation utility.
If you can't locate an uninstaller, don't worry; check the next section for another app removal method.
2. Move an app to the Trash
The easiest way to uninstall most Mac apps is to simply drag an app to the Trash. (The Trash is the Mac's equivalent of Windows' Recycle Bin.) To drag an app, click-and-hold on your mouse or trackpad. Let go to release the app into its destination.
Most often, you'll use this method to remove macOS apps; most Mac apps don't come with an uninstaller, and are simply "installed" by dragging them from their original disk image into the Applications folder.
First, go to the Applications folder: when in the Finder, you can press Command-Shift-A to display the contents of this folder. Next, locate the app that you want to delete, and drag it to the Trash icon in the Dock. You can also right-click or Control-click on an app and choose Move to Trash.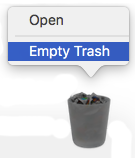 You can then empty the Trash to remove the app from your Mac and regain the space it occupied. To do this, you can click on the Trash and then click the Empty button.
Alternatively, you can right-click (or hold the Control on the keyboard while clicking) on the Trash icon in the Dock, and select "Empty Trash," as seen in this screenshot.
Note that once you empty the Trash can, you've deleted the app permanently (along with anything else that may have been in your Trash).
3. Select an app and press Command-Delete
Just as you can drag an app to the Trash, you can also do this from the keyboard. Select an app in the Applications folder and press Command-Delete. If you want to remove apps that you've downloaded from the Mac App Store, you'll have to authorize the deletion with Touch ID or by entering an administrator's password.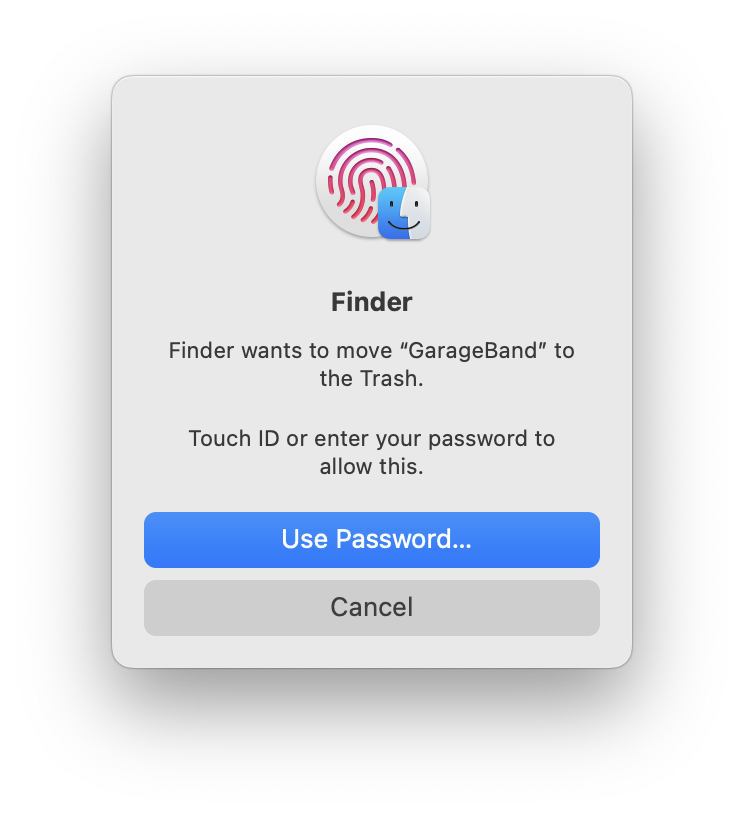 4. Delete apps from LaunchPad
Another way to delete apps is to use LaunchPad; this is a display on your Mac that shows you all the apps installed on that computer. Click the LaunchPad app in the Dock to display apps in the LaunchPad grid.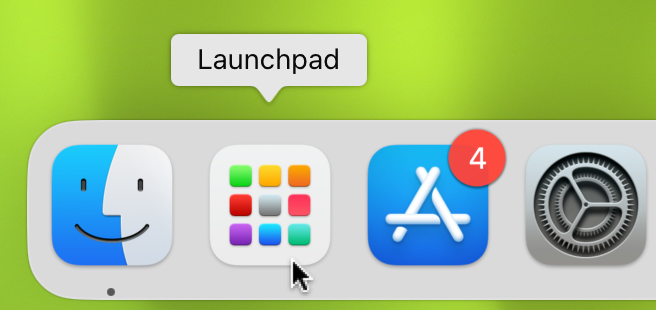 If LaunchPad isn't in your Dock, bring up Spotlight by pressing Command-Space. Then start typing "launchpad" and press Return to open it.
When you see the app grid, click and hold your cursor on any app. You'll see the apps start to wiggle, and some apps will have a little x on the upper left corner. (This is similar to how to uninstall apps on an iPhone or iPad.)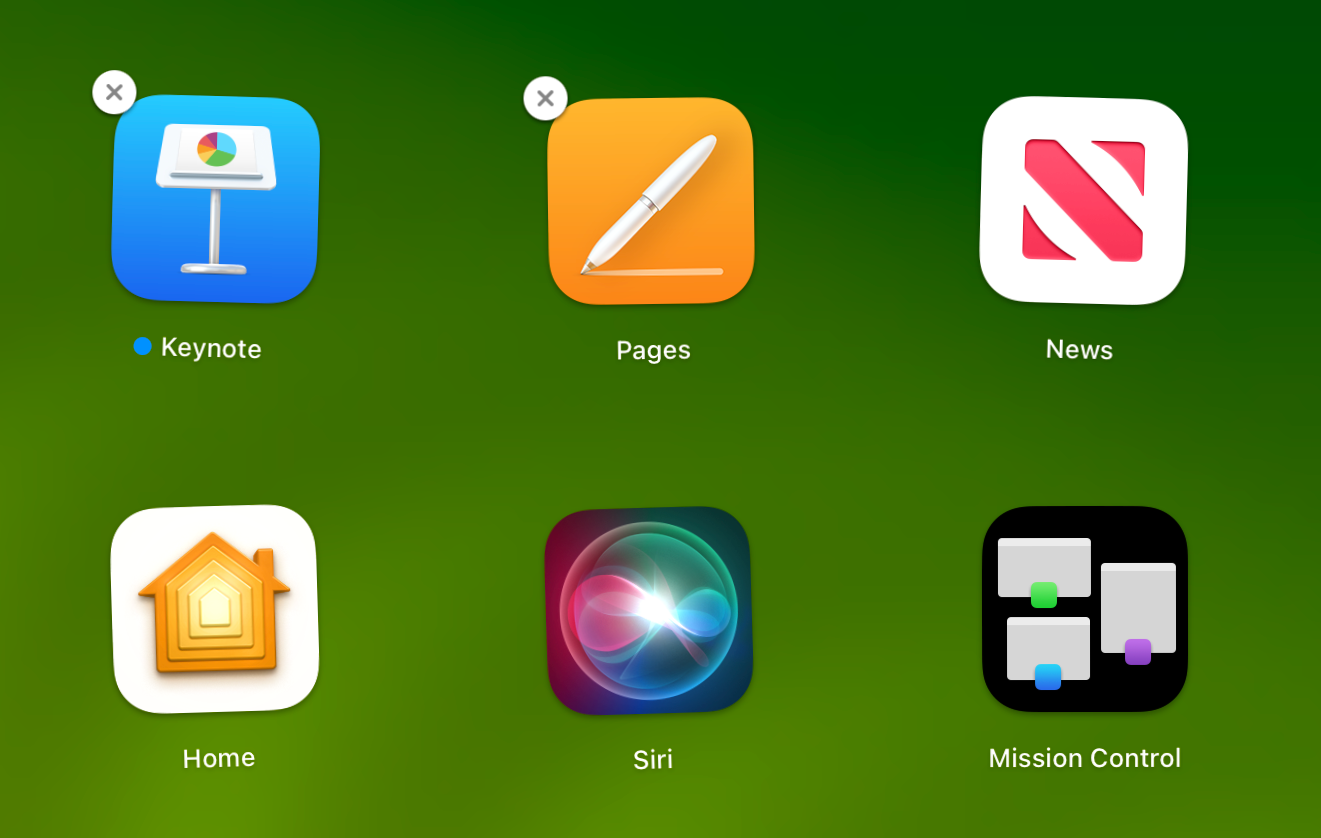 To delete one of these, click the x, then click Delete in the dialog that displays.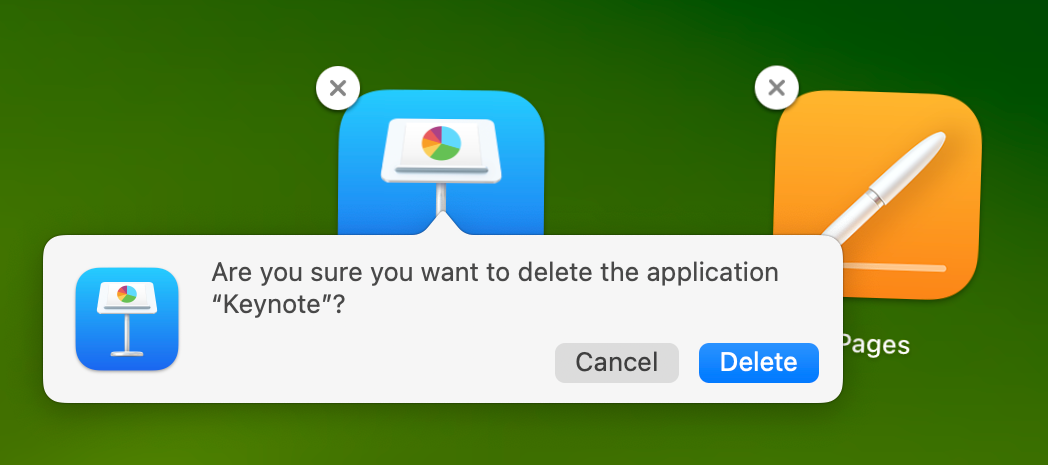 Apps that you can't delete
There are some stock apps that you cannot delete from your Mac. For example, if you try to delete the App Store app, Calendar, Mail, and others, either by dragging them to the Trash or pressing Command-Delete, macOS Sonoma won't allow this. These apps won't show the "x" on the upper-left corners of their icons in LaunchPad, either.
It's a good idea to occasionally check your Mac for apps you no longer need, especially if you're low on disk space. You can always re-download apps that you've deleted if you want to use them again.
How can I learn more?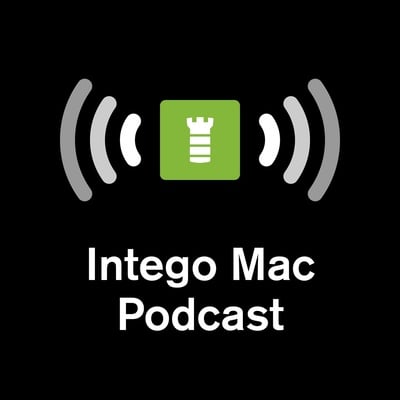 Each week on the Intego Mac Podcast, Intego's Mac security experts discuss the latest Apple news, security and privacy stories, and offer practical advice on getting the most out of your Apple devices. Be sure to follow the podcast to make sure you don't miss any episodes.
You can also subscribe to our e-mail newsletter and keep an eye here on The Mac Security Blog for the latest Apple security and privacy news. And don't forget to follow Intego on your favorite social media channels: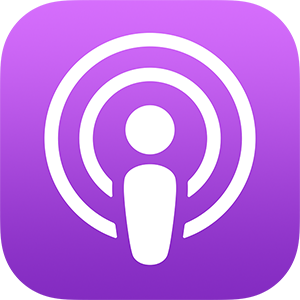 About Kirk McElhearn
Kirk McElhearn writes about Apple products and more on his blog Kirkville. He is co-host of the Intego Mac Podcast, as well as several other podcasts, and is a regular contributor to The Mac Security Blog, TidBITS, and several other websites and publications. Kirk has written more than two dozen books, including Take Control books about Apple's media apps, Scrivener, and LaunchBar. Follow him on Twitter at @mcelhearn. View all posts by Kirk McElhearn →