Everything You Need to Know About What's Coming in iOS 9
Posted on June 10th, 2015 by Kirk McElhearn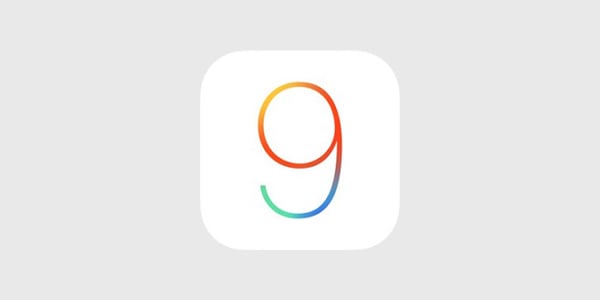 In addition to announcing OS X El Capitan, Apple presented iOS 9 at the Worldwide Developer Conference (WWDC) on Monday. As with OS X El Capitan, Apple decided to focus more on what they call "Foundation," a fancy term for "making things work." iOS 9 therefore contains more under-the-hood improvements than visible features, focusing on speed, battery life, and security. But there are still a number of visible new features, some of which will help all users, and some focused on making the iPad a more versatile post-PC device.
Here's everything you need to know about what's coming in iOS 9.
Foundation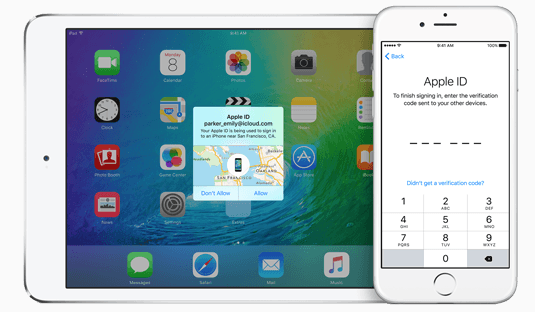 Foundation is what Apple describes as their attention to the underpinnings of iOS. The company is improving battery life on iOS devices, with enhancements throughout iOS that will "trim battery usage wherever possible." Battery life is essential for mobile devices, and if you use your iPhone or iPad a lot, you're unlikely to make it through the day without a top-up charge; these changes might help you get through the day.
One interesting new feature is Low Power Mode. iOS devices will automatically go into this power-saving mode when there is less than an hour's battery left. (You can also manually engage Low Power Mode from the Settings app.) In Low Power Mode, your iOS device does not fetch email, Background App Refresh is turned off, and motion effects and animated wallpapers are disabled. But there's certainly more under the hood that's deactivated, so this will be useful for anyone who has depleted their battery too quickly.
Apple has reduced the amount of storage needed for updates, from 4.58 GB, for the iOS 8 update, to 1.3 GB needed for the iOS 9 update, by "efficiently stream[ing] new updates to your device without having to first download and unpack them." This is a big change; this free storage space needed prevented a lot of people from updating to iOS 8.
Additionally, there are also some key security enhancements added in iOS 9; see this article for more on iOS 9's security features.
Intelligence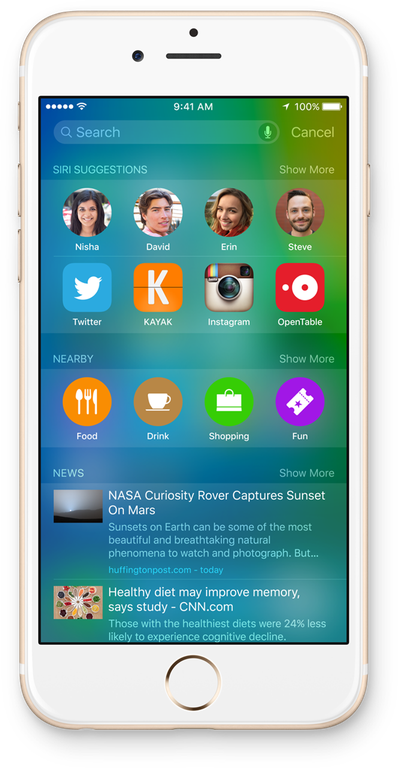 Apple is betting big on turning your iPhone into artificial intelligence (AI). The new Proactive Assistant will suggest doing things "based on the apps you commonly use and the time of day you use them." Some of the examples they give include connecting your headphones to an iPhone, which will automatically assume you want to finish listening to a podcast, or connecting to your car via Bluetooth, which assumes you'll want to listen to your favorite playlist. But this also includes adding events from emails, reminding you when to leave for your next meeting based on traffic conditions, and searching your contacts when you get a call from an unknown number, trying to find who's calling.
Siri also gets some improvements, and Apple is now saying that "Siri is also the technology that powers Search on your iPhone and iPad." Searches will include sports scores, weather, stock prices, calculations, and unit conversions. iOS 9 will open up access to app data, allowing you to search for data across your device, similar to the way you search for files on a Mac.
The Search screen has been revamped, now showing contacts, apps, nearby places, and news, and correlating this information with your habits.
Apps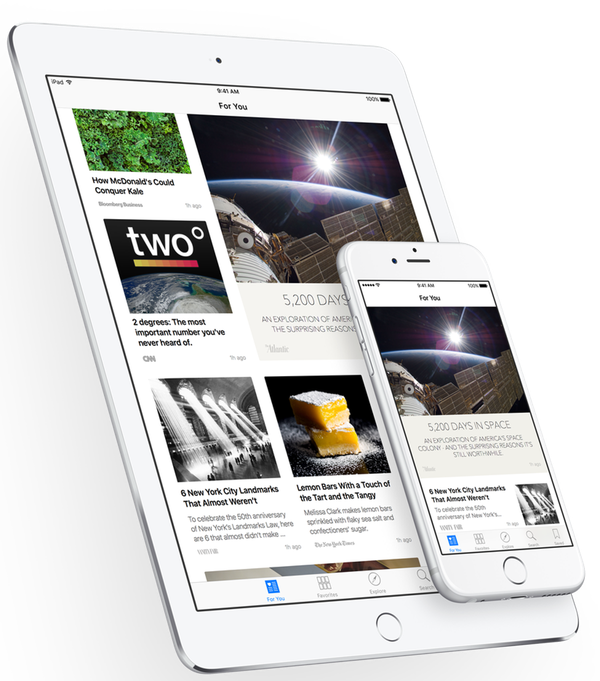 Apple is bringing improvements to a number of built-in apps, but also introducing some new ones. To start with, Newsstand — that half-app, half-folder — is going away. You'll still be able to subscribe to publications, but they'll each display their own icons.
Added to iOS 9 is News, a Flipboard-type news aggregator, offering a plethora of news sources and an attractive design. It looks like it's part RSS reader, part topic-based news gatherer, and you'll be able to choose from specific sources — such as this blog — or favorite topics. Apple spent a lot of time previewing the News app, which suggests they'll be working hard to make it relevant, and to provide ads on it.
Just as with OS X El Capitan, the Notes app gets a major overhaul. With rich text, photos, checklists, and more, the Notes app, which will sync via iCloud, could be the ideal text repository for iOS and Mac users.
Again, as with OS X El Capitan, Maps gets transit directions, for a number of cities, and a Nearby feature, which highlights places to shop, eat, and visit, near your current location.
Passbook is being renamed Wallet, and Apple Pay is heading across the pond to the UK. Wallet will now manage store cards.
iPad Only Features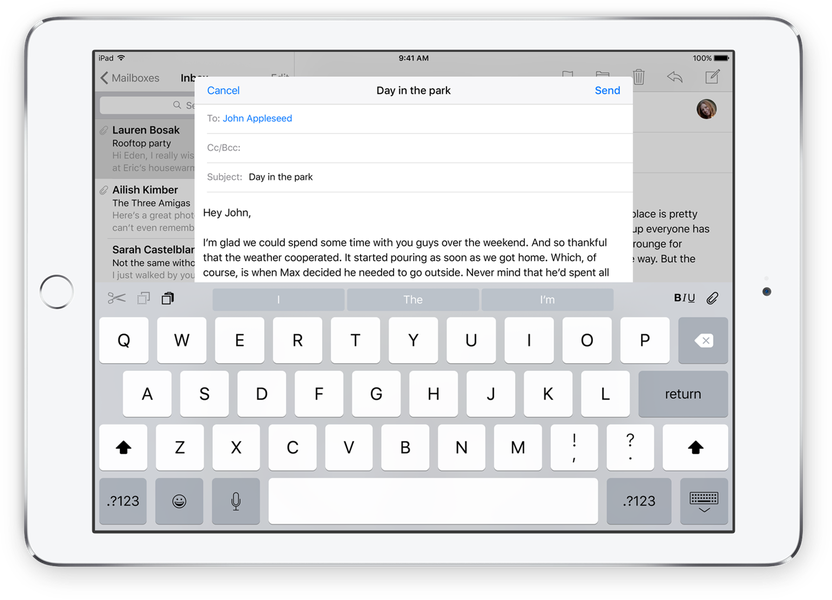 As the post-PC era moves on, Apple is enhancing the iPad to make it easier to use without constantly pressing the Home button to switch apps.
Three multitasking features will make the iPad more flexible:
Slide Over let you open a second app without switching away from the one you're currently using. A window that takes up about one third of the screen lets you browse the web, take notes, read email, and more.
Split View lets you open two apps together, each with its own window. With each app taking up half the display, you'll be able to copy and paste data from one to another, read one while writing in another, and so on.
And Picture in Picture will keep us distracted: you can watch a video while, for example, reading email, or browsing the web with Safari.
The iPad also gets some nifty text features. A new Shortcut Bar lets you easily copy and paste text, style text (bold, italic, underline), and is even customizable for third-party apps. Text selection has been improved with a two-finger selection gesture, which lets you use the iPad somewhat like a trackpad, and more easily select text. And there are a slew of keyboard shortcuts, for those who use external keyboards with their iPads, including a Command-Tab app switcher, just like on OS X.
iOS 9 will be available in the Fall, for free, and is compatible with the iPhone 4s and later; all versions of the iPad mini; the iPad 2 and later; the iPad Air and later; and the 5th generation iPod touch. Some features will not be available on all devices; to use all the new features, you'll need an iPad Air 2.
Further Reading:
About Kirk McElhearn
Kirk McElhearn writes about Macs, iPods, iTunes, books, music and more on his blog Kirkville. He is co-host of the Intego Mac Podcast and PhotoActive, and a regular contributor to The Mac Security Blog, TidBITS, and several other websites and publications. Kirk has written more than twenty books, including Take Control books about iTunes, LaunchBar, and Scrivener. Follow him on Twitter at @mcelhearn. View all posts by Kirk McElhearn →