OS X 10.11 El Capitan: What Mac Users Need to Know
Posted on by Kirk McElhearn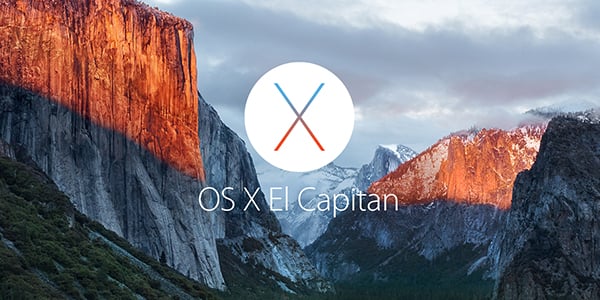 Apple announced the next version of its desktop operating system at the Worldwide Developer Conference (WWDC) this week. Called OS X El Capitan (named after a mountain in the Yosemite National Park), this operating system is going to build on OS X Yosemite without adding lots of new features.
As many Mac users had hoped, Apple seems to be focusing on getting things to work better, faster, and to improve battery life for laptops, rather than adding features that slow things down, and, in some cases, don't work very well. As such, this new version of OS X won't have dozens of new features, but does have some notable additions.
Here's what we know so far about OS X El Capitan.
System Requirements and Speed Improvements
Every new operating system his limits, often related to which hardware you need to run it. OS X El Capitan has pretty simply system requirements: Any Mac capable of running Yosemite can run El Capitan. This means that 2007 iMacs, 2008 MacBook Airs, 2009 Mac minis, 2007 MacBook Pros, and 2008 Mac Pros can all run OS X 10.11.
We're used to a new operating system being slower than the previous version, but as we saw with Snow Leopard and Mountain Lion — two versions of OS X that took the same tack as El Capitan, enhancing rather than loading on lots of new features — this isn't always the case. Apple claims that OS X El Capitan will be faster than Yosemite, notably in app launch, app switching, email display, and PDF opening in Preview: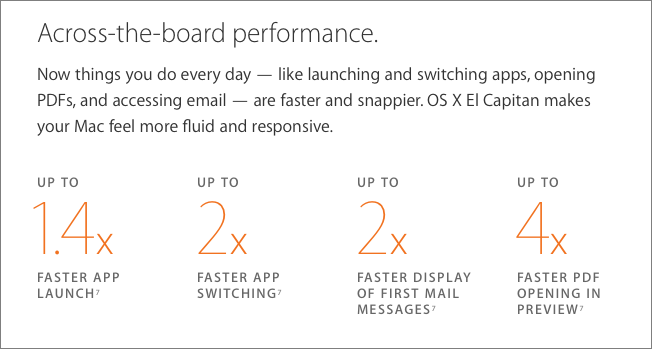 Furthermore, graphics display — through Metal, a graphics core technology — will not only speed up the display of complex graphics, but also use less power.
Safari
OS X El Capitan brings some useful additions to the Safari web browser. Pinned Site, for instance, will allow you to store favorite sites at the top-left of the tab bar. Click one of these buttons, and the page opens, but you can keep it active in the background, taking up hardly any space in the tab bar.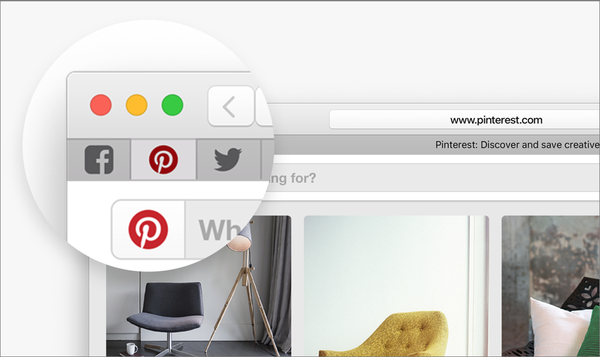 Safari can now send any web video to an Apple TV, instead of mirroring your display. So if you're used to doing this with, say, your laptop in the living room, it'll be a lot smoother.
And you can easily mute tabs that play videos, including those annoying auto-play videos that sneak up on you.
Mail
OS X El Capitan includes a few useful additions to Mail. You can quickly add suggested events to Calendar, and suggested contacts to Contacts.
Mail adds some swipe gestures, so you can use your trackpad and mark messages as Read or Unread, or move them to the trash, the same way you do on an iOS device.
Mail also offers a new full-screen view, which lets you work on an email, then slide it to the bottom of the screen so you can check your inbox, before switching back to the message you're drafting.
Additionally, Mail now features tabs, similar to those in Safari. You'll be able to open several emails and switch back and forth via a tab bar (and, presumably, keyboard shortcuts), so when you need to collate information from multiple messages, it'll be a lot easier than it is currently.
Notes
Notes is one of the poor relations of the Apple ecosystem. The design has been horrible over the years, with that skeuomorphic legal pad background and Marker Felt font, to the sterile display of the current version.
OS X El Capitan, as well as iOS 9, bring a new version of notes, with rich text, graphics, links, checklists, and much more. It's interesting that Apple has committed to making Notes better. While it's not a competitor for Evernote, it could be a very useful tool for people who don't need the advanced features of that professional-oriented tool.
There's also an attachments view, where you can see all the attachments you've added to your notes, in a window similar to that of Photos.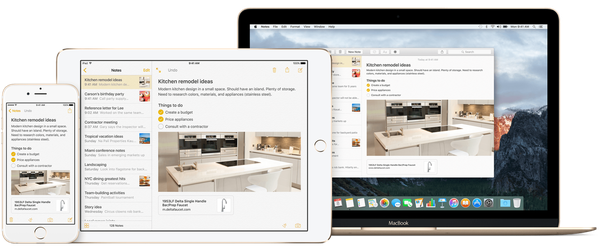 Spotlight
Yosemite brought some new features to Spotlight, for the first time in years, and OS X El Capitan is enhancing this search tool even more. Instead of needing arcane keywords to find files, the new Spotlight promises natural language searching; just type something the way you would say it, and Spotlight should find it. So if you want to see the documents you worked on last week, Spotlight can show them to you.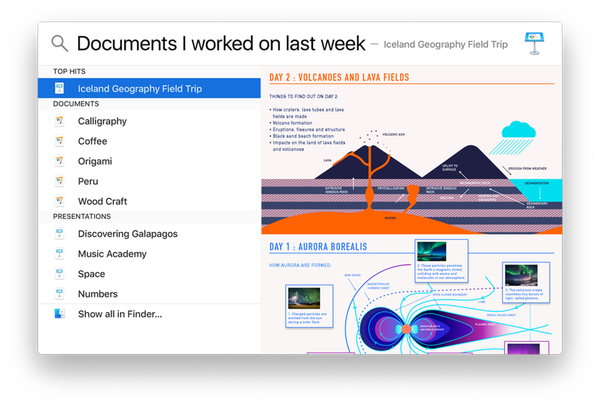 One minor change to Spotlight is the ability to move and resize the Spotlight window. Older versions allowed you to do this, but it's been missing for a while.
One thing missing from the announcement was any mention of Siri for OS X. Given the enhancements to Siri in iOS 9, it would have made sense to see it added to the Mac, as part of Spotlight. Of course, we only saw a preview of OS X El Capitan, and perhaps Siri will be added before release.
Split View
One of the most interesting features announced for OS X El Capitan is Split View, an easy way to snap two windows into place on your display, so they fill the screen and split vertically.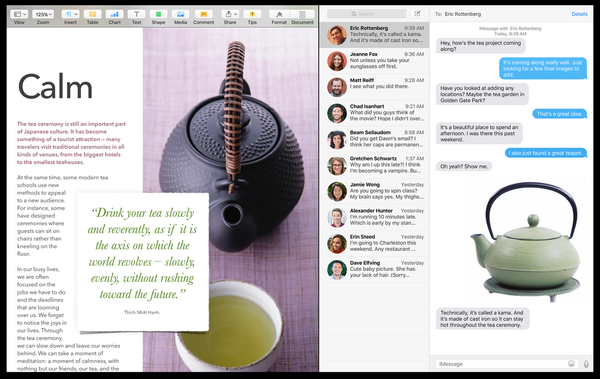 You may already do this, manually dragging windows and trying to get them to split correctly, and fill the display vertically. But this is a nice way to easily work without distraction when you need more than one app open. (And a version of this will be available on the iPad in iOS 9.)
A Few More Things…
There's lots more in OS X El Capitan. Here are a few of the smaller features.
Maps now includes public transit information, so you can find which subway or bus to take, and even where the exits are for subway stations. This is limited to certain cities at launch, but should expand over time.
Mission Control improves window management, through better control of spaces (multiple desktops), and a better display when you want to see all your windows.
Photos gets the ability to work with third-party editing tools, so you'll be able to use your favorite graphic editor within the Photos app.
Chinese and Japanese users will see new fonts, and better keyboard input.
Finally, a small tweak with big implications: when you go to your Mac and wiggle the cursor, to find it, it will zoom so you can see it.
OS X El Capitan will be released in the fall, and it will be free.
Further Reading:
About Kirk McElhearn
Kirk McElhearn writes about Apple products and more on his blog Kirkville. He is co-host of the Intego Mac Podcast, as well as several other podcasts, and is a regular contributor to The Mac Security Blog, TidBITS, and several other websites and publications. Kirk has written more than two dozen books, including Take Control books about Apple's media apps, Scrivener, and LaunchBar. Follow him on Twitter at @mcelhearn. View all posts by Kirk McElhearn →