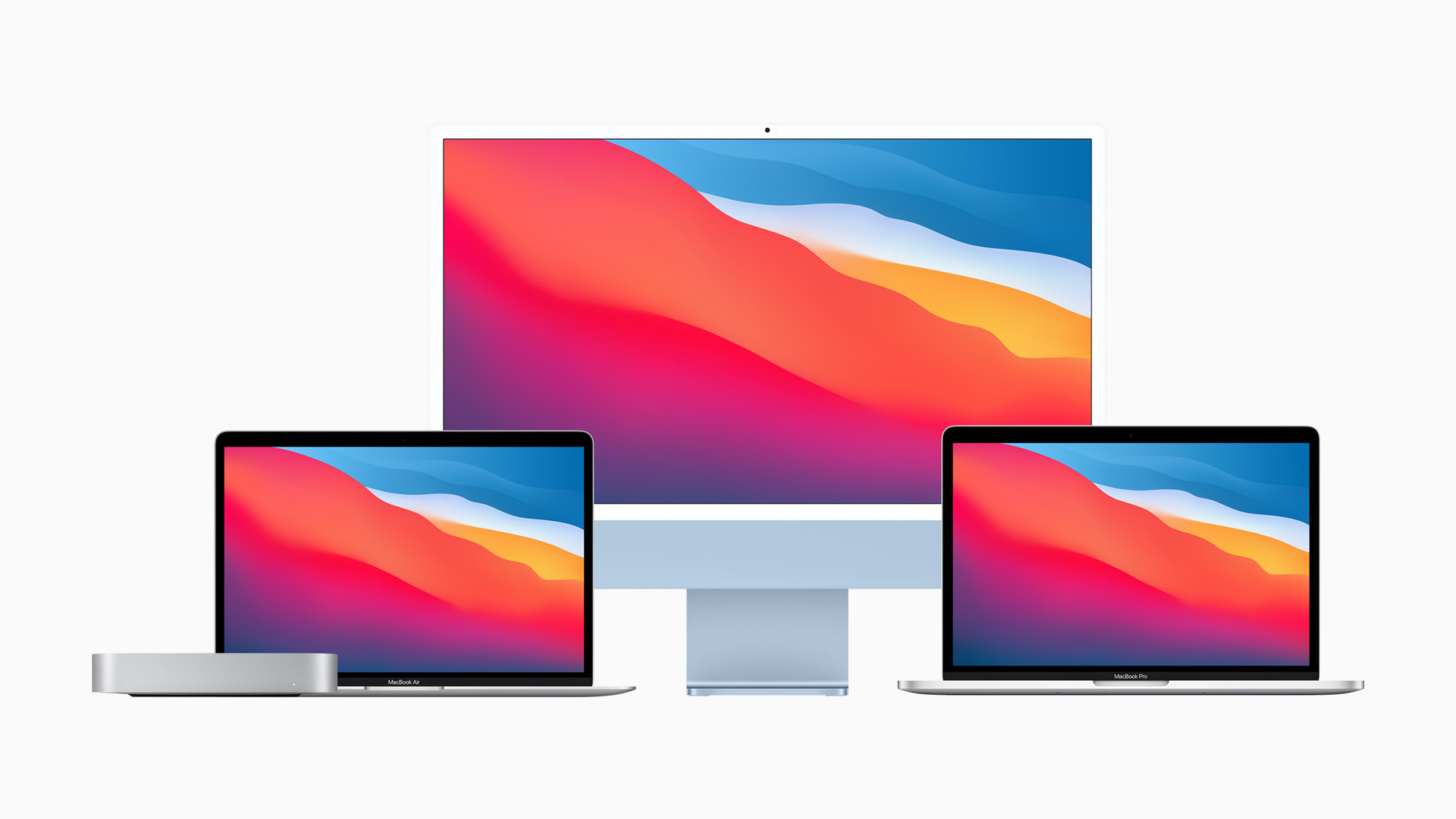 With the arrival of Apple's in-house processors in new Macs, starting last fall, we have reached what may be a turning point in computers. The speed of these new Macs is such that they outperform even the fastest previous Macs in the most common use cases. They are faster than any previous Mac in single-core performance, which is what most people use computers for. They're not yet faster for the most demanding multi-core tasks, such as rendering large videos, but the next version of Apple's chip, likely the M2, will probably offer that level of performance.
Macs have long outlasted equivalent PCs, with some people keeping them for ten years, or even longer. The only problem arises when these older computers can no longer support the latest operating system, and when updates to apps used require a newer version of macOS than they can run.
But given the speed of these new Macs – currently the MacBook Air, MacBook Pro, Mac mini, and soon to be released iMac – it looks as though they will be functional for much longer than previous Macs. Until a few years ago, it was necessary to upgrade Macs to be able to keep up with the demands of software, but now, the processors are so fast that these Macs may remain in use for much longer.
Not only is the speed likely to be sufficient for a long time but since Apple's chips run cooler than Intel processors, there's less head load on the other components, which could also contribute to their longevity.
Even recent Macs have been able to run longer than, say, ten years ago. I know people happily using the first retina iMac, from late 2014; if they don't have any demanding tasks, there's no reason why these Macs need to be retired. They can still run the latest version of macOS, and all the apps needed.
With this progress in speed, cooling, and component quality, could we be heading toward a forever Mac? A Mac that you buy not with an idea of a fixed lifespan – say three or five years – but one whose future is more open ended?
One sign that Apple may be heading in this direction is the recent change in how long an AppleCare+ plan can cover a Mac. Instead of being limited to 3 years from the date of purchase, you can now extend an AppleCare+ plan seemingly indefinitely in the US. Apple says that:
In the United States, if you paid upfront for an AppleCare+ plan for your Mac, you can purchase new coverage that renews annually.
There is no suggestion of a limitation to the time period of this coverage, and the only clue that such a plan could end, in the AppleCare+ terms and conditions, is if parts are no longer available for your Mac. Apple says:
Apple may cancel this Plan […] if service parts for the Covered Equipment are not available, upon sixty (60) days' prior written notice.
Apple's website suggests that, currently, the company will provide parts "for 5 years from when Apple last distributed the product for sale." So, it's likely that the iMac that is due to ship later this month will be sold for a year or so, meaning that, at a minimum, if you buy one now, you'll be able to have parts for six years. But Apple also says:
Service and parts may be obtained for longer, as required by law, or for an additional two years, subject to parts availability.
That could extend the duration of an AppleCare+ contract to eight years, and it's conceivable that Apple could even extend this availability period.
The likely reason for this is because Apple is morphing into a services company, and there are plenty of reasons why Apple would just as soon sell fewer Macs but more AppleCare contracts. Since Apple will always sell more iPhones and iPads than Macs, they'll still make plenty of money, but the Mac itself may become a product that generates long-term income, through iCloud storage contracts, AppleCare+ contracts, and other Apple subscriptions. Services now represent 19% of Apple's revenue, and have been increasing steadily year on year.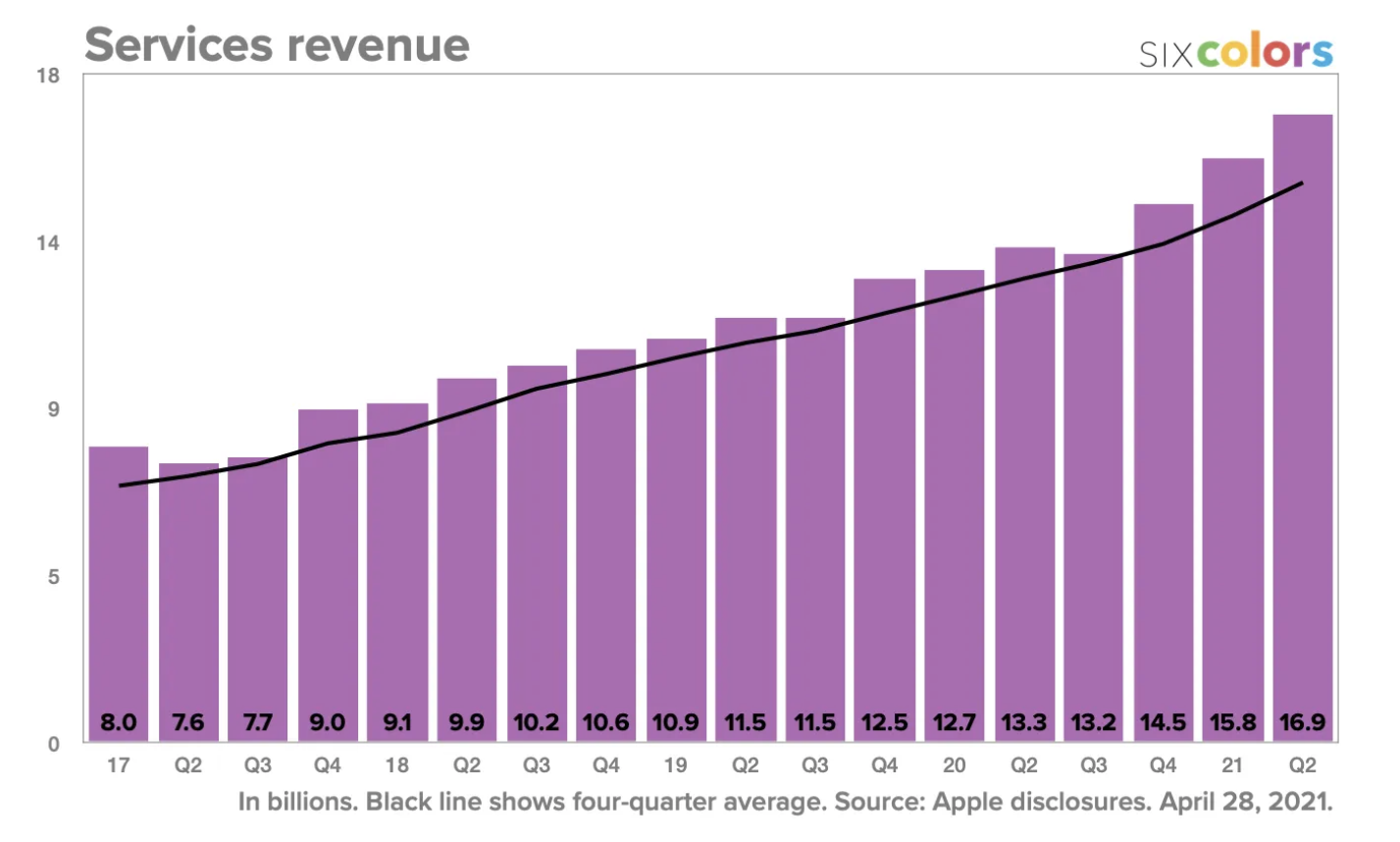 (Chart from Six Colors.)
Apple already offers trade-ins for its devices, and, while the amounts offered for iPhones and iPads are respectable, their Mac trade-in values are very low. But if you keep a Mac for, say, seven to ten years, while paying AppleCare+ to ensure that it keeps running, then get some trade-in incentive toward a new model, Apple will be very happy to have you as a long-term customer, because you'll be paying monthly fees for content, iCloud storage, and more.
Take, as an example, a new 24" iMac with 8 GB RAM and 256 GB storage, the middle option of the three default configurations, which retails for $1,499. A three-year AppleCare+ contract costs $169 (though you can pay for it for $14.08 per month over 12 months). Extend that for seven years at that price, and you'll have paid a total of $563.31 over the ten years, in addition to the cost of the iMac, to ensure its smooth operation. So that iMac will cost a total of $2,062.31, or about $206 a year. If Apple is sure that these computers are durable, then they'll be pocketing most of those AppleCare+ fees, but they'll also be locking you into the platform, selling you other services.
The numbers are different for laptops, mainly because of the wear and tear they suffer over time. At $269 for AppleCare+, you'd pay about $628 over seven years, assuming that its lifespan would be shorter than a desktop Mac. But with AppleCare+, you pay a fixed price for repairs: $99 for screen damage or external enclosure damage, or $299 for other damage, making it an excellent insurance policy, and potentially extending its life.
It could be that Apple has managed to make longer lasting Macs, that will allow users to purchase new computers less often, but that these Macs will contribute to a stable revenue stream, something that is great for the bottom line. At the same time, keeping users locked into the Apple ecosystem, getting them to purchase iPhones, iPads, Apple Watches, accessories, and spending money on other services, means they have forever customers.
How can I learn more?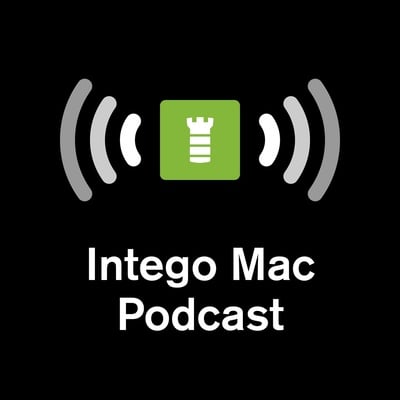 Each week on the Intego Mac Podcast, Intego's Mac security experts discuss the latest Apple news, security and privacy stories, and offer practical advice on getting the most out of your Apple devices. Be sure to follow the podcast to make sure you don't miss any episodes.
You can also subscribe to our e-mail newsletter and keep an eye here on Mac Security Blog for the latest Apple security and privacy news. And don't forget to follow Intego on your favorite social media channels: Facebook, Instagram, Twitter, and YouTube.
About Kirk McElhearn
Kirk McElhearn writes about Apple products and more on his blog Kirkville. He is co-host of the Intego Mac Podcast, as well as several other podcasts, and is a regular contributor to The Mac Security Blog, TidBITS, and several other websites and publications. Kirk has written more than two dozen books, including Take Control books about Apple's media apps, Scrivener, and LaunchBar. Follow him on Twitter at @mcelhearn. View all posts by Kirk McElhearn →