Apple's OS X Mavericks 10.9.2 Update Fixes SSL Bug
Posted on by Derek Erwin
Apple has just released OS X Mavericks 10.9.2 with fixes for an SSL bug that was patched on iOS and Apple TV last week. Weighing in at 859.7 MB, the Mac OS X 10.9.2 update is fairly substantial – offering fixes and improvements across the board. Apple also released Security Update 2014-001, which addresses multiple OS X vulnerabilities, as is normal for major operating system updates.
These updates are available for: OS X Lion Server 10.7.5, Mac OS X 10.7.5, 10.8.5, 10.9 and 10.9.1.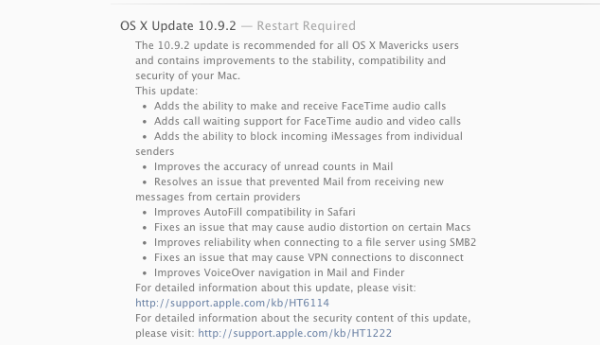 Perhaps most importantly, Security Update 2014-001 fixes a serious SSL bug (CVE-2014-1266) that concerns data security. The SSL flaw allows an attacker to intercept and decrypt SSL/TLS communications, which is, as Larry Seltzer noted at ZDNet, "probably the most important security protocol there is today."
Altogether, the OS X security update fixes multiple vulnerabilities in Apache, the most serious of which may lead to cross-site scripting, it patches issues that allow the App Sandbox to be bypassed, resolves a number of bugs related to arbitrary code execution, and addresses a problem that may lead to the disclosure of memory contents when viewing maliciously crafted JPEG files, among a slew of other bug fixes. Root certificates have been updated as well; the complete list of recognized system roots may be viewed via the Keychain Access application.
Apple provided the following descriptions of all vulnerabilities resolved in this update:
You can update through Apple's Software Update tool by choosing Apple menu > Software Update when you're ready to install. Additionally, you can update through Apple's Software Downloads website, here: