Apple Watch Tips: 8 Things You Didn't Know It Could Do
Posted on by Kirk McElhearn
If you have an Apple Watch, you certainly know about its marquee features. It can track your activity and prod you to exercise more, using its three rings. You can use it to make and receive phone calls and text messages. And you can get notifications for calendar events, reminders, and updates from your favorite apps. You can use it for Apple Pay to quickly buy a cup of coffee or a book. You can use Siri to have your watch react to your voice commands and provide you with information. And you can check the time, with one of dozens of customizable watch faces, where you can add complications to provide data and quick access to apps and features.
But the Apple Watch – which is more a wrist computer than a timepiece – has lots of great features you may not know about. In this article, I'm going to highlight eight things you probably didn't know you could do with your Apple Watch. Some use built-in apps and features, and some use third-party apps. Read on to find out how to make your Apple Watch do a lot more.
Organize apps to launch them more quickly
There are a number of ways to launch apps on the Apple Watch. One way is to tap a complication; this is a small section of the watch face that displays either an app icon or some information. For example, the Weather complication displays the current temperature and the high and low forecast for the day; tap it to open the Weather app and see more details.
You can also press the digital crown to display all the apps on your watch; tap one to open it.
You can organize apps in this this display in two ways. The first is to tap and hold an app on your watch, then move it where you want it to be. Putting frequently used apps in the center makes them easier to access. The second way of organizing apps is to open the Watch app on your iPhone, then tap App Layout. Tap an app then drag it to a different location.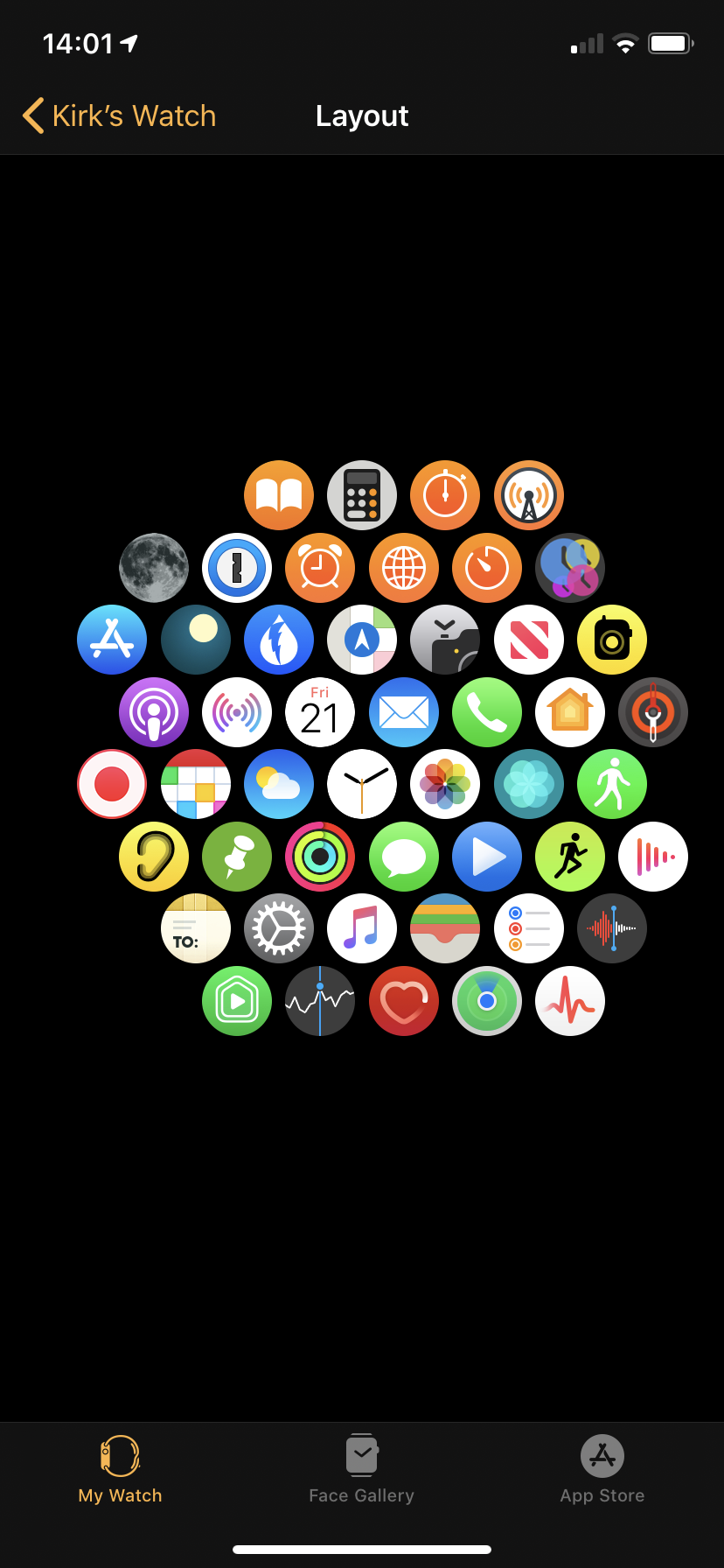 You can also display your apps in a list view. To do this, press the digital crown on your watch, then press and hold the display until you see two options. Tap List view to have your apps display like this: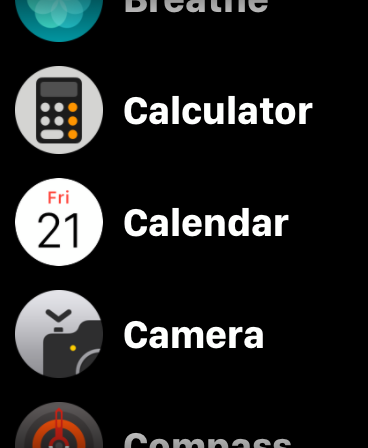 Track sleep
While the Apple Watch currently does not have a built-in sleep-tracking feature, there are plenty of third-party apps that can track your sleep. I've tried a lot of them, and I find that AutoSleep is the easiest to use, and the most reliable.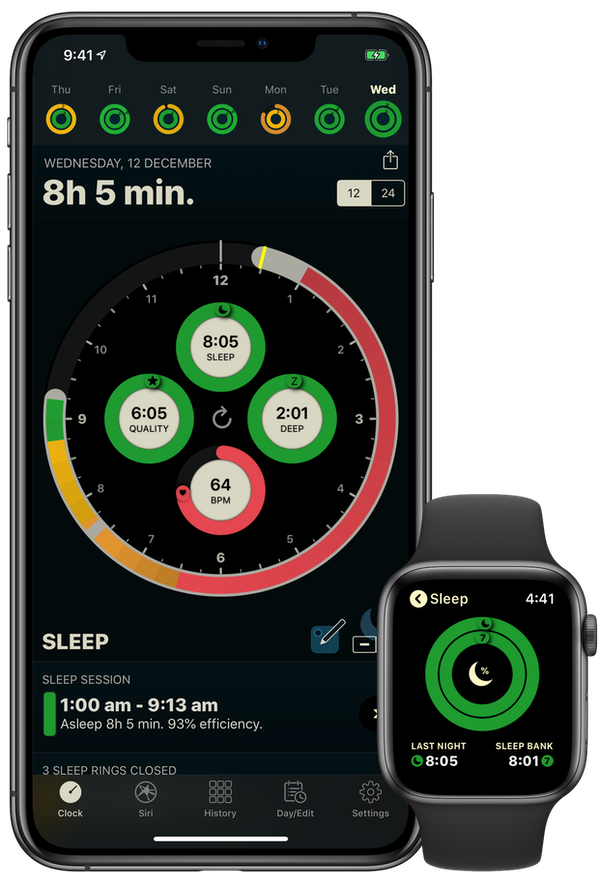 Other than some adjustments and settings, you don't need to do anything to have AutoSleep track your sleep. It automatically detects when you go to sleep, from your movement and heart rate, and detects when you wake up, even if you wake up briefly at night. You can even use it during the day to record naps. The iPhone app shows how long you've slept and helps you plan a sleep strategy.
Check the ambient noise level
A new feature in watchOS 6 lets you check the ambient noise level at concerts, or at work, to see if your hearing is in danger. To use this feature, go to the Watch app on your iPhone, scroll down in the list of apps, then tap Noise. Enable Environmental Sound Measurements. You can set notifications for when the ambient sound exceeds a certain decibel level.
To check the noise level at any time, launch the Noise app. You'll see the volume level in decibels, along with an explanation of what that number means. Note that this feature uses a lot of battery power, so you don't want to leave it on all the time.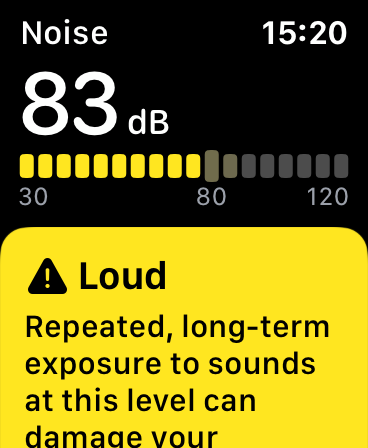 Unlock and authenticate your Mac
Because of the chain of trust in Apple devices, you can use your Apple Watch to unlock your Mac and authenticate in many dialogues where you need to enter a password. To activate this feature, go to System Preferences > Security & Privacy, then check Use your Apple Watch to unlock apps and your Mac.

Control music playback on your iPhone
When you're playing music on your iPhone – either listening to it with headphones, or streaming it to a speaker – you can control that playback from your Apple Watch. To do this, tap the small white and red circle at the top of the display; this opens the music controls. You can play and pause, go to the next or previous track; or change the volume by turning the digital crown. In the screenshot below, the volume indicator displays in green as I do so.
Cover your watch to silence and dim it
Sometimes you want to stop your watch from making sounds, or from displaying notifications. In the Watch app, go to Sound & Haptics, and enable Cover to Mute. You can then silence the watch at any time by simply placing your palm over it.
If you want to turn off the display completely, you can use theater mode. Swipe up from the bottom of the display, then tap the two masks. This is great when you're at the movies or in the theater, or if you wear your watch to sleep. If you want to view the display, just tap it, then place your palm over it again to turn it off.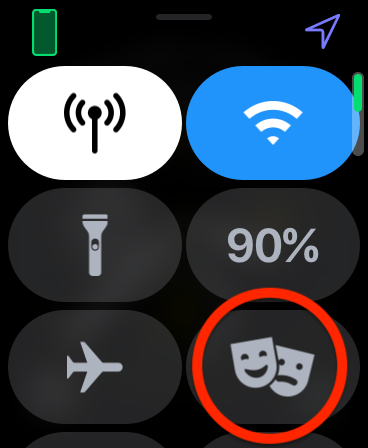 Find your iPhone
I'm sure this has happened to you. You're at home, or at the office, and you can't find your iPhone. It may have fallen between cushions in a couch, or it's under some papers on your desk. Since your Apple Watch is linked with your iPhone, you can tell the phone to beep so you can locate it. Swipe up from the bottom of the screen and tap the iPhone button. Then follow the sound to find your phone.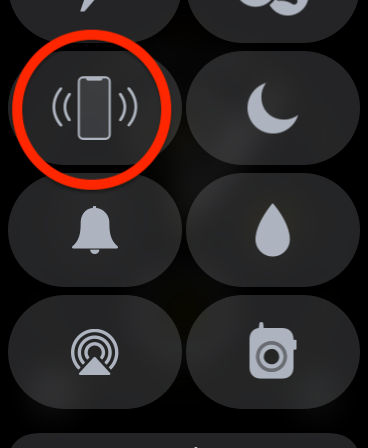 Clear all notifications
You can get lots of notifications on your Apple Watch. You can dismiss them individually, but sometimes you just want to delete all of them. To do this, swipe down from the top of your watch's screen, then press and hold the display. Tap Clear All and all your notifications will be deleted.
Try all these tips to get more out of your Apple Watch.
About Kirk McElhearn
Kirk McElhearn writes about Apple products and more on his blog Kirkville. He is co-host of the Intego Mac Podcast, as well as several other podcasts, and is a regular contributor to The Mac Security Blog, TidBITS, and several other websites and publications. Kirk has written more than two dozen books, including Take Control books about Apple's media apps, Scrivener, and LaunchBar. Follow him on Twitter at @mcelhearn. View all posts by Kirk McElhearn →