Apple introduces M3 family of chips, upgrades MacBook Pro and iMac
Posted on by Kirk McElhearn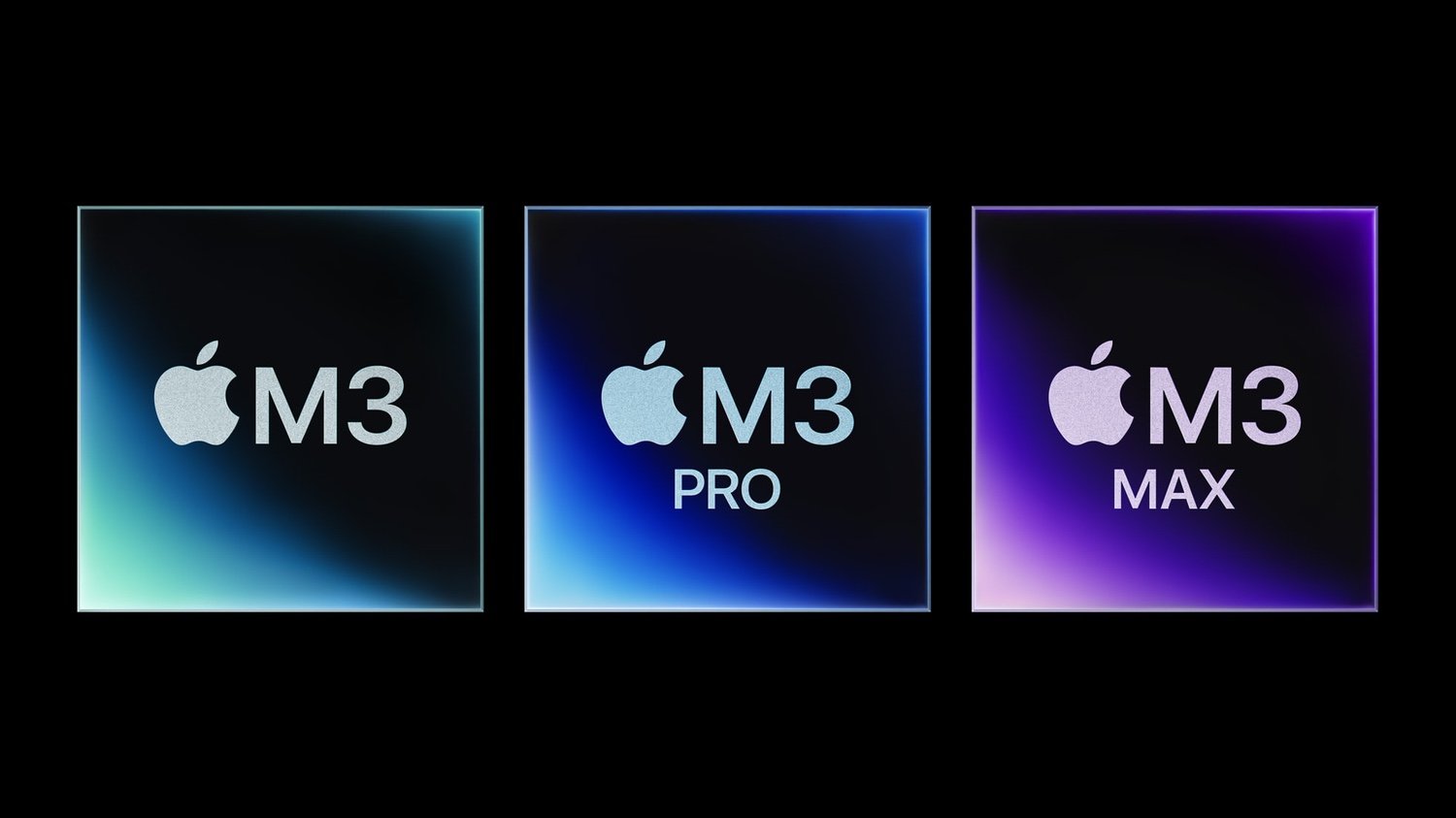 On the day before Halloween, Apple held a pre-recorded event to present its newest family of chips, the M3. It was the first time that Apple held an event late in the day; this was held at 5 pm California time, whereas the usual start time for these events is 10 am. This means that it was the evening on the East Coast of the US, and late at night or early in the morning for Europe. It was also the shortest Apple event ever, clocking in at just around 30 minutes.
It's not clear why Apple did this, but with the theme of the event being "scary fast," referencing Halloween, it was also filmed at night. The entire event was dark-themed, and this led up to the introduction of the new "space black" MacBook Pro.
The new M3 chip family
There were no new products announced, only speed bumps. Apple introduced the M3, M3 Pro, and M3 Max, touting improved speed and increased memory. The MacBook Pro with the M3 Max processor can now use up to 128 GB of unified memory for enhanced graphics performance. The M3 supports up to 24 GB memory and the M3 Pro up to 36 GB.
The speed increases for these processors are incremental, and match the differences between the M1 and M2 processors. In fact, during the presentation, Apple stressed the increased speed of the M3 compared to the M1, in addition to comparing it to its immediate predecessor, the M2, and even to Macs with Intel processors, which are no longer sold, but which many users still own.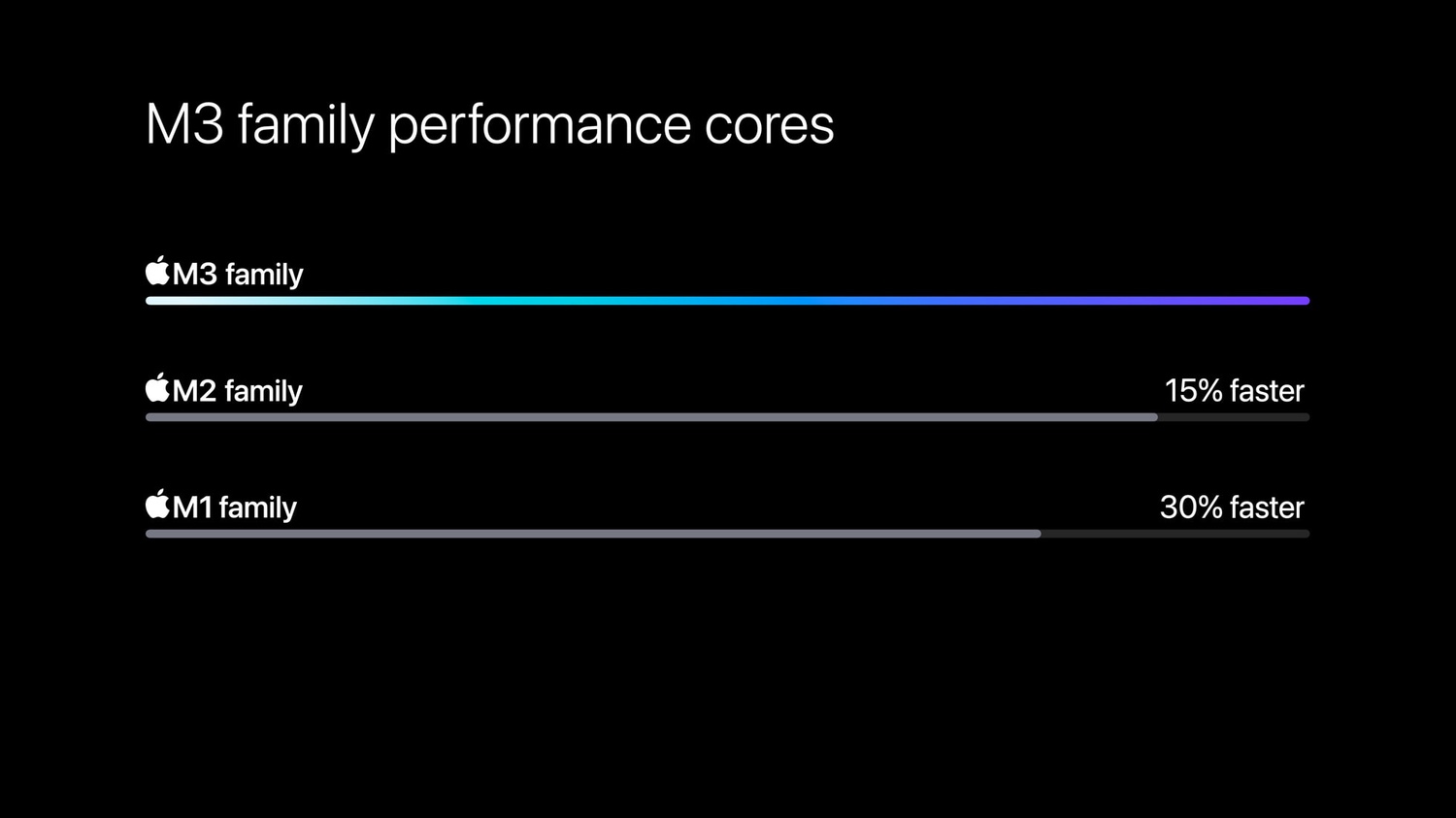 From the graphic above, you can see that each new generation of Apple's M-series processors offers small, incremental gains. Of course, people don't upgrade max every year, and most people don't even upgrade every two years, so these comparisons are valid for people who are still running older Macs and haven't switched to Apple silicon. The huge increases in performance provided by Apple's first M1 processors mean that anyone with an Intel Mac will see huge benefits in upgrading now.
Apple highlighted the speed gains for pro apps such as video, audio, and scientific research tools. But most users won't see much of a difference in the speed of an M3 compared to an M2 or even M1 processor. Some activities may seem a bit snappier, but the real gain with these processors comes when the performance cores are used for intensive work. Benchmarks may show speed gains, but in everyday usage, only certain types of apps will benefit from these upgrades.
M3 MacBook Pros
The new 14-inch MacBook Pro with the M3 chip starts at $1,599, and comes in silver and space gray. Bump it to the M3 Pro and M3 Max, and it starts at $1,999 and an eye-watering $3,199. The 16-inch model is only available with the M3 Pro or M3 Max and starts at $2,499 and $3,499. All but the base M3 model MacBook Pros are available in silver and space black.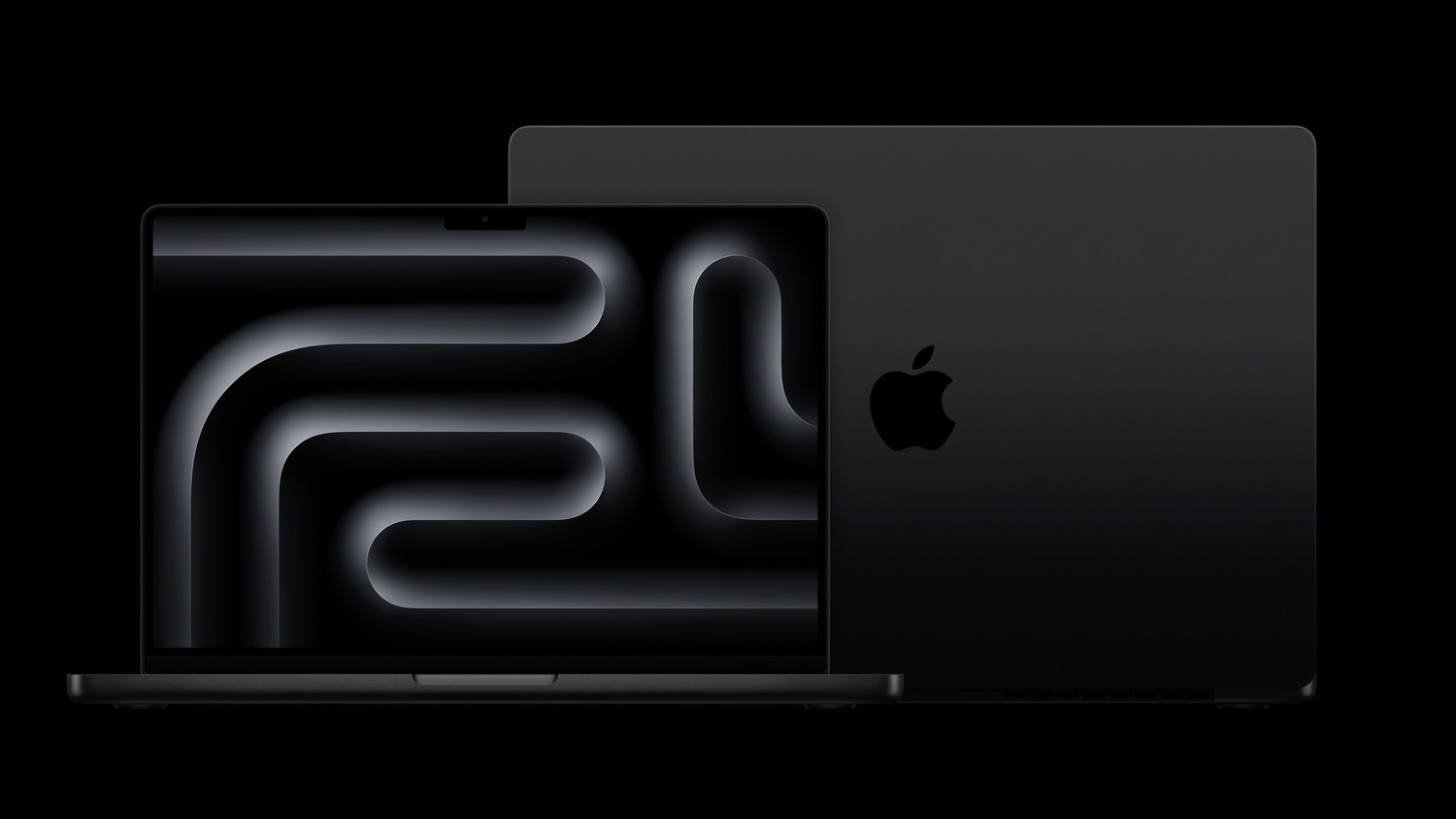 These models feature displays that are 20% brighter than the previous versions and have battery life of up to 22 hours. The 16-inch MacBook Pro can be configured with up to 128 GB of unified memory for the most demanding apps.
Note that Apple has discontinued the 13-inch MacBook Pro with Touch Bar, simplifying their laptop lineup. The new MacBook Pros sit alongside the 13- and 15-inch M2 MacBook Air, and the original M1 MacBook Air, in the older aerodynamic form factor, is still sold at $999.
M3 iMac
Apple also bought the M3 chip to the 24-inch iMac, which was first released in May 2021 and has not seen an M2 model. This allows Apple to claim that the new iMac is "up to 2x faster than the prior generation with M1." Given that the iMac has skipped a processor generation, there are undoubtedly speed gains, but Apple's own graphic above shows only a 50% improvement. In addition, the iMac is only available with the M3 processor, and not the M3 Pro or M3 Max. The iMac can now come with up to 24 GB of unified memory, and up to 2 TB of storage.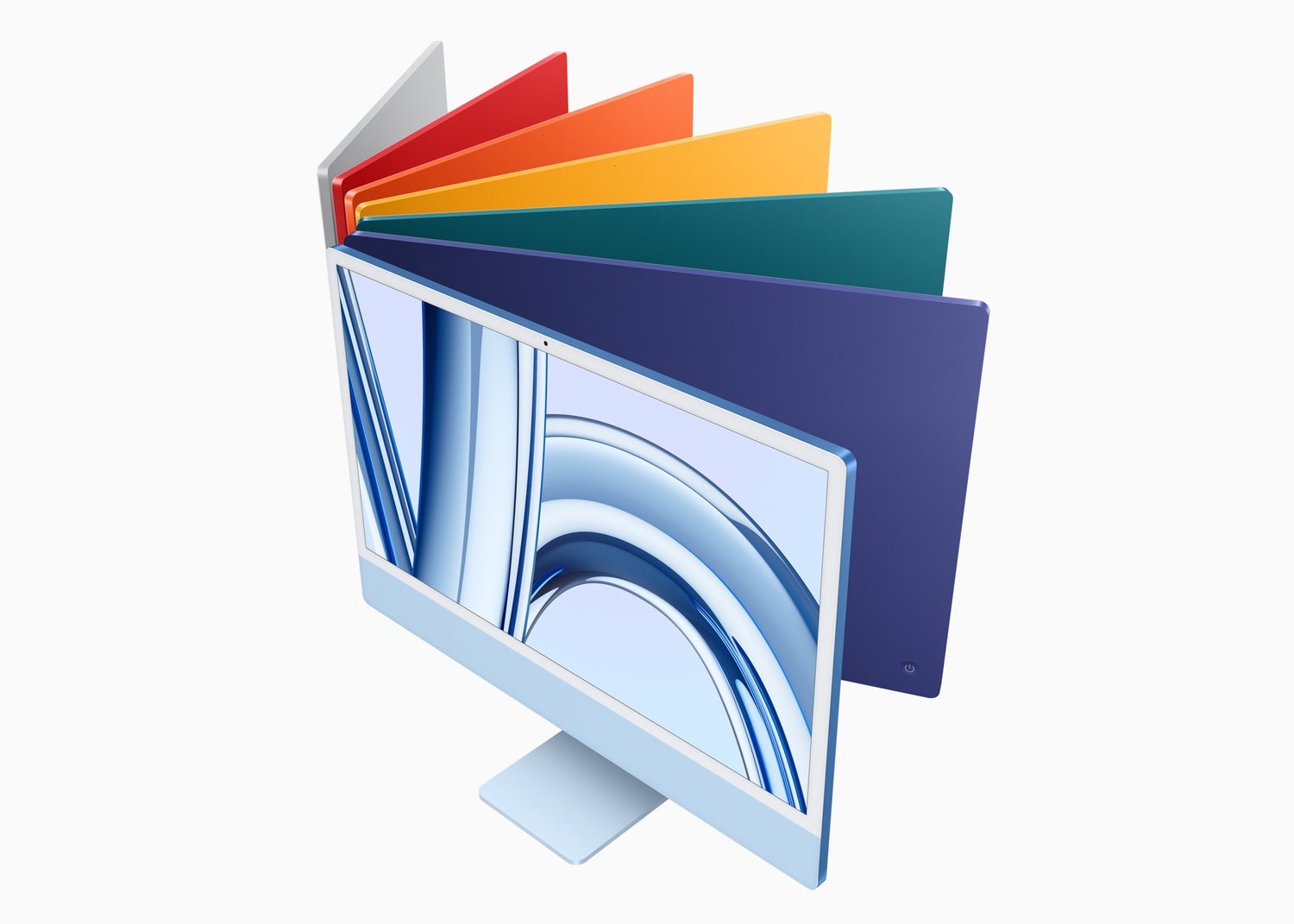 Apple's press release for the M3 iMac says, "A Perfect Desktop for Intel Upgraders and New Mac Users," suggesting that there are a lot of people with Intel iMacs who haven't upgraded to Apple silicon yet. Many have not done so because they are waiting for an iMac with a larger display, equally or exceeding 27 inches, as on the largest available Intel iMac, but this new iMac is still only available in 24 inches. (An Apple representative stated on November 6 that there won't be a 27-inch iMac in the foreseeable future. But rumors persist that Apple is developing a 32-inch iMac, which could theoretically arrive as soon as late 2024 or sometime in 2025, if it's ever released.)
The M3 iMac starts at $1,299, and the base model, with only two USB-C ports, comes in four colors. The four-port model starts at $1,499 and comes in seven colors.
Should you upgrade?
Both the new MacBook Pro and iMac feature Wi-Fi 6E and Bluetooth 5.3, the latest versions of these technologies. Most users won't upgrade devices specifically for these improvements. However, it's always best to have the latest specs for connective technologies, in anticipation of new devices. Wireless routers currently on the market support Wi-Fi 6E; if you upgrade your router within the next year, you'll already be ready to take advantage of its top speeds. Many third-party Bluetooth headphones and earbuds already support Bluetooth 5.3. (Apple's own AirPods don't support Bluetooth 5.3 yet, though; see our Apple AirPods buyers guide.)
If you've been waiting for Apple to introduce new Macs, then now's a great time to buy. You'll get the longest lifespan (in terms of security updates, at least) out of your Mac purchase if you buy a new model shortly after Apple releases it. That's good advice for other Apple products, too, including iPhone and Apple Watch, both of which just got updated in September; see our Apple iPhone buyers's guide and our Apple Watch buyer's guide. As for iPads, Apple hasn't released a single new model in the 2023 calendar year; you may want to wait for a possible iPad refresh sometime in the first half of 2024, perhaps in the spring.
So no tricks, but no real treats in this Apple event. As expected, some Macs get a speed bump, but many users are waiting for that larger iMac, which seems to be an omission in Apple's product line.
How can I learn more?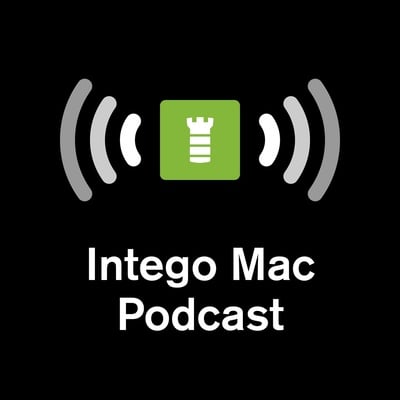 Each week on the Intego Mac Podcast, Intego's Mac security experts discuss the latest Apple news, security and privacy stories, and offer practical advice on getting the most out of your Apple devices. Be sure to follow the podcast to make sure you don't miss any episodes.
You can also subscribe to our e-mail newsletter and keep an eye here on The Mac Security Blog for the latest Apple security and privacy news. And don't forget to follow Intego on your favorite social media channels: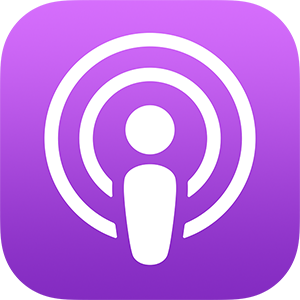 About Kirk McElhearn
Kirk McElhearn writes about Apple products and more on his blog Kirkville. He is co-host of the Intego Mac Podcast, as well as several other podcasts, and is a regular contributor to The Mac Security Blog, TidBITS, and several other websites and publications. Kirk has written more than two dozen books, including Take Control books about Apple's media apps, Scrivener, and LaunchBar. Follow him on Twitter at @mcelhearn. View all posts by Kirk McElhearn →