Apple's lineup of AirPods earbuds and headphones may be limited, but, together with the Beats headphones that Apple sells, the company has a full range of devices to listen to music, podcasts, and movies, and to make calls. Here's how to choose the right AirPods for you.
In this article:
AirPods history
Apple has been selling listening devices since the release of the very first iPod in 2001. The company's original white earbuds became iconic as the iPod's popularity increased. Over the years, Apple enhanced these devices, making models with remotes and microphones to be used with the iPhone.
In 2012, Apple released EarPods and included these with all new iPods and iPhones. These earbuds changed the traditional round shape to have a directional output, pointing toward the ear canal. These are still available (with a Lightning or USB-C connector), yet they no longer come in the box when you buy an iPhone.
In 2016, Apple released the first wireless AirPods. In 2019, Apple introduced AirPods Pro. And finally, in 2020, Apple introduced AirPods Max. All of these devices work over Bluetooth, connect to all Apple devices, and can be used with any device that supports Bluetooth.
How Apple AirPods are different from other earbuds and headphones
There are thousands of earbuds and headphones available on the market. Some of them are wired, like Apple's EarPods, and some are wireless, like Apple AirPods. But AirPods have some neat tricks that are beneficial to users of Apple devices.
When you prepare to set up AirPods for the first time, you'll flip open their case, or put them on if you have AirPods Max, and your Apple device will immediately recognize them. You set them up with one tap, and the headphones are added to your iCloud account so you can use them on any Apple device you are signed into. So if you set up some AirPods with your iPhone, you can also use them with your iPad, or your Mac, without needing to set them up again. Unlike other Bluetooth headphones, you don't have to pair them; this is done automatically. (If you use AirPods with non-Apple devices, then you have to pair them as you would with any other Bluetooth headphones.)
The AirPods case — for all models except the AirPods Max — stores the earbuds and charges them. The AirPods Max has a charging case, but you can also charge them directly by plugging in a Lightning cable.
AirPods: classic Bluetooth earbuds
The basic AirPods are in-ear earbuds. This means that they slip into your ear, but they don't seal in your ear canals, as the AirPods Pro do. Because of this, they're not ideal for running or exercising, but are fine for listening while stationary or walking. You can control these AirPods by tapping or double-tapping, and you can set what these taps do in the Settings app on an Apple device.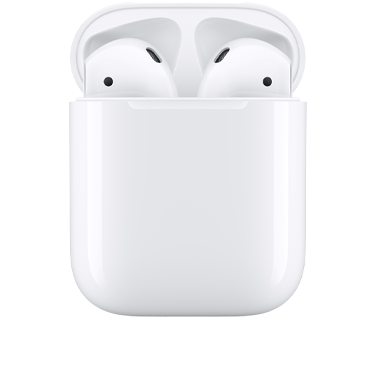 Apple currently sells the 2nd generation AirPods, which offer up to five hours of listening, with a case that can charge them for a total of up to 24 hours. Their case charges via a Lightning connector. These classic AirPods cost $129.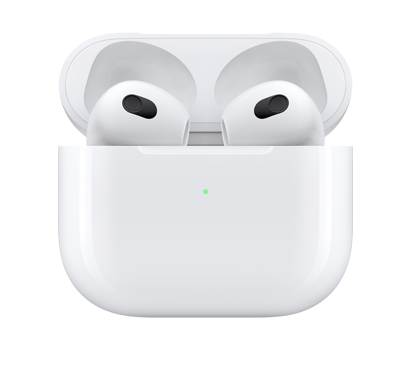 The 3rd generation AirPods have a different shape, and plenty of additional features, which explain the higher $169 price tag. They offer Personalized Spatial Audio with dynamic head tracking, a feature that allows you to use your iPhone's TrueDepth camera to make a model of your ears, so the audio can be tuned for their shape. They have a force sensor to control them, they are sweat- and water-resistant, and offer up to 6 hours of listening, and 30 hours of total charge using the case, which uses a Lightning connector.
AirPods 2nd generation were released in 2019, and the 3rd generation model was released in late 2021. Given their age, and the fact that both still use a Lightning connector instead of USB-C, they may be due for a refresh soon.
AirPods Pro: in-canal, noise-cancelling earbuds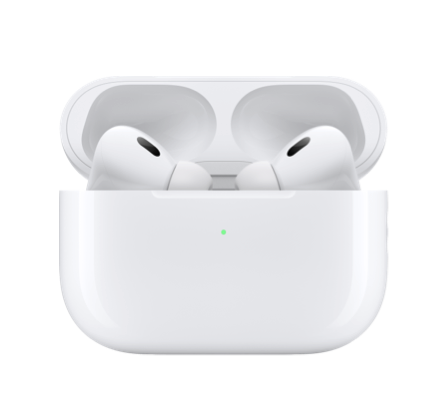 AirPods Pro are in-canal earbuds: they have silicone tips that you insert into your ear canals, which seal your ears from some outside sounds. The 2nd generation AirPods Pro, released in September 2022, also have active noise cancellation (ANC), using built-in microphones and technology to cut out background sounds.
(There's actually a second "2nd generation" AirPods Pro model that Apple just released in September 2023. The most noticeable change is that the Lightning charging port was replaced with USB-C. But there are more subtle changes as well, including limited support for lossless audio, for compatibility with the forthcoming Apple Vision Pro headset.)
Since the silicone tips seal your ears, you may want to hear what is around you, and AirPods Pro have transparency mode, which uses microphones in the AirPods to pass through ambient sounds. For example, if you're listening to music, but don't want to feel cut off from the outside world, transparency mode will allow you to hear what's around you without removing the AirPods from your ears. A feature called conversation awareness reduces the sound of what you're listening to while you're speaking to someone, and returns the media volume to where it was when your conversation is finished.
AirPods Pro have touch control; you can swipe up and down to change the volume, press to play or pause, and press and hold to switch between active noise cancellation and transparency. These earbuds resist dust, sweat, and water, and offer 6 hours of listening and 30 hours total charge with the case, which you charge with either a USB-C cable or using a MagSafe wireless charger.
And the AirPods Pro's U1 chip lets you use Find My if you've misplaced your case; you can even use Find My with proximity view if you've lost one of your AirPods Pro and need help locating it. AirPods Pro cost $249.
AirPods Max: over-ear headphones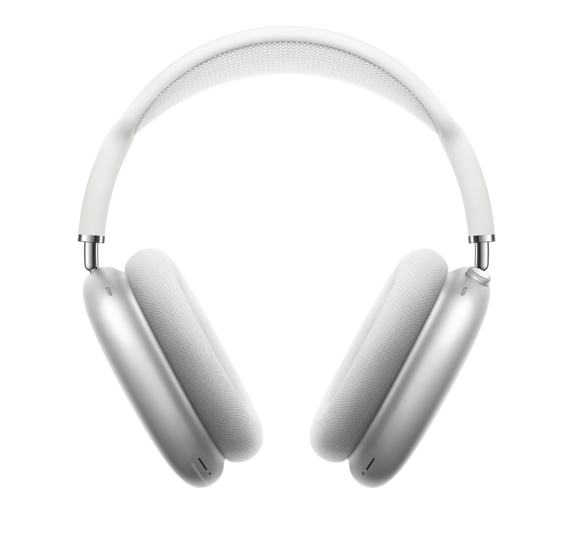 The biggest and most expensive AirPods are Apple's over-ear headphones, the AirPods Max. Costing $549, these are full-sized headphones made of solid anodized aluminum with soft textile ear cups. Unlike the other AirPods, which are only available in iconic Apple white, AirPods Max come in five colors.
You control AirPods Max with a digital crown—a feature inherited from the Apple Watch—and a push button. The former lets you play and pause music, change volume, and mute and unmute calls; the latter cycles through active noise cancellation, transparency mode, and no noise management.
With adjustable steel telescoping arms, you can fit these perfectly to your head, and the knit mesh canopy on the headband is soft and comfortable for long listening sessions. Removable ear cushions, which snap magnetically onto the AirPods Max, allow you to replace them if needed. They charge via a Lightning connector for up to 20 hours of listening, even with active noise cancellation and spatial audio, and a 5-minute charge gives you an hour and a half of listening.
The current, first-generation AirPods Max was released in December 2020.
When are new AirPods expected to be released?
Apple could theoretically release slightly updated models at any time, for example to add USB-C charging to AirPods Max or classic AirPods. But major updates aren't expected for either of those models until sometime in 2024. For now, it's unclear how many months into 2024 we might expect Apple to release the next updates to these product lines.
Meanwhile, analyst Mark Gurman expects that AirPods Pro, which already have USB-C and MagSafe charging, may not get a refresh until 2025. This makes sense given that the second-generation model was just refreshed with a slight feature bump in September 2023.
So take your pick: basic AirPods, in-canal AirPods Pro with noise cancellation, or full-sized, over-ear AirPods Max. Apple has AirPods for everyone.
How can I learn more?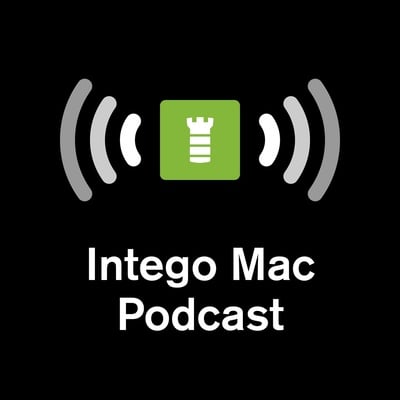 Each week on the Intego Mac Podcast, Intego's Mac security experts discuss the latest Apple news, security and privacy stories, and offer practical advice on getting the most out of your Apple devices. Be sure to follow the podcast to make sure you don't miss any episodes.
You can also subscribe to our e-mail newsletter and keep an eye here on The Mac Security Blog for the latest Apple security and privacy news. And don't forget to follow Intego on your favorite social media channels: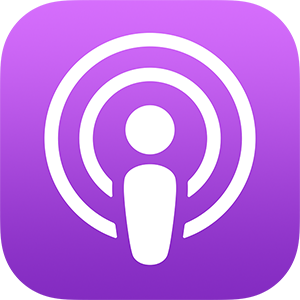 About Kirk McElhearn
Kirk McElhearn writes about Apple products and more on his blog Kirkville. He is co-host of the Intego Mac Podcast, as well as several other podcasts, and is a regular contributor to The Mac Security Blog, TidBITS, and several other websites and publications. Kirk has written more than two dozen books, including Take Control books about Apple's media apps, Scrivener, and LaunchBar. Follow him on Twitter at @mcelhearn. View all posts by Kirk McElhearn →