Apple HomePod Review: Superior Sound, but Limited by Siri
Posted on by Kirk McElhearn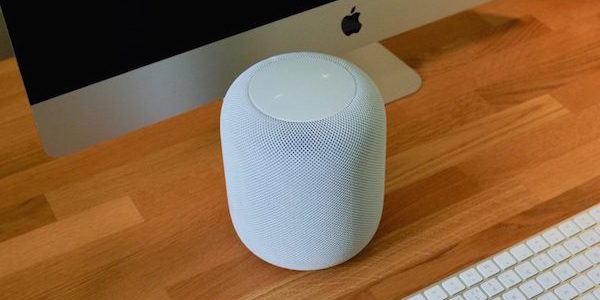 Apple's HomePod has finally shipped, boasting a $350 price tag and marking the company's foray into the "smart speaker" sector with a device that is more speaker than smart. This small, sleek device, clearly a product of Apple's design team, is meant to offer high-quality sound and serve as a gateway to Siri, Apple's personal assistant. In spite of the high price, it's a very nice device, but it has a lot of weaknesses.
Should you buy a HomePod? Is it worth the price? Read on for our full review of Apple's HomePod speaker to help you decide if it's worth buying for your home.
The HomePod speaker
This small speaker looks a bit like an elongated cantaloupe with a mesh cloth cover. Available in space grey or white (really a light grey), with an esthetic that matches a lot of small speakers, the device is unobtrusive and looks less techie than offerings from Amazon or Google. It's only 172 mm or 6.8 in tall, and, at 2.5 kg, or 5.5 lbs, so it's a heavy device. Yet it will fit in nicely on any Ikea living room furniture; it looks modern yet understated. And once you put it on a shelf, you probably won't notice it.
Setting up the Apple HomePod
As with most Apple products, setup is a breeze. Just hold an iOS device that has the Home app — iPhone 5s or later, iPad 5th gen / iPad Air or later, or iPod touch 6th gen — and a card pops up on your device's display walking you through the setup. This step is simple but important: the HomePod is paired with the device that sets it up, and if that device is not present on the network, its functionality is reduced. If you want to later adjust settings for the HomePod, you do so in the Home app on the device that set it up.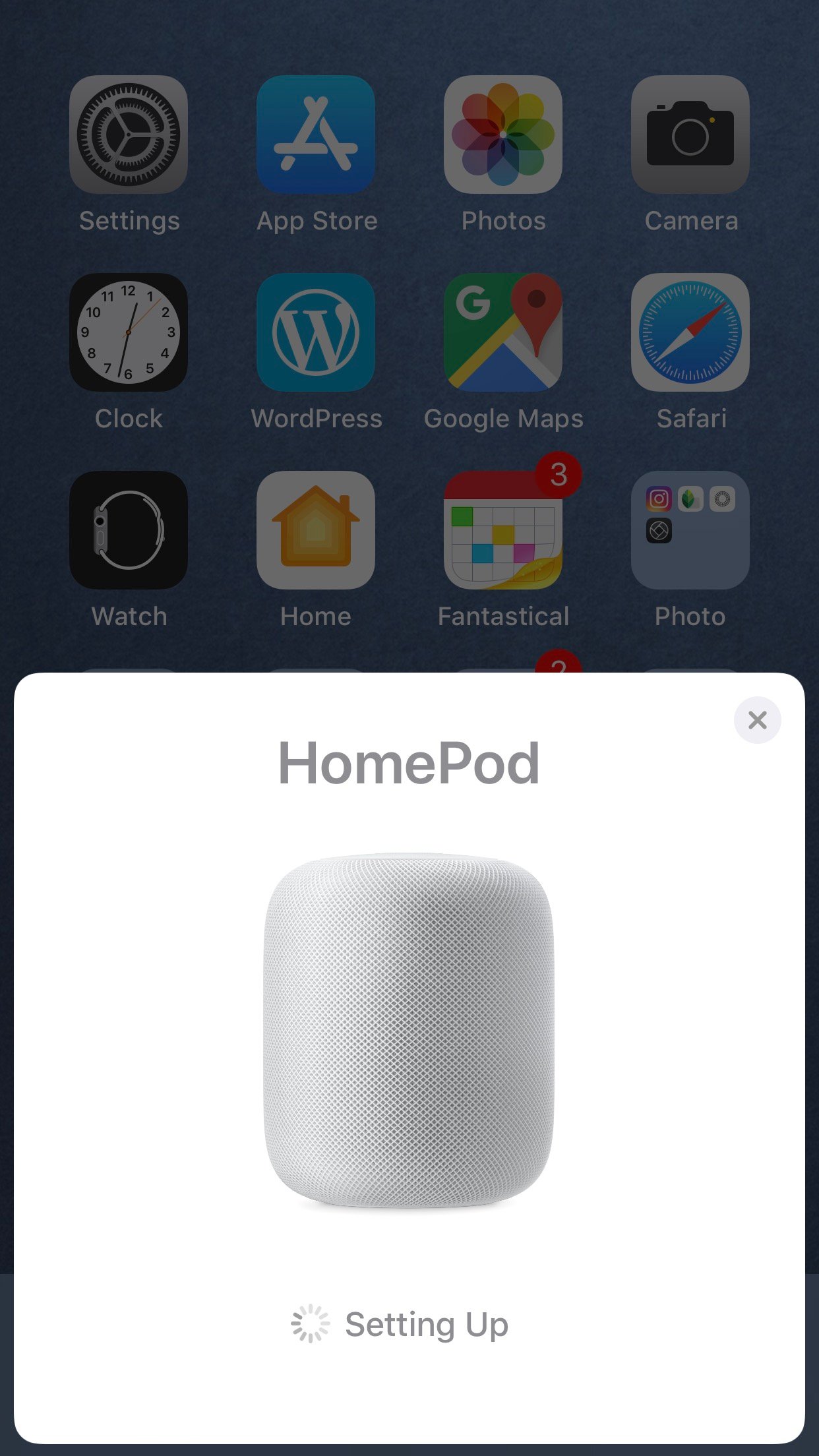 You'll be able to play music using Siri voice control if you have an Apple Music subscription, or if you use iTunes Match or iTunes Match; otherwise, you'll only be able to play music from a device that supports AirPlay. Siri can't play Spotify or other streaming services, but you can stream Spotify from your iPhone, as well as play anything on a Mac and stream that to the HomePod.
Once it's up and running, try saying, "Hey Siri, play some music." This launches your personal radio station, playing a selection of your favorite tracks. You can then tell Siri to "Pause," or "Play," or "Increase the volume," or "Lower the volume," and more. One thing that I find impressive is asking Siri who's playing a certain instrument on a recording, or when an album was recorded, or even who produced it. It's not always right — it once told me that Miles Davis was playing bass on Bitches Brew (he plays trumpet) — but in many cases the information is really useful.
Read about everything you can do with the HomePod.
How does the HomePod sound?
It's a speaker, after all, so the sound is probably the main feature most people are interested in. Apple has put some smarts into the audio element of this speaker, allowing it to calibrate itself according to where it's being used. It has a series of six microphones that get feedback from the room and its surroundings to tweak its eight amplified speakers (one woofer at the top of the HomePod, and seven tweeters in a circle around the bottom) using digital signal processing (DSP). This helps the HomePod maintain consistent sound no matter where it is located, whether in a living room with couches, carpets, and curtains, or in a kitchen with hard surfaces.
The HomePod has a full, rich sound, that projects well and fills even large rooms. The problem is that it has only one sound color, and that color is bassy. I listened to a lot of different kinds of music, and some sounds great, but a lot sounds mediocre. The HomePod is like Beats headphones in a standalone speaker: the sound is bassy, designed to flatter music like hip-hop, top-40 pop, and EDM, but for other types of music where overwhelming bass isn't called for, it can sound muddy and flat. You can somewhat overcome this if you stream from iTunes or an iOS device. Use the Equalizer and choose the Bass Reducer or Vocal Booster setting.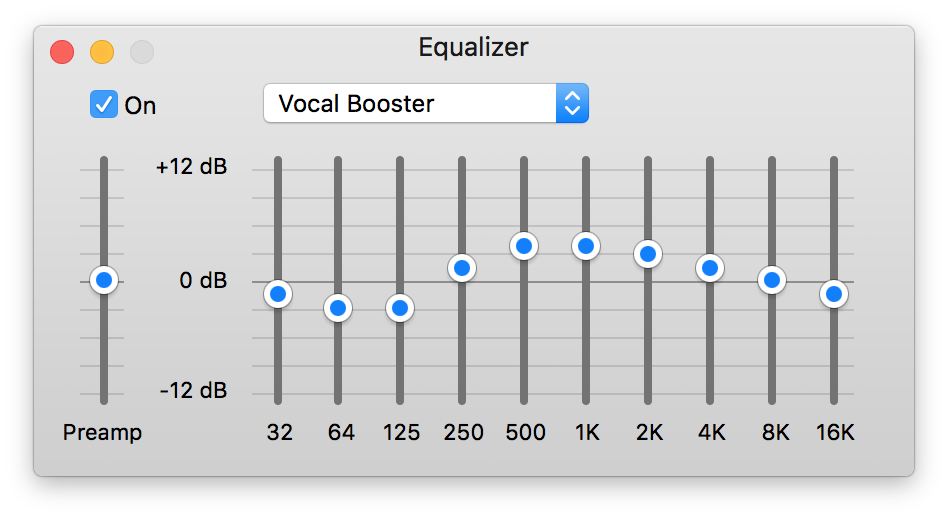 On iOS you're limited to a number of presets, but in iTunes, you can tweak the Equalizer a lot more. Using this EQ with the HomePod gets rid of a lot of annoying bass, but sometimes shows the other weakness of the device: a lack of convincing mid-range. The low and high ends sound fine, but in the middle — around the vocals, the guitar, the piano — the music can sound thin or muddled. To be fair, this isn't a stereo system, but at $350, I'd expect a bit more.
What about Siri?
The "smart" part of the smart speaker is a bit limited. It doesn't recognize multiple voices, so only the person who set it up gets full access to its features. It can't check your calendar, and it can only answer "general knowledge" questions, unlike Siri on an iPhone, which can give you all kinds of information. Essentially, Siri on the HomePod is mostly for controlling music, and maybe asking what the time is or what the weather is. You can also send messages, create reminders, and add notes through your iCloud account.
You can tell Siri to play music, podcasts, or audiobooks from your purchases or your iCloud Music Library, or from Apple Music, and Siri can give you the news. And you can also use it to control your home, if you have smart home devices connected to Apple's Home app.
However, the true magic of Siri on the HomePod is its ability to hear you say "Hey Siri" even when the music is playing loud — even if you're at the other side of the room. The top of the device lights up, and the sound fades as it awaits your instructions.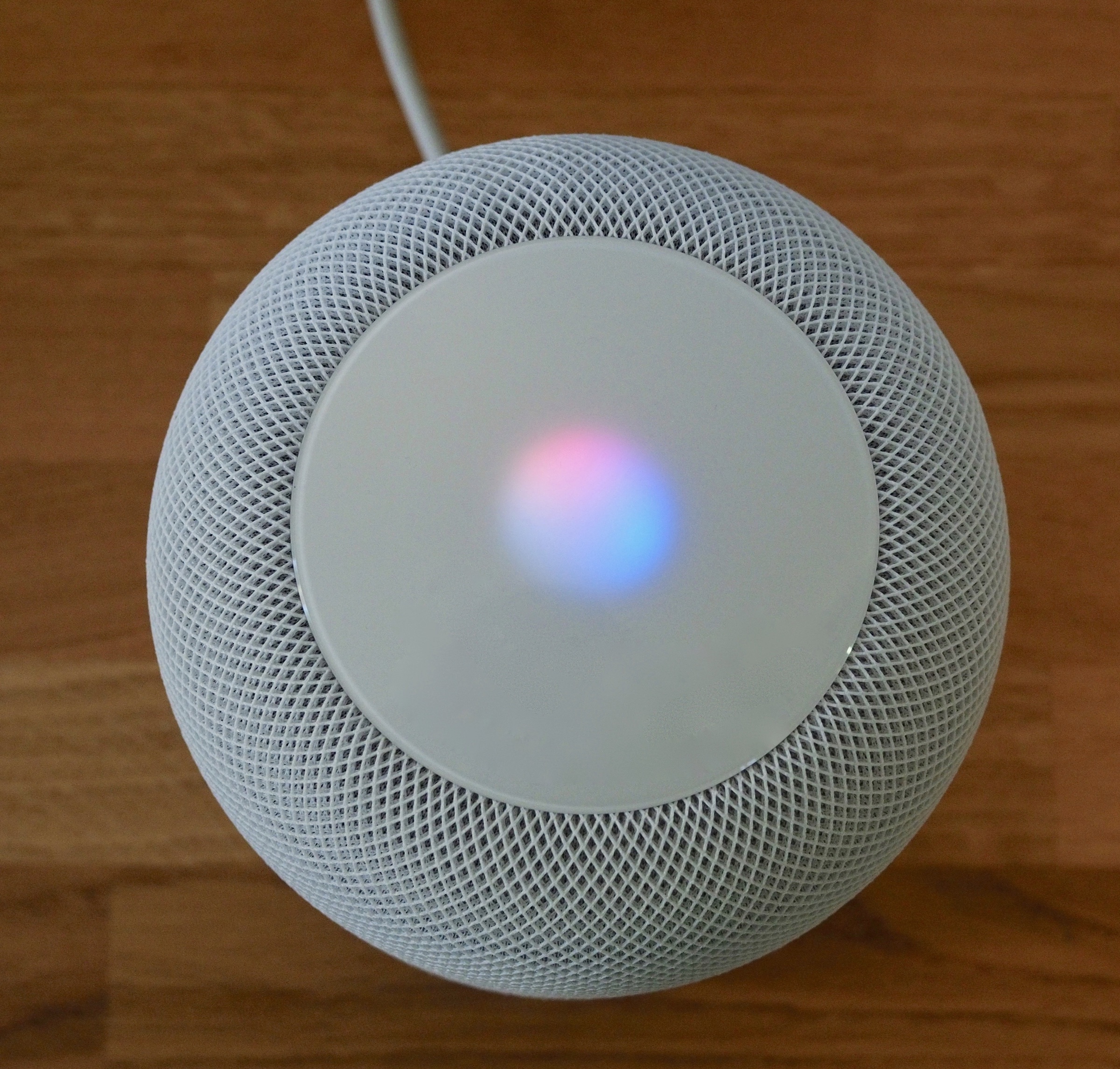 The HomePod and privacy
One thing to consider is whether the HomePod is a privacy risk. Like all devices that listen to you at home, there is a potential that someone may get onto your network and be able to listen in. If you don't want to use Siri, you can turn it off. Go to the Home app, find the HomePod, then press and hold its icon. Tap Details to see the various settings for the device.
In the Siri section, you can turn off "Hey Siri"; if you do, you can activate Siri by touching and holding the top of the HomePod. You can also turn that off, if you don't want to use Siri at all. You can also turn off Location Services, which lets Siri provide content to you depending on where you are.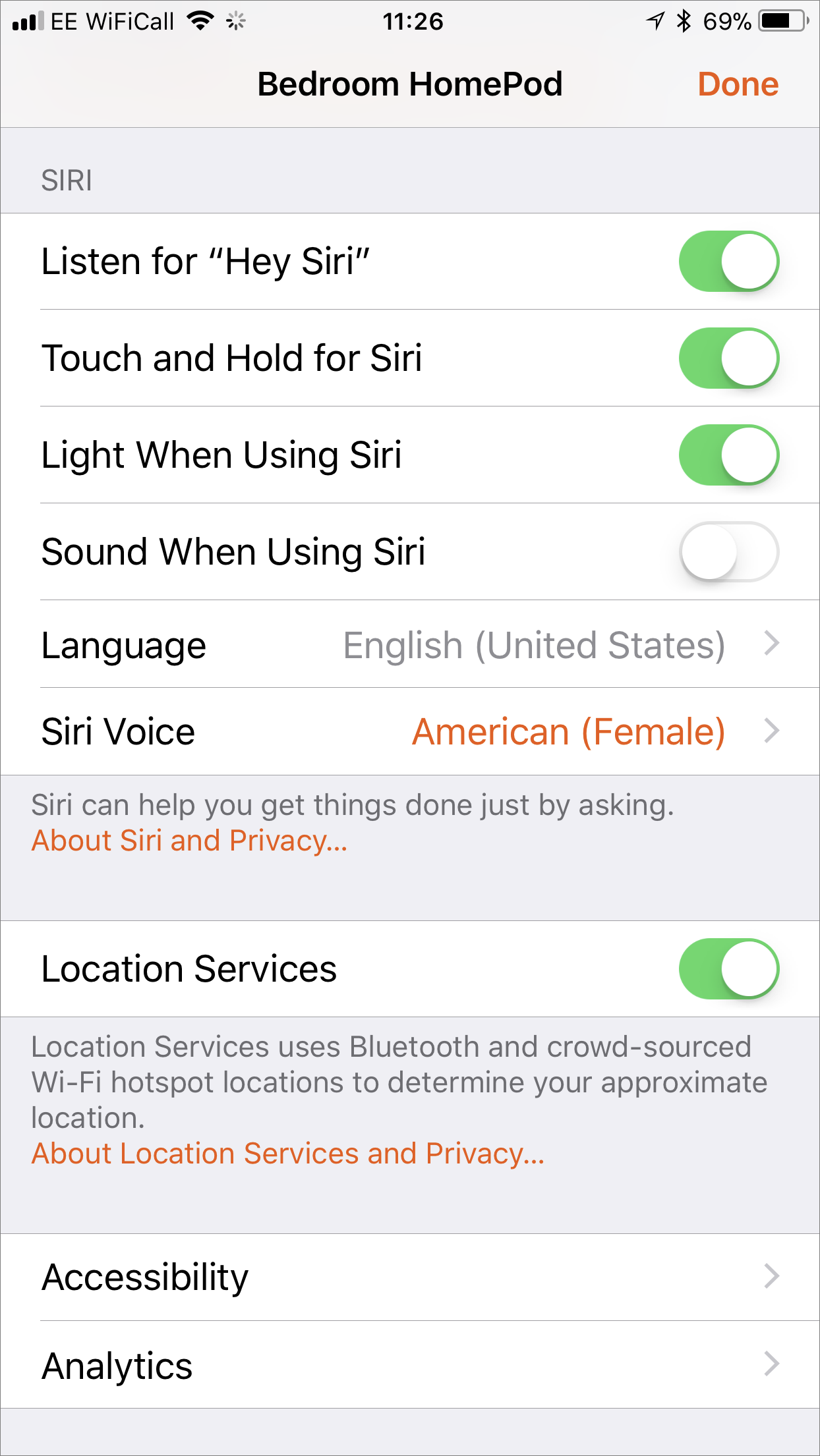 Related article: Is your smart speaker spying on you?
Is Apple HomePod worth the price?
$350 is a pretty high price to pay for a standalone speaker. There are plenty of speakers that cost that much or more, but they generally have better sound, and aren't crippled by Apple's DSP. Apple will eventually offer the ability to combine two such speakers to create a stereo pair — the HomePod is essentially mono, in spite of its multiple tweeters — but at that price, you could buy a decent amplifier and speakers to have much better sound. Of course, the HomePod is compact, and includes Siri, but with the limitations on the latter, it's not really worth buying the device just to talk to it.
Like many Apple devices, the first iteration is just a test balloon. I expect Apple to make changes to this device, hopefully offering EQ settings, improving on Siri's capabilities, and more. If you want a smart looking speaker, and don't need full Siri features, and if you are happy with its sound signature, then the HomePod is for you.
How can I learn more?
For more useful information about the Apple HomePod, check out our related articles: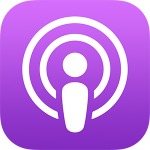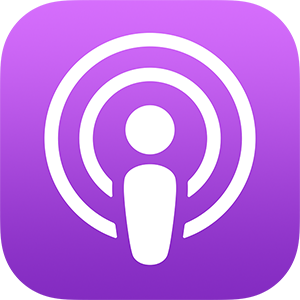 Each week on the Intego Mac Podcast, we discuss topics like the ones covered in this article, as well as the latest Apple security and privacy news. Be sure to subscribe to make sure you never miss the latest episode!
Also subscribe to our e-mail newsletter and keep an eye here on The Mac Security Blog for updates.
And make sure you're following Intego on your favorite social and media channels: Facebook, Instagram, Twitter, and YouTube (click the 🔔 to get notified about new videos).
About Kirk McElhearn
Kirk McElhearn writes about Apple products and more on his blog Kirkville. He is co-host of the Intego Mac Podcast, as well as several other podcasts, and is a regular contributor to The Mac Security Blog, TidBITS, and several other websites and publications. Kirk has written more than two dozen books, including Take Control books about Apple's media apps, Scrivener, and LaunchBar. Follow him on Twitter at @mcelhearn. View all posts by Kirk McElhearn →