A Parents' Guide to Protecting Kids' Privacy on Social Media
Posted on January 26th, 2015 by Kirk McElhearn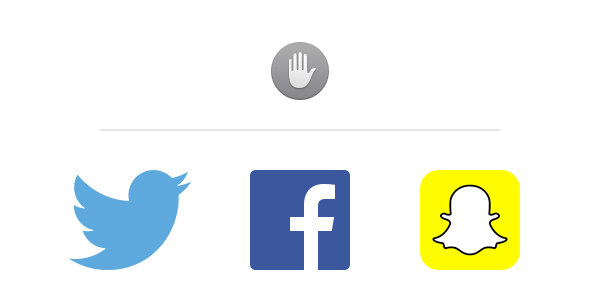 If your kids use social media, as all kids do, you may be worried about protecting their privacy. Teenagers may be a bit unconcerned about such things, and not care who reads their Facebook posts, their Twitter feeds, or sees their photos on Instagram. As a parent, you know how important it is to keep your kids' online life out of the public domain, as much as possible.
You can explain to your children why this is important, and help them choose the right settings to protect their privacy. They can always go back and change the settings, of course; you can't lock their Facebook or SnapChat settings. But if you have a serious conversation about privacy, you can work together with your children to apply the appropriate settings.
In this article, I'm going to show you how to adjust privacy settings for the most popular social media apps and sites, so you can help your children protect themselves.
Facebook
While Facebook isn't a big deal for kids any more—too many parents are there—plenty of teenagers still use it, and its privacy settings are among the most complex. In addition, Facebook changes their privacy policy and settings often, so what you see today may be different next month.
You can access Facebook's Privacy settings from the Settings page: https://www.facebook.com/settings. If your child is using the Facebook app, tap the More button, then scroll down and tap Settings. Here's what you see on the Facebook website: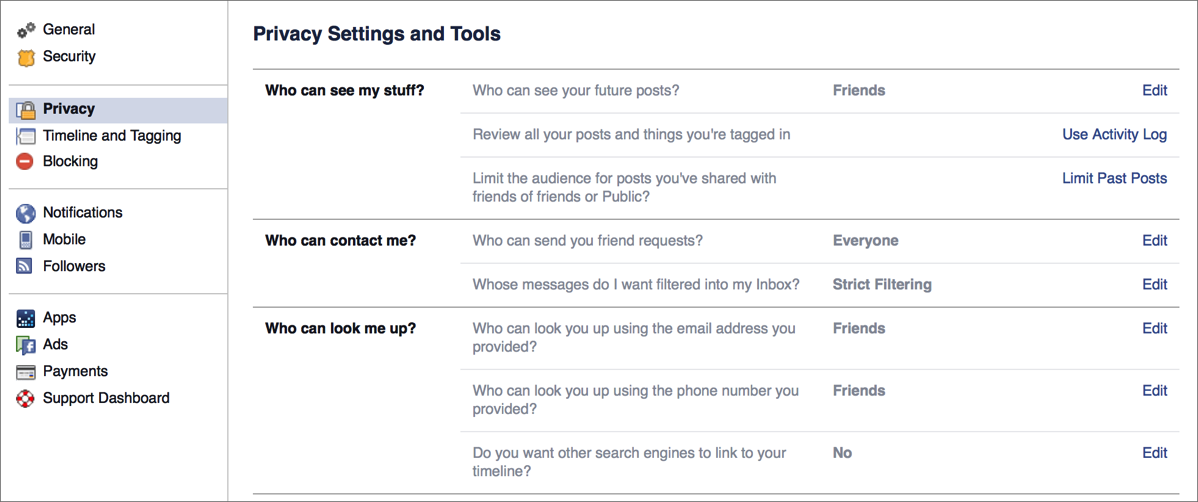 The main settings to check are in the Privacy section; the ones that say the following:
Who can see your future posts?
Who can send you friend requests?
Who can look you up using the email address you provided?
Who can look you up using the phone number you provided?
Do you want other search engines to link to your timeline?
For all of these, the safest settings are Friends and No. Have a look at all of the Privacy settings and see which others you want to change.
Facebook also lets you block users. Click Blocking in the sidebar at the left; you can add names or emails of users to block, and you can block apps, app invites, and pages. Help your kids learn to do this if they get harassed on Facebook.
Twitter
Twitter has a handful of privacy options, including the ability to make an account private and to turn off locations for tweets. It's a good idea to turn this latter feature off; otherwise anyone seeing your kids' tweets will know, more or less, where they are.
Click on a user's icon at the top of the Twitter window on the web, then choose Settings. Click Security and Privacy. You'll see these options: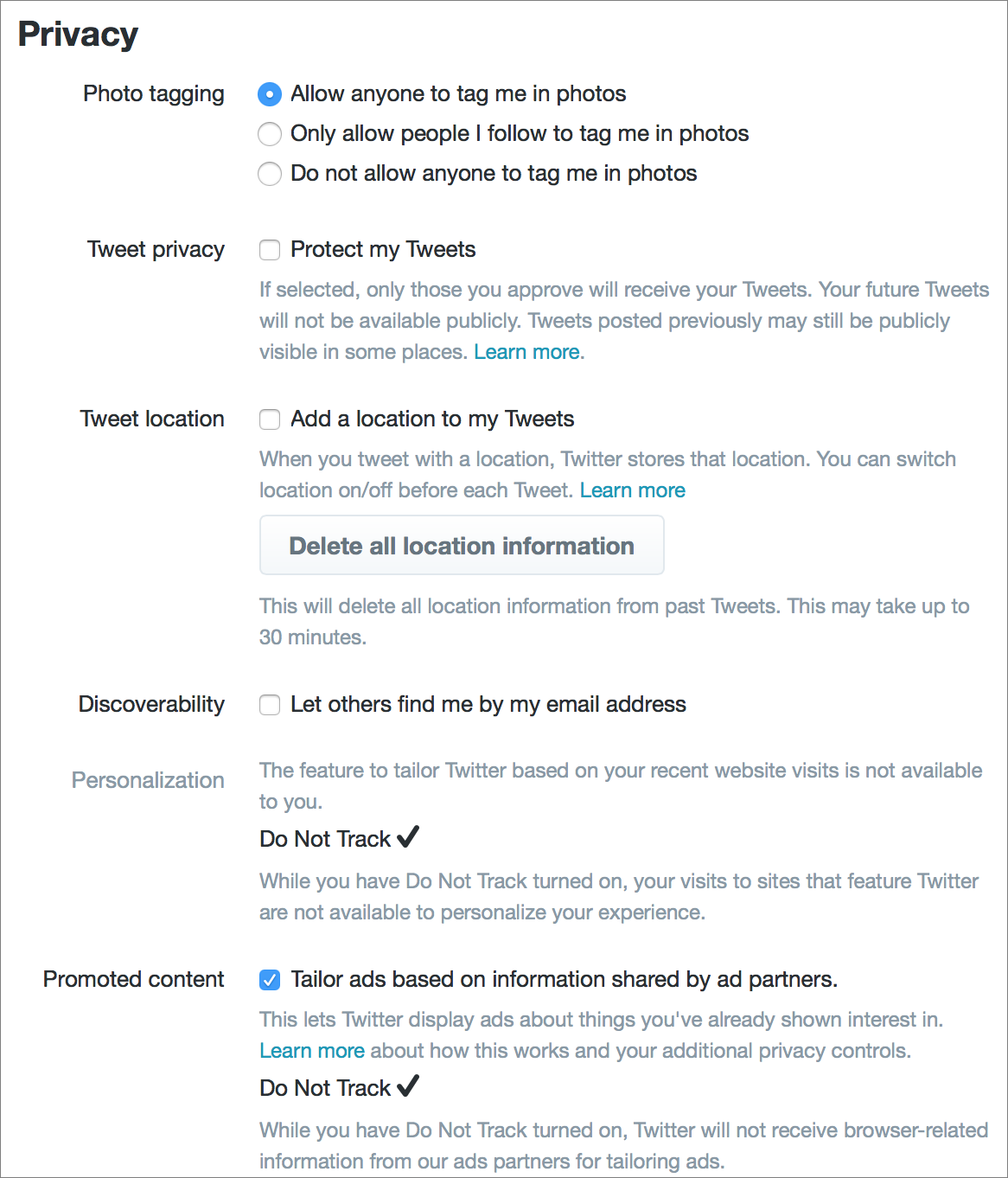 If you choose to protect tweets, your child will have to approve each person who follows their account. This is a good way to ensure online safety. You can head over to Twitter to learn more about protected tweets.
Instagram
Instagram is a fairly simple service that lets people share photos and videos. As such, its privacy options are limited to who can send a user photos, and who can view their story.
In the Instagram app, tap the profile icon (at the bottom; the head-and-shoulders silhouette), and then tap Edit Your Profile. Scroll down a bit and toggle Posts are Private to ensure that only people your child has accepted as followers can view their photos and videos.
This help article on the Instagram website tells you more about keeping posts private.
Snapchat
Snapchat is a messaging app, but, like Twitter, much of what users share can be viewed by the public. You can go to the Settings screen—tap the gear icon at the top of the Feed screen—and adjust who can send a user snaps, and who can view their story.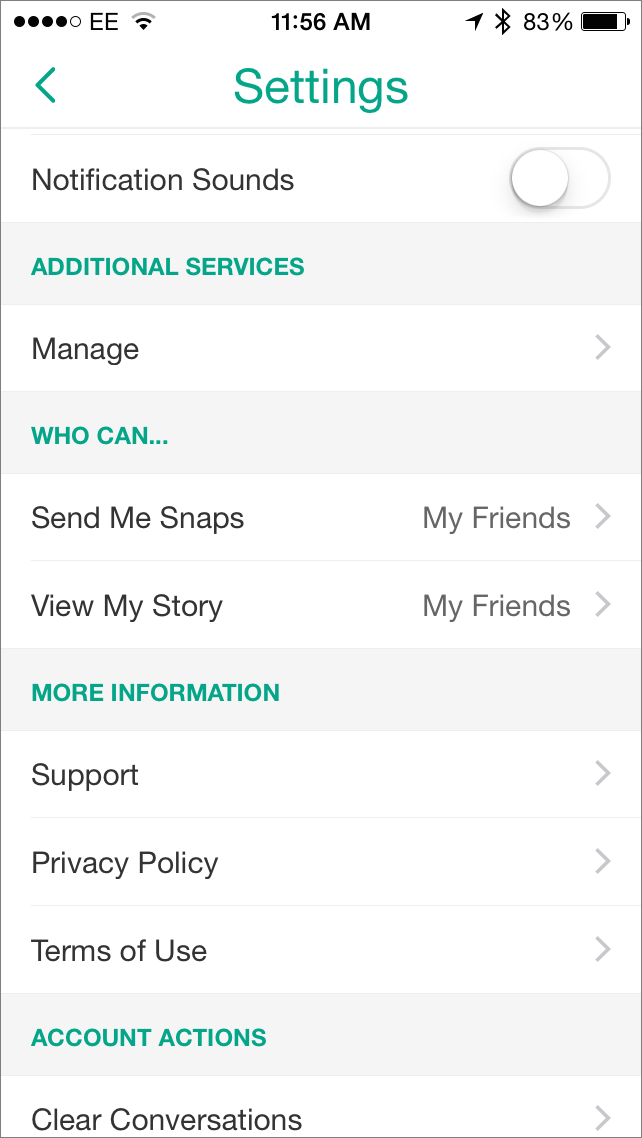 For the former, you can choose Everyone or My Friends, and for the latter, you have the same options, plus a Custom option, where you can choose specific friends who can view a user's story. See the Snapchat website for more information.
Keeping Up to Date
As I said above, social media services and websites change their privacy policy and settings from time to time. You need to keep up to date, and it's a good idea to check each of these every few months to see if there have been major changes.
But the most important thing is to explain to your children why they need to ensure their privacy. Make sure they understand what can happen if other people see what they post on social media; not just now, but in the future, perhaps when they're applying to college or looking for a job.
Parents, at what age do you allow your kids to start using social media? Do you know what social networks your kids use most often? And do you help them set appropriate privacy settings, or trust that they will do the right thing?
About Kirk McElhearn
Kirk McElhearn writes about Macs, iPods, iTunes, books, music and more on his blog Kirkville. He is co-host of the Intego Mac Podcast and PhotoActive, and a regular contributor to The Mac Security Blog, TidBITS, and several other websites and publications. Kirk has written more than twenty books, including Take Control books about iTunes, LaunchBar, and Scrivener. Follow him on Twitter at @mcelhearn. View all posts by Kirk McElhearn →