10 Cool Safari Extensions for Warp Speed Productivity
Posted on July 28th, 2015 by Derek Erwin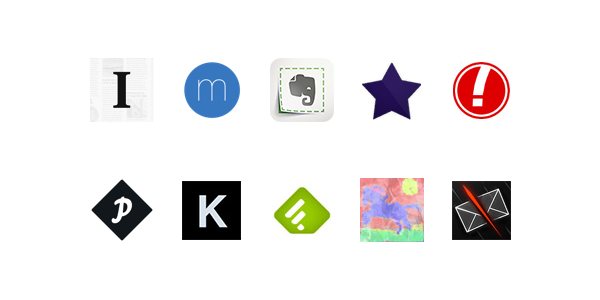 Extensions are a fantastic way to bring new features to Safari and enhance your web browser. You can customize your browsing experience by adding new extensions, many of which can help you stay productive this school year. Here are our top 10 favorite Safari extensions to boost efficiency and online productivity.
Safari extensions to stay productive
Have you ever seen something on the web that you wanted to save for later — only to close the tab and later forget where you found it and what exactly it told you? All you can remember is that it was funny or resourceful or perfect for whatever you eventually need it for. Well, this extension is for you. Developed by Evernote, the Evernote Web Clipper lets you save entire web pages or articles, including all text, links and images. It works directly with your Evernote account, which means you can go back and read what you saved from any device where you have Evernote installed.

 Click here to install Evernote Web Clipper.
Ever wish you could skip having to download something onto your computer only to want it moved to Dropbox? You can save a step and bandwidth with Horsey. Built by Rahul Iyer, Horsey lets you download almost any file directly to your Dropbox without having to download it to your computer first, saving you time.

 Click here to install Horsey.
If you're in business or Marketing and don't use Trello — you should. It can also be a great tool for students working on a class project together. Trello is a very easy to use tool for making notes on what needs to get done and who should do it. It's like a team post-it-note board on steroids. It keeps you organized and on task with fellow coworkers or classmates, and lets your team stay in the know with what everyone is working on. With Punchtime for Trello, developed by Perceptor, you can also track time from within your Trello board and use timers while you work. It's a great way to help you stay on task and know how much time projects are taking to complete.

 Click here to install Punchtime for Trello.
Sometimes you find something awesome on the web but don't have the time, at that moment, to read or watch it. Enter Instapaper. It lets you save interesting articles or videos from around the web to view later. And the content you save to Instapaper automatically syncs between all of your devices, so you can view it anywhere, even without an Internet connection.

Click here to install Instapaper.
Need some extra motivation to get a project done? Want to be inspired every time you open a new Safari tab? Momentum helps you stay on task throughout the day with the Momentum tab homepage replacement. It'll get you motivated and set your focus for the day, providing an inspiring reminder of what you need to accomplish.

Click here to install Momentum.
If your routine every morning includes searching for 'the usual' web pages you open for news or other information, this app is for you. Website Opener, created by Jakob Svensson, is a Safari extension that allows you to open all your favorite web pages, each in a new tab, with only one click. All you have to do is add the pages you want to open, and then just click on the icon for the extension (the black star). It's perfect if you open the same web pages every day.

Click here to install Website Opener.
Forget the Mac's built-in keyboard shortcuts. Ever wanted to create your own customizable keyboard shortcuts? Now you can, with KeyStroke, made by Rahul Abrol. This Safari extension provides customizable shortcuts for common tasks and enhancements.

 Click here to install KeyStroke.
You've been working diligently the last 3 hours, no breaks, no water, no blinking… Just hard at work. And the headache hits. Or you just have to watch that funny video you've been avoiding all morning. And that's exactly when your boss will stroll by your desk only to see you're playing hard and hardly working. Enter the PanicButton. With PanicButton, developed by Thomas Greiner, you can easily hide all your open tabs by clicking a toolbar button. You can also use a customizable keyboard shortcut, and select a 'safe page' to appear when your tabs are hidden. Boom. Job saved.

Click here to install PanicButton.
Feedly is incredibly popular. Built for productive people, Feedly is a fast and stylish way to read and share the content on your favorite sites and services. It provides seamless integration with Google Reader, Twitter, Facebook, Delicious, YouTube, and Amazon.

Click here to install Feedly.
Need a disposable email address? Then Harakirimail, made by Wahlberg Research & Development, is just what you need. Simply right-click when you are in need of a disposable email address, and your inbox will open in a background tab.

Click here to install Harakirimail.
We all have our own unique study and work habits, and our own challenges. However, the most successful people have at least one thing in common: We are all resilient in the face of adversity and persevere by solving the problems that confront us. And when problems have to do with staying productive, we've got our favorite tools to help solve them.
What Safari extensions or apps do you use to keep focused during the day? Have something to say about this story? Share your comments below!