Why Apple's Update to the Mac mini Could Be a Big Deal
Posted on by Kirk McElhearn
The Mac mini is, for the most part, a "hobby" computer. Sure, it's used in some datacenters, where people lease Mac minis to run as servers, but this diminutive Mac desktop computer is most widely used by home users wanting to run a simple server, often to host media, files, or to use for backups. It's small, yet it's sufficiently powerful for these tasks.

I used one for a couple of years as my main desktop Mac. In late 2011, I bought the then current Mac mini and tricked it out with the then uncommon SSD for primary storage, a second hard drive (that model allowed you to configure it with two drives), the fastest processor available at the time, and extra RAM. That computer still runs as a home server: it hosts my media library  using Plex and I use it for backups. This is the longest I've had a Mac in use, and it's still running fine, even though it's on all the time.
I considered upgrading to a newer model, mainly to have USB 3 connections, but realized that  it's not really necessary for how I use this Mac. Most of my file transfers are over Wi-Fi, and it's connected to my router via Ethernet. If Apple were to update the Mac mini, I might buy a new one depending on what features it offers.
Possibilities
Here's what's interesting. The Mac mini could be a very different Mac from what is currently available. Apple might choose to offer what many people call the "mythical mid-sized tower Mac" – a small, upgradable Mac that can be opened as easily as the "cheese grater" Mac Pro of yore. With that computer, you could easily swap hard drives, add PCI cards, and even add a second optical drive. The side popped off easily, making upgrades simple. Imagine a Mac mini that you could upgrade, or at least add RAM to (as in previous models) or switch drives.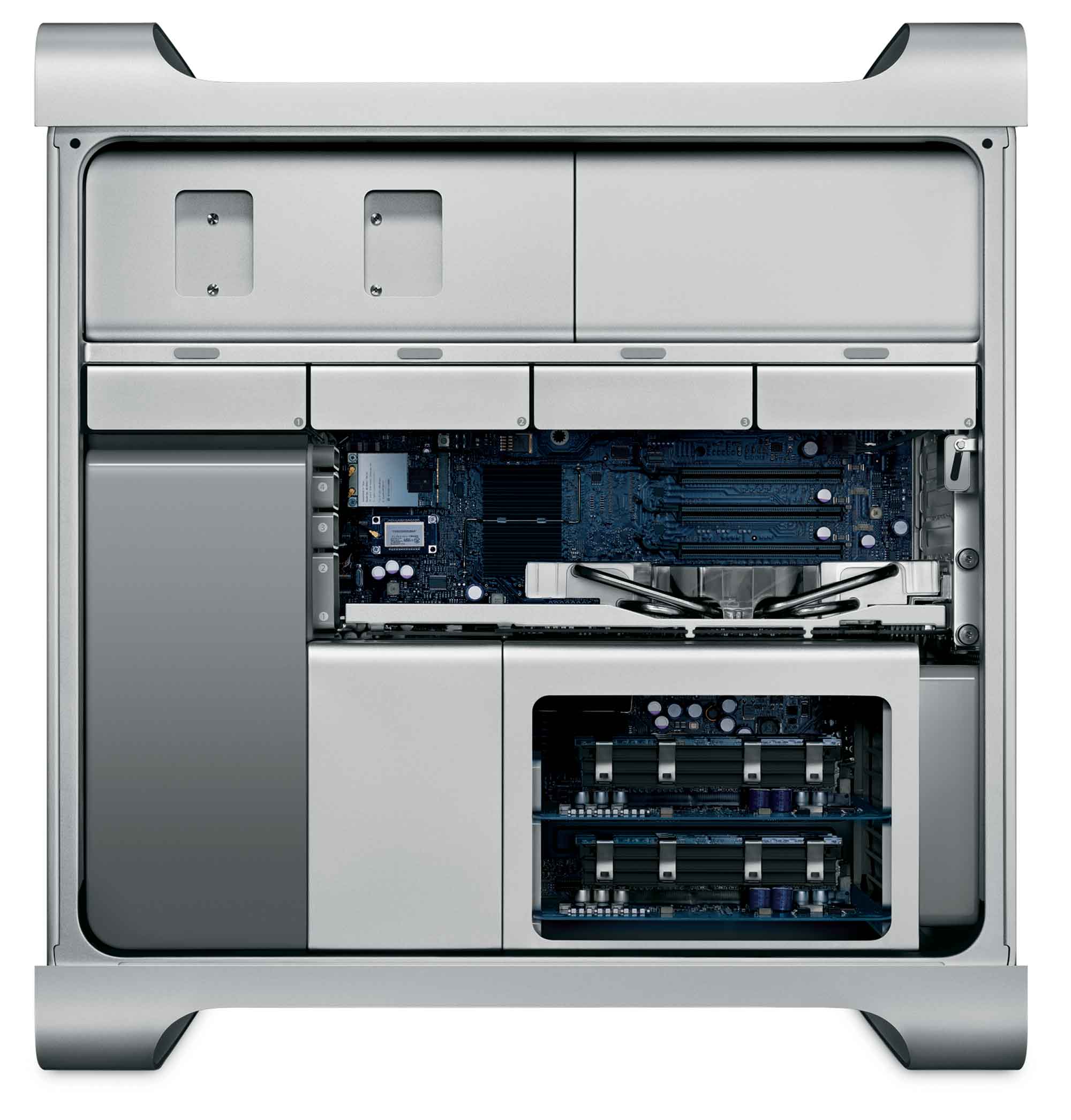 Or not. A lot of people are skeptical about the idea of Apple ever releasing a Mac that is upgradable like that again, instead depending on external devices for upgrades, using Thunderbolt and USB-C connections, and collecting the Apple tax for extra RAM on build-to-order models.
But there's another possibility for the Mac mini: a new type of macOS server. In January of this year, Apple said that they were changing the focus of macOS Server software. In one sense, this was dumbing it down, removing easy access to many of the services that professionals want in a small server. The company said that the coming version "is changing to focus more on management of computers, devices, and storage on your network."
It's not clear exactly what this means, but suggests that Apple might be coming out with a home server to manage multiple devices, store files, even perhaps serve as a local backup target for iOS devices. This sort of server could:
Cache content from iCloud and Apple's update servers (already available in macOS High Sierra)
Cache content from Apple's stores, such as movies, TV shows, or music from the iTunes Store or Apple Music (remember that Apple will soon be launching some sort of streaming video service)
Act as a backup target for Macs (already available in macOS High Sierra)
Serve as a backup target for iOS devices; some people back up their devices to iCloud, but many don't have enough storage
Function as a media server for iTunes content, and even perhaps for shared Photos libraries
Work as a HomeKit hub; this feature already exists for some devices but is somewhat opaque
Provide parental controls for both Macs and iOS devices; while this already exists in a simple way on both types of devices, a hub-based solution such as Disney's Circle would be a great tool for Mac- and iOS-using families
It's true that the idea of a home server is complicated, but Apple could probably make this user-friendly. It wouldn't just be for homes; it could work in schools and small businesses, providing storage, backup, and content filtering services that these organizations need.
If Apple releases another upgrade to the Mac mini – arguably one that is several years overdue – it won't sell a lot, but there is a small user base that will welcome it. But if they make it an appliance for the modern Apple-using household, small business, and school, they may have a compelling new product. The timing of the new version of macOS Server software makes it seem like Apple has something in mind; I look forward to finding out what.
About Kirk McElhearn
Kirk McElhearn writes about Apple products and more on his blog Kirkville. He is co-host of the Intego Mac Podcast, as well as several other podcasts, and is a regular contributor to The Mac Security Blog, TidBITS, and several other websites and publications. Kirk has written more than two dozen books, including Take Control books about Apple's media apps, Scrivener, and LaunchBar. Follow him on Twitter at @mcelhearn. View all posts by Kirk McElhearn →