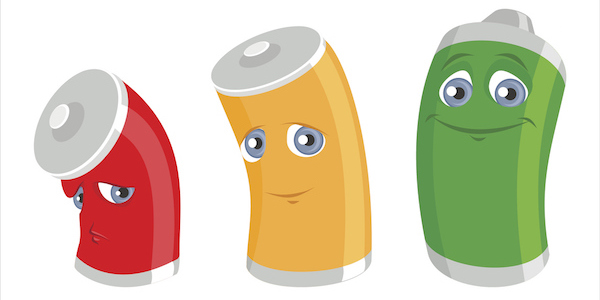 You know that rumor that Apple has been slowing down old iPhones to try to get you to upgrade? We have long dismissed it as fanciful, but it turns out that, since last year, Apple has been doing something like this to old iPhones. Faced with a number of iPhones with chemically aged batteries that shut down when under peak energy loads, Apple delivered updates to iOS so that phones with batteries in bad shape would slow down under heavy load. They weren't throttling everything the iPhone did, instead they were just making sure the CPU didn't crash when it couldn't get enough power. This affects the iPhone 6, iPhone 6 Plus, iPhone 6s, iPhone 6s Plus and iPhone SE.
On December 28, 2017, Apple published A Message to Our Customers about iPhone Batteries and Performance, explaining how batteries age, and what they did to resolve these issues. In part, it says:
We've been hearing feedback from our customers about the way we handle performance for iPhones with older batteries and how we have communicated that process. […] All rechargeable batteries are consumable components that become less effective as they chemically age and their ability to hold a charge diminishes. […] A chemically aged battery also becomes less capable of delivering peak energy loads, especially in a low state of charge, which may result in a device unexpectedly shutting itself down in some situations. […] About a year ago in iOS 10.2.1, we delivered a software update that improves power management during peak workloads to avoid unexpected shutdowns on iPhone 6, iPhone 6 Plus, iPhone 6s, iPhone 6s Plus, and iPhone SE. With the update, iOS dynamically manages the maximum performance of some system components when needed to prevent a shutdown. While these changes may go unnoticed, in some cases users may experience longer launch times for apps and other reductions in performance.
There are several problems here. The first is that batteries do age (we all know this), but we weren't aware that this would affect performance, slowing down iPhones. Before Apple issued this software update, with iOS 10.2.1, the state of the battery didn't affect the way the phone worked. Unfortunately, a number of iPhones were shutting down under load, which is problematic.
The biggest issue, as far as users are concerned, is that Apple didn't tell anyone. The software update, which is certainly valid in its intention to make sure iPhones continued to function, affected performance without users being aware of it. I have come across several people who upgraded their iPhone 6 or 6s because they were so sluggish, and because the battery didn't last long enough without recharging. If these people had been aware of what was slowing them down, they might have chosen another route.
One thing a lot of iPhone users aren't aware of is that the battery can be replaced. It's not like with an Android phone, where you can buy a new battery for $20, pop the back off, then replace it. Since you can't open the iPhone yourself, plenty of people assumed you couldn't change the battery. But Apple (and some phone repair shops) can help you replace a bad battery. Apple charges $79 for this repair, and that seems to me a fair price to pay to have a phone that will last another two years.
So, faced with the realization that they blundered, Apple decided to offer $29 battery replacements for the models affected. Originally, the company said these would be available to anyone who has one of the affected models, but they later changed their tune, saying, "For anyone with an iPhone 6 or later whose battery needs to be replaced." This means it has to pass a diagnostic test. Apple's iPhone Battery & Power Repair webpage says that the cutoff for this is if the battery retains less than 80% of its original capacity. (This is the "battery health.")
I have an iPhone SE that couldn't last a full day without recharging last summer. When I bought an iPhone 8+ last September, I put it aside, but when I checked it, I found that the battery was well below the condition that it should be. Its battery health was only 74%, and Apple replaced the battery for free because I have Apple Care. If you don't have AppleCare, and your iPhone battery is poor, $29 is a bargain.
Apple is facing a huge demand, and they have said that for the iPhone 6+, you won't be able to get a new battery until March. That's a long wait when you know the phone isn't working as it should. In addition, there have been reports of some users making appointments at Apple Stores, only to find, when they got to the store, that there were no batteries available.
Apple's biggest fault here was poor communication. I think they did the right thing, ensuring that the phone didn't shut down, but not alerting users was very wrong. Apple has said that they would be adding information to iOS, so you can see your battery health — something you can see on a laptop in the System Information app. I hope this warns users (of any iPhone model) when their battery health degrades enough that a replacement would be useful. $79 is a fair price to pay to give an iPhone a new life, and $29 is even better if you have one of the affected iPhone models.
Have something to say about this story? Share your comments below!
About Kirk McElhearn
Kirk McElhearn writes about Apple products and more on his blog Kirkville. He is co-host of the Intego Mac Podcast, as well as several other podcasts, and is a regular contributor to The Mac Security Blog, TidBITS, and several other websites and publications. Kirk has written more than two dozen books, including Take Control books about Apple's media apps, Scrivener, and LaunchBar. Follow him on Twitter at @mcelhearn. View all posts by Kirk McElhearn →