The Complete Guide to Apple MagSafe Chargers, Cases, and Accessories
Posted on October 7th, 2021 by Kirk McElhearn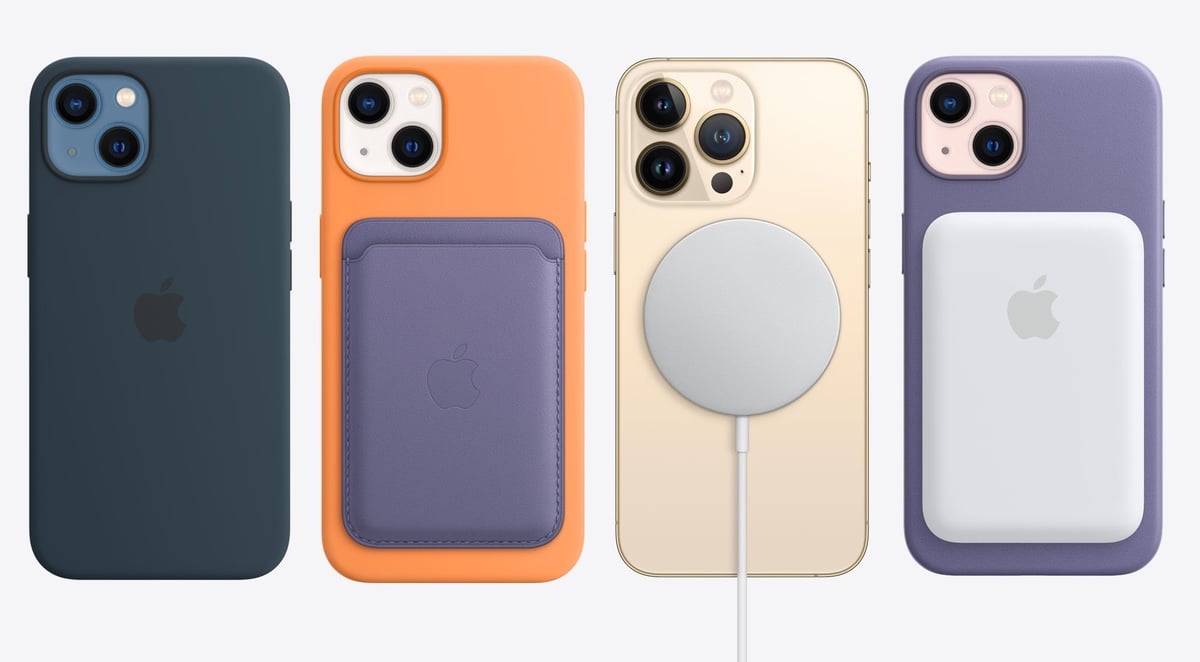 Apple's new iPhones feature the MagSafe charging infrastructure, allowing them to charge without plugging a cable into the devices. While this is not technically "wireless" charging – the MagSafe charger still has a wire – this form of induction charging is practical and it means that you can charge multiple devices without cables.
MagSafe is also a new accessory category for Apple, with a number of different cases available, several chargers, a battery pack, and the MagSafe wallet, which lets you attach a slim leather wallet to your iPhone to carry credit cards or cash.
In this article, I'm going to tell you everything about MagSafe: how it works, what you can charge with it, and which MagSafe accessories are available.
What is MagSafe?
Long-time Apple users will remember the power connectors that Apple used on certain laptops from 2006 through 2019. These connectors snapped onto a special power port on the laptops, and were designed so if you tripped over a power cable, it wouldn't throw your expensive Mac to the floor, but rather detach safely.
Apple re-introduced this term in 2020 for chargers that work with the iPhone and with certain headphones. While the "Mag" part is still true, there's not much that is "Safe" about it. But the name sounds impressive, and Apple already owned the trademark. (Apple also brought this back in Summer 2022, with the release of the M2 MacBook Air, which is currently the only laptop to offer MagSafe charging.
MagSafe charging is a form of induction charging, that is compatible with Qi charging, a standard used by many tech firms to provide cable-free charging. Both of these use a pad with a transmitting coil, and a receiving coil in devices, to transfer electricity. The magnets in Apple's MagSafe chargers, and iPhones, allow the charging to be more efficient, since they can align the two coils perfectly.
How is MagSafe different from Qi charging?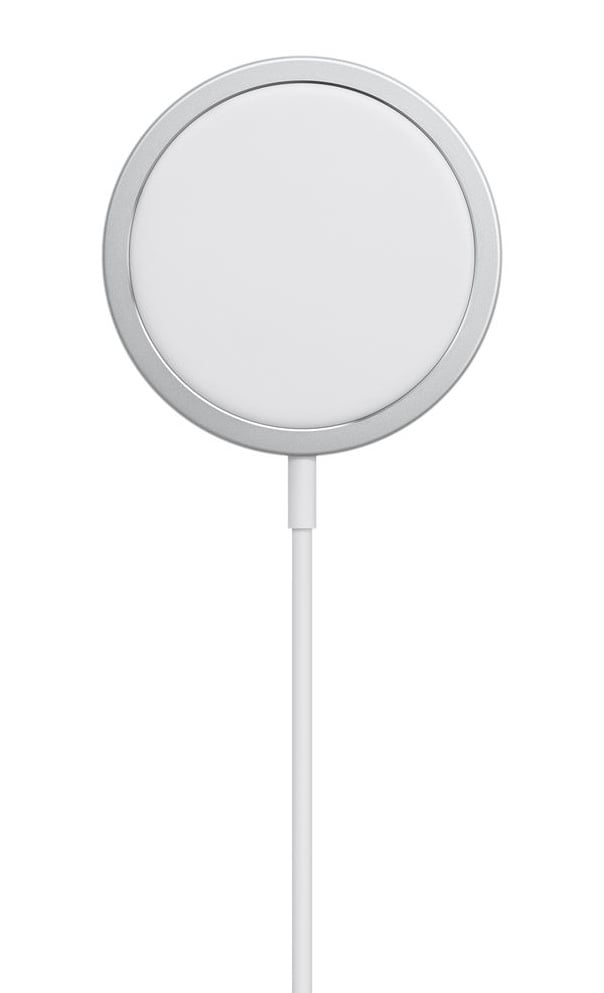 Both systems work in a similar way, but with MagSafe, you can charge your iPhone 12 or 13 at up to 15 W (the iPhone 12 mini and 13 mini can only change at up to 12 W), whereas Qi charging is limited to 7.5 W. Some phone brands allow for Qi charging at 10 W, but Apple limits its devices to 7.5 W, perhaps for safety or efficiency reasons. If you charge headphones, such as Apple's AirPods or AirPods Pro, the maximum voltage is 7.5 W.
Apple recommends that you use a 20 W or greater power adapter with MagSafe chargers in order to get the full 15 W charging rate.
What do you need for MagSafe Charging?
MagSafe charging requires a compatible iPhone – currently, the iPhone 12 and 13 models – and a MagSafe charger. If you want to charge your iPhone with a case, you have to have a compatible MagSafe case, which also contains magnets, laid out in a MagSafe Case Magnet Array. You can charge an iPhone 12 or 13 on a Qi charger, but the voltage will be lower. And you can charge the following models of AirPods:
AirPods Pro
AirPods with Wireless Charging Case (2nd generation)
Wireless Charging Case for AirPods
Apple sells MagSafe chargers, as do some third parties, under Apple's "Made for MagSafe" program. Apple has partnered for now with Belkin for these products, and other companies sell "MagSafe compatible" chargers, which use the Qi charging standard, which charges more slowly.
The MagSafe charger does work with older iPhones – starting with the iPhone 8 – but only at the slower, 7.5 W speed.
MagSafe cases
As mentioned above, MagSafe cases have to contain a MagSafe Case Magnet Array, which you can see in this photo of Apple's clear case for the iPhone 13. The round array magnet is which passes the charge through the case to the device, and the straight orientation magnet is there to ensure that some devices are lined up correctly.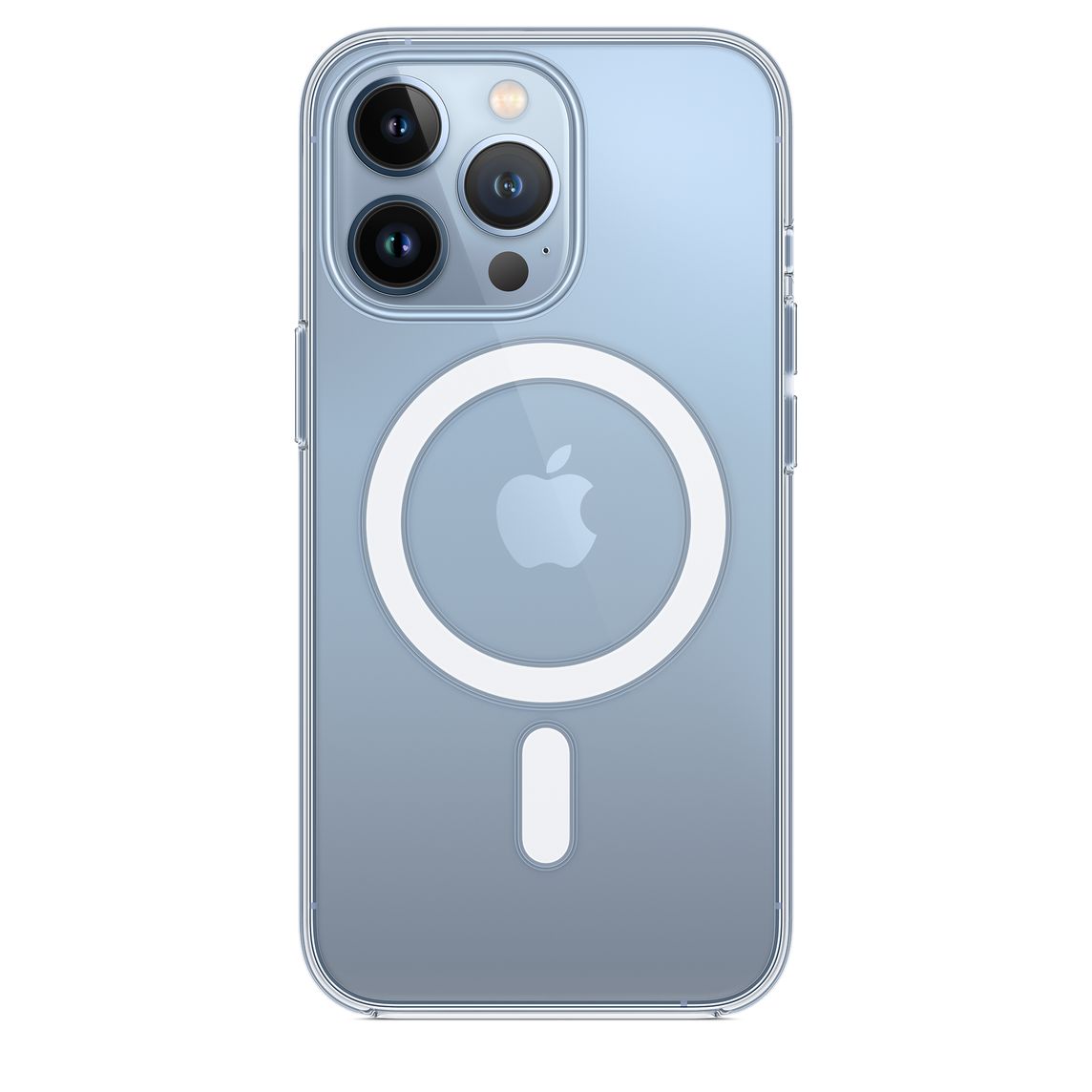 Apple sells MagSafe cases in clear plastic, silicone, and leather, and also sells a leather sleeve with a wrist strap for the iPhone 12 models. Apple also sells cases from OtterBox, and a number of third party companies sell MagSafe compatible cases. If you have a very thin case that is not designed for MagSafe, you might be able to use it with a MagSafe charger, but the charging may not be as efficient.
MagSafe chargers
The basic $39 Apple MagSafe charger is the ideal device to charge your iPhone, and, while third parties sell MagSafe compatible chargers, they use the slower Qi charging standard. You can, of course, charge your iPhone with any Qi charger, but the point of using the MagSafe charger is to benefit from faster and more efficient charging. Note that Apple's MagSafe charger has a USB-C jack in its cable, and you'll need a 20 W or higher USB-C compatible charging brick to get fast charging.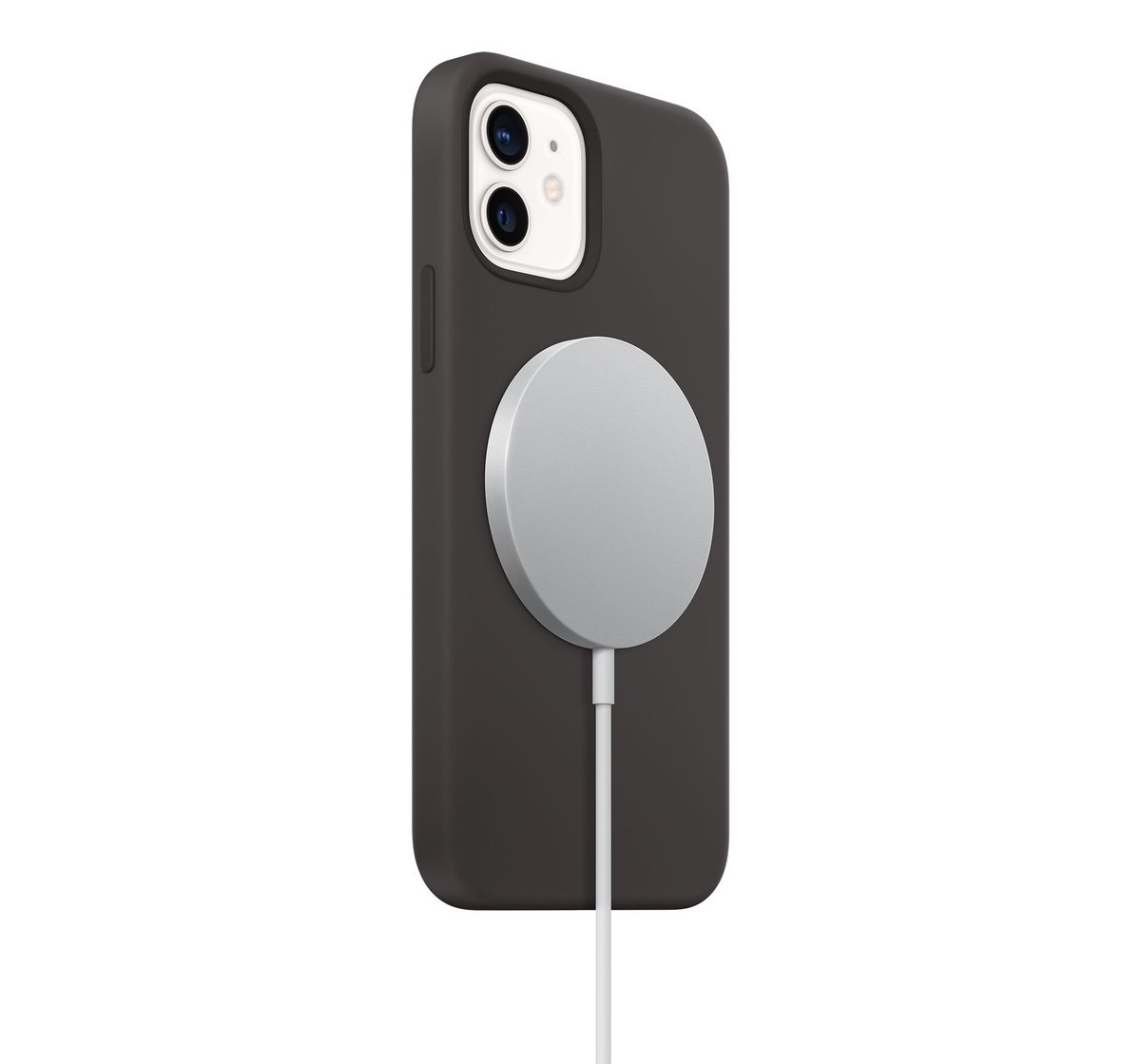 The MagSafe Duo charger is great if you have an iPhone and an Apple Watch, and it's foldable and portable, so it's the perfect charger to take on the road. It uses a USB-C to lightning cable, so you'll need the right charging brick, as with the simple charging disc. Apple says that you need a 27 W or higher power adapter to charge at up to 14 W with this charger, and that a 20 W power adapter only charges up to 11 W. Presumably, this lower charging wattage is due to the fact that there are two chargers in the device.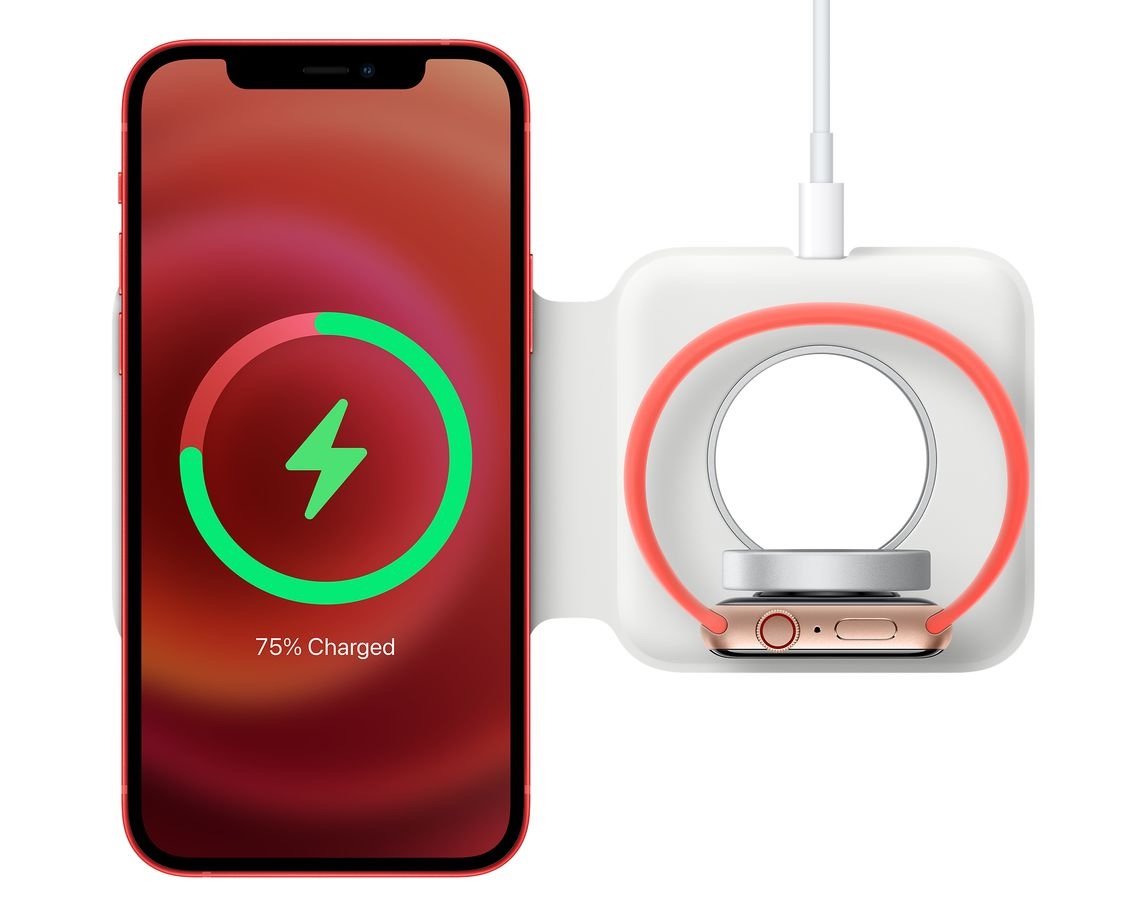 Belkin also sells the BOOST↑CHARGE line, which offers some MagSafe chargers that work at up to 15 W, others up to 10 W, and other companies have chargers that are magnetic, but that only provide 7.5 W charging. There are also lots of stands into which you can insert the Apple MagSafe charging puck.
MagSafe battery packs
When Apple introduced MagSafe in 2020, they announced a battery pack, and it took until the summer of 2021 for this to be released. The MagSafe Battery Pack snaps onto any iPhone 12 or 13, and provides from 40% to 70% additional charge for the device. (The percentage depends on the iPhone's battery; since the iPhone Pro Max models have the largest batteries, the charging percentage is lower). It's not a lot of power, but it may be what you need to get through the day. Here's the MagSafe battery pack on an iPhone 13 Pro, and a MagSafe wallet: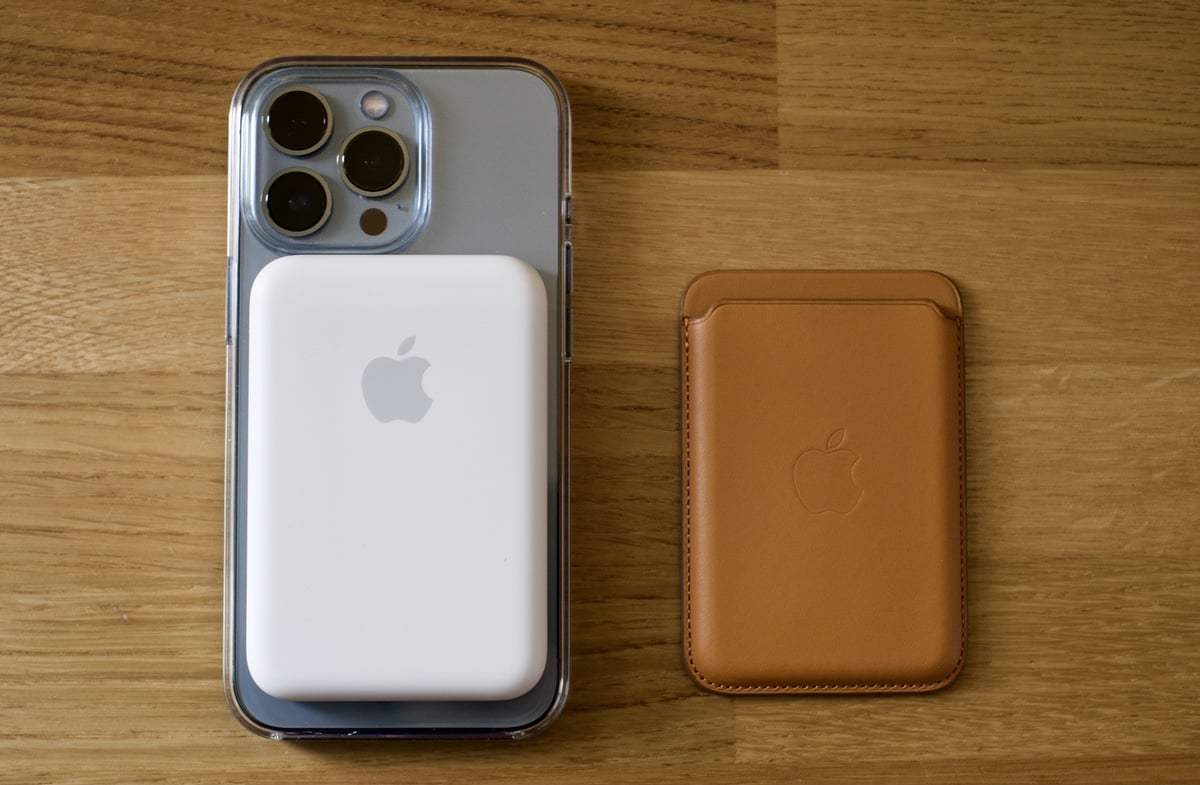 It's sized to fit on the iPhone 12 or 13 mini, so it's a bit small on the larger phones, but it's sleek and integrates well with iOS, with a visible display on screen when you connect it. The Battery widget on the iPhone shows its current charge.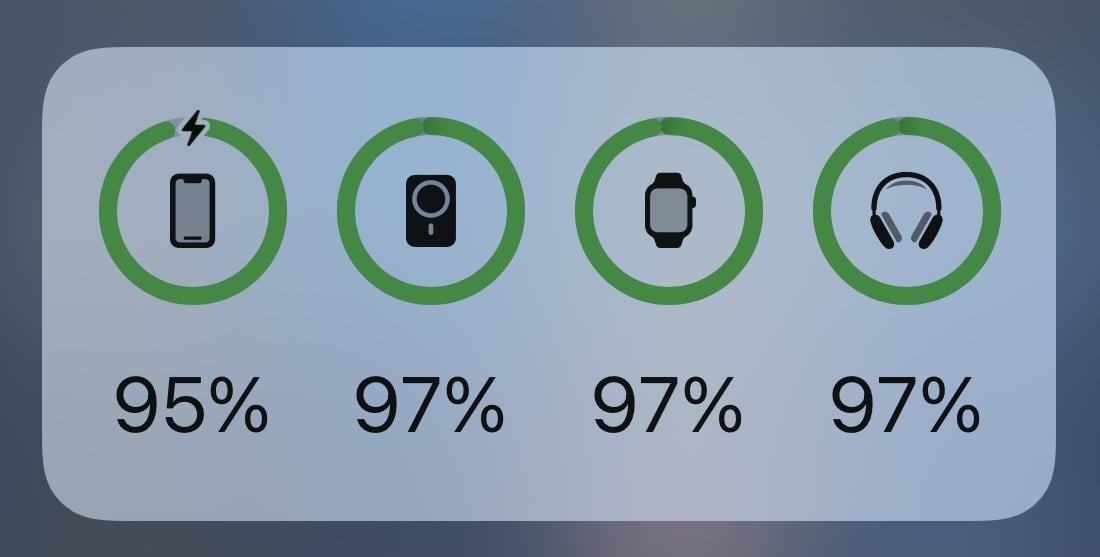 There are some third party battery packs from companies like Belkin, Mophie, and Anker, which are larger, offer more power, and are much cheaper. At $99, Apple's battery pack is expensive, but it's slimmer than other offerings.
MagSafe wallet
Apple's most recent accessory is an updated version of its leather MagSafe wallet, which can hold a couple of credit cards and some cash. This wallet can fall off your iPhone easily, such as when you put it into or take it out of your pocket, but the newest model supports Find My. You can set up Find My to notify you when the wallet has been detached from your iPhone for more than one minute, and you can locate a lost wallet using the Find My app.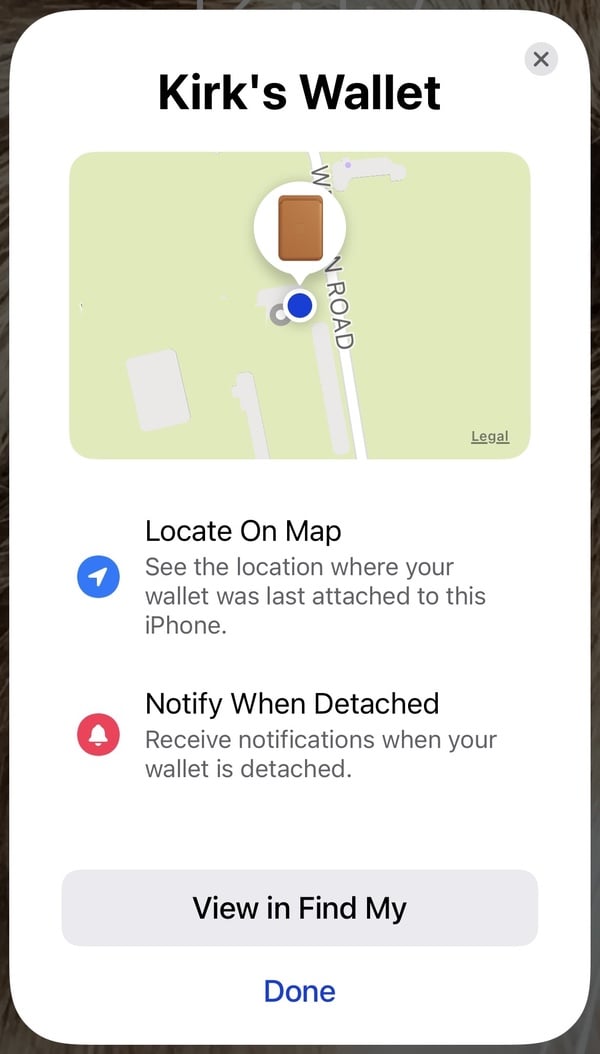 Other MagSafe accessories
Most MagSafe accessories are about power, but the magnets in iPhones let you use mounts that grip the air vents in a car, and there are some small magnetic tripods that can leverage the magnets in the phone.
MagSafe is a practical way to change iPhones, and the magnet is great for attaching iPhones to stands. It will be interesting to see what other MagSafe accessories Apple comes up with in the future.
How can I learn more?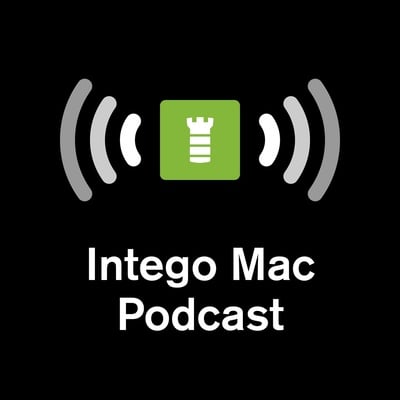 Each week on the Intego Mac Podcast, Intego's Mac security experts discuss the latest Apple news, security and privacy stories, and offer practical advice on getting the most out of your Apple devices. Be sure to follow the podcast to make sure you don't miss any episodes.
You can also subscribe to our e-mail newsletter and keep an eye here on Mac Security Blog for the latest Apple security and privacy news. And don't forget to follow Intego on your favorite social media channels: Facebook, Instagram, Twitter, and YouTube.
About Kirk McElhearn
Kirk McElhearn writes about Apple products and more on his blog Kirkville. He is co-host of the Intego Mac Podcast, as well as several other podcasts, and is a regular contributor to The Mac Security Blog, TidBITS, and several other websites and publications. Kirk has written more than two dozen books, including Take Control books about Apple's media apps, Scrivener, and LaunchBar. Follow him on Twitter at @mcelhearn. View all posts by Kirk McElhearn →