Understanding the Mac System Information App
Posted on by Kirk McElhearn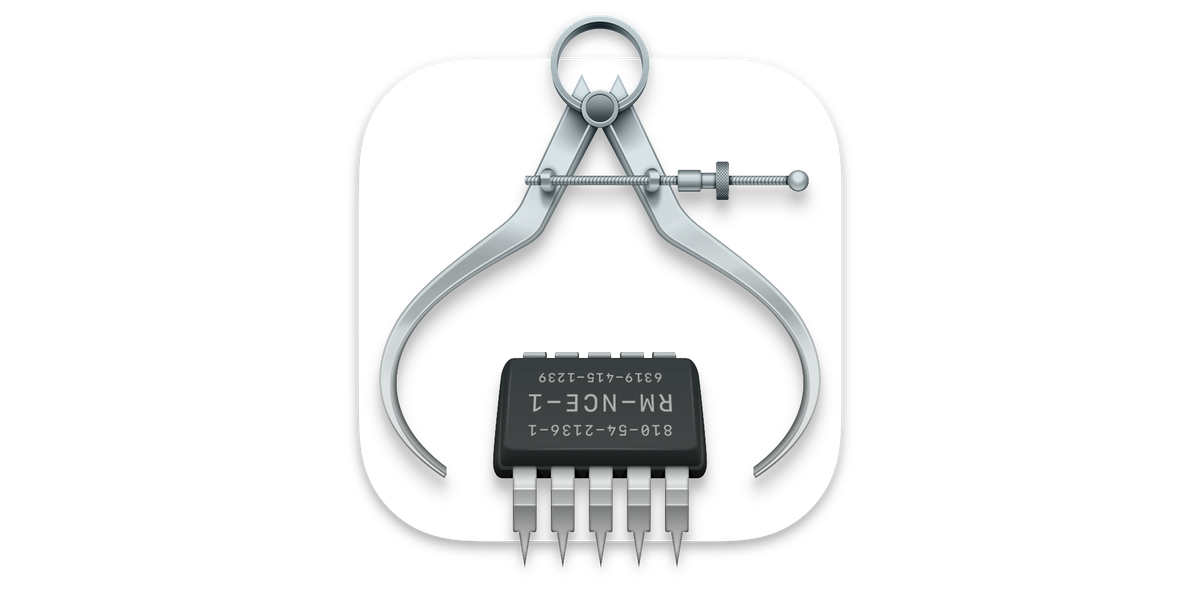 A Mac is complicated device, and sometimes you want or even need to find out a bit more about its internals. You may want to check if all your hardware is working correctly, or you may want to verify that your Mac's hardware – or certain software protocols – are compatible with a device you want to use.
The System Information app contains a full gamut of resources about your Mac. It lists all the hardware specifications: not just the processor and RAM, but also which Bluetooth module the device contains, its graphics card, its input/output ports, and even shows all the USB devices connected. This app also tells you about your Mac's networking interfaces, and lists software installed on your Mac.
Here's how you can use the System Information app to get useful info about your Mac.
Launching System Information
There are two ways to launch the System Information app. The first is to click the Apple menu, then choose About this Mac. In the dialog that displays, click System Report.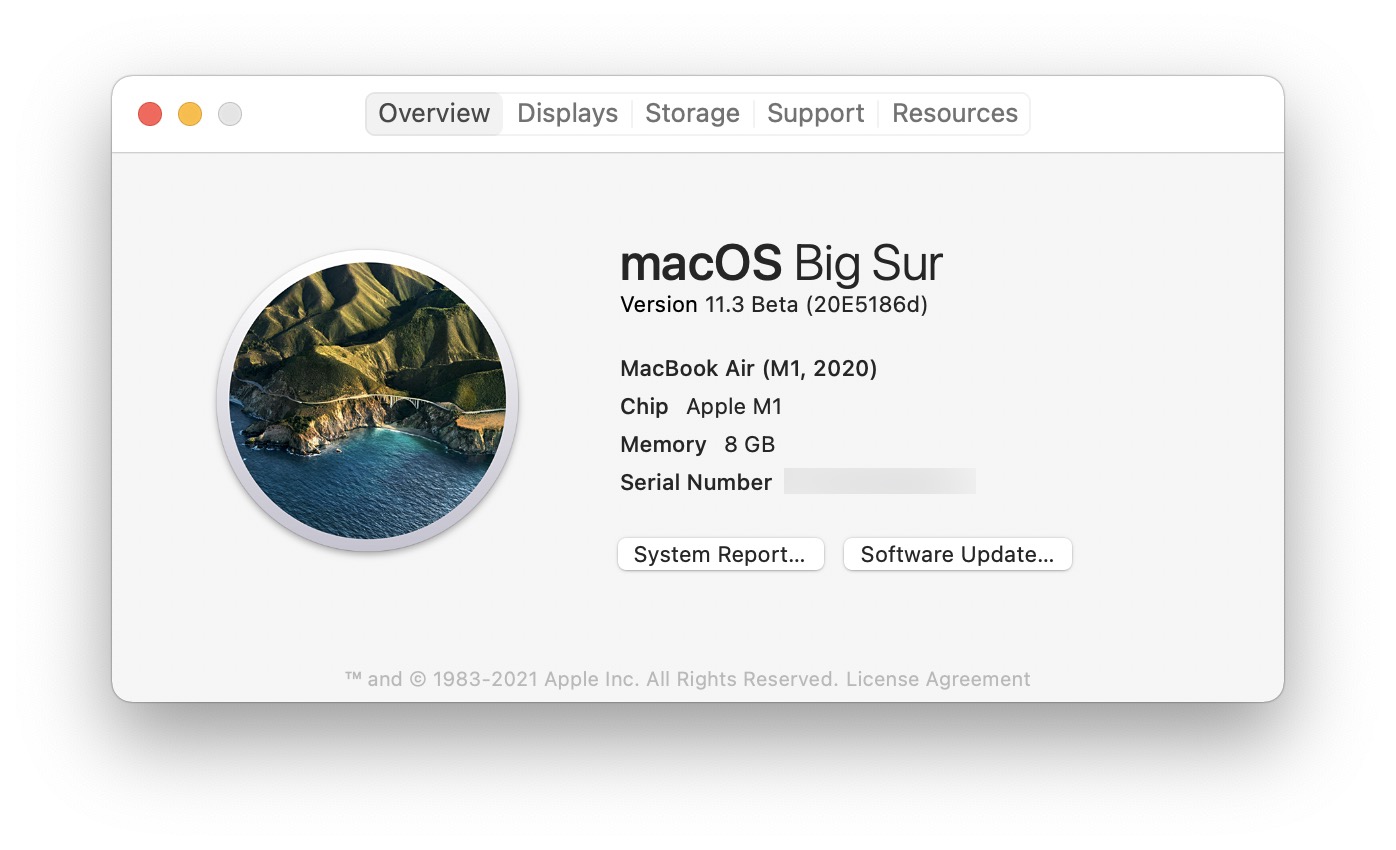 Or, you can press and hold the Option key and click the Apple menu, then choose System Information.
Hardware information
When you open System Information, it shows the Hardware Overview section.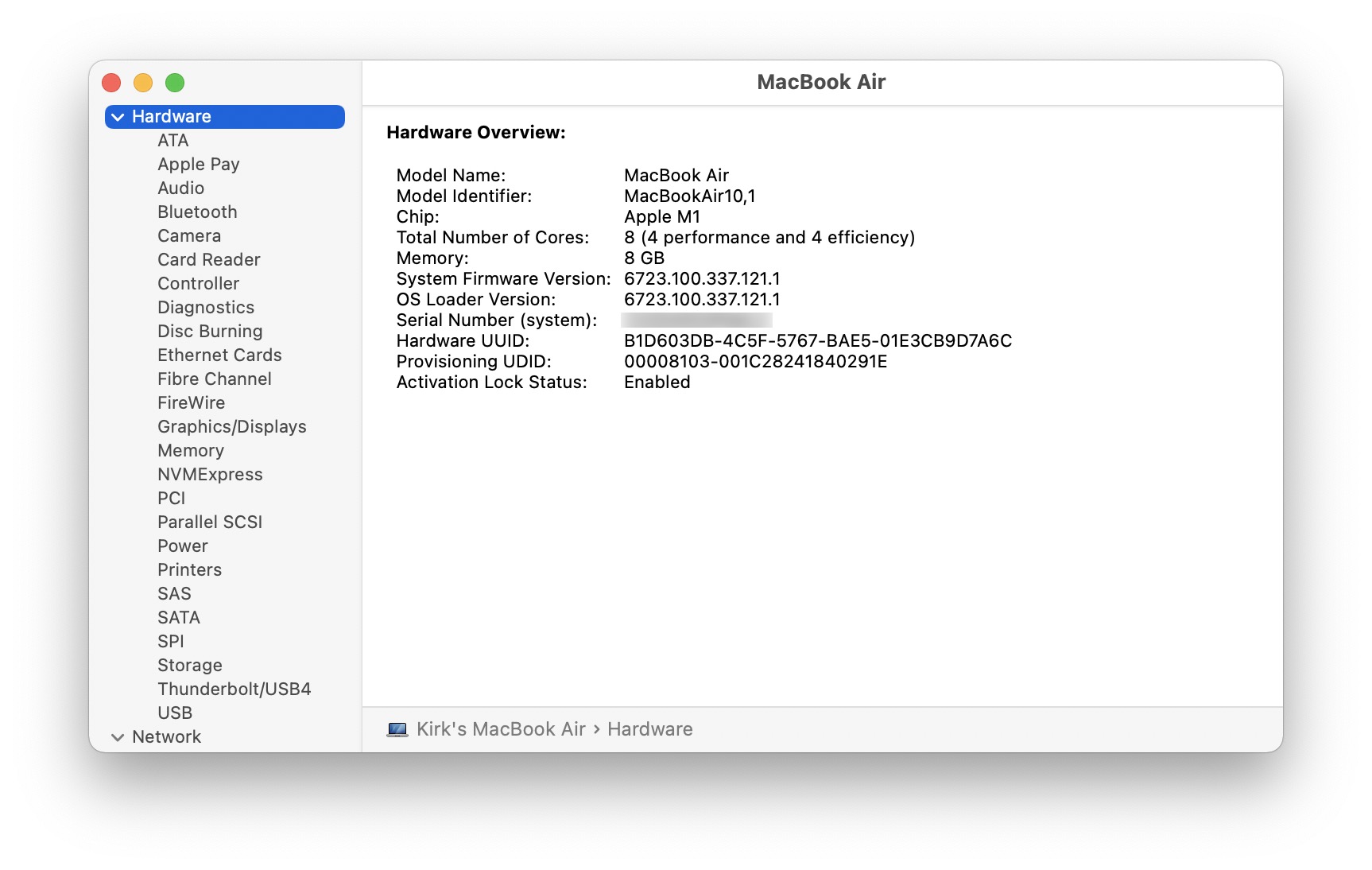 This gives you basic data about your Mac: its processor, the amount of memory it has, and so on. It also display your Mac's serial number.
You can click any of the entries in the sidebar to get information about specific types of hardware. For example, click Bluetooth to see the details about the type of Bluetooth hardware your Mac contains, and scroll down a bit to see a list of devices paired to your Mac.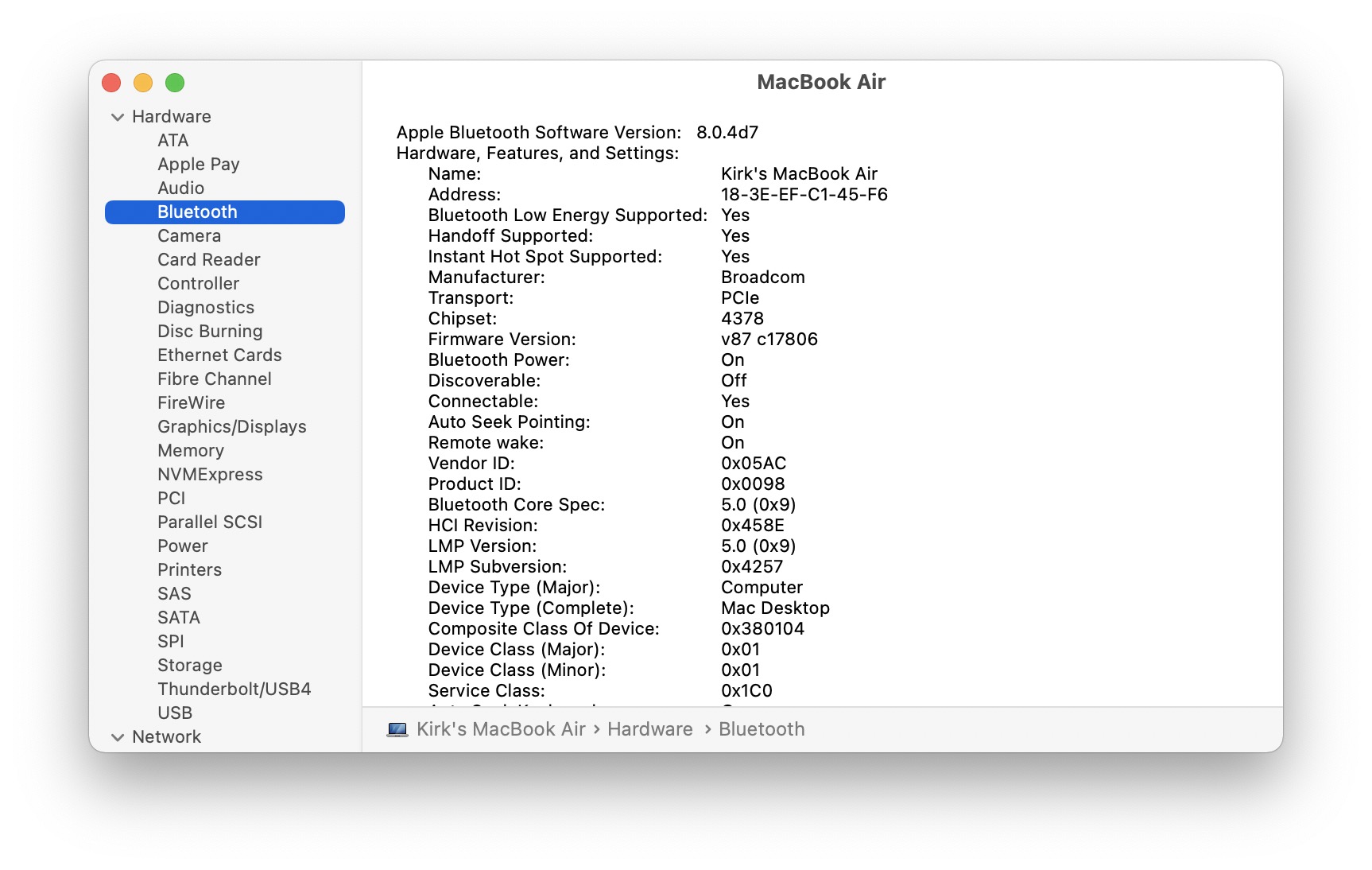 In most cases, you won't need any of this information, but at times, when troubleshooting, it can come in handy.
One useful section is the Memory entry. Click this to see how much memory your Mac has, and see its status. If you're having problems with your Mac, and it doesn't show the full amount of memory you have installed, this section will tell you if there are problems with any of your memory cards.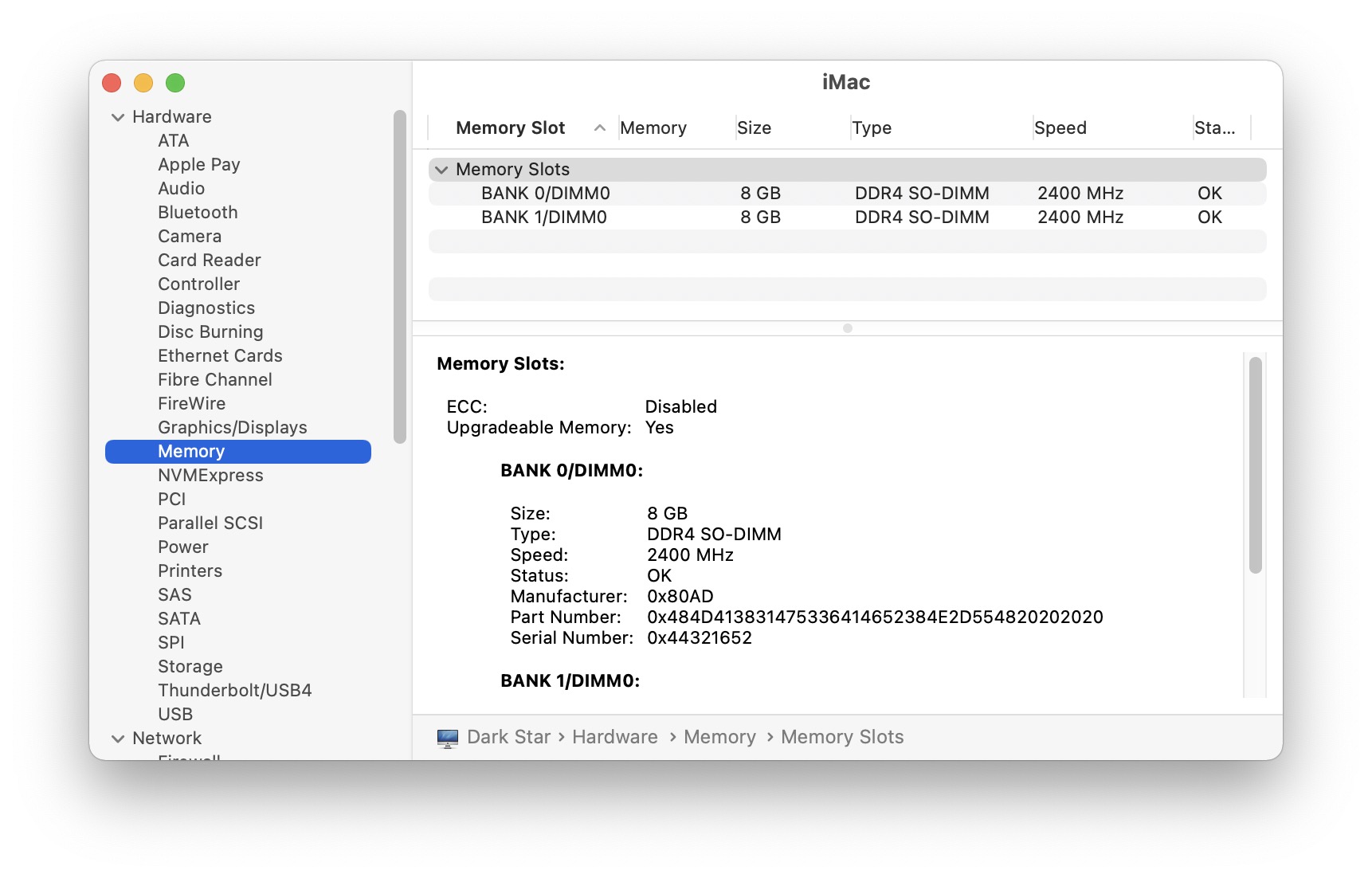 Note that an Apple's new M1 Macs, the memory information is much more limited, since all the memory is on the computer's chip.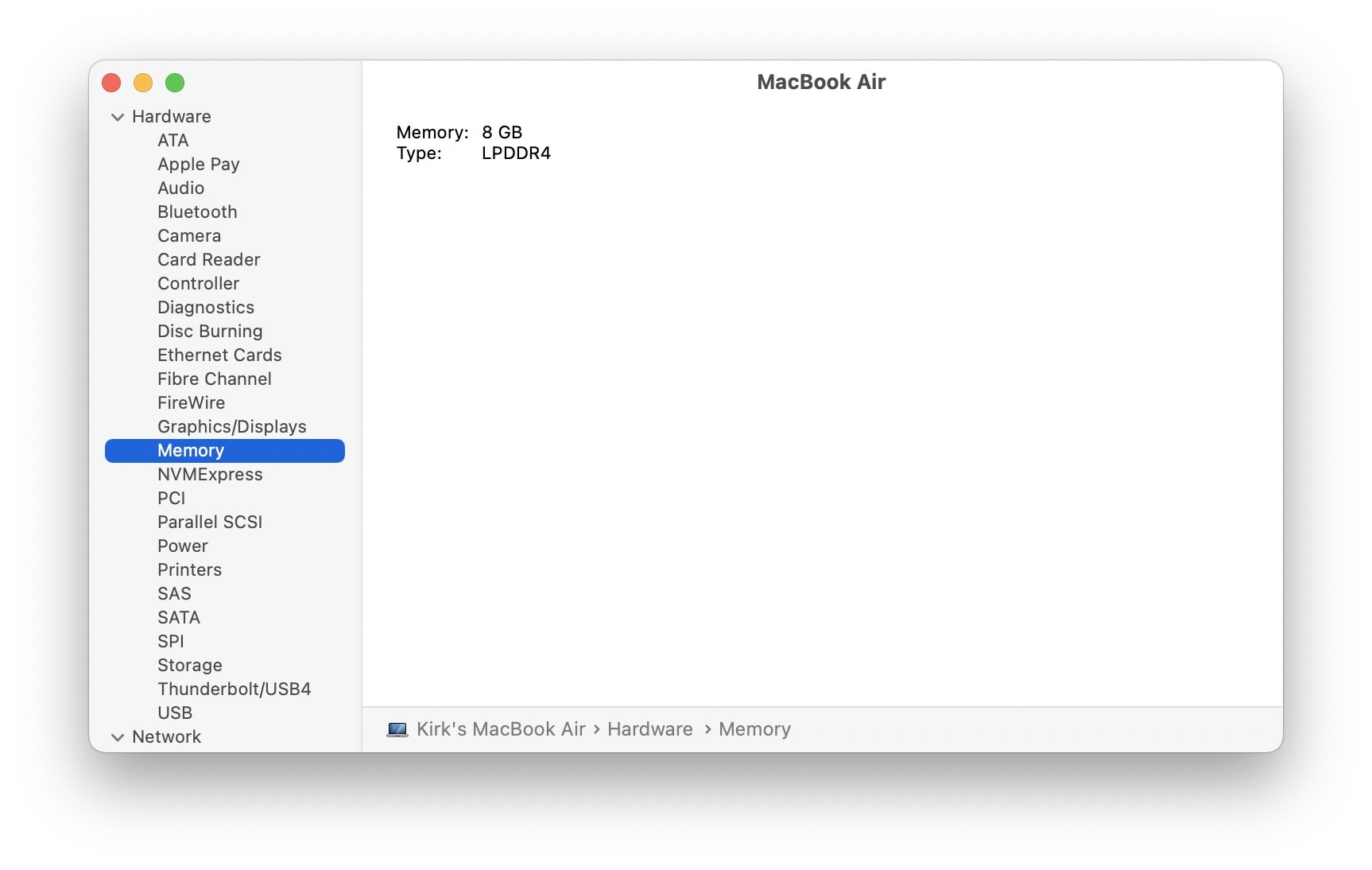 The Power entry shows you your Energy Saver settings (which you can adjust in the Energy Saver pane of System Preferences). It can also show if you have any scheduled events, such as an app that wakes up your Mac at a certain time of day or night, such as to run a backup or scan for malware. And you can get some idea of the health of a laptop's battery by looking at the Cycle Count entry; that's the number of full charge-depletion cycles your Mac has had since it was first used.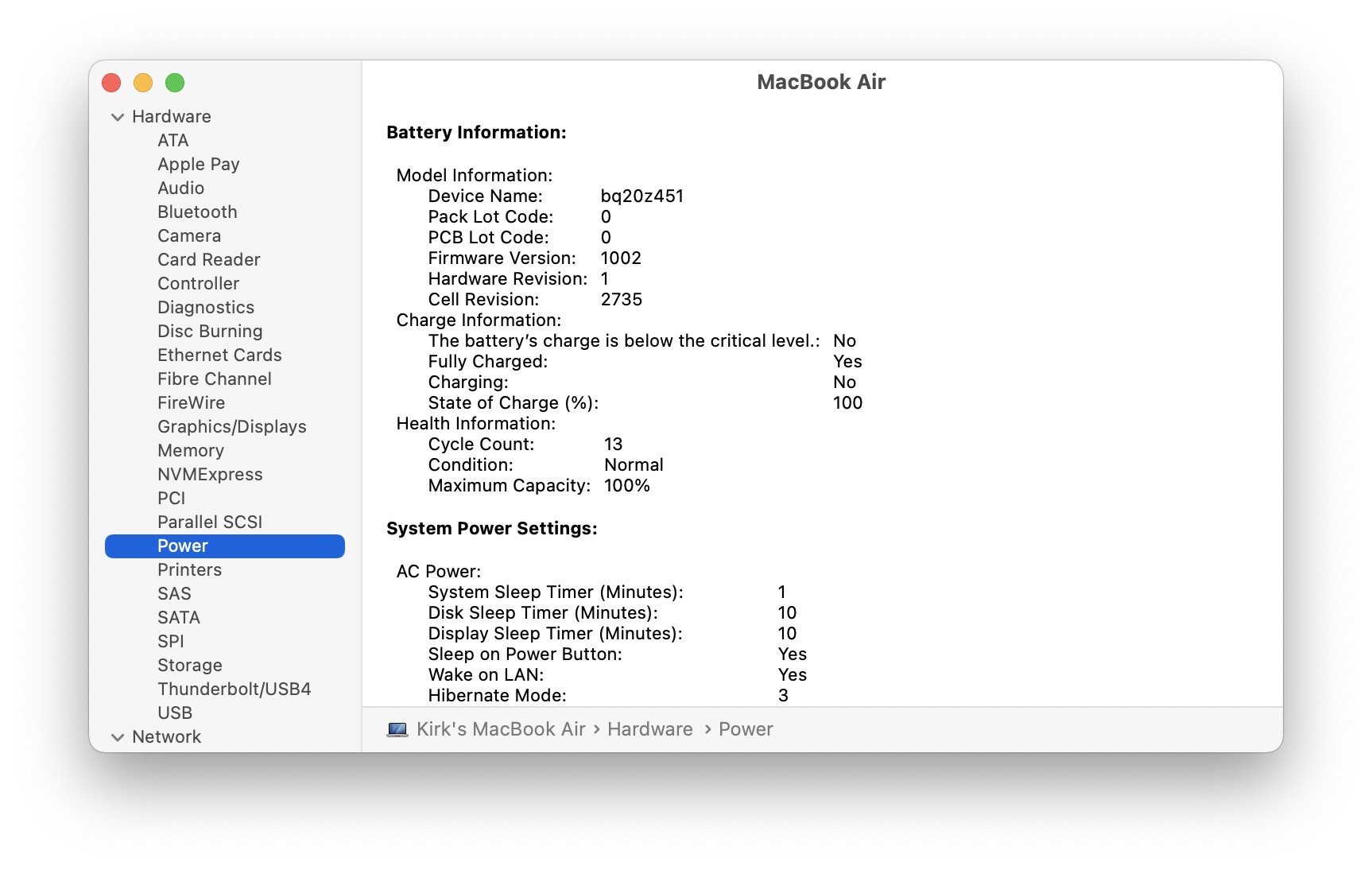 The Printers entry tells you which printers and scanners are set up on your Mac, and lists the versions of their drivers.
The USB entry is also useful. It tells you what is connected to the different USB busses – or controllers – on your Mac, either directly or via a hub. You'll be able to use this to see if all your USB devices are recognized.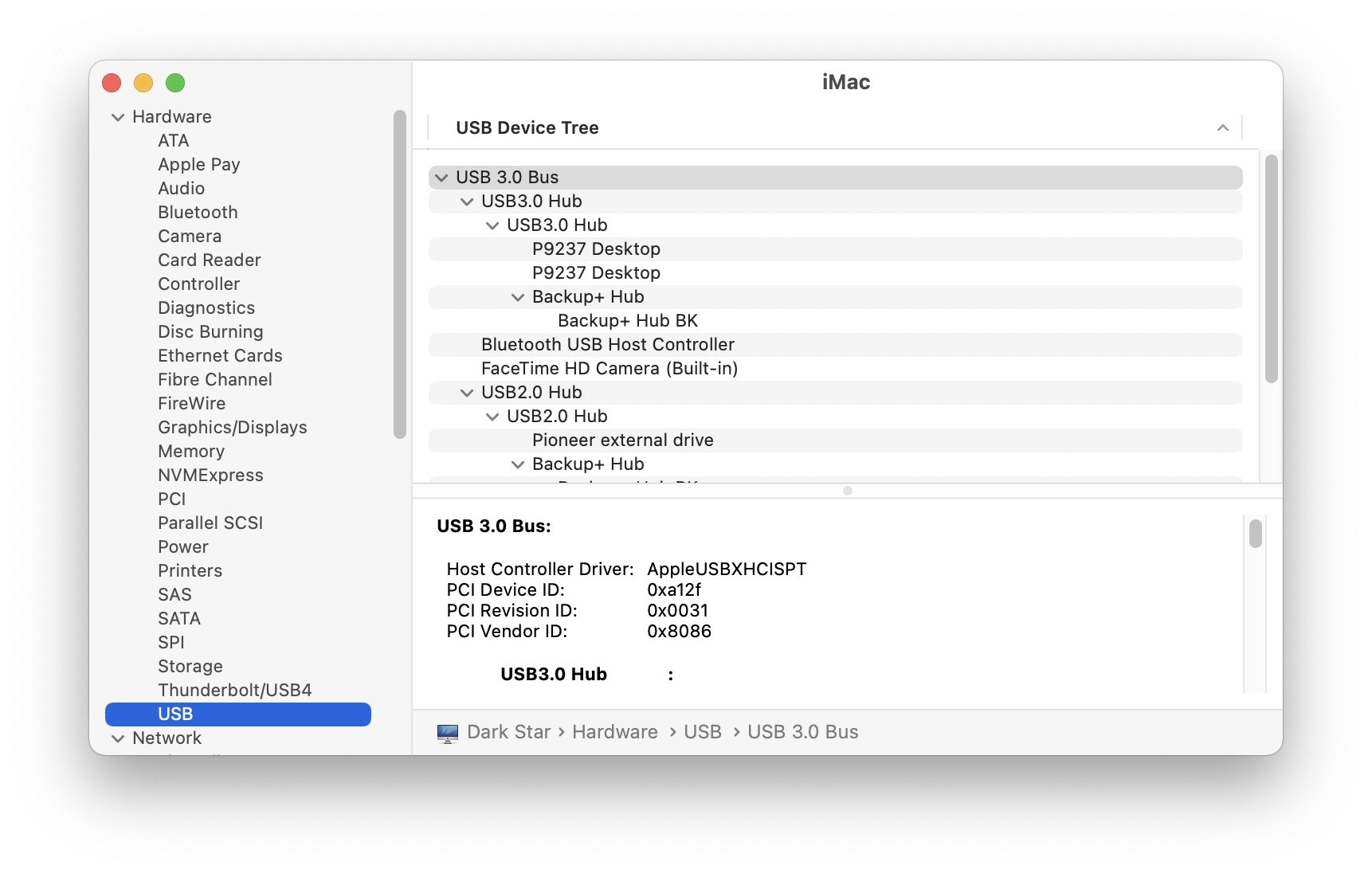 There are many entries in the sidebar that are likely to not show any information, because System Information is designed to work with Macs of many generations. So no current Macs have Firewire, or support Parallel SCSI, but you'll still see entries for them.
Network information
The Network section gives you an overview of all the network interfaces available to your Mac, and also shows your Mac's local IP address.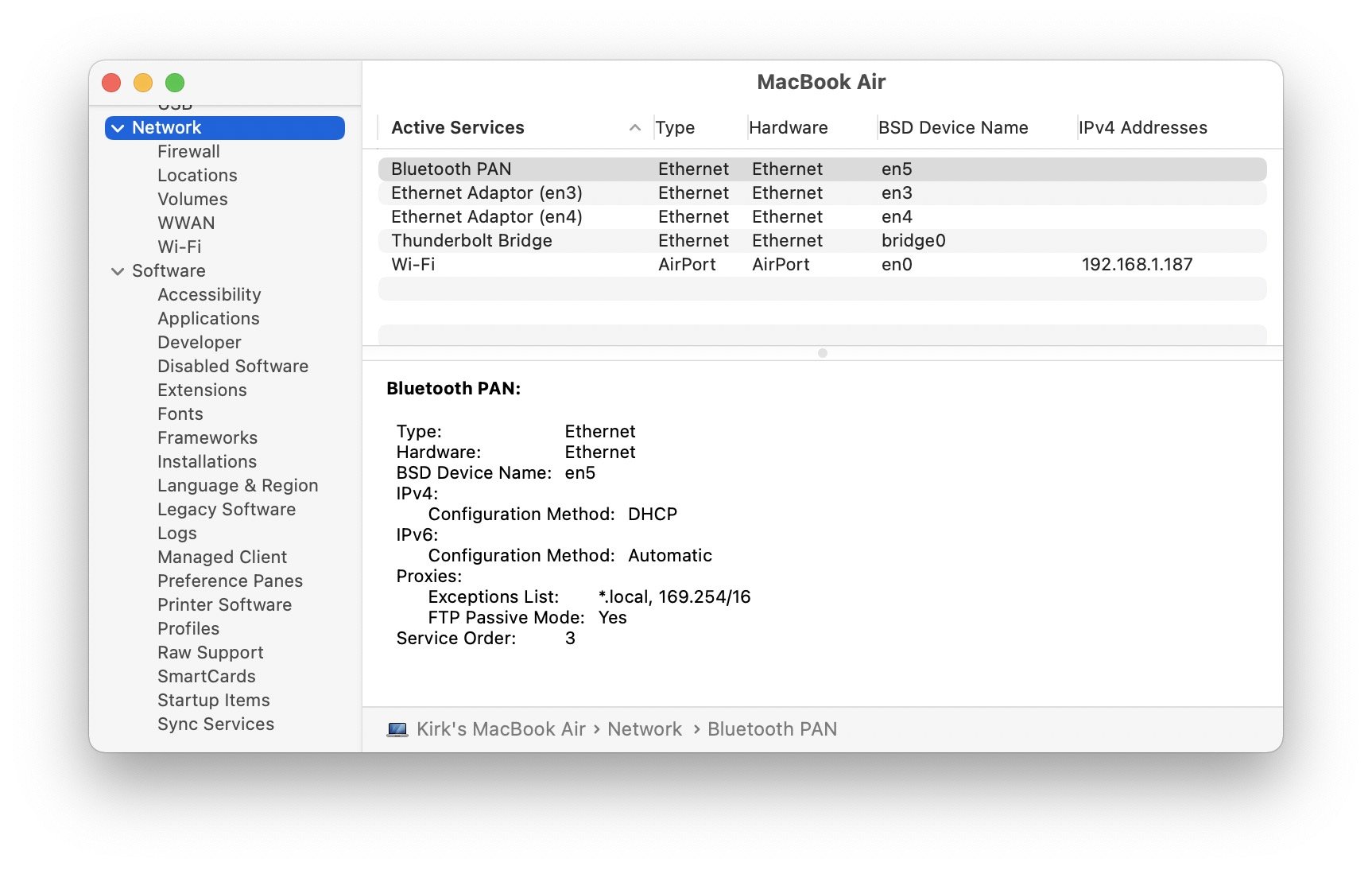 The Wi-Fi entry gives a lot of information about your Mac's wi-fi hardware. It tells which protocols it supports (below, 802.11 a/b/g/n/ac/ax), which channels it supports – this can be useful when you're trying to find the most efficient channel for your wi-fi hotspot – and much more.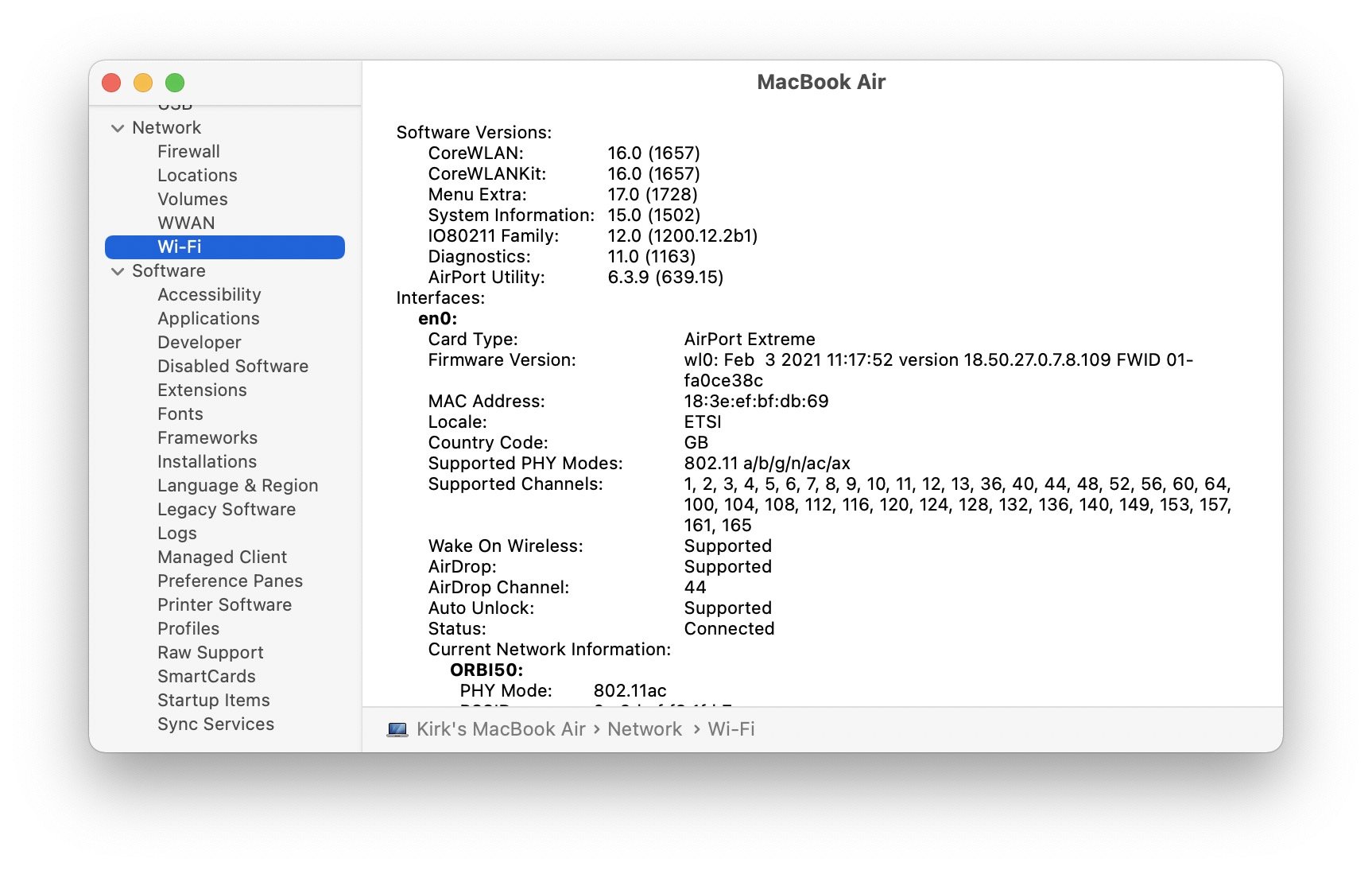 Software information
The final section in the sidebar is Software. There's a lot here. For example, if you click Applications, then you'll see a list of all the applications installed on your Mac (even some that you don't consider to be applications, such as drivers and background processes). This is a very useful list if you're running a version of macOS prior to Catalina, which doesn't support 32-bit applications. You can use this list to find which apps are on your Mac that need to be updated before you upgrade. (See this article for more on 32-bit apps and how to find them in System Information.) And if you're using one of Apple's M1 Macs, this section shows you which apps are universal – they run on both Apple and Intel processors, which are Intel only, and which are native for Apple's processor: they get labeled Apple Silicon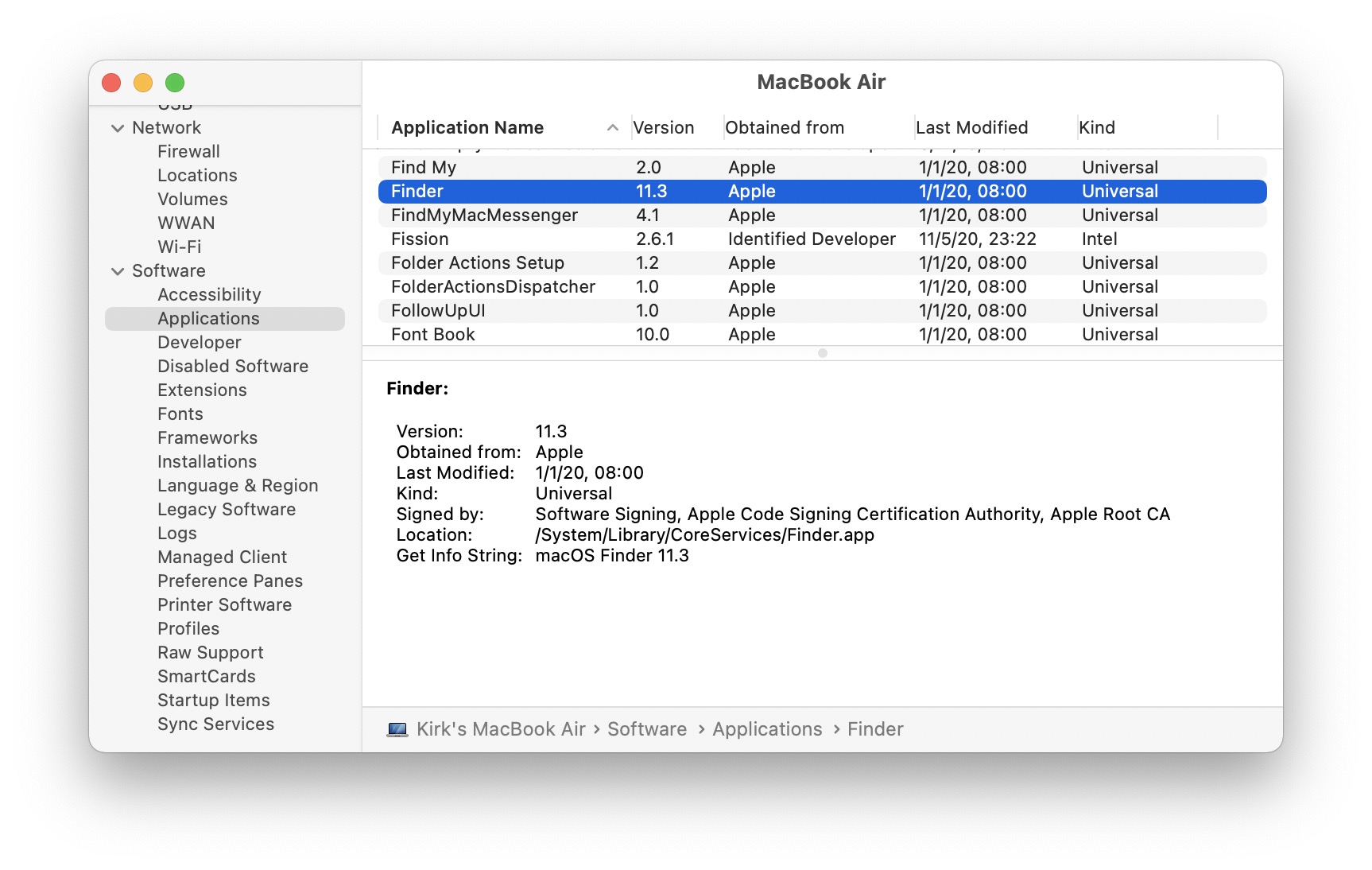 A lot of the information in the Software section gets into tiny details, which are generally not useful except when troubleshooting. Entries such as Extensions, Frameworks, and Startup Items are things you won't often need to check, but if you do, they can save you time rooting around in your folders. Each item shows a file path, so you can find where it is located if needed.
One entry that could be useful if you're a photographer is Raw Support. This lists all the cameras for which your Mac supports raw files. (If you don't know what this means, you don't need it.)
If you ever want to save all the info in System Information to a file, choose File > Save. This dumps everything into an XML file, which you can view with a text editor (even though the file has a .spx extension). This is a long text file: the one on my M1 MacBook Air is more than 6 MB, with more than 15,000 lines of text. You can also choose File > Send to Apple to send this report to Apple. If you're having issues with your Mac and in discussion with AppleCare support, they may ask you to do this.
System Information contains a lot of data, and you won't often need to use it. But if you are troubleshooting, or looking for some detailed specifications about your Mac, it's good to know that it's there.
How can I learn more?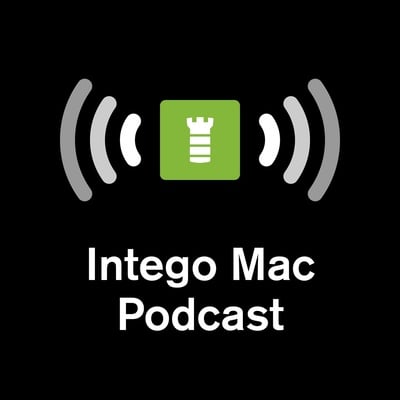 Each week on the Intego Mac Podcast, Intego's Mac security experts discuss the latest Apple news, security and privacy stories, and offer practical advice on getting the most out of your Apple devices. Be sure to follow the podcast to make sure you don't miss any episodes.
You can also subscribe to our e-mail newsletter and keep an eye here on Mac Security Blog for the latest Apple security and privacy news. And don't forget to follow Intego on your favorite social media channels: Facebook, Instagram, Twitter, and YouTube.
About Kirk McElhearn
Kirk McElhearn writes about Apple products and more on his blog Kirkville. He is co-host of the Intego Mac Podcast, as well as several other podcasts, and is a regular contributor to The Mac Security Blog, TidBITS, and several other websites and publications. Kirk has written more than two dozen books, including Take Control books about Apple's media apps, Scrivener, and LaunchBar. Follow him on Twitter at @mcelhearn. View all posts by Kirk McElhearn →