Threads is Instagram's Twitter; Here's how to manage your privacy and security settings
Posted on by Kirk McElhearn and Joshua Long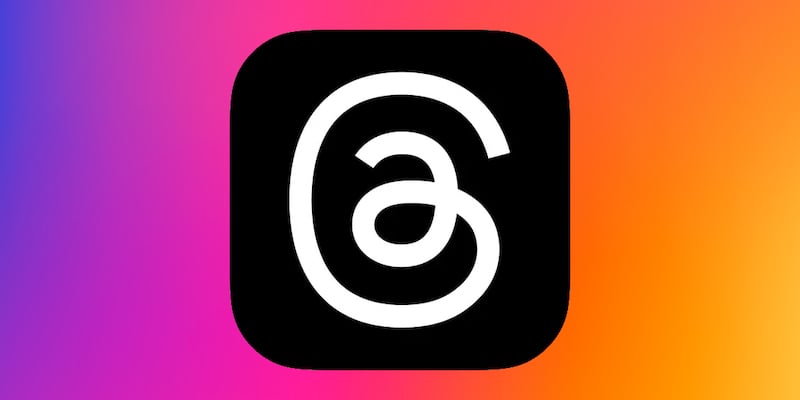 If you haven't heard yet, there is a new social media kid on the block: Threads. On the App Store, it labels itself as "Threads, an Instagram app."
Let's take a closer look at everything you need to know about Threads, including how to get started—and how to protect your privacy and security.
In this article:
What exactly is Threads?
You can think of Threads as being sort of a mashup of Instagram and Twitter. You get to keep your Instagram username, and you can easily follow the same people you follow on Instagram (providing that they have installed and set up the Threads app). If you prefer to follow a different set of people in Threads than you do on Instagram, that's possible as well.
But unlike Instagram (and much like Twitter), the main focus of Threads is text-based, one-to-many, public communications. In each post, you can write your thoughts and share links (without the awkward "link in bio" dance of Instagram). The key difference is that, unlike Instagram, attaching images or videos to your posts is entirely optional.
Just like with Instagram or Twitter, Threads lets you choose whether or not to enable comments (i.e. reply threads) on a per-post basis.
Attack of the Twitter clones
It's clear that the app's launch is trying to capitalize on the various challenges that Twitter has had since Elon Musk bought the company last year.
Several other Twitter rivals have come forward since then, including Mastodon (a platform that already existed but hadn't yet gained much traction by that time), Bluesky (with which Twitter founder Jack Dorsey is affiliated), T2 (the temporary name for a startup founded by former Twitter employees), and others.
A major problem with every new social network is getting a critical mass of users to join—including celebrities and other influencers. What sets apart Threads from the rest is its sizeable existing userbase—well, sort of. Instagram already has two billion monthly active users, and that includes a lot of celebrities and their die-hard fans. It's easy for fans on Threads to instantly follow their favorite celebs (if and when those celebs set up Threads).
Of course, not all of the two billion active Instagram users will be interested in Threads, so many will never download it. And it remains to be seen whether influencers will actually start using Threads enough to keep fans coming back to see their posts.
If you're trying out various Twitter competitors, Intego has experimental accounts on several of them, including Threads, Mastodon, and Spoutible, as well as Bluesky and T2. (The latter two are currently in invite-only betas. If you don't already have a Bluesky or T2 account, you can request to join their respective waitlists, and you'll eventually get an invite via e-mail.)
Threads by Instagram, or by Meta?
Threads claims to be made by Instagram. Indeed, the app's pages on both the App Store and Google Play Store claim that the developer is Instagram, Inc.
But while it may be true that a team at Instagram developed the app, it would be more accurate to say that Meta is truly the company behind Threads. In fact, when you launch the app, you see a brief flash of the Threads logo (in Instagram's color palette), with the words "from Meta" in smaller print at the bottom of the screen.
Meta Platforms, Inc. is the parent company of Instagram, as well as Facebook and WhatsApp. Facebook has a poor reputation regarding privacy, and Meta isn't a well-known brand name. (And WhatsApp, though popular, is typically thought of more as a messaging app than a social network.) Thus, it's not surprising that Meta is staking Threads' name and reputation to the successful Instagram social network rather than Facebook, in an attempt to deflect privacy concerns.
Threads feels incomplete, at least so far
Sadly, the app seems rushed out. There is currently no way to see a feed of only people you follow; you will be inundated by random people's posts, and, for now, it will be hard to find what you want. The company has said that this is "on the list," but it was a risky move to welcome new users with a firehouse of content they don't want to see.
There's no direct messaging feature build into Threads—although perhaps that's not such a bad thing. Meta already offers the popular WhatsApp, which has end-to-end encryption, as well as Messenger which can be used to communicate with friends from Facebook (or maybe the Metaverse, or whatever). The Instagram app also has its own built-in direct messaging feature, and everyone who's on Threads is also on Instagram.
Getting started with Threads
To get started with Threads, you first have to download the app. There's currently no way to sign up via a website (although you can view profiles and individual posts via a browser).
The app is available for iPhones via the App Store, and for Android phones via the Google Play Store. You can alternatively go to threads.net in a desktop browser and scan the QR code with your phone's camera app, or go to threads.net/download on your smartphone, to get the iOS or Android store links.
When you first open the app, you're prompted to log in with Instagram (which is seamless if you already have Instagram installed and logged in).
If you don't already have an Instagram account, you can't just start using Threads right away. No, you have to first create an Instagram profile. Those who may want to try out Threads, but aren't using Instagram yet, may find that an annoying barrier to entry.
You're given the option to import your Instagram profile, making the sign-up process quick for most existing Instagram users.
Note that if you've used the maximum number of characters in your Instagram bio, you may have to manually shorten your Threads bio to complete your profile. This is apparently a bug; the app won't prompt you to shorten it, so you'll have to figure this out on your own.
If you live in the European Union, you likely won't be able to start using Threads just yet. Meta has voluntarily chosen to avoid launching in the EU for now, citing concerns about the Digital Markets Act that will start being enforced in 2024. (We talked about the DMA in episode 288 of the Intego Mac Podcast, in the context of its potential to force Apple to allow third-party app stores for iPhone and iPad.)
Back in May, Meta was hit with a record $1.3 billion fine for alleged GDPR violations, so the company seems to want to play it safe for now, while Threads is in its infancy.
Data collection in Threads
Just like Facebook and Instagram, Threads collects a lot of data about you and your activity. The App Privacy section for Threads on Apple's App Store (which Apple informally calls the "nutrition label") shows all the types of data that Meta says Threads may collect—which is pretty much everything: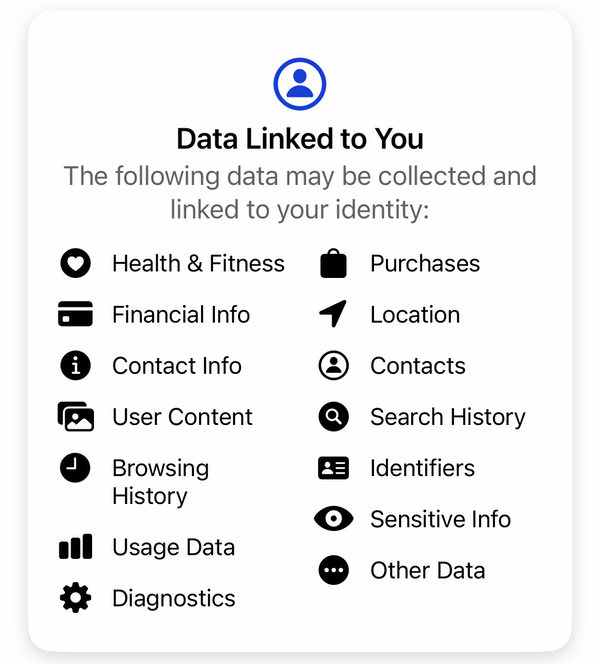 Meta says that the data from all these categories "may" be collected, but it's safe to assume that they are planning to collect all that data at some point, if they aren't already. This is certainly something you need to consider if you plan to use Threads.
For now at least, the Threads app doesn't request access to your camera, microphone, contacts, location, or most of the other features that prompt the user for approval on iOS. Threads will request access to Photos if you want to attach an image or video to a post, but you can choose to only allow access to Selected Photos if you want to limit the app's access.
Nevertheless, you should expect Meta to collect a lot of information about exactly how you use the app, what types of content you tap on, and so forth, to enhance the company's profile of everything it knows about you.
Privacy, security, and other settings in Threads
Since there is such a close link between Threads and Instagram (and to some degree other Meta properties, like Facebook), they share many settings. These include some (but not all) settings related to privacy and security.
For now, the Privacy section of the Threads app itself doesn't have a lot of settings. You can manage the Threads profiles you follow, and (via the Instagram app, if you have it installed) manage other privacy settings, see the profiles you've blocked (this setting applies to both Instagram and Threads), and choose whether or not you'd like to hide the number of Likes on others' posts.
To get to your Threads settings, first tap on the generic person silhouette (👤) button in the bottom-right corner of the app. This will take you to your profile screen. Next, tap on the two horizontal bars in the top-right corner (it looks sort of like ═, except the top bar is longer), and then you can tap one of the subsections, for example Notifications or Privacy.
If you just want to jump directly to the Privacy settings, tap on the silhouette (👤) and then tap on the globe (🌐) button in the top-left corner. This takes you directly to the Privacy subsection of Threads' settings.
Regardless of which path you take to get there, Threads' Privacy settings look like this: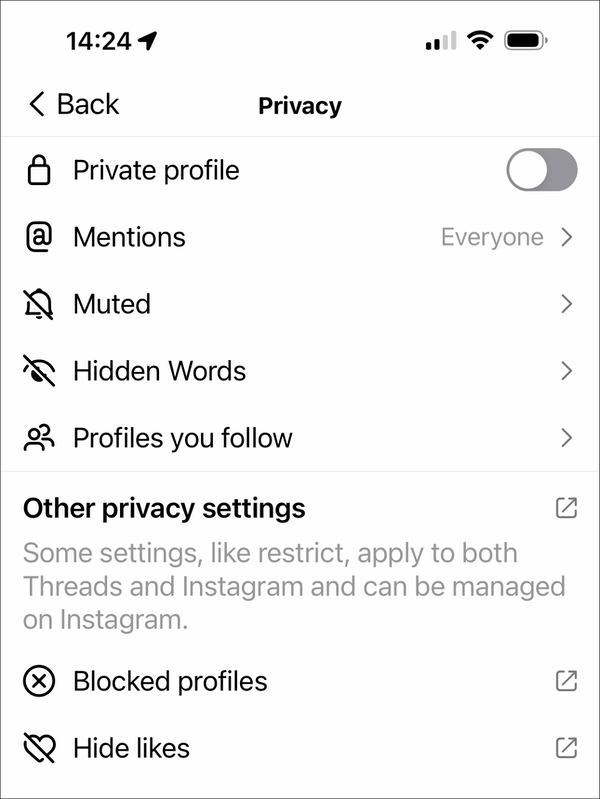 You have a number of options here:
You can make your account private by toggling "Private profile." If someone wants to follow you, you will have to approve their request before they can view your account.
"Mentions" lets you choose who may @-mention you: Everyone, Profiles you follow, or No one. When you are mentioned, you are alerted in the Notifications tab.
"Muted" shows you a list of profiles you have muted, and gives you the option to Unmute accounts. (See the How to Mute or Block users section of this article.)
"Hidden Words" gives you a couple options:

You can toggle to hide "offensive words and phrases" from a preset list of words, phrases, and emojis.
You can add "custom words and phrases" to enter your own unique list of words and phrases to hide. Although the obvious use case would be to add additional offensive words that the preset list may not block, you could also use this blocklist to mute words representing topics you simply don't want to see posts about, either permanently or temporarily. You can update the "custom words and phrases" mute-list at any time.

"Profiles you follow" takes you to a list of who you follow and who is following you; you can Unfollow people here, or Remove followers you don't want to follow you anymore (a softer option than outright blocking them). The "Pending" tab shows accounts you were already following on Instagram and elected to follow on Threads when you joined, but who haven't joined Threads yet themselves.
"Blocked profiles" shows a list of those profiles you have blocked. Note that this setting applies to both Instagram and Threads; if you block a user in one app, they'll be blocked in both. (See the How to Mute or Block users section of this article.)
"Hide likes" prevents you from seeing how many Likes others' posts have received.
The "Other privacy settings" section of this screen takes you to Instagram where you can access more settings, though not all of them apply to Threads, at least not yet.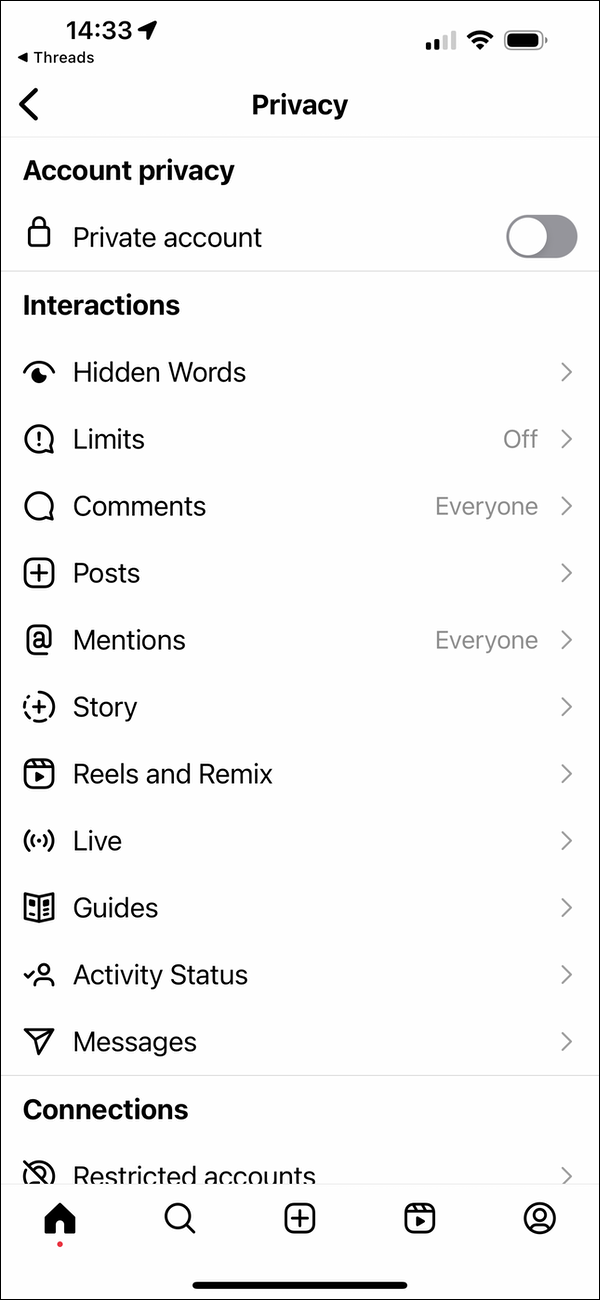 Have a browse through the Instagram privacy settings, and see if there's anything that you want to change. For now, it's not entirely clear which of these settings apply to Threads; hopefully, Meta will make all of this more transparent soon.
The rest of the shared settings for Meta apps can be found by tapping on the silhouette (👤), then the two horizontal bars (═), and then Account.
You may notice that many of the settings (Privacy or otherwise) have an icon depicting an arrow pointing up-and-right (↗️) to indicate that they'll take you out outside of the Threads app. If you have the Instagram app installed, you'll be kicked over to it, but if not, you'll get an in-app browser instead. Some settings are actually in the Meta Accounts Center. This is all very awkward.
Allowing access to your Photos (and videos)
If you want to add a photo or video to a Threads post, the app asks for permission to access your photos; you can opt to only allow access to Selected Photos if you don't wish to allow the app to see All Photos. If you want to change this later, go into Apple's Settings app (the icon with gray gears), then search for or scroll down to Threads, and tap on it.
It's worth noting that, at least for now, Threads doesn't request access to your camera, microphone, contacts, location, or any of the other privacy features that prompt the user for approval on iOS.
How to Mute or Block users in Threads
Muting and blocking might sound like the same thing, but they have different purposes. Muting is intended for accounts from which you simply don't want to see any posts; it prevents their posts from showing up in your timeline. Blocking is intended as a way to deal with people who harass you, or who you want to prevent from seeing your posts.
To mute someone in Threads, tap "…" at the top-right corner of a post and then tap Mute. You will no longer see posts from that Threads account. Be aware that it's possible to both Follow and Mute the same account. You can always remove someone from your Muted list in your preferences later.
To block someone in Threads, tap "…" on a post, then tap Block. Note that blocking an account applies to both Instagram and Threads; if you block a user in one app, they'll be blocked in both. (This is convenient if you've ever blocked anyone in Instagram, because you won't have to re-block them again in Threads.) Also note that you won't get the Block option if you're currently following that account; you'll have to Unfollow first before you can see the Block option. You can always unblock someone in your preferences later.
How to enable two-factor authentication for Threads
If you haven't already enabled two-factor authentication (2FA), you should do so to protect your account security. To turn on two-factor authentication for Threads, you need to enable it for Instagram as well.
First, tap on the human silhouette (👤) in the bottom-right corner of the Threads app, then tap the two horizontal lines (═) in the top-right, then tap Account, then tap Security.
If you don't have Instagram installed, you'll get an in-app browser; tap on "Privacy and security," then scroll down to the Two-Factor Authentication section and tap on "Edit Two-Factor Authentication Setting."
If you have the Instagram app installed, you'll be kicked over to it instead. This should take you directly to the "Password and security" section of the Instagram app's in-app preferences. Tap on "Two-factor authentication" to set it up.
Alternatively, open the Instagram app, tap the profile icon at the bottom-right of the screen, then tap the "hamburger menu" (three horizontal lines, or ☰) at the top-right of the screen, then tap "Settings and privacy." Next, tap Accounts Center, and you'll see the following screen.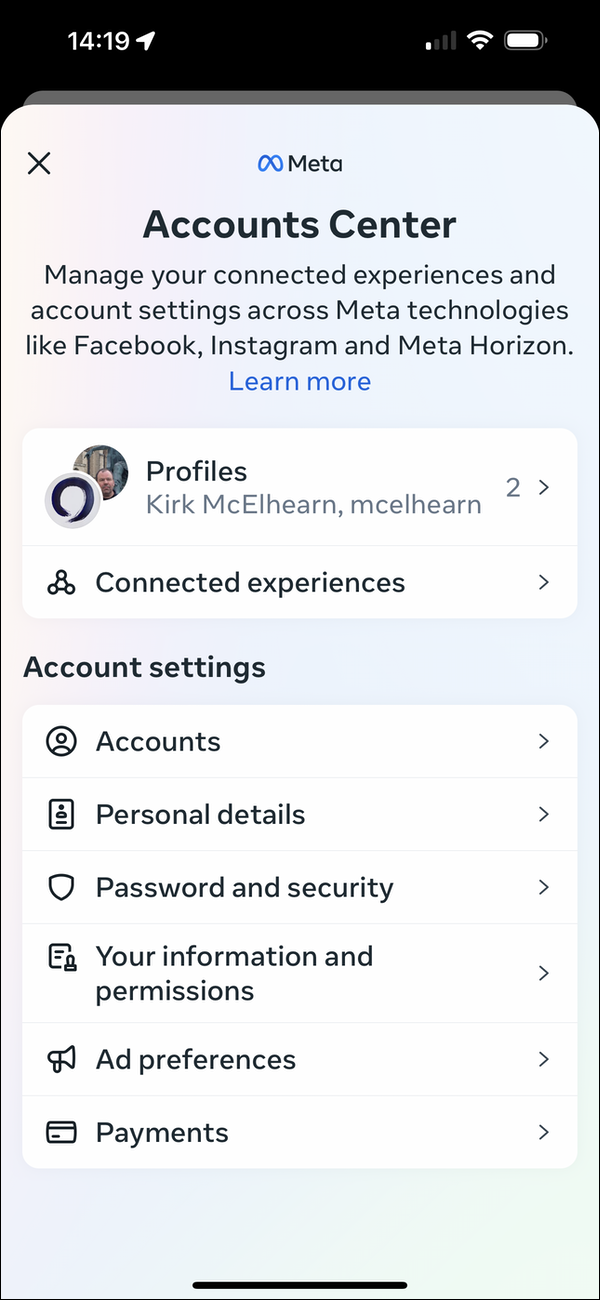 From the Meta Accounts Center screen, tap "Password and security," then tap "Two-factor authentication." If you have both Facebook and Instagram profiles, you'll see them both here; if not, you'll just see your Instagram profile. Tap the Instagram profile, then chose a two-factor authentication method.
You're given a choice between a few different 2FA methods, so which one should you choose? The one that Meta recommends is "Authentication app;" you can use iCloud Keychain, a password manager, or any of a number of other authentication apps to manage this and generate the one-time codes you need to log into your account. Another suitably secure 2FA option is WhatsApp, if you prefer to use that rather than an authenticator app.
You definitely don't want to select the "Text message (SMS)" option. Unfortunately, regular text messages are unencrypted and insecure, and they also put you at risk of account hijacking via SIM-cloning attacks. Although many services offer SMS text messages as the only 2FA option—and it is generally better than not using 2FA at all—you should always opt for a more secure choice if you have one, like an authenticator app.
Once you've enabled 2FA in Instagram, you may need to log into Threads again.
Key takeaways
Threads is clearly a work in progress. Expect many changes moving forward, as Meta tries to catch up and make this a more attractive app than Twitter.
In the mean time, enable two-factor authentication to keep your account secure. And don't forget to browse your privacy settings in Threads, Instagram, and the Meta Accounts Center to ensure that all the privacy options are configured how you want them.
Also, if you're thinking about deleting your Twitter account, you'll want to check out our tips about that first; you may be better off simply leaving your account inactive instead.
How can I learn more?
One more quick (technical) note about Threads. If you're really into Mastodon, you're probably familiar with the concept of a "fediverse," a federated universe of interoperable servers run by different administrators. Threads eventually plans to be part of the same fediverse as Mastodon. If you find that interesting—or concerning—read Mastodon's CEO and founder's thoughts about Threads federation.
While you're checking out Twitter alternatives, read our article about maintaining your privacy on the Mastodon social network—and why you might not want to delete your Twitter account.
If you're sure you want to leave a social media platform, you'll want to read our guide to deleting social network accounts.
See also our past stories about Instagram, Facebook, and WhatsApp.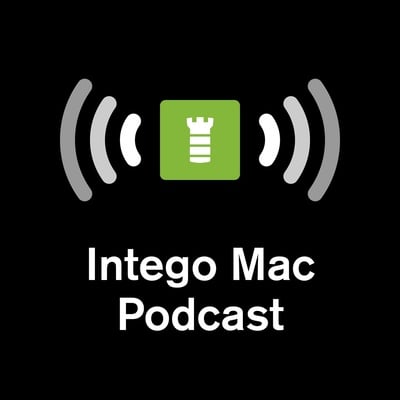 Each week on the Intego Mac Podcast, Intego's Mac security experts discuss the latest Apple news, including security and privacy stories, and offer practical advice on getting the most out of your Apple devices. Be sure to follow the podcast to make sure you don't miss any episodes.
You can also subscribe to our e-mail newsletter and keep an eye here on The Mac Security Blog for the latest Apple security and privacy news. And don't forget to follow Intego on your favorite social media channels: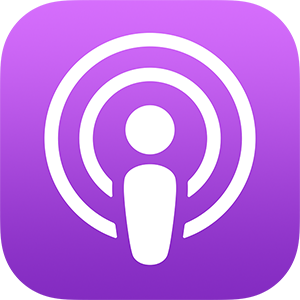 And, of course, follow Intego on Threads as well. 🙂 We also have experimental accounts on other Twitter-clone social networks: Mastodon, Spoutible, T2, and Bluesky.
Image credits: "Instagram background in gradient colors" by Freepik (free license, attribution required); Threads logo is a trademark of Meta Products.
About Kirk McElhearn
Kirk McElhearn writes about Apple products and more on his blog Kirkville. He is co-host of the Intego Mac Podcast, as well as several other podcasts, and is a regular contributor to The Mac Security Blog, TidBITS, and several other websites and publications. Kirk has written more than two dozen books, including Take Control books about Apple's media apps, Scrivener, and LaunchBar. Follow him on Twitter at @mcelhearn. View all posts by Kirk McElhearn →