Use Screen Time to Set Restrictions and Parental Controls on iPhone, iPad, and Mac
Posted on by Kirk McElhearn
The Internet can be dangerous for children. You may not want your kids to be able to view every website or use any app. While it may not be easy to monitor their activity on a mobile device like an iPad, iPhone, or iPod touch, Apple includes some powerful tools in iOS to help you protect your kids.
Previously called "parental controls" or "restrictions," these settings offer a number of ways to prevent your kids from accessing inappropriate content, and also limited what they can do on their devices. Located within the Screen Time settings, there are lots of options you can adjust. In this article, I'll walk you through the Screen Time settings on iOS, iPadOS, and macOS, and help you make your children's devices safer.
What is Screen Time?
Screen Time was initially designed to show you how much time you spend on your iPhone or iPad. As a diagnostic tool, it's useful: you can see how much time you really spend playing that new game, or browsing Facebook or Instagram. (Read this article for an overview of Screen Time.)
While its main role was initially to show you how much you've used your devices — by category, app, or website — Screen Time added settings to control what your children can do on their devices. It was also added to the Mac in macOS Catalina, and you can aggregate data across devices owned by the same person. And if you use Family Sharing to manage your children's devices, you can control them all from your Mac.
Basic settings
To start using Screen Time, go to the Screen Time pane of System Preferences on macOS, or go to Settings > Screen Time on an iPhone or iPad. I'll show the process here on Mac, but your options are the same on all Apple devices.
The main screen shows App Usage; if you've turned this feature on, it will tell you how much time you've used your device on the current day or week. The top graph shows usage for the past seven days, and the bottom shows usage on the selected day. You can choose a day from the popup above the graph, or move backwards or forward by clicking < or >.
If you click Options, then toggle Share Across Devices, it will add up the time you've spent on other Apple devices (note: this excludes Apple Watch) that are signed into the same Apple ID.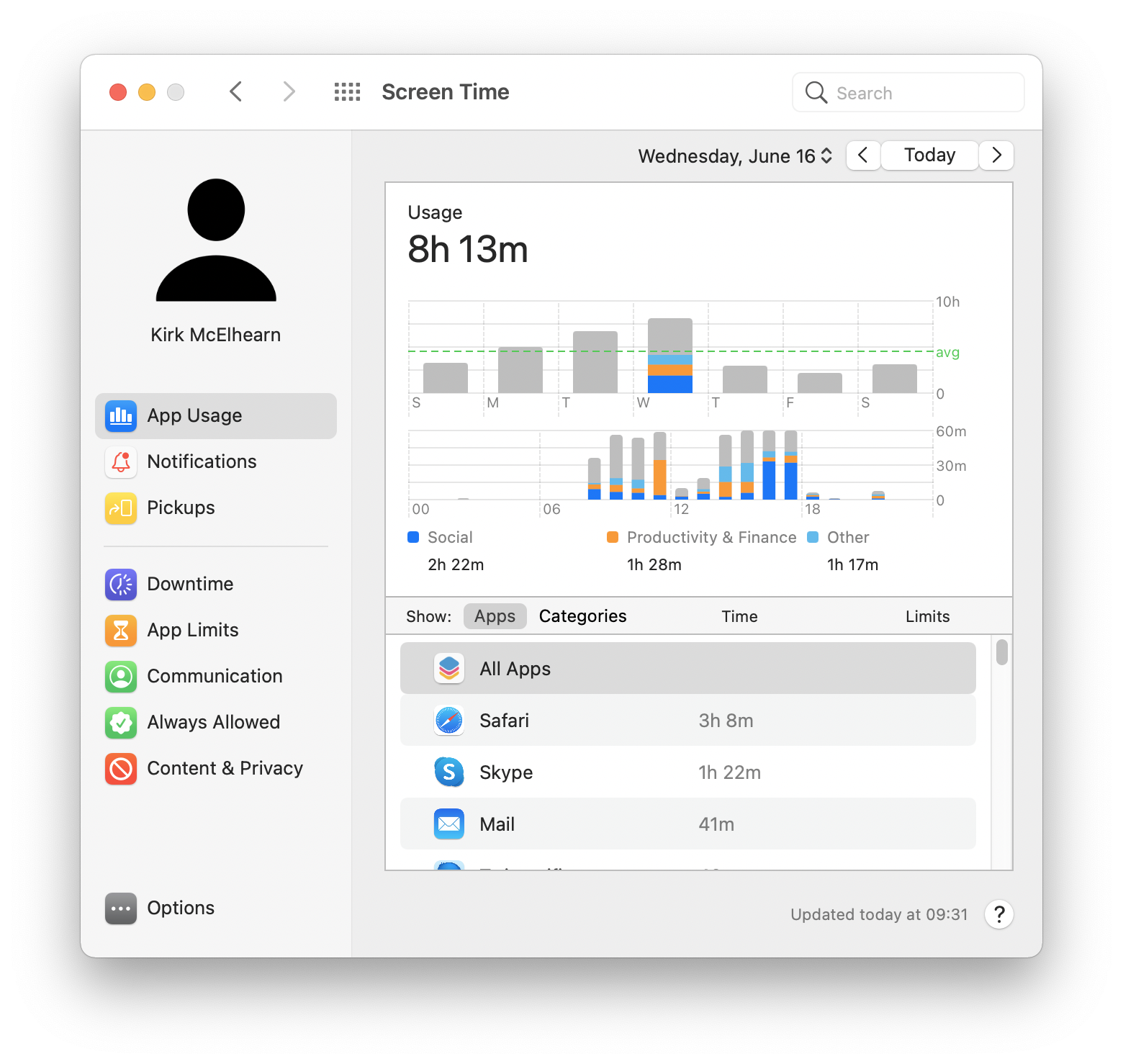 The popup menu at the bottom of the window allows you to view All Devices (if you have enabled Share Across Devices), or to select a specific device and view it's activity.
Below App Usage, you see two other sections: Notifications and Pickups. Notifications shows a count of how many notifications you've received each day. This is to help you understand how many times you're pinged by your devices, and can help you, perhaps, reduce these distractions by turning off notifications in the apps that bother you most.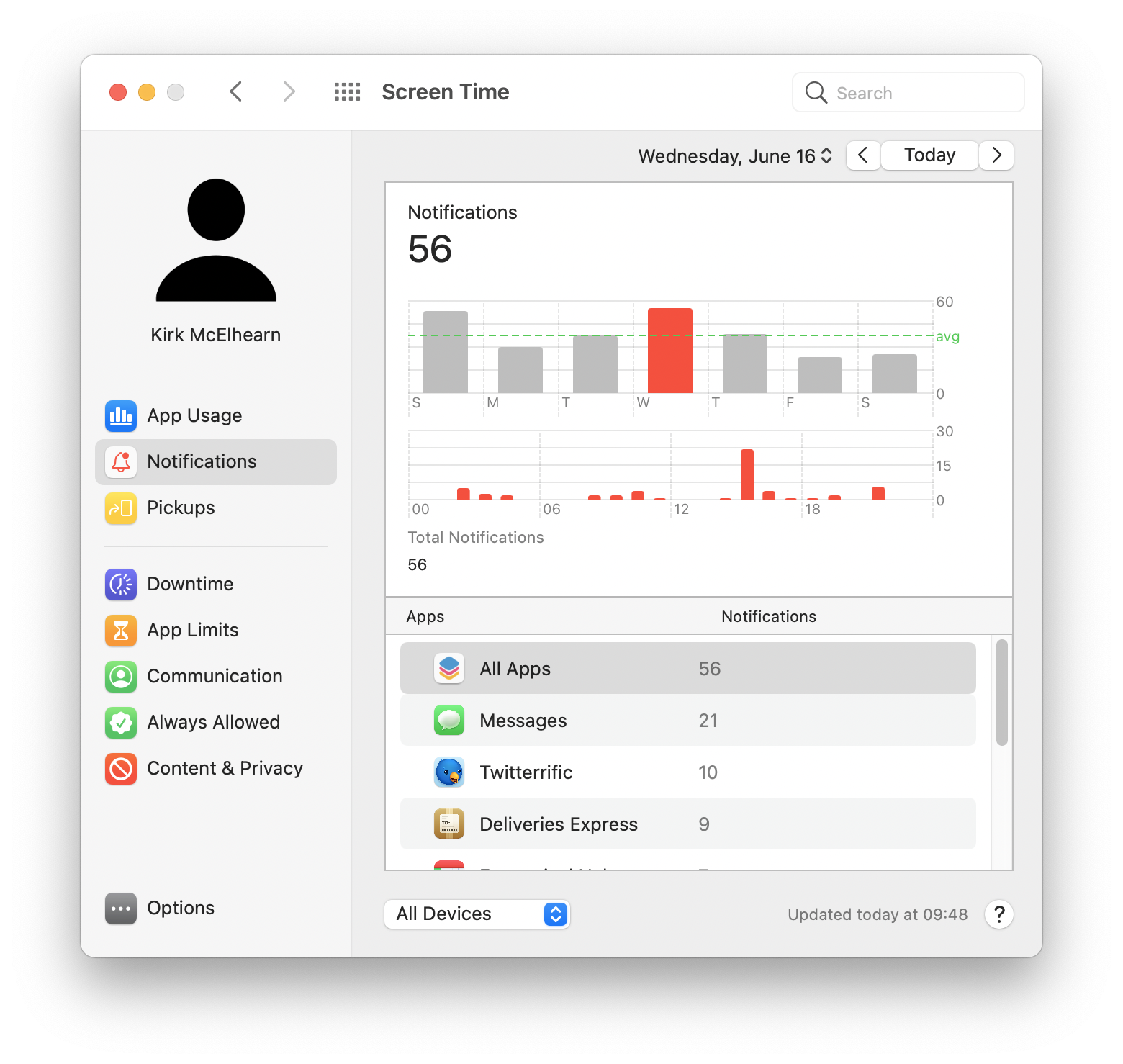 Pickups is the number of times you "pick up" your iPhone or iPad, and which app you checked first. On the Mac, it's the number of times you've woke your device from sleep.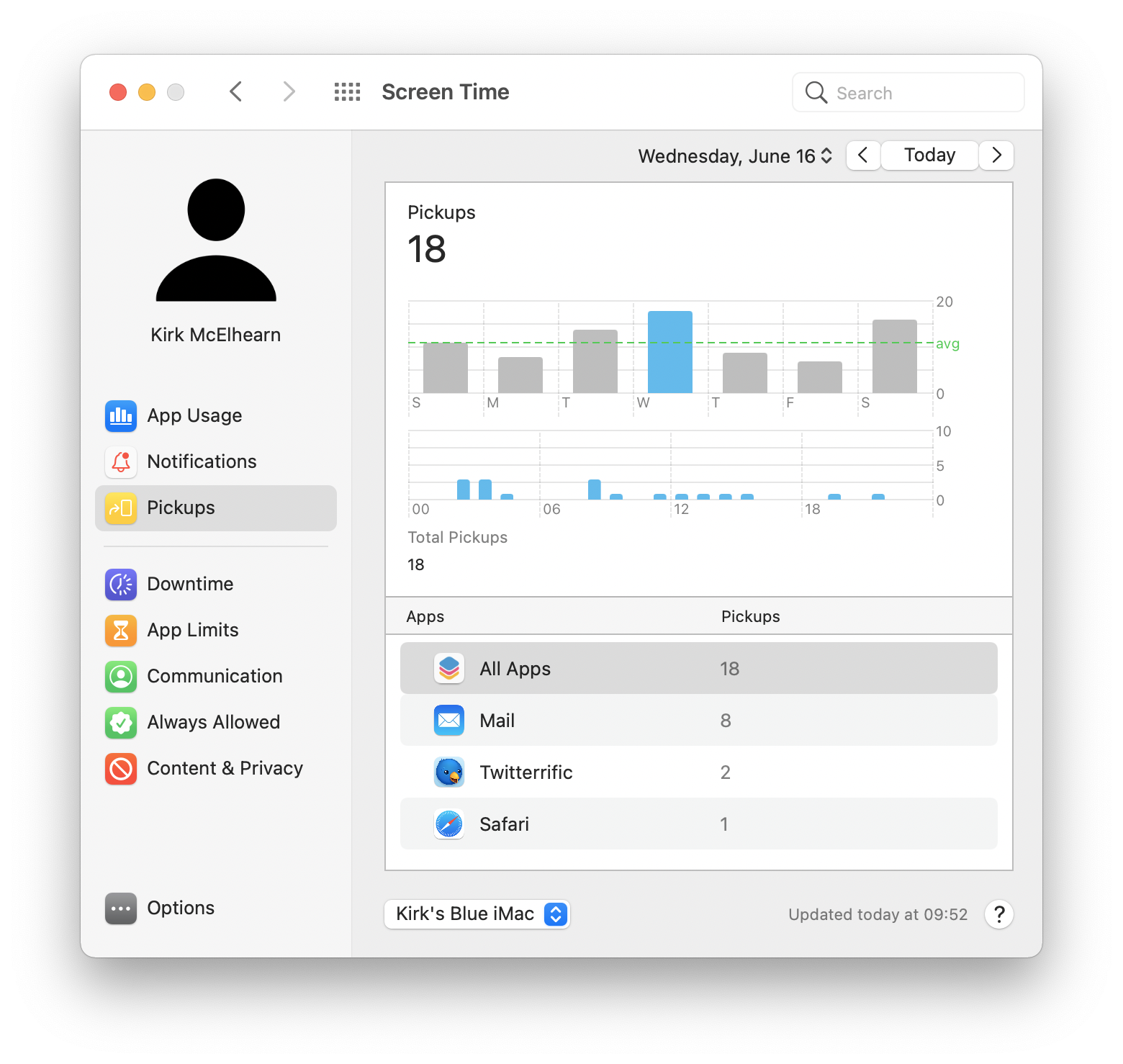 In the bottom section of the sidebar, you can see five sections that allow you to modulate how much time you can spend on your device. This is where you can apply settings for a child's device. You do this on the device, or, if you've set up Family Sharing, you'll see a popup menu below the name at the top left; select a child there, and you can apply settings remotely.
Downtime lets you set a period of time during which you or your child cannot use the device.
App Limits let you set time limits for specific apps, such as if you want to limit how much time your child spends playing a game or using Facebook.
Communication Limits let you set time limits for the Phone, FaceTime, and Messages apps, and whether a user can access their own contacts or others. You can create a whitelist of specific contacts if you wish.
Always Allowed is a list of apps that you or your child can use at any time.
Content & Privacy Restrictions is where you can fine-tune access to specific types of content, notably for your children.
While these features are not as full featured as a true parental control app such as Intego ContentBarrier for Mac, they do offer enough control that you will feel more comfortable about your children's usage of their iOS devices.
Downtime
One way to keep kids from using their devices too much is to limit their access by time. In the Downtime settings, you can choose a start and end time for the period when they will not be able to use the device.
If you click Custom, you can set downtime for each day of the week, but you don't have an option to set multiple downtime periods.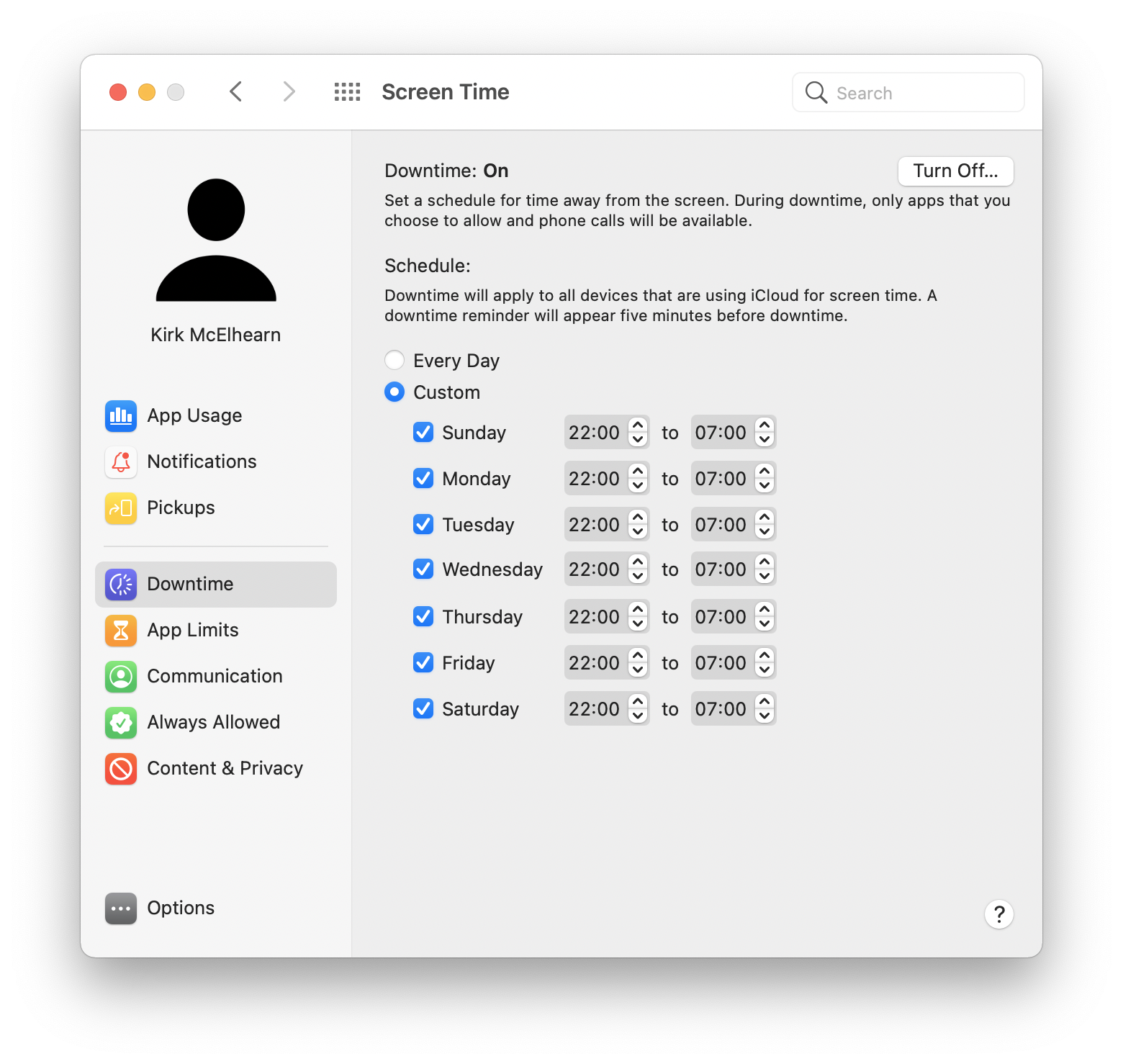 Note that the apps defined in Always Allowed (as discussed below) are not affected by the downtime limit.
App Limits
The Add Limits section lets you set usage limits for specific apps. Click + on Mac, or tap Add Limit to add an app to the list. You can set limits by category – such as social media, games, entertainment, and others – or you can set limits for specific apps. Click the > on Mac, or tap a category, to see apps in each category, or use the Search field to find apps you want to limit.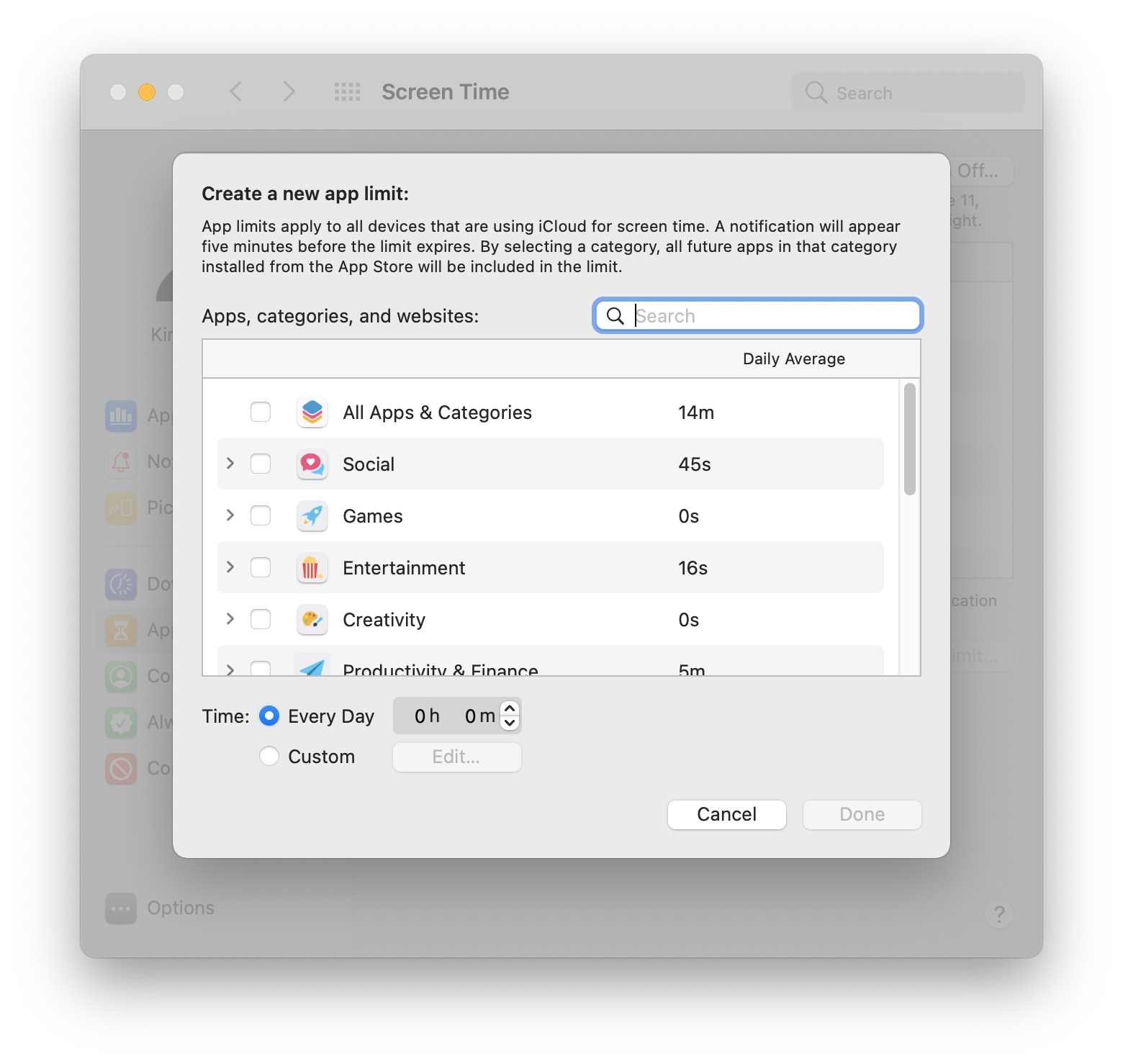 Select categories and/or apps, and apply time limits for each day, or customize the time limit by the day of the week. For example, you can let your kids play more games on the weekend. Click Custom (Mac) or tap Customize Days (iPhone or iPad), then tap a day to adjust its settings.
Note that if you set limits on a category, any apps downloaded from the App Store in that category will also be limited. These categories are not perfect; they correspond to categories selected by developers when they submit apps to the App Store. For the most part, they're fine; you won't find games in the non-game category. But there may be some overlap.
Communication
Communication settings let you fine tune who your child can communicate with, and whether they can communicate with anyone during downtime. You want to make sure that your children can communicate with their parents during downtime, so if you don't choose Everyone, make sure to enable your contacts here.
Always Allowed
Irrespective of Downtime and App Limits settings, you can choose which apps are always allowed on the device. By default, Apple includes the Phone app, Messages, and Maps. It's a good idea to make it possible for your kids to always access these, so you can stay in touch with them, and so they can find their way if they need to, but you can turn them off if you wish.
You can also add any individual app to the Always Allowed list; this is useful if an app is miscategorized and your child needs to use it, such as for their homework.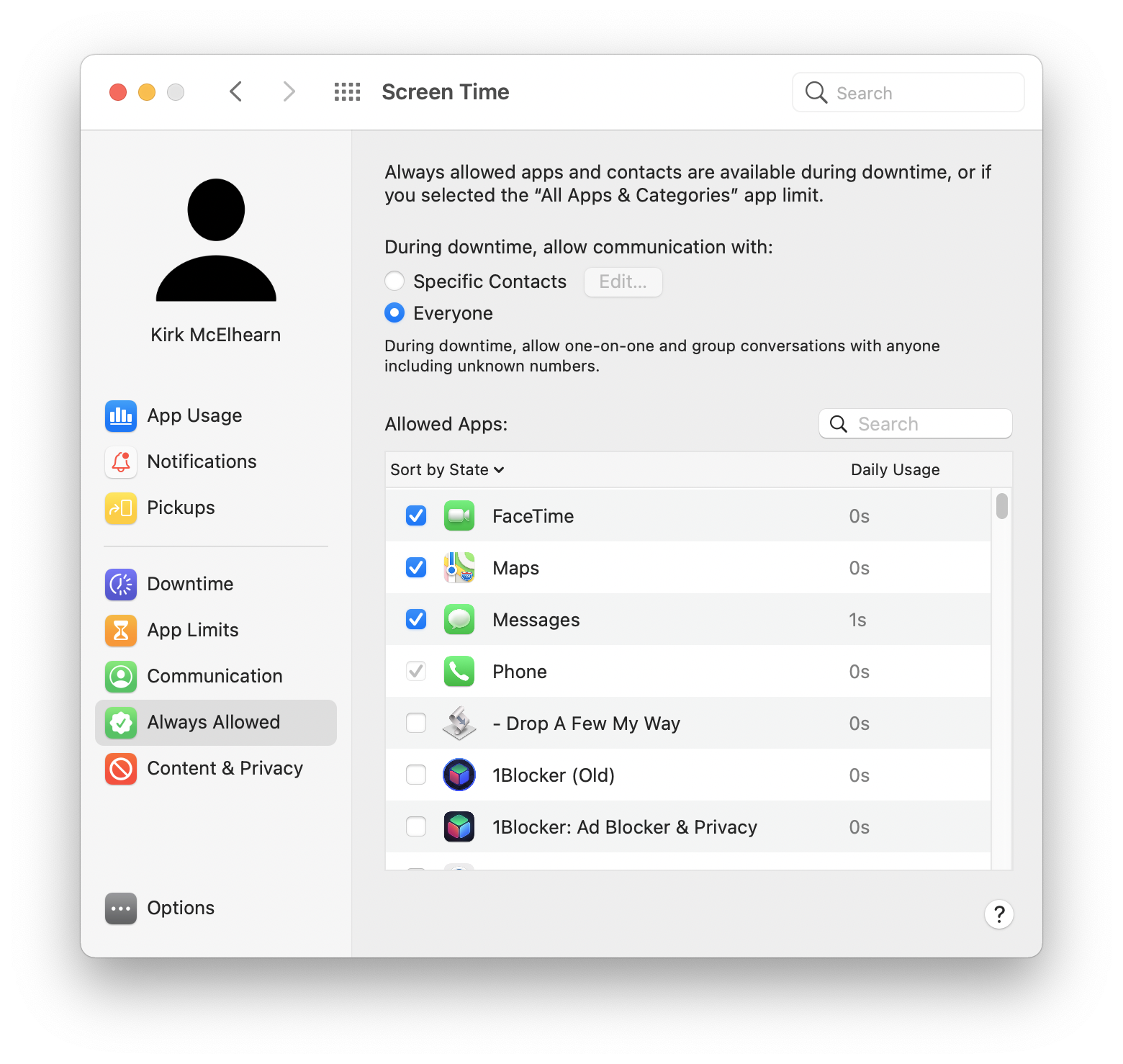 You may notice some strange items in this list; they are long strings of letters and numbers. These correspond to Safari shortcuts that you may have created on your home screen, which won't show up as individual apps. This isn't very useful, and you cannot add a specific website to Always Allowed. And if you're sharing Screen Time across devices, you'll see Mac apps on your iPhone and iPad, and iOS/iPadOS apps on your Mac.
Content & Privacy Restrictions
This screen gives you some granular control over specific content and privacy settings.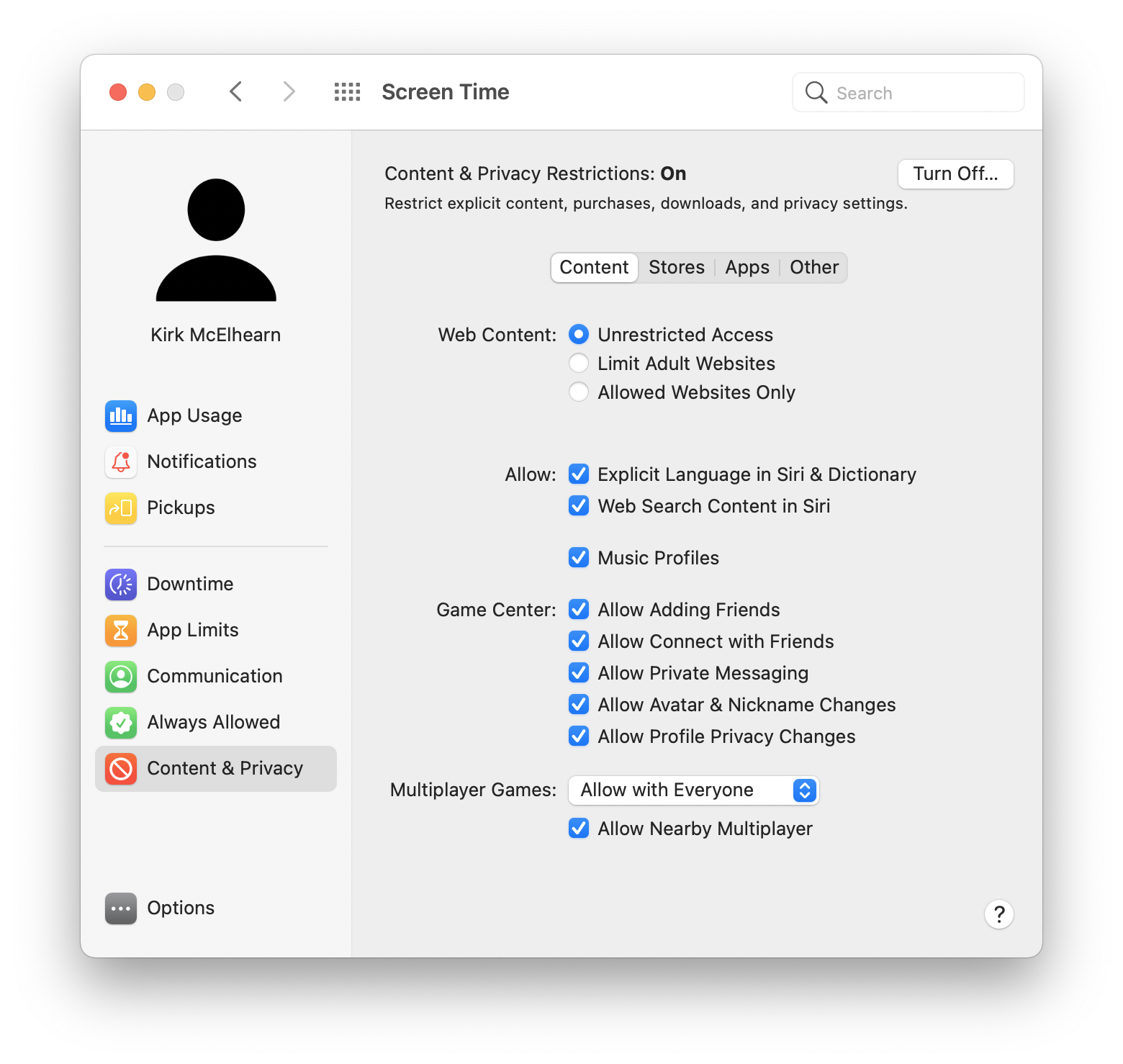 There are four tabs:
Content: Under Content Restrictions, you can limit content such as movies, TV shows, or apps by age rating, and you can block explicit music and podcasts. You can block adult websites in the Web Content section, or add a list of websites you want to let your kids use in the Allowed Websites Only list. And you can block things like Siri web searches, or Game Center features.
Stores: On this tab you can set ratings for content allowed – movies, TV shows, apps, and more – and you can enable or disable the ability to install apps, delete apps, or make in-app purchases. There is also a setting to require a password immediately after a purchase in Apple's stores, or after 15 minutes.
Apps: This lets you allow or deny access to certain apps.
Other: You can choose if the user can change their passcode, make changes to their account, and more.
Conclusion
Screen Time offers a lot of settings you can use to understand how you use your devices, and to protect your children; it's worth taking some time to go through them and figure out what works best. As your children mature, and as they understand the dangers of the internet, you can adjust these settings and be more flexible. While these parental controls are not 100% infallible, they go a long way to giving you peace of mind when your children use a Mac, iPhone, or iPad.
How can I learn more?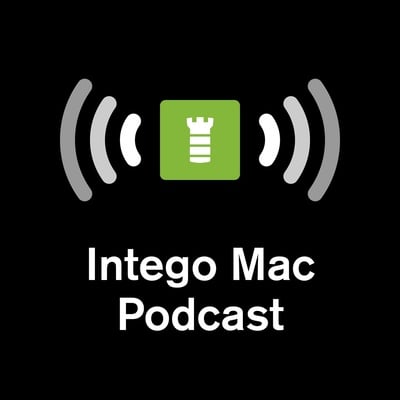 Each week on the Intego Mac Podcast, Intego's Mac security experts discuss the latest Apple news, security and privacy stories, and offer practical advice on getting the most out of your Apple devices. Be sure to follow the podcast to make sure you don't miss any episodes.
You can also subscribe to our e-mail newsletter and keep an eye here on Mac Security Blog for the latest Apple security and privacy news. And don't forget to follow Intego on your favorite social media channels: Facebook, Instagram, Twitter, and YouTube.
About Kirk McElhearn
Kirk McElhearn writes about Apple products and more on his blog Kirkville. He is co-host of the Intego Mac Podcast, as well as several other podcasts, and is a regular contributor to The Mac Security Blog, TidBITS, and several other websites and publications. Kirk has written more than two dozen books, including Take Control books about Apple's media apps, Scrivener, and LaunchBar. Follow him on Twitter at @mcelhearn. View all posts by Kirk McElhearn →