iOS 13 Parental Controls and Restrictions: How to protect your kids on iPad, iPhone, iPod touch
Posted on September 25th, 2019 by Kirk McElhearn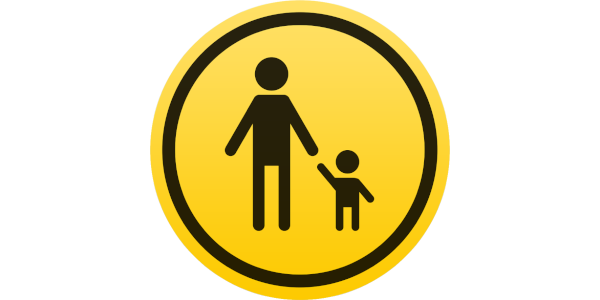 The Internet can be dangerous for children. You may not want your kids to be able to view every website or use any app. While it may not be easy to monitor their activity on a mobile device like an iPad, iPhone, or iPod touch, Apple includes some powerful tools in iOS to help you protect your kids.
Previously called "parental controls" or "restrictions," these settings offer a number of ways to prevent your kids from accessing inappropriate content. Now located within the Screen Time settings (in iOS 12 or later, including iOS 13 and iPadOS 13), there are lots of options you can adjust. In this article, I'll walk you through the Screen Time settings and help you make your children's iOS devices safer.
What is Screen Time?
Screen Time, a feature that Apple added to iOS 12, shows you how much time you spend on your iPhone or iPad. As a diagnostic tool, it's useful: you can see how much time you really spend playing that new game, or browsing Facebook or Instagram. (Read this article for an overview of Screen Time.)
While its main role is to show you how much you've used your devices—by category, app, or website—Screen Time also contains settings to prevent your children from accessing content you don't want them to view.
Basic settings
Go to Settings > Screen Time, and you'll see the overview screen. If you've turned this feature on, it will tell you how much time you've used your iOS device on the current day or week. If you toggle Share Across Devices, it will add up the time you've spent on any other iOS devices (note: this excludes Apple Watch) that use the same iCloud account.
Below the time graph, you can see four sections that allow you to modulate how much time you can spend on your device:
Downtime lets you set a period of time during which you cannot use your device.
App Limits let you set time limits for specific apps, such as if you want to limit how much time you spend playing a game or using Facebook.
Always Allowed is a list of apps that you can use at any time.
Content & Privacy Restrictions is where you can fine-tune access to specific types of content, notably for your children.
While these features are not as full featured as a true parental control app such as Intego ContentBarrier for Mac, they do offer enough control that you will feel more comfortable about your children's usage of their iOS devices.
Downtime
One way to keep kids from using their devices too much is to limit their access by time. In the Downtime settings, you can choose a start and end time for the period when they will not be able to use the device.
Unfortunately, you can only set one downtime period, which you are most likely to set from bedtime to morning. You cannot, for example, set another period in the day, such as when you want them to do their homework. Also, you can't set different downtime periods for different days of the week.
Note that the apps defined in Always Allowed (as detailed in a section below) are not affected by the downtime limit.
App Limits
In the Add Limits section, tap Add Limit and you'll see this screen: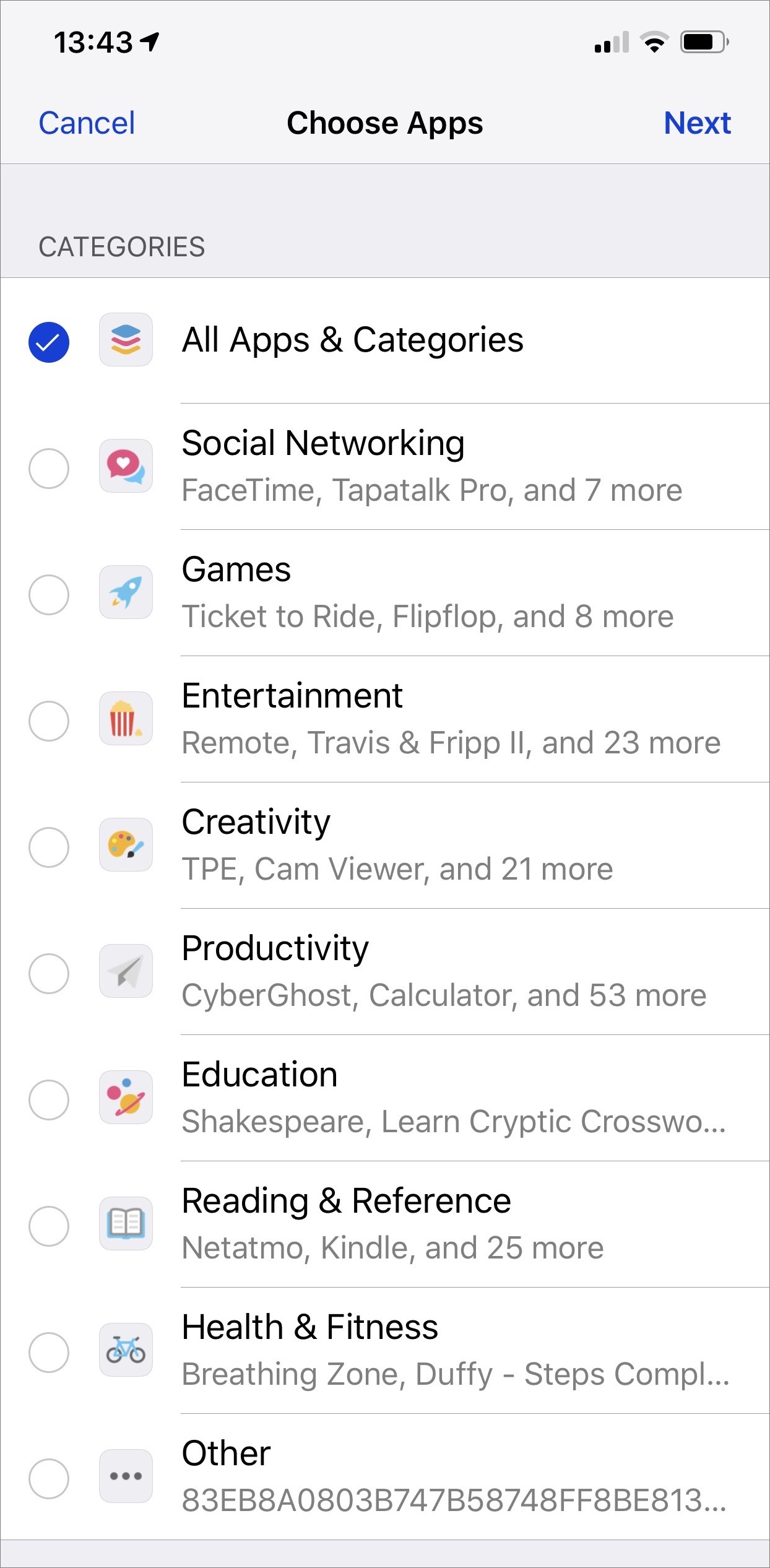 As you can see, iOS devices recognize apps by category. So you could block games, social networking apps, entertainment, and others. Tap one or more categories, then tap Next. On the next screen, you define the limits in time.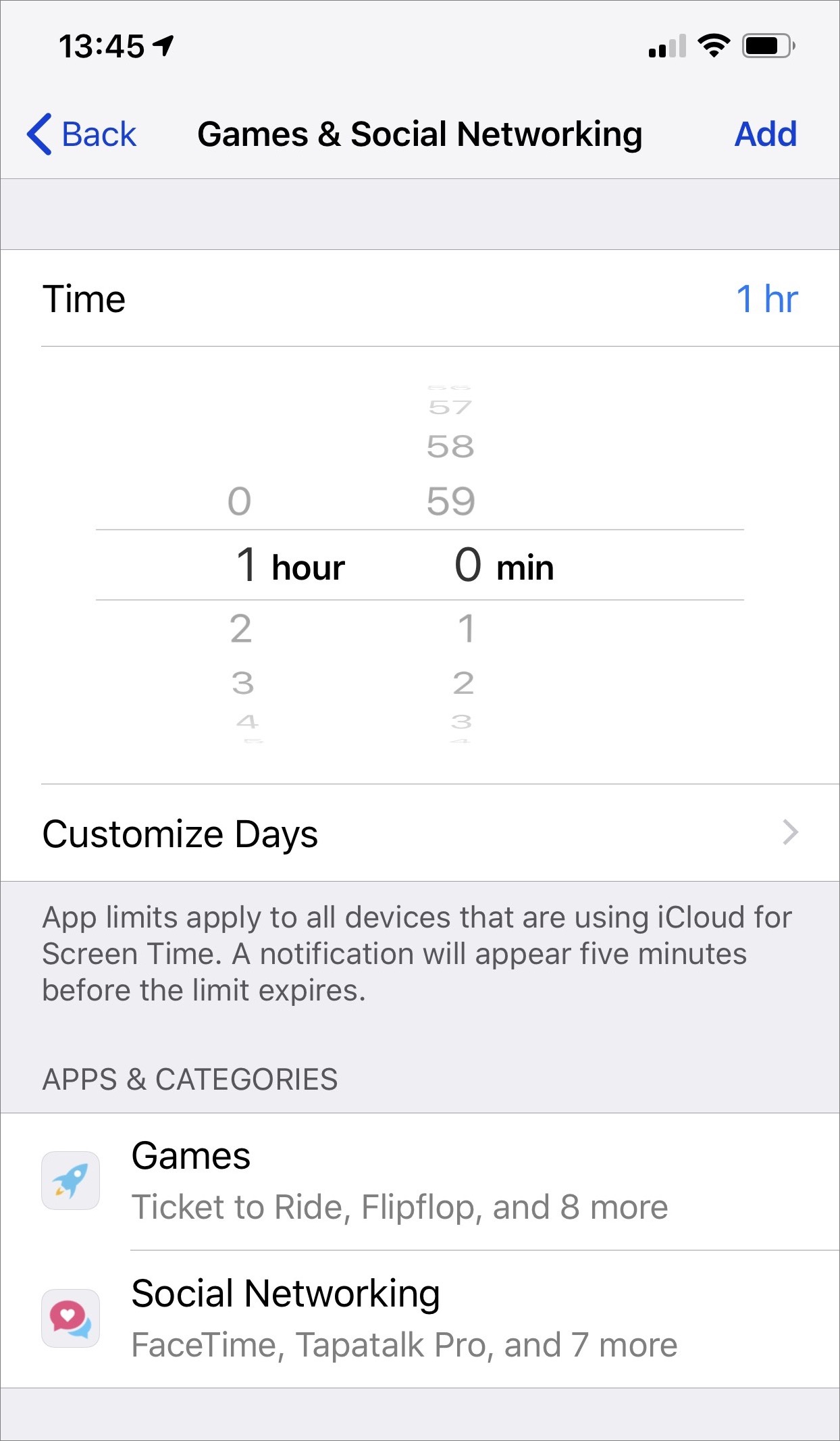 You can also customize the amount time limit by the day of the week. For example, you can let your kids play more games on the weekend. Tap Customize Days, then tap a day to adjust its settings.
You can set individual limits by category; just tap Add Limit again from the main screen, select a different category, and adjust it. So you can set up different limits for each category.
Note that these categories are not perfect; they correspond to categories selected by developers when they submit apps to the App Store. For the most part, they're fine; you won't find games in the non-game category. But there may be some overlap. You also cannot see a full list of all the apps in each category.
Always Allowed
Irrespective of Downtime and App Limits settings, you can choose which apps are always allowed on the device. By default, Apple includes the Phone app, Messages, and Maps. It's a good idea to make it possible for your kids to always access these, so you can stay in touch with them, and so they can find their way if they need to, but you can turn them off if you wish.
You can also add any individual app to the Always Allowed list; this is useful if an app is miscategorized and your child needs to use it, such as for their homework.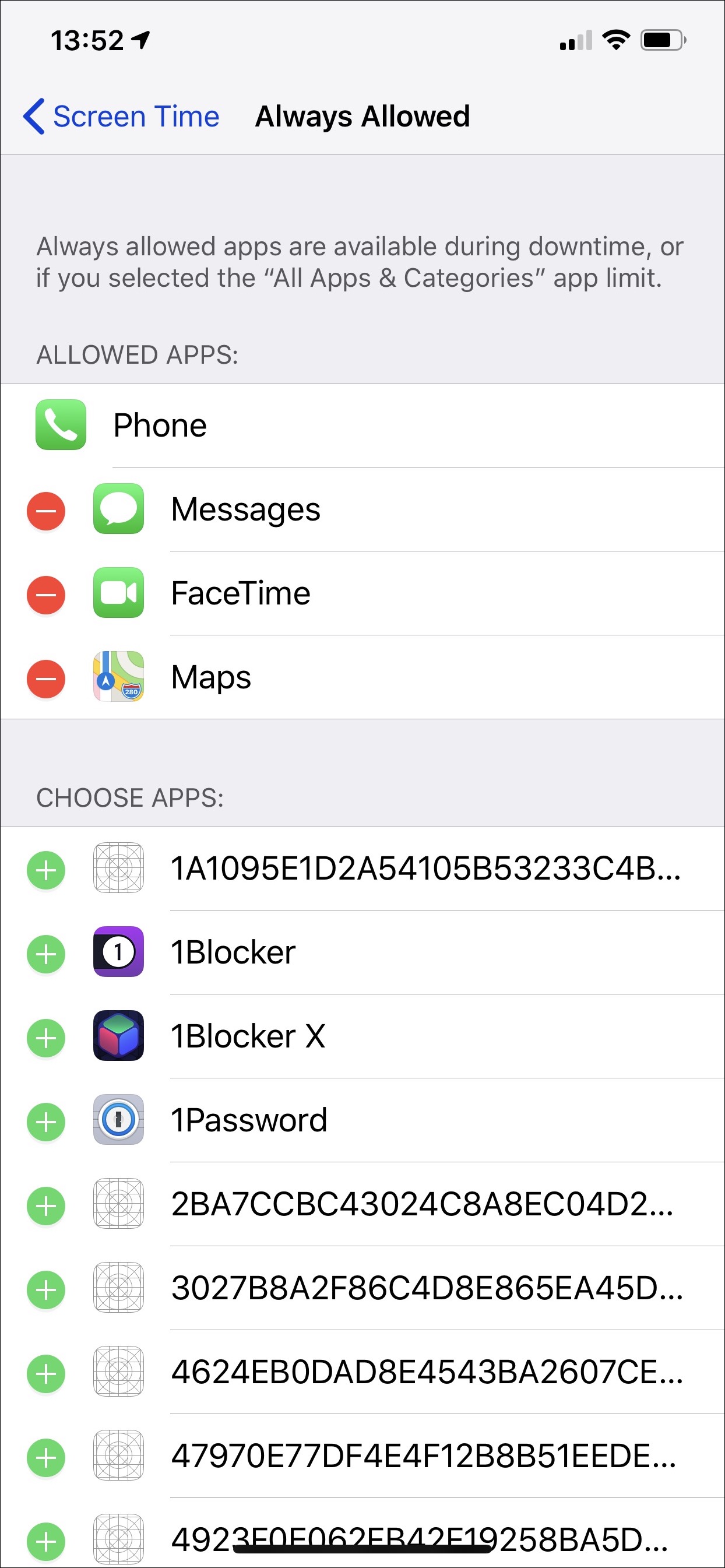 You may notice some strange items in this list; they are long strings of letters and numbers. These correspond to Safari shortcuts that you may have created on your home screen, which won't show up as individual apps. This isn't very useful, and you cannot add a specific website to Always Allowed.
Content & Privacy Restrictions
This screen gives you some granular control over specific content and privacy settings.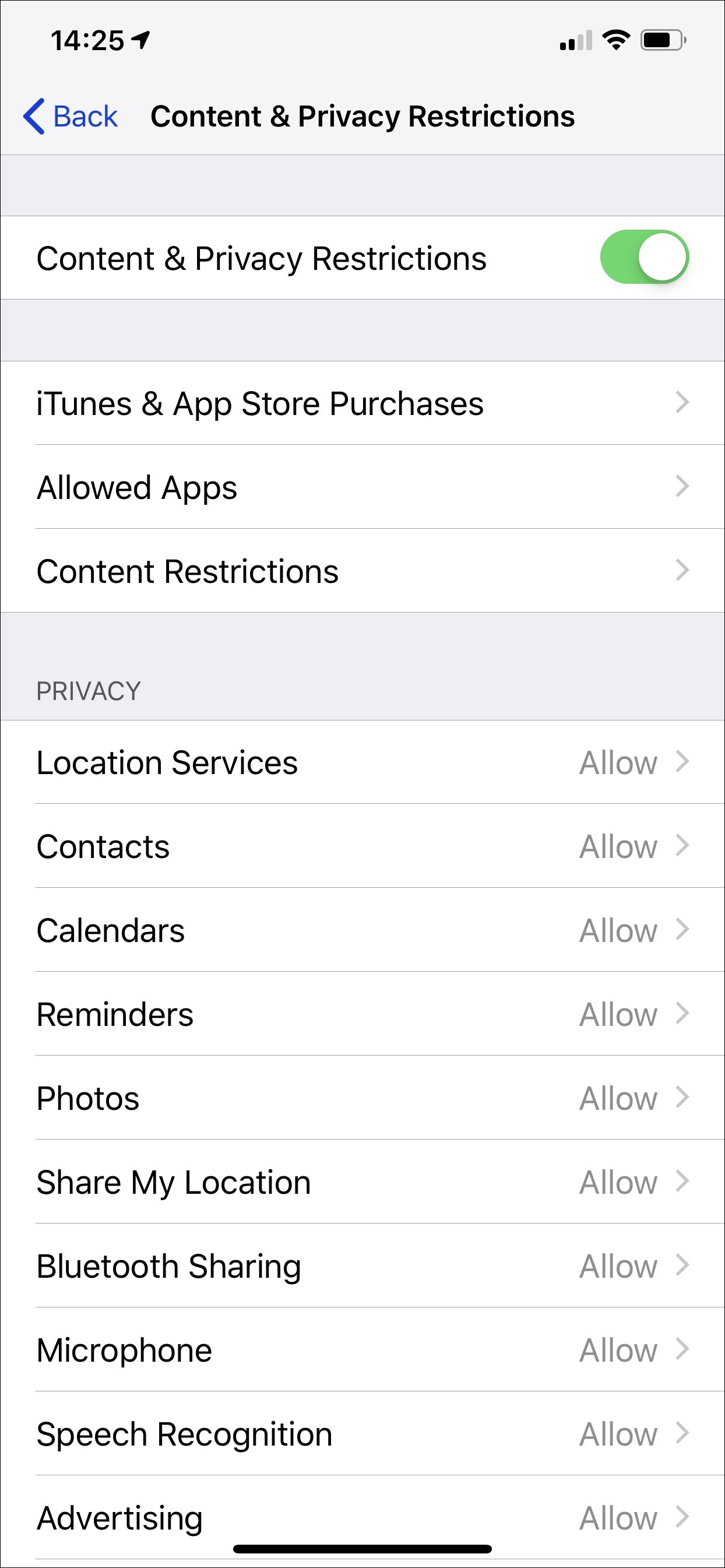 As you can see above, there is a long Privacy section, which lets you prevent access to things like location services, contacts, calendars, and more. If you scroll down, there are also settings that can limit the ability for a user to change the device's passcode, make changes to their account settings, and so on.
The top section is particularly useful. It lets you do the following:
iTunes & App Store Purchases let you prevent your child from installing or deleting apps, or from making in-app purchases.
Allowed Apps is another list of apps that you can block, which include things like the camera, FaceTime, Safari, the iTunes Store, and more. Use this if you want to turn off specific apps, though this only works with apps installed as part of iOS.
Content Restrictions let you tweak a number of settings relative to types of content your kids can see.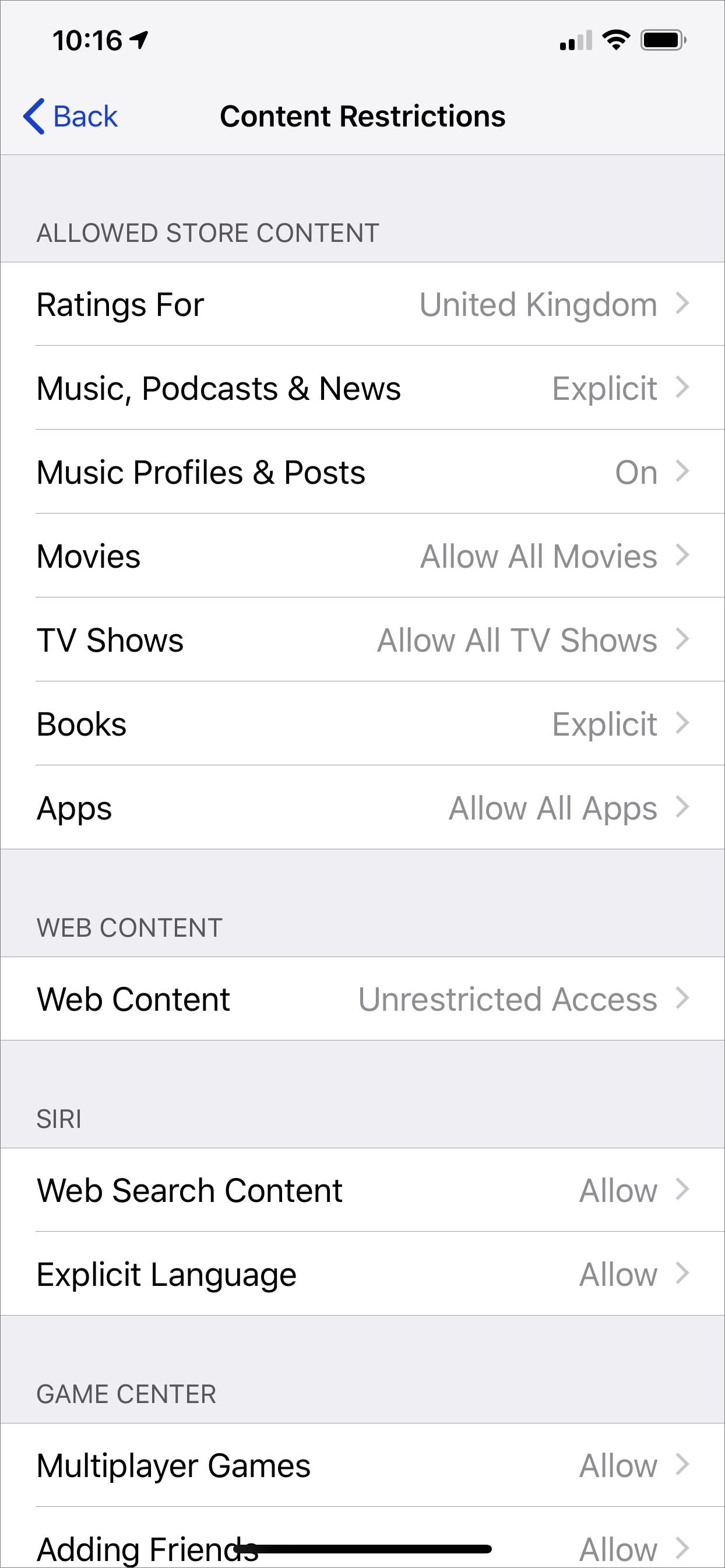 Under Content Restrictions, you can limit content such as movies, TV shows, or apps by age rating, and you can block explicit music and podcasts. You can block adult websites in the Web Content section, or add a list of websites you want to let your kids use in the Allowed Websites Only list. And you can block things like Siri web searches, or Game Center features.
Conclusion
There are a lot of settings you can use to protect your children, and it's worth taking some time to go through them and figure out what works best. As your children mature, and as they understand the dangers of the internet, you can adjust these settings and be more flexible. While these parental controls are not 100% infallible, they go a long way to giving you peace of mind when your children use an iPhone, iPad, or iPod touch.
Have you found Screen Time parental controls effective? What improvements and features do you hope Apple implements in the future? Leave a comment and let us know.
Don't forget—subscribe to the blog and podcast for more great content like this!
About Kirk McElhearn
Kirk McElhearn writes about Macs, iPods, iTunes, books, music and more on his blog Kirkville. He is co-host of the Intego Mac Podcast and PhotoActive, and a regular contributor to The Mac Security Blog, TidBITS, and several other websites and publications. Kirk has written more than twenty books, including Take Control books about iTunes, LaunchBar, and Scrivener. Follow him on Twitter at @mcelhearn. View all posts by Kirk McElhearn →