National Internet Safety Month: Protecting Children and Teens Online
Posted on by Derek Erwin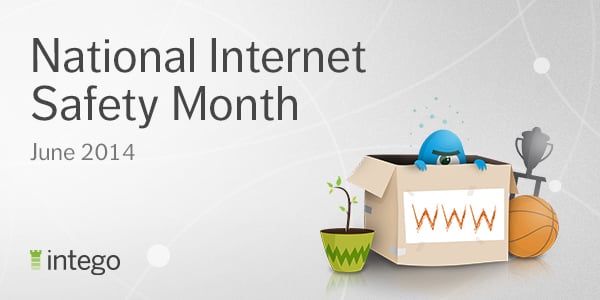 June is National Internet Safety Month, which first began in 2005 after the U.S. Senate passed a resolution to raise awareness of the need for online safety, especially among children and teens. It is an effort to remind people that Internet safety is an issue year-around and provide resources to educate families so they can become cyber savvy.
The goals of the United States Senate designating June as "National Internet Safety Month" were to (1) Promote awareness of the dangers of the Internet, and (2) Provide an opportunity to educate the people of the United States on the importance of being safe and responsible online.
With that, Intego is here to do our part!
We kicked things off early last month and provided some good content about protecting children and teens online in our Five Minute Family Protection Tips series. As we begin National Internet Safety Month, we encourage all parents to take a gander at our tips from last month for some motivation and an overview of what to expect this month.
All throughout June, we will be taking an in-depth look at your digital concerns and parenting discussions about various aspects of Internet safety, and how we can all improve our awareness of online dangers. In doing so, we will also provide information that develops the critical thinking and decision-making skills needed to be safe online.
Let's see, how else can we help? How about this…
A Special Offer from Intego
This promotion has expired.
Intego recognizes the importance of National Internet Safety Month, and we want to do our part. As part of our commitment to protecting children and teens online, and to help parents become cyber savvy, we are offering a special discount for purchases of our parental control software: Family Protector and Family Protector Secure X8. 
During the month of June only, you can now get our award-winning parental control and security software for 50% off MSRP*. Simply use this promo code: NISM2014
*Discount only applies to households, limit 10 Macs per customer.
Take Our Internet Safety Survey
Are you a parent with one or more children? Before you go on your merry way, we would love to hear from you! Take 5 minutes and answer some quick questions in our newest survey to help us learn what concerns you most about Internet safety.

Be sure to check back with us throughout June as we share more Internet safety tips to help keep us all safer online!