Apple + Recommended + Software & Apps
Microsoft Office for Mac 2011 Not Supported on macOS High Sierra
Posted on by Kirk McElhearn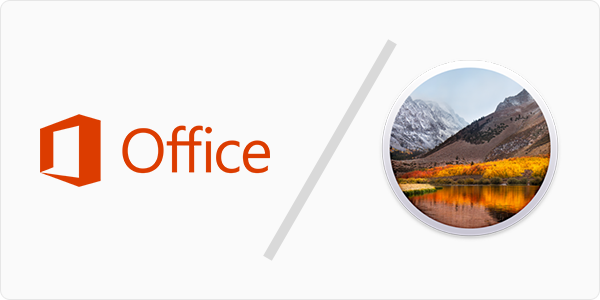 macOS High Sierra is due to be released to the general public today, and it's a good idea to prepare your Mac before upgrading. While it's imperative to prepare ahead of time, we also want to highlight the supportability of software that many Mac users depend on: Microsoft Office for Mac.
Do you use Office for Mac 2011? Well, as of macOS 10.13 High Sierra, Microsoft is dropping support for Office 2011. This means that, if you depend on this software, you need to make some changes. You have several options of which we will focus on below.
Buy Microsoft Office 2016
Your first option is to buy a copy of Microsoft Office 2016 for Mac. This costs from $150 (Home & Student edition) to $230 (Home & Business edition). Each of these are only valid for one user on one Mac; so, if you have more than one Mac, such as an iMac and a MacBook Pro, you won't be able to use it on both. Also, you can't share it with your family members, and if you happen to also work on a Windows PC, you won't be able to install the software. So this isn't a very flexible option.
Subscribe to Office 365
Office 365 is Microsoft's subscription service, which offers access to the full Office suite, along with with online features such as 1 TB of OneDrive cloud storage.
It comes in two versions: Office 365 Personal, for a single user, cost $7 a month, or $70 a year, and Office 365 Home, which covers five users, costs $10 a month or $100 a year. The Personal version allows you to install the software on one Mac or PC, one iPad, and one iPhone, so it's not ideal if you have two Macs; the Home version gives you five installations of each kind. These subscriptions also include 60 minutes of Skype calls to mobile phones and landlines per month.
If you run a small business, you can get Office 365 Business, with similar features, for $10 a month or $100 a year. You also get access to Office Online, which allows you to edit Word, PowerPoint, Excel, and OneNote documents in your browser.
The advantages to Office 365 are obvious: multiple devices, both computers and iOS devices, and cloud storage. If you want to use Office apps anywhere, this is the best solution.
Use a Different App
Microsoft Office isn't the only productivity suite out there. In fact, unless you absolutely need to collaborate with others who use Office, there's no reason why you should use Microsoft's apps instead of others.
The best alternative is one you already have on your Mac: Apple's iWork suite, Pages, Numbers, and Keynote. These apps offer advanced features, and are easier to use than Microsoft's Office apps. If you're just working on your own, and don't need any special pre-designed spreadsheets, Word style sheets, or Power Point templates, these apps will do most of what you need. Spreadsheet mavens may find Numbers a bit weak, and if you're used to using PowerPoint, the different features may take some learning, but all of these apps can handle most productivity needs.
There is also an iCloud version of the iWork apps, so you can compose and edit documents in any web browser, and even share your documents via the web to others who don't have the apps.
Contrarily, perhaps you don't even need actual apps; instead, you might want to work on cloud documents only. This is streamlined, and allows you to access your work from any device, but the risk is that you may lose Internet access and not be able to get to your files. But you could do this, with either iCloud.com or with Google's Suite cloud alternatives: Google Docs, Sheets, and others.
Google offers a number of pricing tiers starting at free for basic use, going up to $5 a month for the basic G Suite package, $10 for a more enhanced package, and $25 for the enterprise version. All these prices are per user, so if you want apps for your family, Microsoft's Office 365 is a better deal (though Apple's iWork is even better, being free, but if you also use PCs, you might find iCloud.com access a bit limiting).
Working with Office Files in iWork Apps
If you do use Apple's Pages, Numbers, or Keynote, you can save files in formats that Office users can read; you can also open files they send you.
After you've finished working on your document, choose File > Export to > Word (for text documents), and you'll see a dialog offering a few options.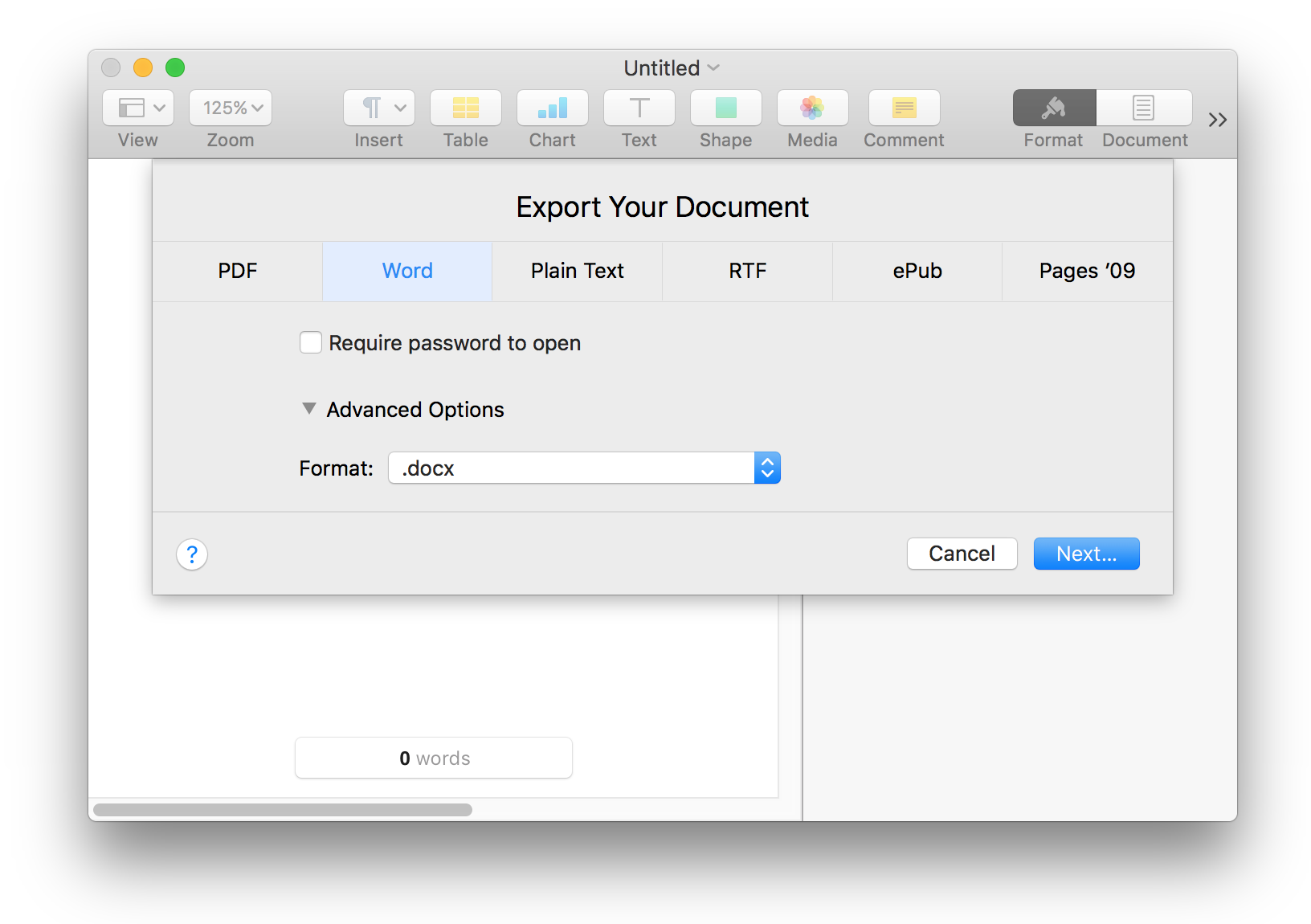 In the Format menu, you can choose .docx or the older .doc format, if you're sharing the document with people who have older versions of Word. You'll find similar options for Numbers and Keynote.
If you receive a file created by an Office app, you can open it by double-clicking, or by right-clicking on the file and choosing Open With > Pages, for example.
One thing to note is that not all features translate from one format to another. One notably difference is change tracking, which you may use if you're in a collaborative environment. Some changes convert between the formats, but I wouldn't trust this to be 100% reliable.
Bottom Line
If you use Microsoft Office and haven't updated in a while, you have plenty of choices. Pay for a new version, use an alternative such as iWork, or give up on that type of app entirely and use the cloud. Choose what works best for you, but also what works with the people you collaborate with.
If you haven't upgraded to macOS High Sierra yet, be sure to visit our preparedness guide to ensure a smooth upgrade!
About Kirk McElhearn
Kirk McElhearn writes about Apple products and more on his blog Kirkville. He is co-host of the Intego Mac Podcast, as well as several other podcasts, and is a regular contributor to The Mac Security Blog, TidBITS, and several other websites and publications. Kirk has written more than two dozen books, including Take Control books about Apple's media apps, Scrivener, and LaunchBar. Follow him on Twitter at @mcelhearn. View all posts by Kirk McElhearn →