Mac Security Tip: Finding System and Application Versions
Posted on by Peter James
When we inform you about new security updates, we often specify the version numbers of the new applications. In some cases, you can run an application's built-in updater to see if you're up to date, but in others you may want to check an application and see what version it is. Here's how you can check for version numbers in different types of applications.
Getting version information for Mac OS X
To find which version of Mac OS X you are using, you need merely check in a menu. Click on the Apple menu, then choose About this Mac. A small window displays, giving you information about your Mac, and which version of Mac OS X you're using: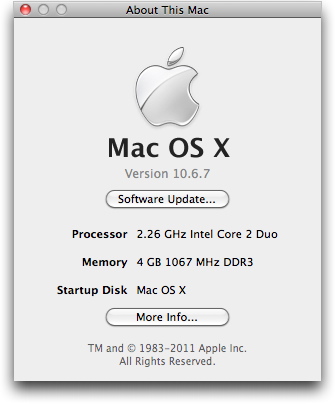 As you can see in the screenshot above, the version of Mac OS X is 10.6.7. If you click on that text, you will see the build number (a sort of sub-version number), and if you click again, you'll see the serial number of your Mac.

Below this is a Software Update button. This opens the Software Update application, and checks for new versions of Mac OS X and other Apple software. We discussed using Software Update in an earlier Mac Security Tip.

As you can see, there is more information in this window: the type of processor, the amount of memory, and the name of the startup disk. If you click More Info, the System Profiler application opens, giving much more detailed information about your Mac, its hardware, peripherals, software and more.
Getting version information for applications
There are several ways you can find out the version of a specific application. If the application is running, choosing the application name > About application name menu displays an About box giving you information. For example, in iTunes, you would choose iTunes > About iTunes and see this window: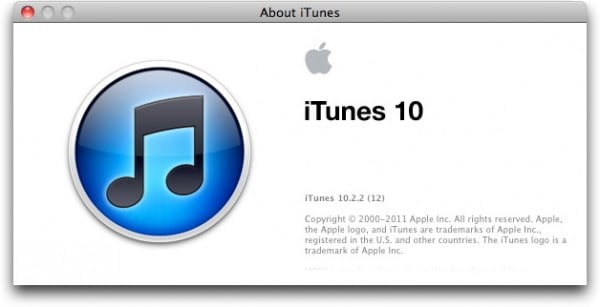 You can also find version numbers from the Finder. Click on an application to select it, then press the spacebar; a QuickLook window displays, showing the version number, size and last modification date.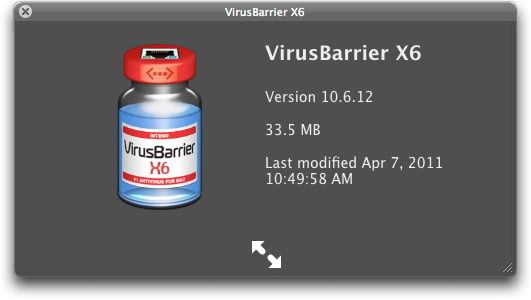 Finally, you can select an application and press Command-I, to see the following:



You see the kind, size and location, creation and modification dates, and the version number.
Getting version information for browser plug-ins
Plug-ins are software elements that are used by web browsers, often to display certain types of content, such as Flash, Java or others. Your web browser can tell you which plug-ins you have installed, and which versions. In Safari, choose Help > Installed Plug-Ins. A web page displays giving a list of the plug-ins, their versions, and the types of content they manage. In Firefox, choose Tools > Add-Ons to see not only plug-ins, but also extensions and other types of add-ons. (To view Safari extensions, choose Safari > Preferences, then click the Extensions icon.)
While there are several procedures above to view information for different elements, it's pretty simple to find out which versions of software you are running. Whenever you have doubts about whether your software is update, use these techniques to find out whether you need to download new versions of your software.