Mac Security Tip: Check for Software Updates Often
Posted on April 5th, 2011 by Peter James
Many of the articles here on the Mac Security Blog inform you of security updates to software. These may be updates to Mac OS X, the operating system that runs your Mac, to other Mac programs, such as Safari, iTunes or QuickTime, or to iOS, the operating system for the iPhone, iPad and iPod touch. We also alert you to security updates for other Apple products, such as the Apple TV, AirPort base station and more.
In addition, we let you know when there are updates to major third-party programs: web browsers, such as Firefox, Chrome and Opera; plug-ins, such as Flash and Shockwave; and other programs, such as Acrobat, Office and so on.
It's a good idea to check this blog often – or to subscribe to its RSS feed, follow us on Twitter, or visit our Facebook page to be kept abreast of these updates. But prevention is the most important aspect of security, so you should also make sure that you set your Mac to check for updates regularly.
Mac OS X has a built-in software update feature, called – you guessed it – Software Update. You can access this by clicking on the Apple menu in the menubar and choosing Software Update. When you launch this program, it will check Apple's servers to see if any Apple software updates are available.
But you don't need to do this manually; you can tell Software Update to check daily, weekly or monthly. Given the necessity of applying some security updates as soon as possible, we strongly recommend that you tell Software Update to check daily. To do this, click on the Apple menu, choose System Preferences, then click on the Software Update icon. From the Check for Updates menu, choose Daily. You may choose to Download updates automatically; if you do, you'll get an alert when updates have been downloaded, asking if you want to apply the updates right away. (In some cases, you may not want to, as they may require that you restart your Mac.)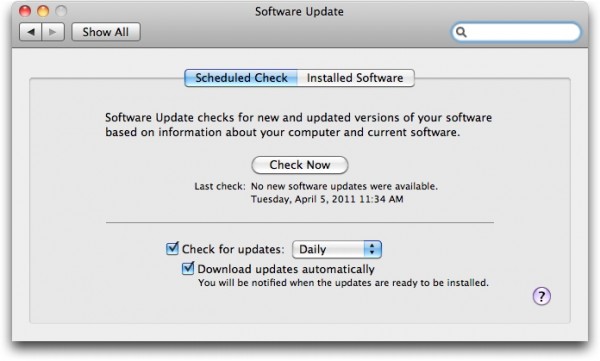 This daily check won't bother you; you won't even notice it unless updates are available. When they are, however, you'll know that you're protected as soon as possible.
For third-party software, things are different. Some programs update automatically (Google's Chrome browser), and others, such as Firefox, offer update options in their preferences (Advanced > Update). Microsoft Office has a utility called Microsoft AutoUpdate, which is hidden in /Library/Application Support/Microsoft/MAU2.0 (for the Office 2011 version). Adobe also provides a software updater. Many third-party programs include a free framework called Sparkle. You've probably seen this when launching some of the software you use. This downloads and installs updates when available; programs that use this generally have some sort of update options in their preferences. Finally, if you purchase software from the Mac App Store, just launch the App Store application and check the Updates tab to see if any updates are available.
Intego's software uses a special program called NetUpdate to update both software and filters: the threat filters that are updated for VirusBarrier X6, as well as content filters for ContentBarrier and spam filters for Personal Antispam. This is available either from the Intego menu in your menubar, or from System Preferences. It, too, can be set to check daily for updates, which we strongly recommend. NetUpdate can also automatically apply updates to filters so you don't need to do anything. Click the Scheduling tab, then check Automatically install antivirus definitions and filters for this to occur.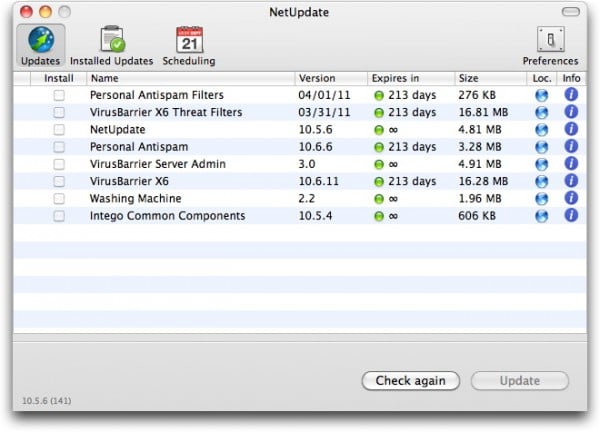 It's important to keep your software up to date to thwart new security threats. Make sure to adjust your settings so you always have the latest protection. And make sure to check back here regularly to find out about other updates that are essential to your Mac.