Intego + Recommended + Software & Apps
Mac Premium Bundle X8 Earns TopTenREVIEWS Gold Award
Posted on by Derek Erwin
TopTenREVIEWS, a site that evaluates, scores and ranks a multitude of products and services, has published an extensive review of Mac Premium Bundle X8, Intego's complete Mac protection and Internet security software.
The review, written by Randall Sutherland, offers a detailed analysis of our Mac security software, and we're delighted to acknowledge that Mac Premium Bundle X8 has earned the distinguished Gold Award for 2015.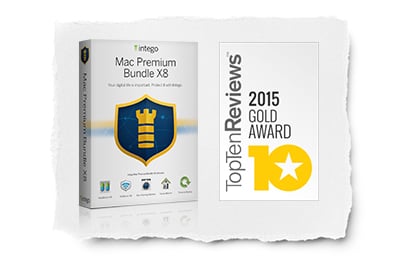 TopTenREVIEWS evaluated the top ten Mac Internet security programs and found Mac Premium Bundle X8 to be "the best software of its kind." In the group test, Intego's software was evaluated and judged against the other products based on several factors, including: malware detection accuracy (anti-virus effectiveness), scan speed (efficiency), security features, support, and user experience.
On the effectiveness of our Mac anti-virus software, TopTenREVIEWS's Sutherland recounted some previous malware detection tests. He said:
A respected independent security software test lab, AV Comparatives, tested Intego in July 2014, and the software found every Mac malware sample. The following month, AV-Test, another excellent test lab, included Intego in similar tests and reported 98.3 percent detection of threat samples.

Mac Premium Bundle scored a perfect 10 points in the Protections category of the review, and Sutherland raved about its efficiency, saying, "Scans are efficient because Intego marks trusted folders so that it can increase scan speeds by not scanning folders it already knows to be safe."
On its software firewall, he wrote:
It can adjust itself to different levels of protection based on whether it finds itself connected to your home network or your work network. If you use a public hotspot, Intego can show you any adjacent devices that are attempting to access your computer so that you can separate friend from foe. Furthermore, if anything is devouring bandwidth, you can identify if and shut it down. The software also monitors the applications that use the network: It will block applications it does not recognize and permit those it does recognize.
He notably also liked the program's interface, and penned, "The interface of Intego's Internet security for Mac adheres to the best Mac design practices, so Mac owners of every level of experience will enjoy the interface."
Sutherland concluded the review with the following summary:
As you go about finding the best Internet Security for Mac, Intego Mac Premium Bundle is one to consider. It detects malware at a high rate of accuracy. It saves you from phishing attempts. It doesn't bog down your computer and it behaves exactly as you would expect of a Mac application. Its features are extensive. In addition to the features you expect in a Mac security product, it surprises with features that are rare among its competitors: a backup utility, parental controls and the ability to scan iOS devices attached to your Mac.
Intego is humbled to be recognized as the best program in its class, especially when many programs are compared. It shows that Mac Premium Bundle X8 really is the best way to keep your Mac safe from the dangers of the Internet.
You can head over to TopTenREVIEWS to read the full Mac Premium Bundle X8 review.
---
A Special Offer from Intego
To celebrate excellence in Mac OS X security, we are offering a special discount for purchases of our award-winning Mac Premium Bundle X8. 
Get 40% off MSRP* today by using this coupon code at checkout: INTEGOGOLD
*Discount only applies to households, limit 10 Macs per customer.