iPhone 5 Pin Adapter Controversy Has Apple Fans iRritated
Posted on September 14th, 2012 by Rebecca Kelley
The iPhone 5 was unveiled Wednesday and will hit stores on September 21st. It's touted as the "thinnest, lightest, fastest iPhone ever" and is 18% thinner and 20% lighter than the iPhone 4S. A new 4-inch Retina display means a larger visual display with a more vibrant resolution. Apple also boasts that that the iPhone 5 "does LTE the right way" and has optimized the phone for better battery life and "ultrafast connectivity." The phone's A6 chip speeds up its performance as well, and there's improved audio, camera features, HD video recording, and FaceTime.
Overall, it seems as if the iPhone 5 has a lot going for it–it's thinner, faster, lighter, looks and sounds better than ever before. The one gripe that a lot of users seem to be having, however, has to do with the phone's connector. Apple is replacing the standard 30-pin connector with the "Lightning" connector, which is advertised as having an "all-digital, eight-signal design that's significantly more durable than the 30-pin connector." It's reversible, it's teeny, it has the word "Lightning" in it. What's not to like?
The new Lightning connector (left) and the Lightning-to-USB connector (right).
Unfortunately, all of the existing Apple and third-party iPhone accessories use the 30-pin connector, so they won't fit with the new iPhone 5. But don't worry, Apple's got you covered! You can use a handy Lightning to 30-pin Adapter!
Originally, Apple's accessories (at least the UK version) page noted that the new iPhone 5 will include a free Lightning to 30-pin Adapter and that you can buy additional adapters if you want more:
In a reddit thread, however, users posted saying they spoke with Apple customer service representatives who said that the phone will not include a Lightning to 30-pin Adapter and that the web copy was a mistake (here are screen chat logs with Apple employees "Brian" and "David" that confirm the phone will not include an adapter). Indeed, the U.S. version of the Apple store lists Lightning to 30-pin Adapters ranging from $29 to $39 in cost, plus a Lightning to USB Cable for $19: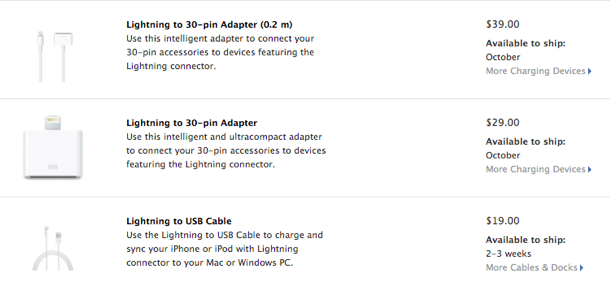 Apple promises that "soon many iPhone accessories will be Lightning compatible," and indeed they'll undoubtedly manufacture new accessories for customers to scoop up, with third-party accessory manufacturers likely scrambling to follow suit. But not including an adapter for iPhone 5 customers and forcing them to buy one for $30-40 seems a bit nickel-and-dimey, and many Apple fans are complaining about the added on cost.
However, one reddit user created this little comparison between proprietary charging adapters for Samsung and for Apple in the last decade: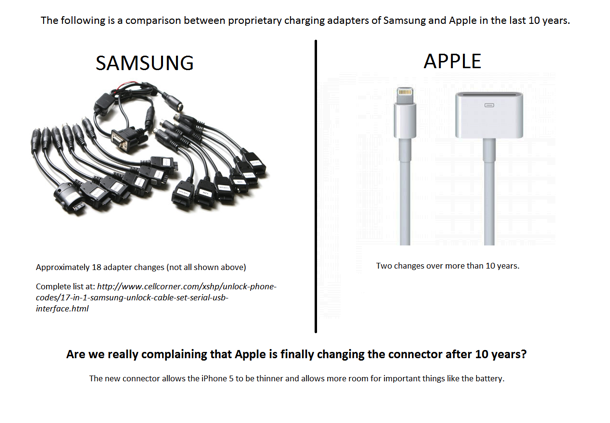 Two design changes over the past 10 years doesn't seem bad at all. However, people are quick to point out that Samsung has moved towards a universal plug while Apple has shied away from it. Thus, the debate continues. iPhone 5 customers won't be left with much of a choice when it comes to buying the adapter–their existing accessories just won't work with the new phone unless they purchase the add-on, plain and simple. Some see this is a bullying move on Apple's part while others are willing to give the company a pass for creating a smaller connector that allows for a lighter, superior phone.
Are you fine with shelling out extra coinage for a Lightning to 30-pin Adapter, or does the extra cost frustrate and aggravate you?