iOS 8.1 Update Patches Mobile Vulnerabilities
Posted on by Derek Erwin
Yesterday, Apple released iOS 8.1 as a software update which contains new features, bug fixes and security updates. iOS 8.1 addresses 5 vulnerabilities altogether, including fixes for the mobile POODLE vulnerability and patches for a number of backdoors.
The iOS update is available for: iPhone 4s and later, iPad 2 and later, iPod touch (5th generation) and later.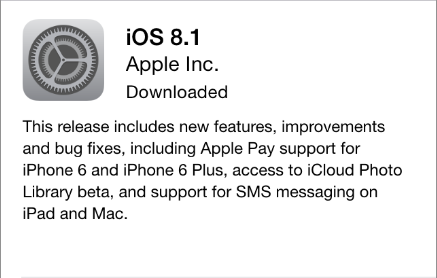 Among the more high profile security flaws addressed in this update is a design flaw in SSL (Secure Socket Layer) 3.0, which could be exploited by criminals, called POODLE. Apple's OS X Yosemite and Security Update 2014-005 for OS X Mountain Lion and OS X Mavericks addresses the POODLE vulnerability for Mac users.
iOS 8.1 addresses the following vulnerabilities:
This update is available directly on iOS devices (Settings > General > Software Update), or it can be downloaded and installed in iTunes when a device is connected to a computer with an Internet connection.