Apple + How To + Software & Apps
iOS 12 Brings New Features, Improves Performance
Posted on September 21st, 2018 by Kirk McElhearn
Apple has released iOS 12, the latest iteration of its operating system for the iPhone, iPad, and iPod touch. iOS 12 brings performance improvements across the board and a slew of new features. This is one of the most useful updates to iOS in several years; even though there aren't many visible changes – the overall interface hasn't changed – new features abound. Here's an overview of what to look for in iOS 12.
Can You Update?
The first thing to know is whether you can update your iOS device to iOS 12. If you were running iOS 11, then your device is compatible. This operating system will run on:
iPhone 5s or later
iPad mini 2 or later
iPad Air (both models)
iPad 5th generation and later
iPad Pro (all models)
iPod touch 6th generation
To update your device, go to Settings > General > Software update. Make sure you back up your device first, just in case.
Speeding Things Up
Apple has improved the overall speed of iOS. They've trimmed a lot of fat in this release, making common operations faster. You may notice this in your everyday use of your iPhone or iPad, or you may not, depending on which model you have, but I've seen some areas that seem snappier: the overall experience is smoother.
Better Notifications
You probably get a lot of notifications on your iOS device and it can be annoying when you get too many. Some new features allow you to manage them and make them less of a hassle.
For example, when you're exchanging text messages with a friend or in a group conversation,  previously you'd get a long list of notifications for each message. Now iOS groups them in stacks so you can see notifications by app. Tap one to see all the notifications.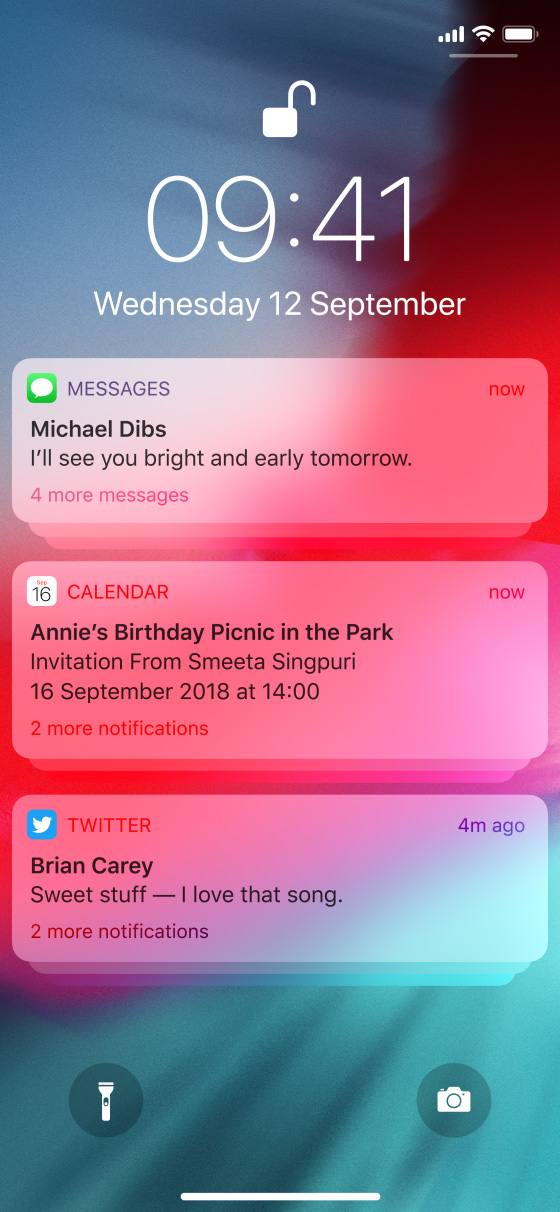 When you get too annoyed by your notifications, use the new Do Not Disturb feature to get some peace. In Control Center, tap the Do Not Disturb button (the crescent moon), or tap and hold it to choose how long you want to be notification-free.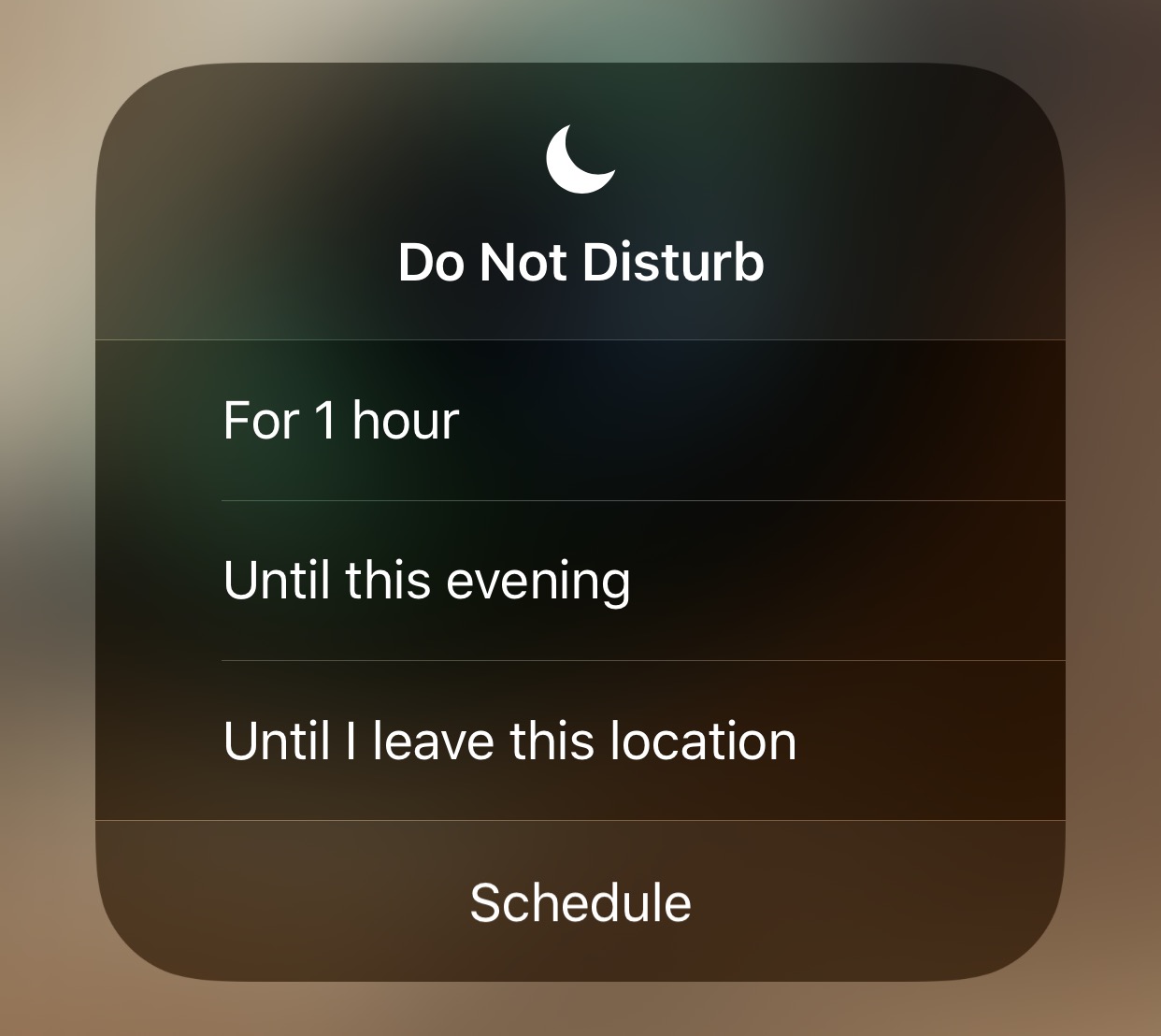 When you check your iPhone or iPod, a banner will tell you how long your notifications will be silenced.

Screen Time
Many of us spend too much time looking at our phones and tablets. Apple has introduced a new feature to help us better manage our usage. You start by learning how much time you spend on your iPhone or iPad. In Settings > Screen Time, you can activate this feature to have it record all of your activity. It will show you how much time you spend on specific apps or on different categories of apps such as social networking, productivity, creativity, etc.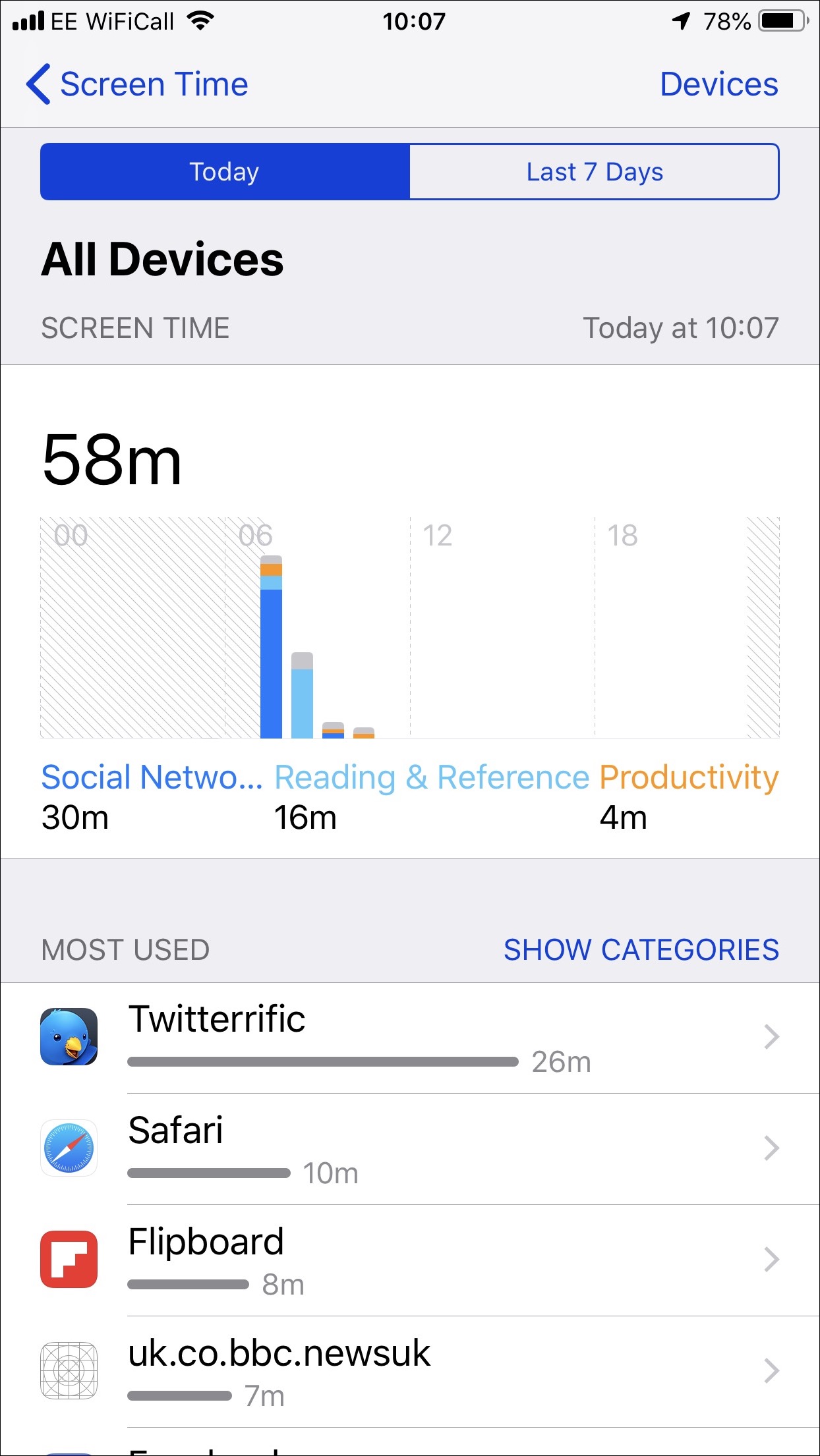 If you have multiple iOS devices, you can set this feature to amalgamate all your screen time across your devices.
You can also see how many times you have picked up your device per hour, and during the day; and how many notifications you have received.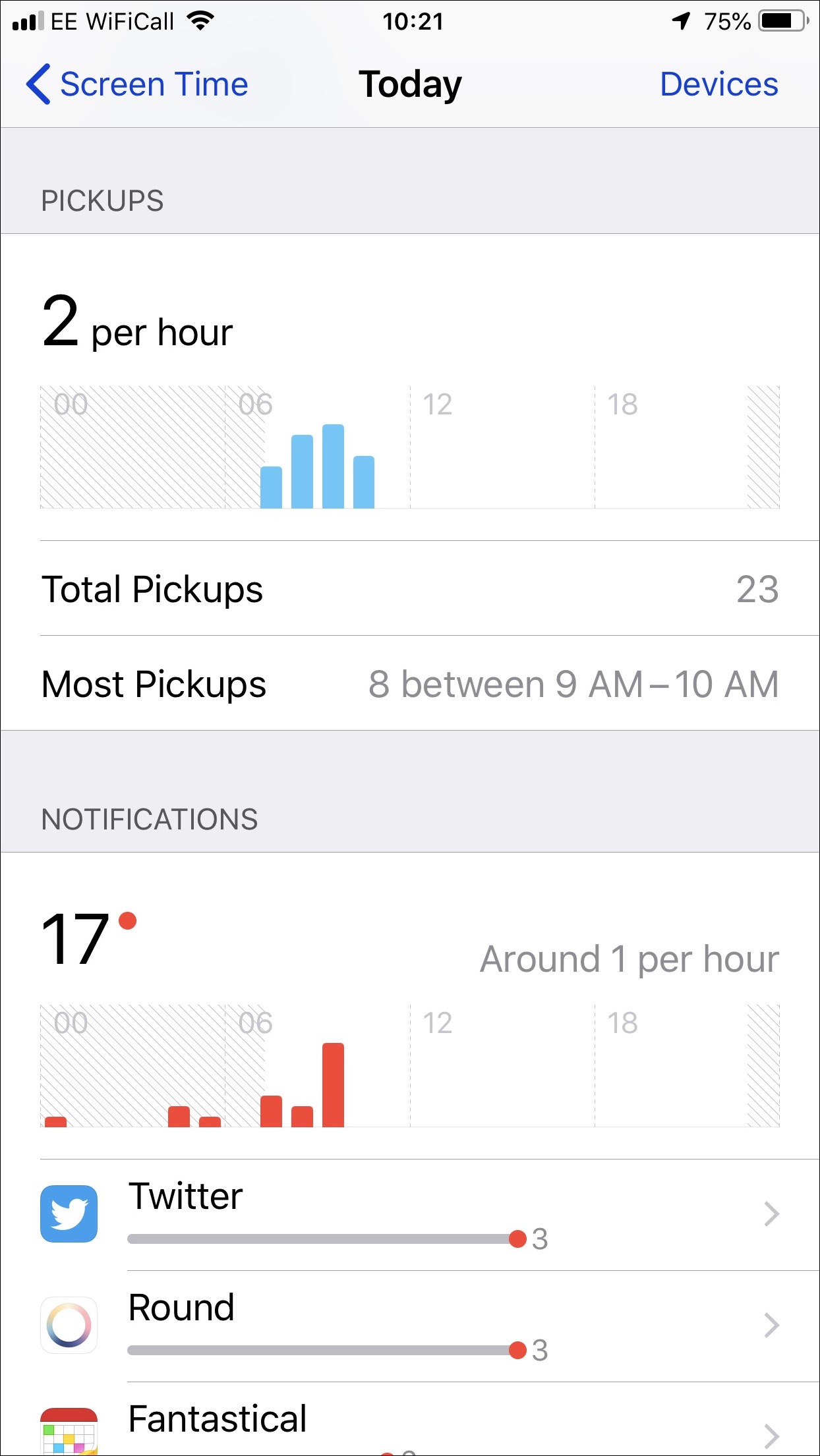 This is a great tool for parents who worry about their kids spending too much time on their devices. You can set time limits for apps, set up downtime when they are able to use devices and more.
Read our in-depth article about using Screen Time for more details!
Augmented Reality
Augmented Reality, or AR, is one of the interesting new technologies that iOS devices support. This is a way of using the device's screen to add information or content over what you view through the camera. You may have seen in Apple's recent presentation of the new iPhone a chaotic game played by three people. That's one aspect of AR. But there's another that anyone can use though the new Measure app.
Launch the app and point it at an object. If the object is square, round, or rectangular, Measure will automatically choose its boundaries. If not, you can position points at the beginning and end of an object you want to measure.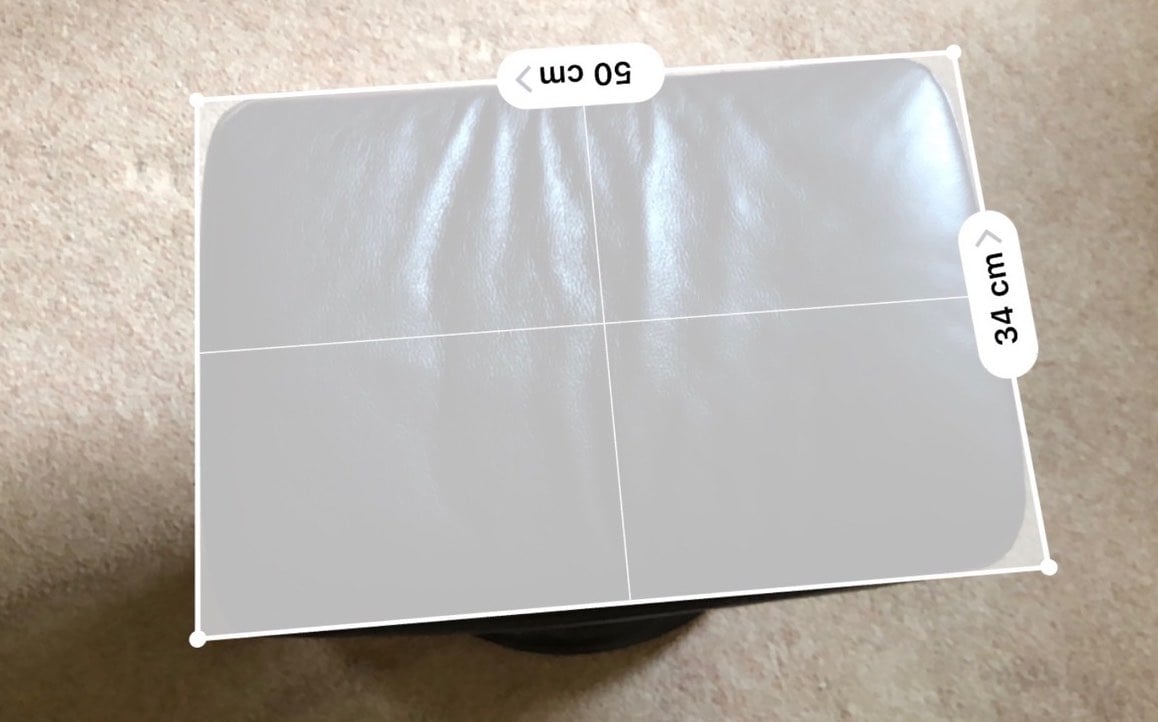 This app isn't very accurate in my tests. For example, the stool above, which Measure estimated as being 34cm x 50cm is, in reality, 38 x 54. Other items I have measured have been close, but not accurate. But its results are close enough that they can be helpful.
New Apps
In addition to the Measure app mentioned above, there are other redesigned apps in iOS 12. Apple has totally rethought the Books app (formerly iBooks), redesigned the News app, and provides more information in the Stocks app than before. All three of these apps are more useful and easier to use.
iCloud Keychain
There are a number of security and privacy features that have been improved in iOS 12 and we'll have an in-depth article about that soon. One of the most useful is iCloud Keychain, which stores and enters your passwords.
iCloud Keychain auto-fills passwords not just in Safari, but also in third-party apps. In addition, it now requires that you use Touch ID or Face ID to approve its use, ensuring that no one can just pick up an unlocked device and log into websites. It also interfaces with third-party password managers enhancing overall security.
iOS 12 can detect security codes that you receive by text message when using two-factor authentication allowing you to input them directly into apps and websites. You can even use your iPhone to automatically enter passwords on your Apple TV.
Shortcuts
One of the biggest features in iOS 12 is, perhaps, one that most users will never use: Shortcuts. Apple purchased an app called Workflow which they modified to create the Shortcuts app. One problem is that this app is not installed with iOS 12; you'll need to download it from the App Store. (If you already have the Workflow app installed, you'll be able to update it to Shortcuts.)
If you're familiar with Automator on the Mac, you'll understand the concept of Shortcuts. It allows you to link actions from different apps into routines that you can run either by tapping an icon in the app, in a widget, or by using a custom Siri command.
There's a bit of a learning curve to understand how this works and you can start by checking out the Gallery in the Shortcuts app for ideas. We'll have an in-depth look at Shortcuts soon.
AirPods Live Listen
If you have a pair of AirPods and your hearing isn't as precise as you would like, you can use the amazing Live Listen feature to zoom in on sound. It uses your iPhone as a microphone, piping audio to the AirPods. You can position the iPhone where it can best pick up audio – such as when you're having a conversation – and adjust the volume on the iPhone.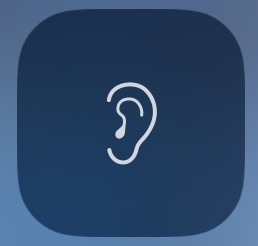 To do this, go to Settings > Control Center > Customize Controls and add the Hearing button. Put your AirPods in your ears, then tap the Hearing button in Control Center.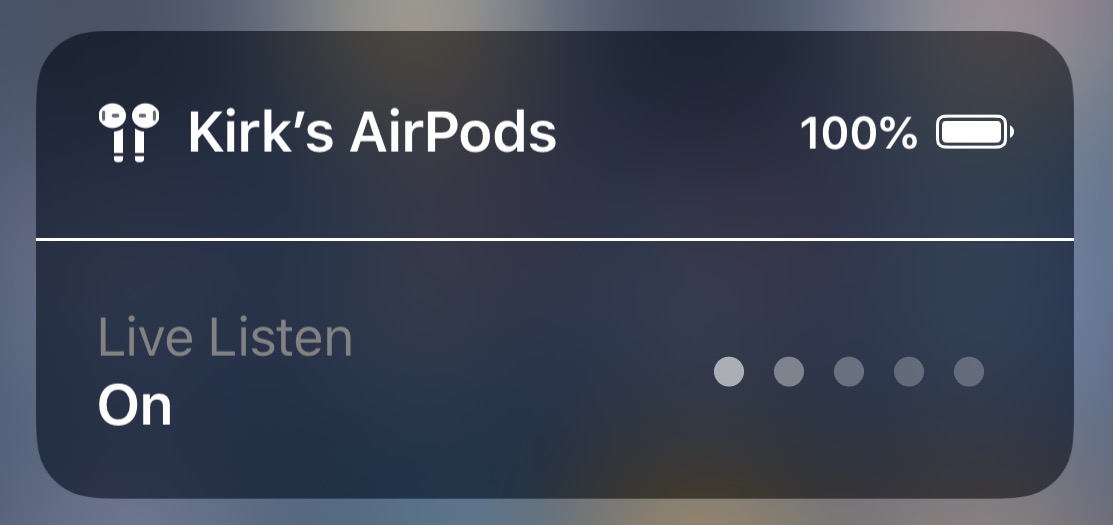 Tap On to start listening; five dots will show the audio level. You can move the iPhone to the best location and adjust the volume. While this is in no way as efficient as a hearing aid, the ability for the AirPods to filter out some of the ambient sounds will make it much easier to listen to conversations.
And More
There's a lot more in iOS 12. There's improved search in Apple's Photos app; there are new Animojis and Memojis, which you can create to "match your personality and mood;" there are some neat new camera effects you can use in Messages; the Voice Memos app is now available on the iPad and syncs recordings to iCloud; there's more detailed battery usage information to help you find which apps deplete your power the most; and you can use third-party navigation apps in CarPlay. One feature is still missing, however: the ability to hold FaceTime calls with up to 32 people has been delayed but should be available later this autumn.
Update your iPhone or iPad to iOS 12 now and take advantage of these useful new features.
About Kirk McElhearn
Kirk McElhearn writes about Apple products and more on his blog Kirkville. He is co-host of the Intego Mac Podcast, as well as several other podcasts, and is a regular contributor to The Mac Security Blog, TidBITS, and several other websites and publications. Kirk has written more than two dozen books, including Take Control books about Apple's media apps, Scrivener, and LaunchBar. Follow him on Twitter at @mcelhearn. View all posts by Kirk McElhearn →