How to use Split Screen and Slide Over to do Multitasking on iPad
Posted on April 5th, 2019 by Kirk McElhearn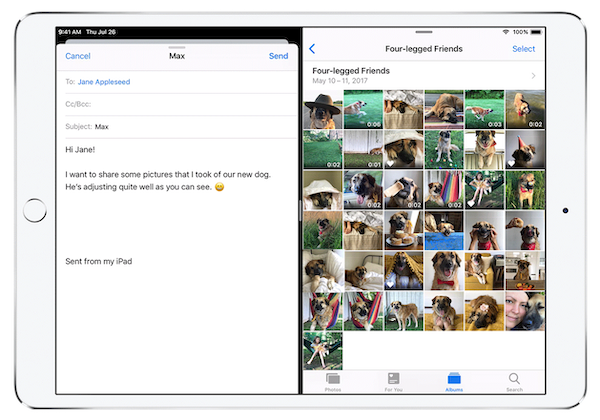 Apple has long tried to convince people that the iPad can replace a computer; that it can be a mobile device that does everything that most people need to do on a laptop. I recently argued that one thing holding this back is the lack of a true "pro" operating system. But Apple has tried to make iOS more flexible on the iPad through a series of multi-tasking features, such as Split Screen and Slide Over. However, the problem is that most people don't know about these features.
In this article, I'll explain why you might want to learn a few gestures to use Split Screen and Slide Over on the iPad.
Splitting screens
When you work on a Mac, you use multiple windows, and you can easily switch from one to another in many ways: you van click on a different window, click its Dock icon, or press Command-Tab to use the application switcher.
But on a iPad, you generally just use one app, one window at a time. Apple introduced Split Screen mode (for the iPad only) in iOS 9, and has enhanced it over the years. Like many gestures on iOS devices, it's not very intuitive; it's unlikely that you'd stumble on it by accident.
To open an app in Split Screen, swipe up from the bottom of the screen until you see the Dock. Drag an icon from the Dock up onto the screen, then drag it toward one side of the screen until you see the first window slide over.
Once you've done this, you can drag the separator between the two apps to adjust their sizes. The divider will "snap" to position at the 1/3, 1/2, and 2/3 spots on the screen.
To close a Split Screen window, drag the divider to the edge of the screen on the side of the app you want to close. For example, in the video above, you'd drag the divider to the right to close Photos.
Split Screen is useful when you need to view some content from one app while working in another, or to choose some content from one app to add to another. One example is opening the Photos app and selecting photos you want to add to an email. You can have Mail and Photos open at the same time, and drag photos to your messages.
Note that some apps won't work in Split Screen mode; I've seen this with games, in the Settings app, and others. You can open another app in Slide Over, but you can't switch it to Split Screen unless its window is designed to be resized.
Using Slide Over
There is another way to view multiple windows on the iPad; it's called Slide Over. The difference between the two is a bit confusing, but when you use Slide Over, the second window sits above the first, whereas with Split Screen, it sits beside the first window.
To activate Slide Over, you essentially do the same thing as to open an app in Split Screen. The difference is that you simply drop the second apps' icon on the screen, rather than placing it so the first app slides over. It's a bit confusing, but if you try this you'll get the hang of it. Think of the Split Screen drag as a more deliberate drag than slide over.
When you have an app in Slide Over mode, you can move it to Split Screen by dragging down on the horizontal line that's at the top of its window. And if you do this again, you'll switch it back to Slide Over mode.
To remove an app from the screen when it's in Slide Over mode, swipe its window from the interior edge toward the edge of the screen. (In other words, in the example above, you swipe from the left edge of the Messages window to the end of the screen.)
Switching from Slide Over to Split Screen
When you have an app in Slide Over mode, you can switch it to Split Screen by dragging down on the horizontal bar at the top of the window. Switch back to Slide Over by dragging again.
Working with three apps at a time
You can work with two apps in Split Screen and one in Slide Over. To do this, set up two windows in Split Screen, then drag a third icon from the Dock; you'll see a placeholder of the app as you drag.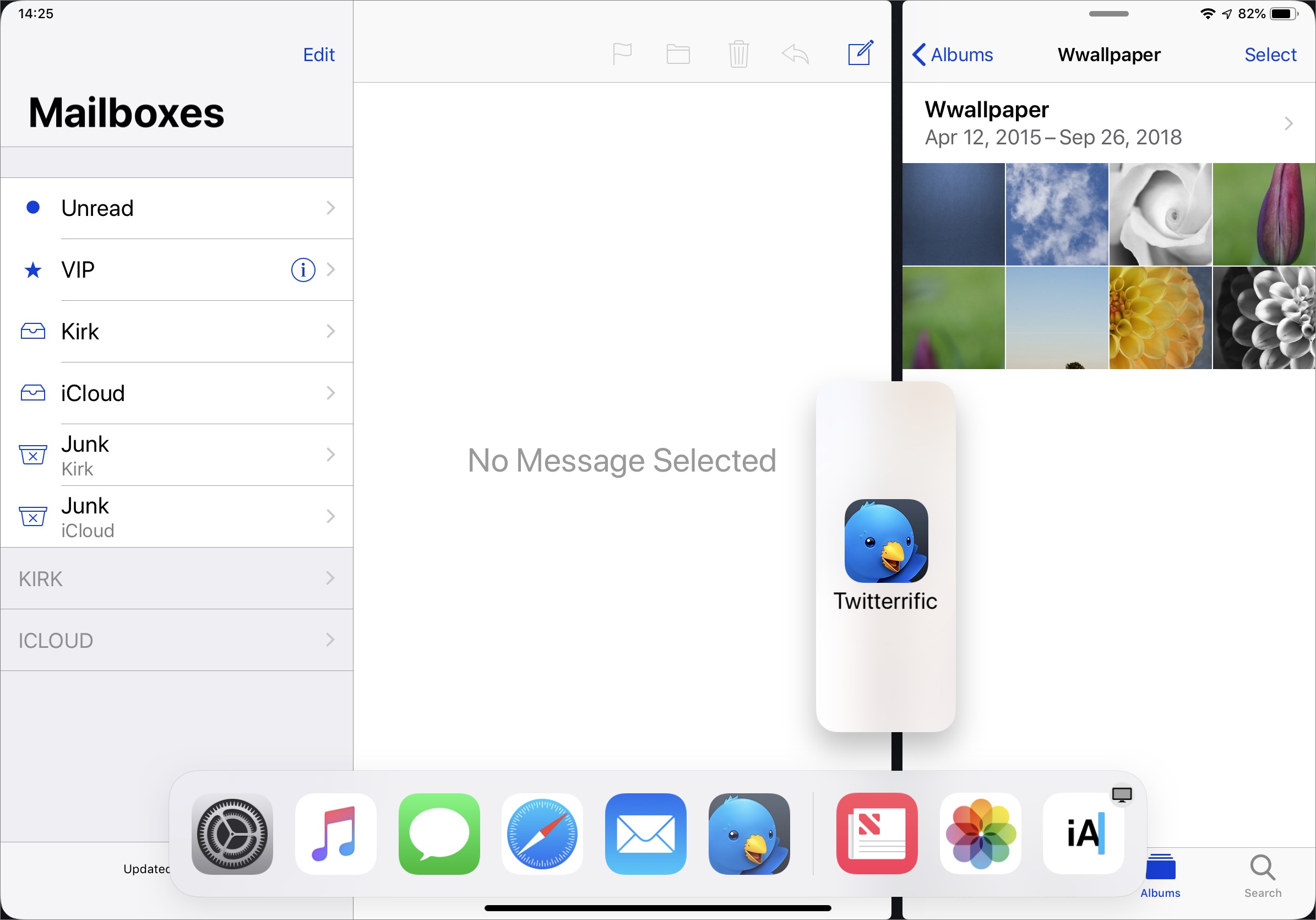 If you release that placeholder when it's over the divider, as in the screenshot above, it opens in Slide Over. If you drag it over one of the Split Screen apps, you'll see its shape change to that of the space used by the app over which you drag it. The app in question gets darker, and when you release that icon, it replaces that app.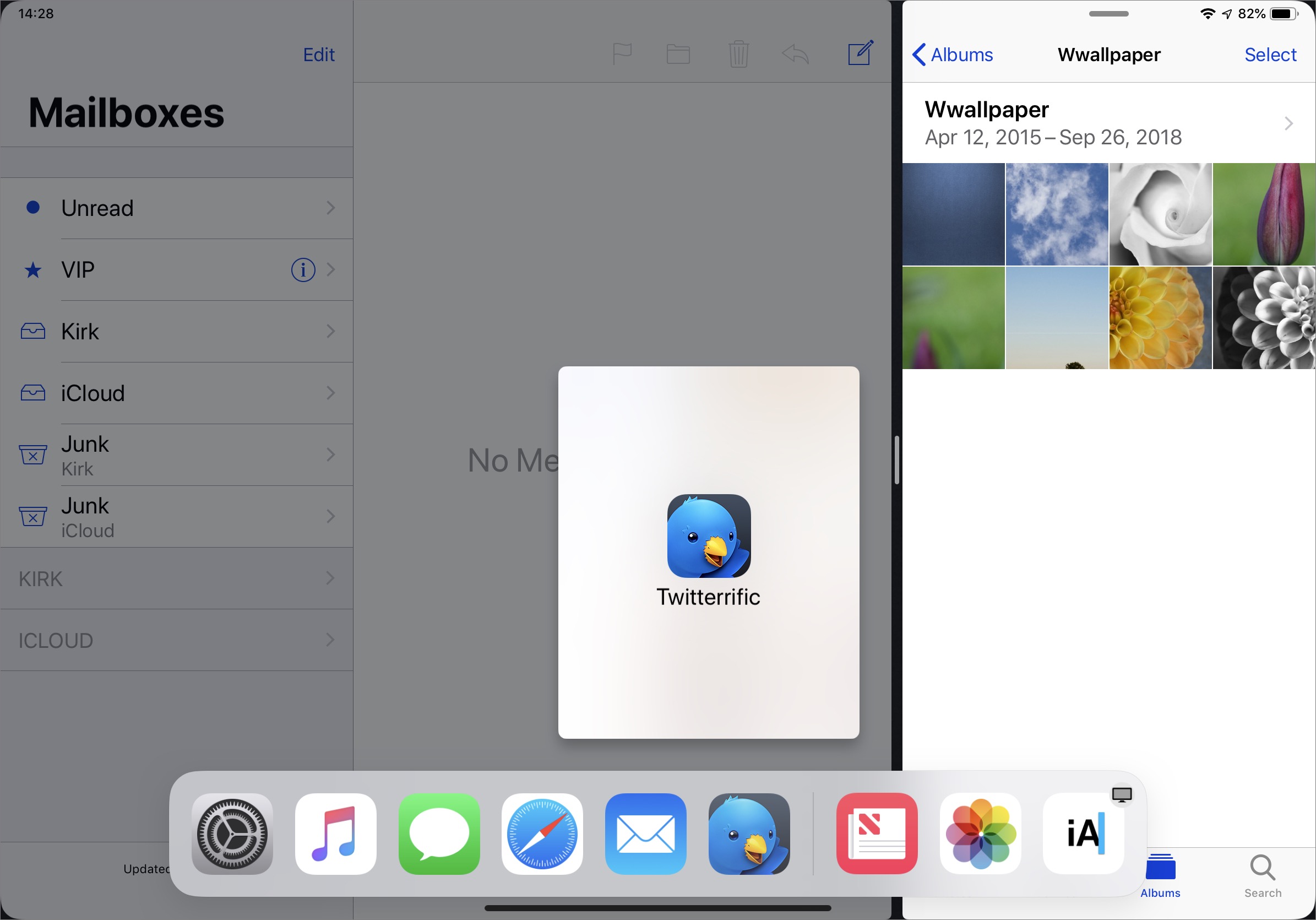 Some settings to be aware of
To use these features, you need to ensure that some settings are active. In Settings > Multitasking & Dock, you need to toggle on Allow Multiple Apps. And I recommend that you also activate Show Suggested and Recent Apps. This setting puts recently used apps at the right of the Dock. Without this, you'd only be able to open apps in Split Screen or Slide Over if they were permanently in your Dock.
Also, it's a good idea to go to General > Background App Refresh and turn on any apps that you plan to use in Split Screen or Slide Over. This is because of the way iOS works; apps suspend in normal use if you don't have them set to refresh in the background.
These features can enhance the way you work on your iPad, but they are a bit hard to get used to. Once you've realized what you can do with multiple apps on the iPad, you might find the device more adapted to your work, if working in just one app at a time is too limiting. Try them out and see if they change the way you use your iPad.
How can I learn more?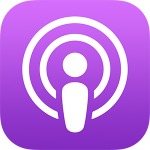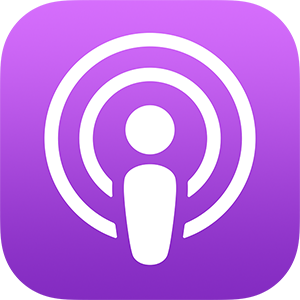 We'll have an in-depth discussion of iPad topics on this week's episode of the Intego Mac Podcast, so be sure to subscribe to make sure you don't miss the latest episode. You'll also want to subscribe to our e-mail newsletter and keep an eye here on The Mac Security Blog for updates.
You can also follow Intego on your favorite social and media channels: Facebook, Instagram, Twitter, and YouTube (click the ? to get notified about new videos).
Videos and header image credit: Apple.
About Kirk McElhearn
Kirk McElhearn writes about Apple products and more on his blog Kirkville. He is co-host of the Intego Mac Podcast, as well as several other podcasts, and is a regular contributor to The Mac Security Blog, TidBITS, and several other websites and publications. Kirk has written more than two dozen books, including Take Control books about Apple's media apps, Scrivener, and LaunchBar. Follow him on Twitter at @mcelhearn. View all posts by Kirk McElhearn →