How to Stop iCloud Calendar Spam
Posted on November 29th, 2016 by Kirk McElhearn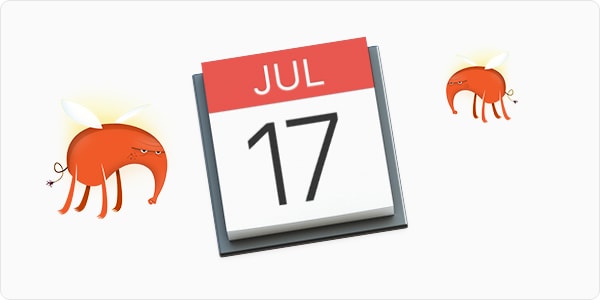 You thought you had enough spam already, right? You get spam in your email, in Messages, on Twitter and Facebook, and on any other social media app. But now, Mac and iOS users are getting hit with calendar spam. This type of iCloud spam sends you an invitation to an "event," which informs you of some product you can buy.
You may be familiar with calendar invitations. You can use invitations when telling friends about a party, or informing colleagues about a meeting. You create an event in your calendar, add a number of users' email addresses, and then click Invite. Through the magic of iCloud, these users get in invitation in their calendar, on their devices.
Spammers have discovered a way to hack the iCloud calendar invitation system. They've been sending invitations to tout sales, which probably aren't legitimate sales, but could be attempts to get people to give up their credit card numbers or personal information, or may lead them to sites where they'll download malware.
Here's one I got last week, just before Black Friday: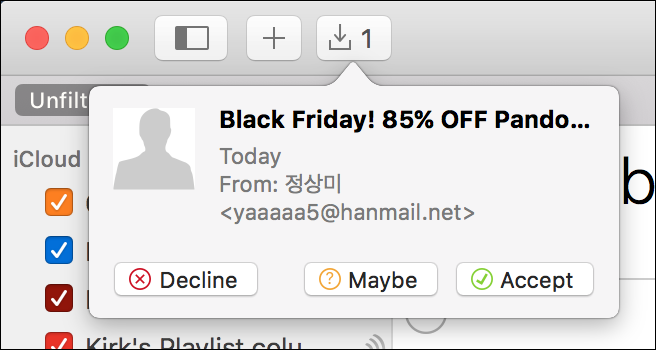 As you can see above, there are three options to respond to the spam: Decline, Maybe, and Accept. Clicking any of these can signal to the spammers that your email address is valid, which will naturally add you to a list that they can sell to other spammers. So beware, you'll end up getting a lot more spam if you respond to these invitations. I've only gotten a few spam invitations, but some people I know have gotten dozens, perhaps because they declined one of them, indicating that their addresses were valid.
So how can you deal with iCloud calendar spam? For now, since Apple hasn't yet figured out a way to block the spam, there are two ways to get rid of it.
1. Create a Spam Calendar
The first way to delete iCloud calendar spam invitations is to create a new calendar; call it Spam, for example, or give it any name you wish. The methods to set this up are different on a Mac compared to iOS devices, detailed as follows.
How to create a spam calendar on a Mac
On the Mac, click on the spam invitation, then press Command-I. In the info popup, click on the small Calendar menu—it displays a colored square—and choose the new calendar. Then go back to your calendar list and delete the Spam calendar. This also deletes any events and invitations associated with the calendar.
How to create a spam calendar in iOS
In iOS, tap the spam invitation, then tap Edit. Tap Calendar, then tap Spam (or whatever name you've chosen). Go back to the main view, then tap Calendars at the bottom of the screen. Tap the i button to the right of the name of the Spam calendar, then scroll down and tap Delete Calendar. As on the Mac, this deletes the calendar and its invitations.
If you're receiving a lot of invitation spam, you could keep this calendar and just choose to not display it. In this case, you can more easily funnel the spam to the calendar without having to delete it each time. But there's a better way…
2. Turn Off In-App Notifications
The above process to create a spam calendar takes a while, which can be annoying. There's a better way to get rid of this spam, though it will change the way you deal with invitations.
How to stop receiving invitations in Calendar
First, log into icloud.com in your Web browser. If you don't have a computer, go to iCloud.com in Safari on your iOS device. Tap and hold the reload button in the address bar, and then choose Request Desktop Site. You'll be able to follow the rest of these instructions, but the display won't be optimized for a smaller screen, such as an iPhone.
Click the Calendar icon, and then click the gear icon at the bottom left of the window. Choose Preferences > Advanced. In the Invitations section at the bottom of the window, check the radio button that says Email to [your email address].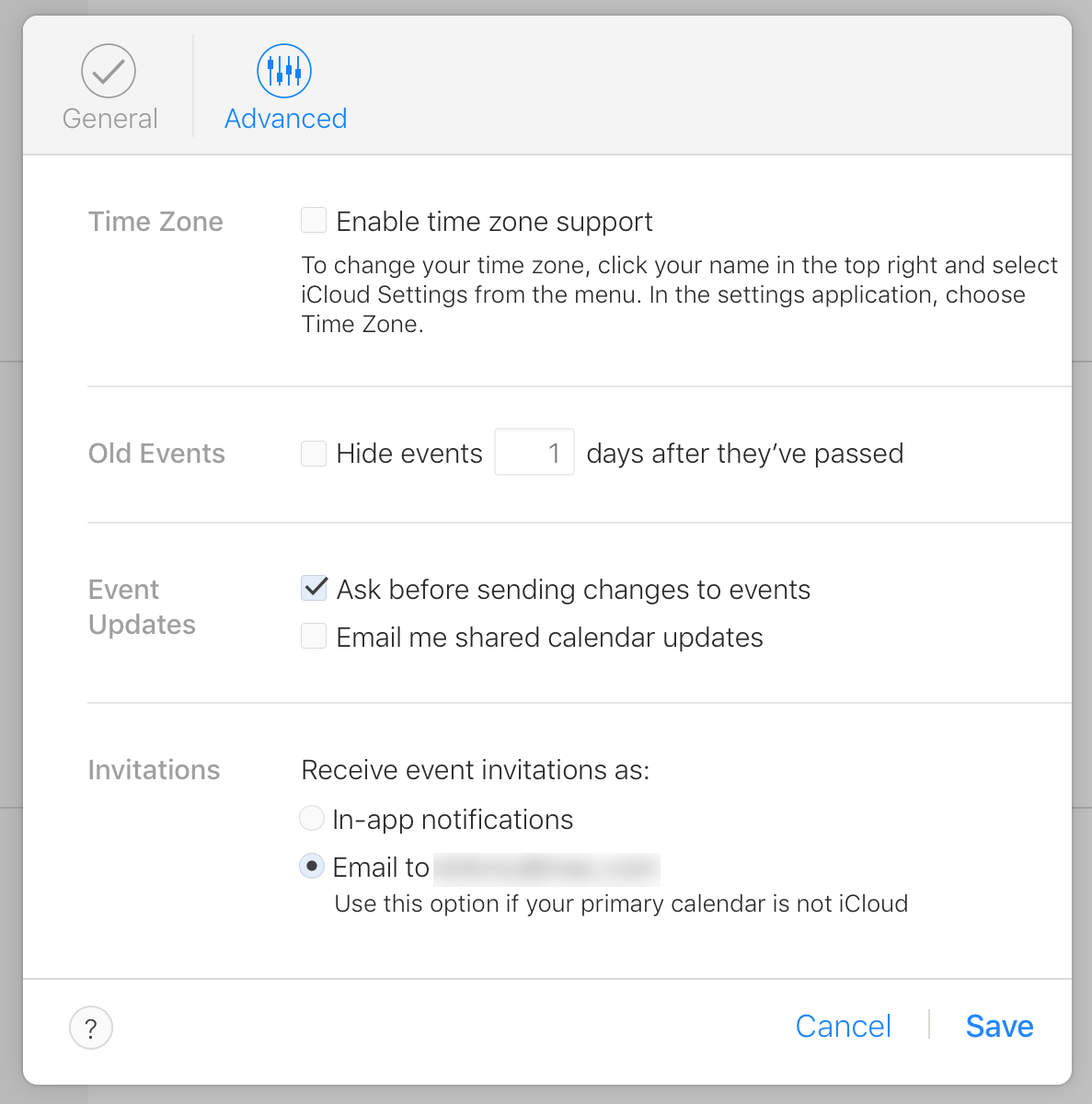 When you do this, you won't receive invitations any more in Calendar, or any other calendar app, if you don't use Apple's. Instead, you'll get emails, and they'll contain links to accept invitations. If you get a spam invitation—such as the one below—you can just delete it.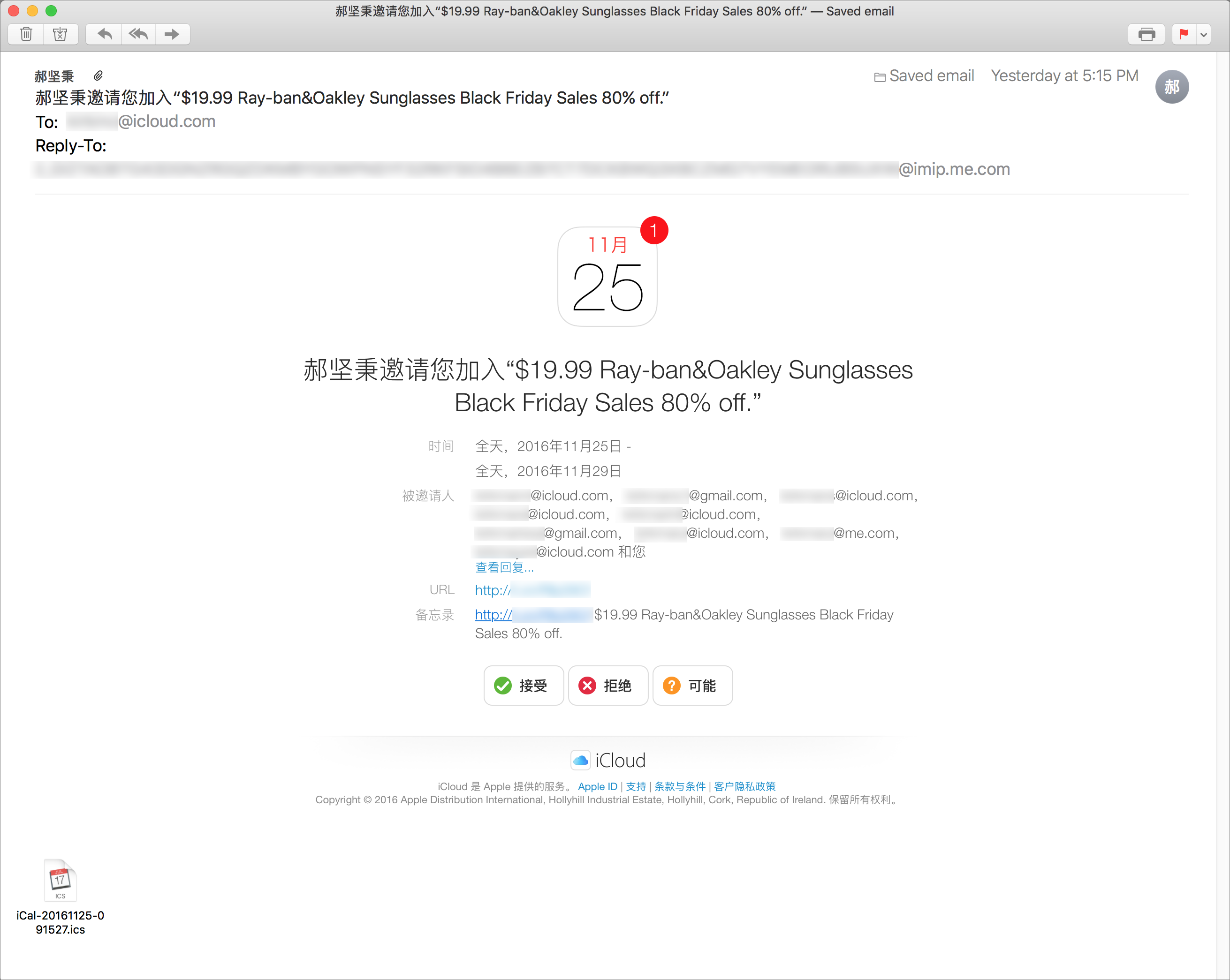 The above methods to get rid of calendar spam are only stopgap solutions. Apple needs a way of blocking this sort of spam, such as an Ignore button, or even a Report button, so Apple can act on spam more efficiently.
Fortunately, I know that Apple is working on this; in fact, after mentioning the problem to @AppleSupport on Twitter, I was contacted by a senior Apple support advisor to collect information about the spam that I got and send it to their engineers. So, you can look forward to a fix in the near future.
In the meantime, the above solutions will help you deal with this problem.
Have you received iCloud calendar spam recently? Which method to stop the spam do you prefer: creating a "spam calendar," or turning off in-app notifications when spammers send calendar invitations? Let us know in the comments below!
About Kirk McElhearn
Kirk McElhearn writes about Macs, iPods, iTunes, books, music and more on his blog Kirkville. He is co-host of the Intego Mac Podcast and PhotoActive, and a regular contributor to The Mac Security Blog, TidBITS, and several other websites and publications. Kirk has written more than twenty books, including Take Control books about iTunes, LaunchBar, and Scrivener. Follow him on Twitter at @mcelhearn. View all posts by Kirk McElhearn →