How to remove GPS location data from photos on iPhone or Mac
Posted on by Kirk McElhearn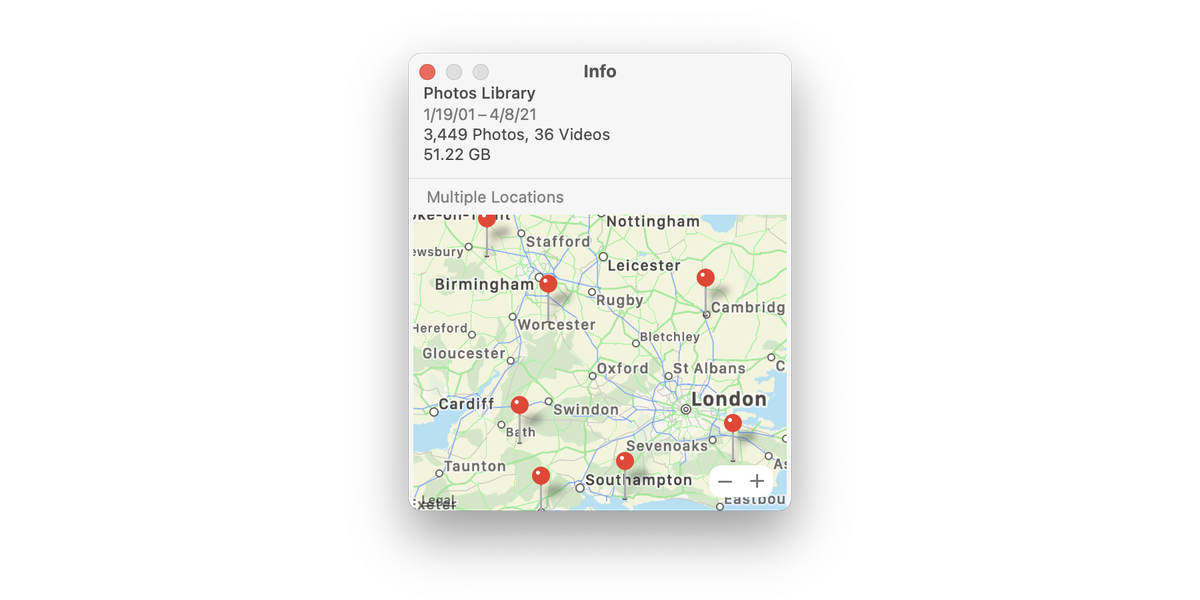 It's great to have location data stored in your photos. This allows you to sort through your photo library and find all your photos from your last vacation, or from favorite sites you like to visit. For some photos, like that one of the Eiffel Tower, it's obvious where you've taken them. But you may not want people to be able to figure out where all your photos were taken. For example, you probably don't want location data in photos you've taken in your back yard showing up on social media, allowing people to find exactly where you live.
It's easy to remove location data when sharing photos from your iPhone, iPad, or Mac. Here's how.
What is location data?
Your iPhone can use its internal GPS system to note the locations of where you shoot your photos. It stores precise location data, such as Latitude: 51° 25' 38.532" N and Longitude: 1° 51' 18.39" W. Enter these coordinates in Google Maps and it will pinpoint the location of a photo. This is useful in Apple's Photos app to let you browse places, and you can view a given photo in Photos and see exactly where it was taken on a map.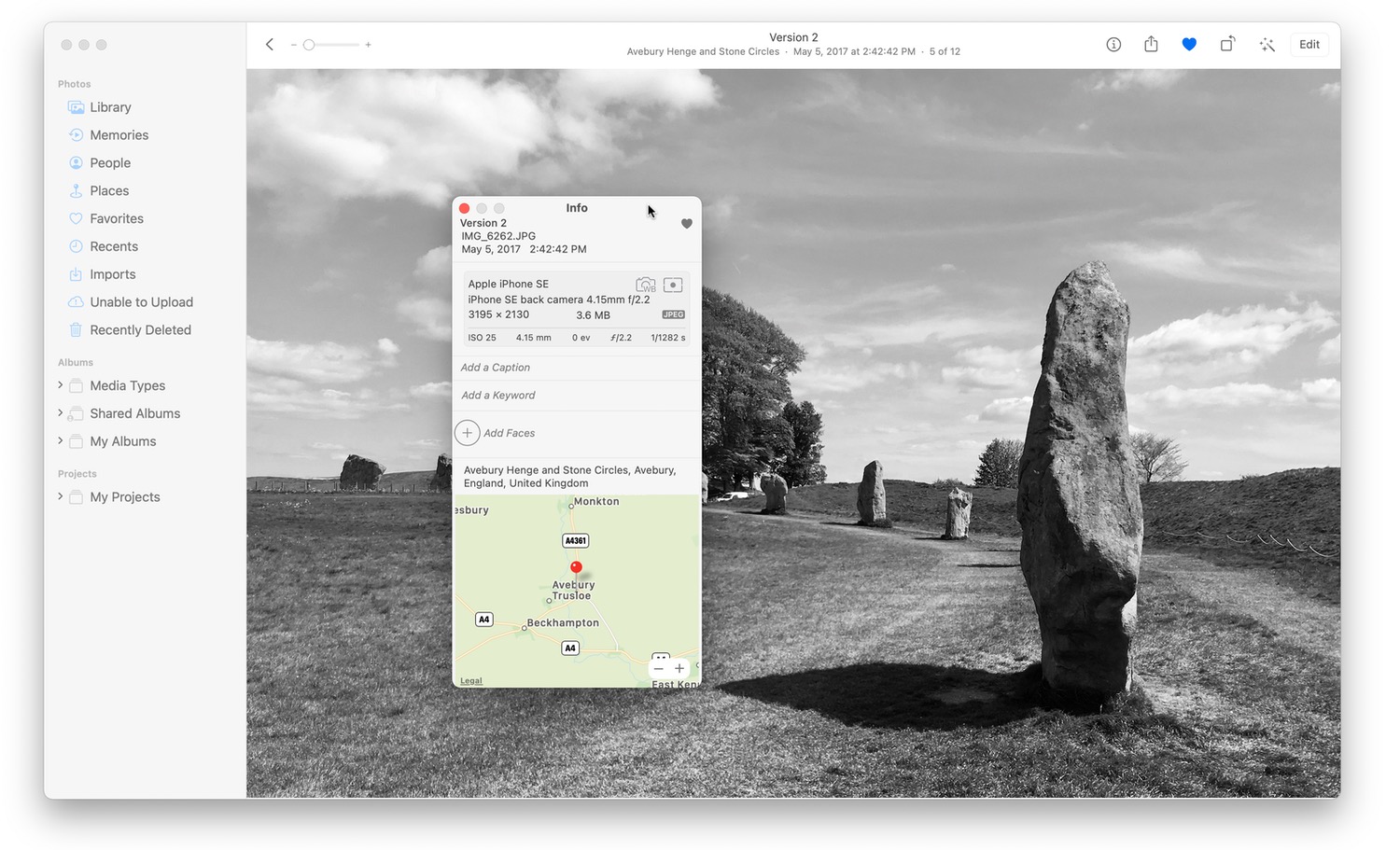 This location data is very precise; here's how the coordinates above display in HoudahGeo, an app photographers can use to add such data to their photos.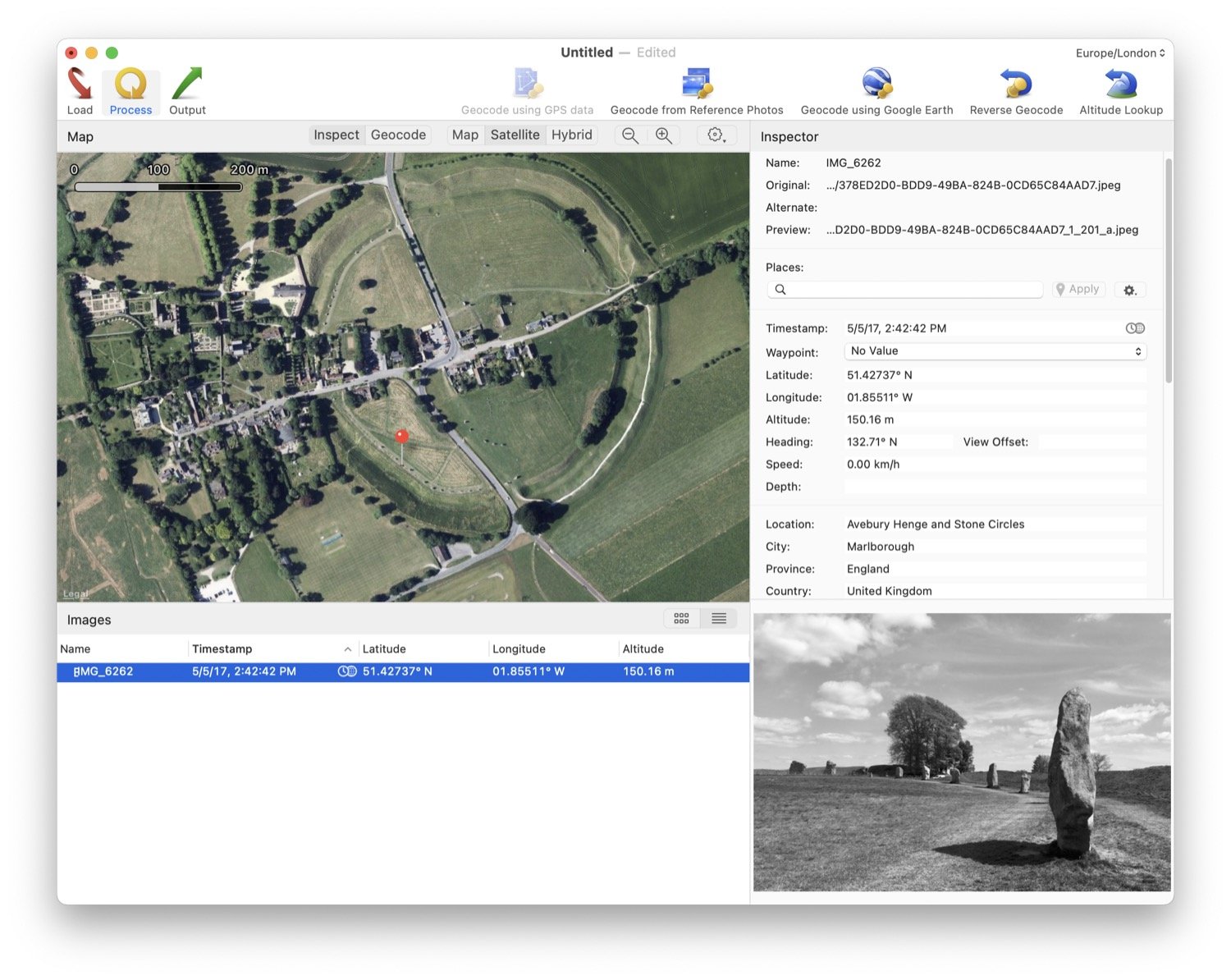 Some non-smartphone cameras include GPS, and many photographers will use a geotagging app to record coordinates and add them to their photos, if their camera does not have this capability.
But if you take pictures at home, and share them on social media without removing this location data, anyone who downloads the photo can find this information embedded in the photos' EXIF data. This data includes the make and model of your camera or phone, the date and time when you shot the photo, as well as technical information, such as the shutter speed, ISO, and aperture used.
You may not want others to be able to pinpoint your, or your children's, or your place of work's precise location, so it's a good idea to remove this data when sharing photos.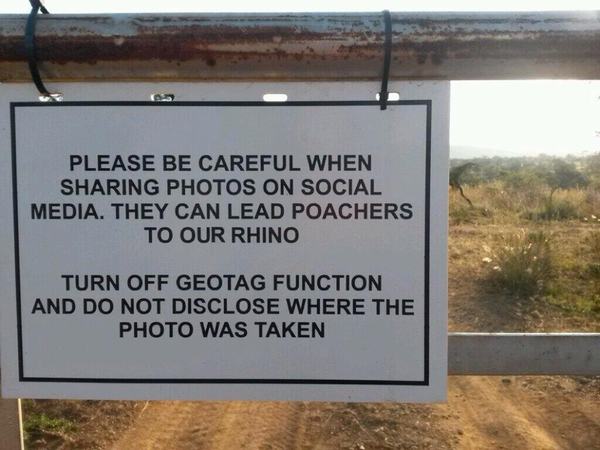 Sharing photos
You can share photos in a number of ways. You can send them directly from the Photos app, or from other apps that manage photos, and you can add them to Twitter, Instagram, or Facebook, from within different apps or browsers. Most of these apps strip location data from your photos, but you can never be truly sure.
However, if you email photos or share them from your Photos library—or if you want to be completely sure before you post photos in any public place—there are steps you need to take to remove the location data from photos.
Sharing photos on iOS
If you share a photo from the Photos app on iOS, location data is included by default. You may want this to be the case, especially if you're adding a photo to a shared library. But in some cases, you want to remove this location data.
Select one or more photos, then tap the share button (that's the little square with the arrow pointing up). At the top of the screen, tap Options.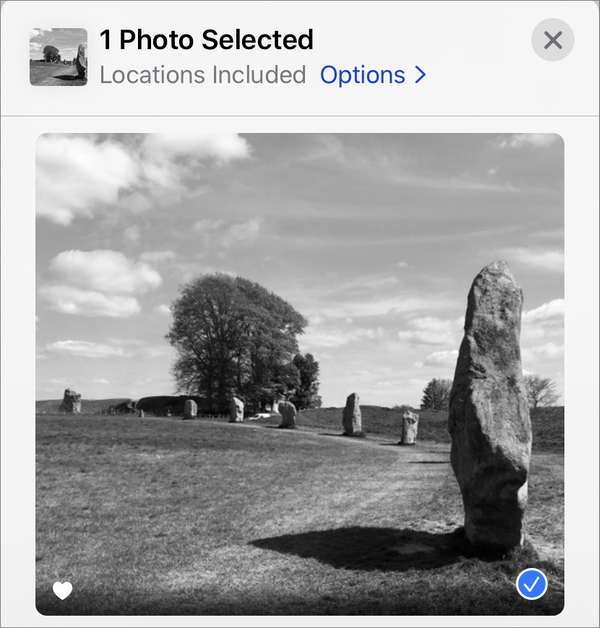 On the next screen, you'll see a number of options, including Location; toggle this off.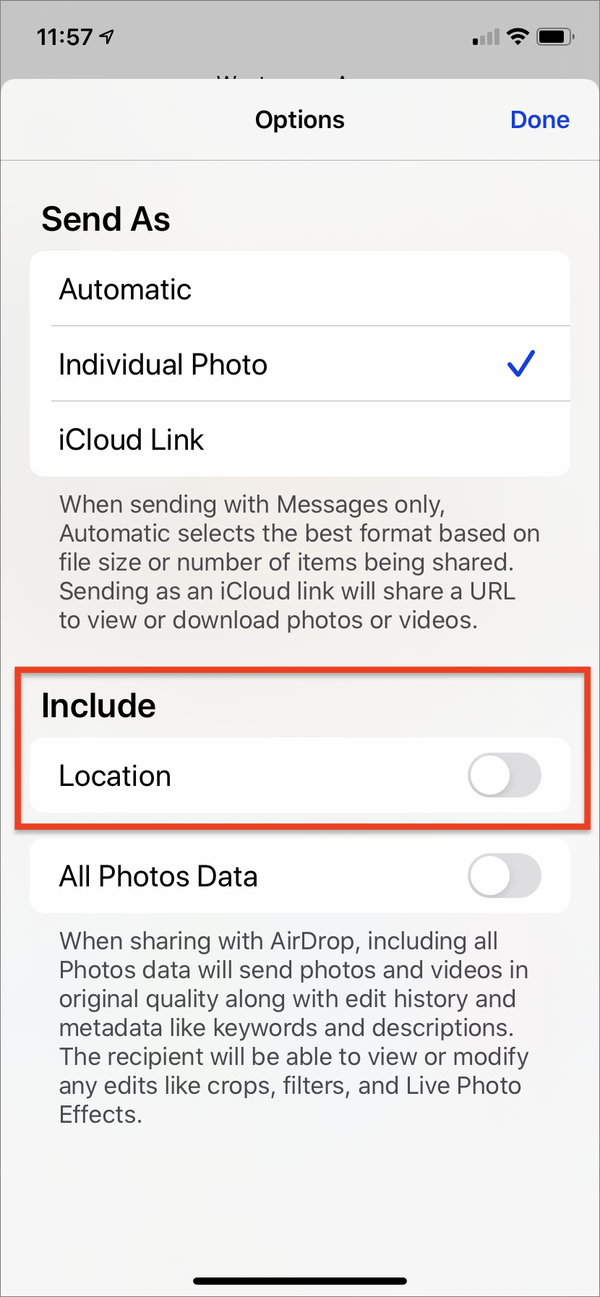 You'll need to do this each time you share a photo; your iOS device does not remember this setting, nor is there a global setting to turn it off.
Sharing photos on Mac
On Mac, it's a bit easier to share photos without location data, and you can enable a setting to turn this off. In Photos' General preferences, uncheck Include location information for published items.
If you want to leave this enabled, and remove location data on an ad hoc basis, then when you export a photo (File > Export), you can uncheck Location Information in the export sheet.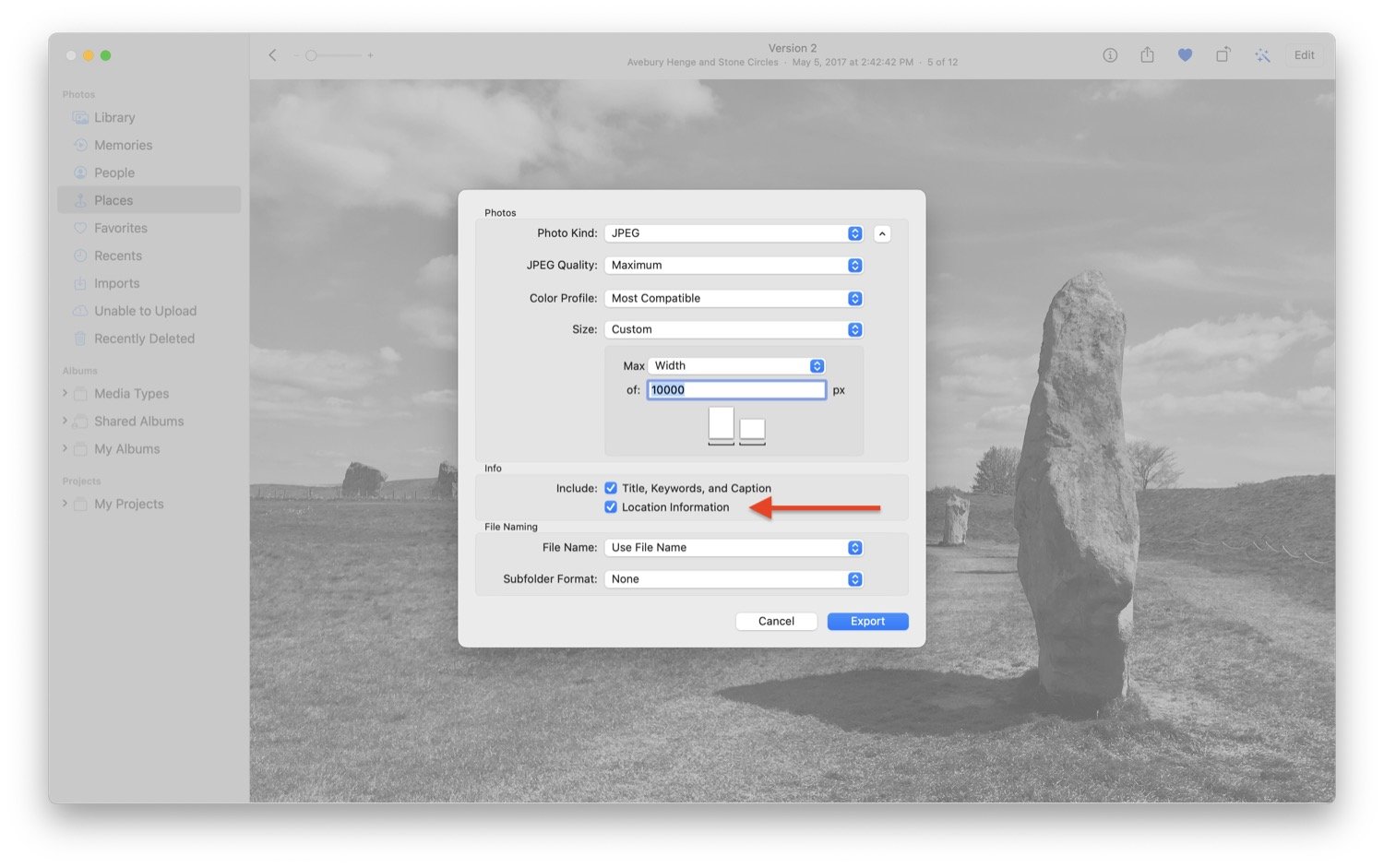 Note that if you have the general preference set to not include location information, dragging a photo from your Photos library to the Finder saves the photo without location data.
Removing location data from other photos
If you have photos that aren't in your Photos library and want to delete their location data, you can do so easily in Preview (located in your Applications folder). Open a photo in Preview and press Command-I to bring up the Inspector window, and click on the tab labeled with a lowercase i with a circle around it (the "More Info" tab). Within the More Info tab, click the GPS tab, then click Remove Location Info. (Note that if you don't see a GPS tab, this generally means that geotag coordinates are not recorded in the photo's EXIF data.)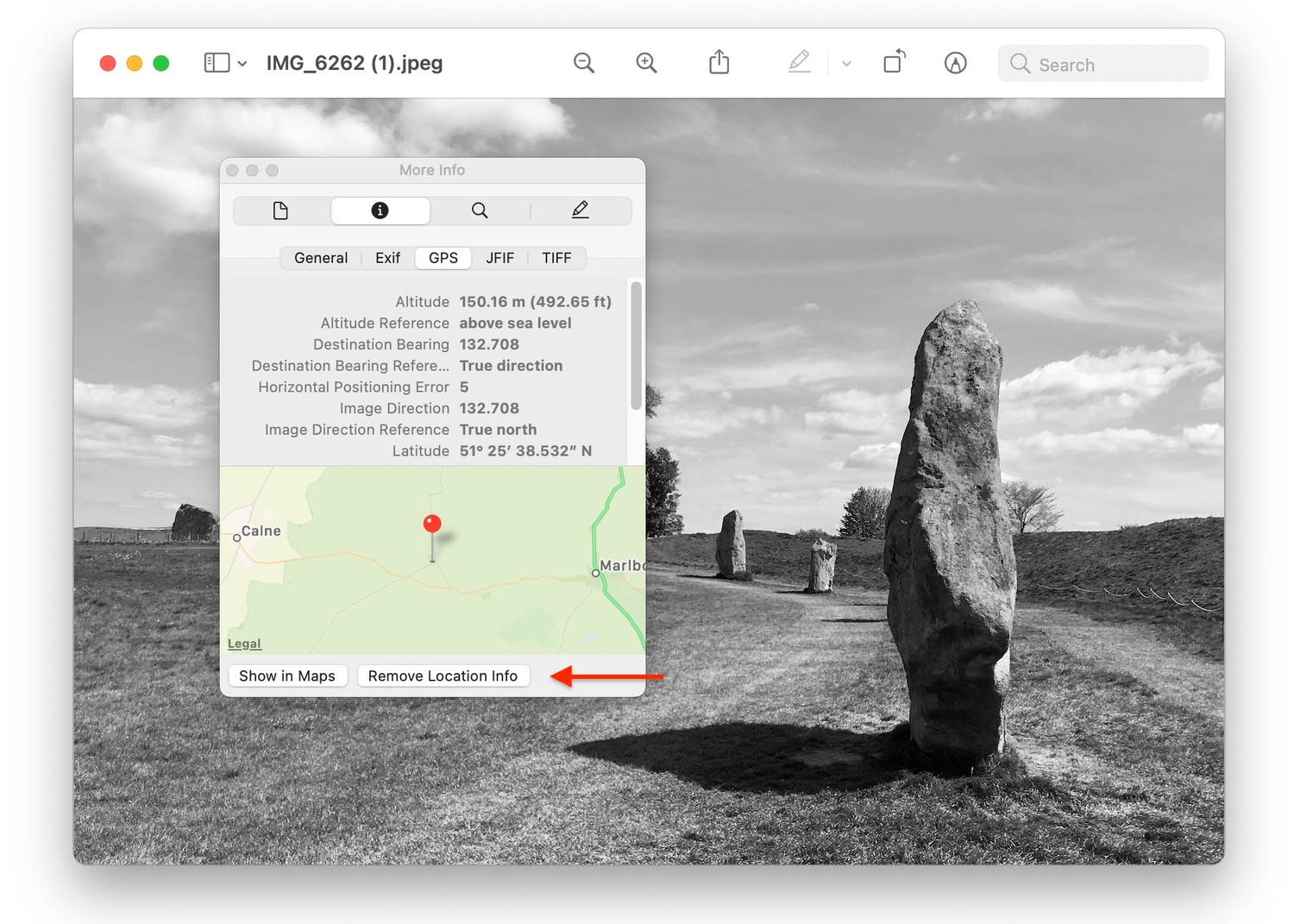 If you want to remove location data from a number of photos, you can do so using the free ImageOptim, an app designed to shrink photos by removing some of their metadata. In this app's preferences, check Strip JPG Metadata, then drag the photos to the app's window. Unfortunately, when you do this you lose all the other EXIF data, such as the date and time of the photo, which camera was used, etc.
And if you want to permanently turn off the recording of location data on your iPhone or iPad, go to Settings > Privacy > Location Services, find Camera, then choose Never.
One way to keep location data in your photos, but not have it pinpoint accurate is to toggle off the Precise Location setting on this screen; this feature is available from iOS 14. If you do this, a location will be stored in your photos, but it won't be as precise as GPS data.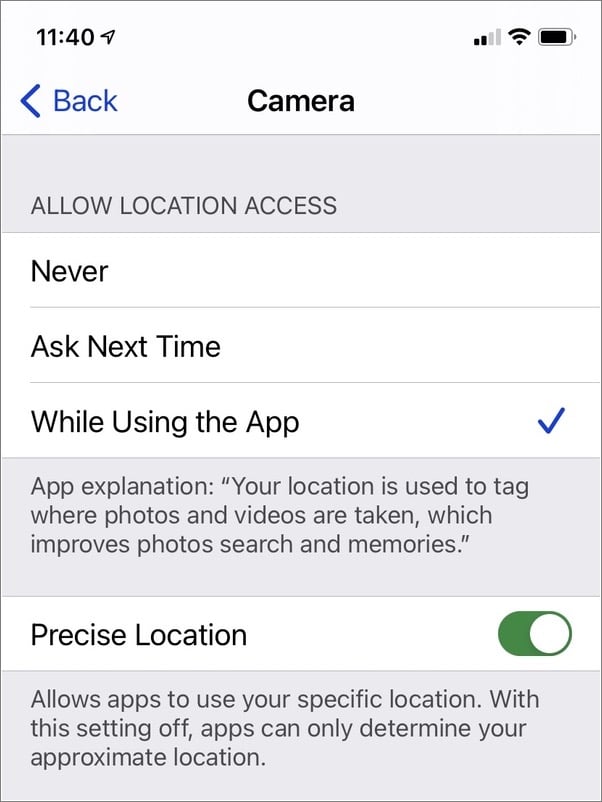 Storing location data in photos is great, but remember that when you share photos, that location data may be present. It's a good idea to think about this so you can share photos safely, and so no one can find your location in shared photos.
How can I learn more?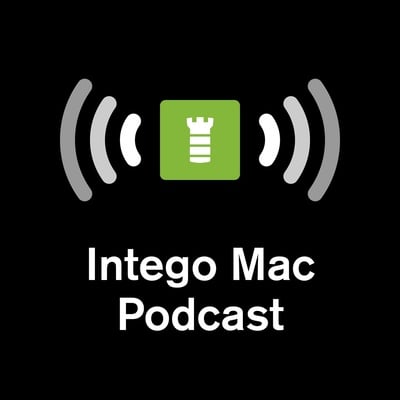 Each week on the Intego Mac Podcast, Intego's Mac security experts discuss the latest Apple news, security and privacy stories, and offer practical advice on getting the most out of your Apple devices. Be sure to follow the podcast to make sure you don't miss any episodes.
You can also subscribe to our e-mail newsletter and keep an eye here on Mac Security Blog for the latest Apple security and privacy news. And don't forget to follow Intego on your favorite social media channels: Facebook, Instagram, Twitter, and YouTube.
About Kirk McElhearn
Kirk McElhearn writes about Apple products and more on his blog Kirkville. He is co-host of the Intego Mac Podcast, as well as several other podcasts, and is a regular contributor to The Mac Security Blog, TidBITS, and several other websites and publications. Kirk has written more than two dozen books, including Take Control books about Apple's media apps, Scrivener, and LaunchBar. Follow him on Twitter at @mcelhearn. View all posts by Kirk McElhearn →