How to Prepare Your iPhone and iPad for iOS 9
Posted on September 4th, 2015 by Kirk McElhearn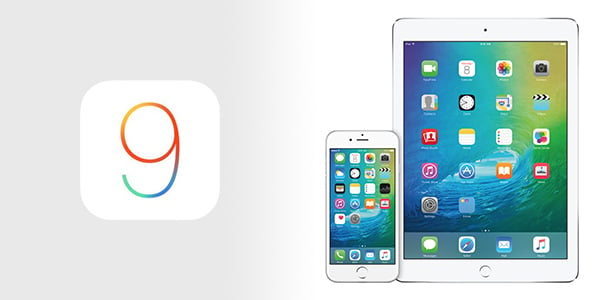 With the release of iOS 9 just around the corner, it's time to start planning to update your iPhone or iPad. There are a number of things you should do to make sure the update goes smoothly. Planning ahead can ensure that you don't run into too many problems. Here's how to smoothly upgrade your iOS device.
Make sure it's compatible with iOS 9
The first thing you should do is check to see if your device is compatible with iOS 9. Scroll down to the bottom of this Apple web page to see all compatible devices. In short, if your device could run iOS 8, then it is compatible with iOS 9. The only new device since the release of iOS 8 is the new iPod touch 6th generation.
Even if your device is compatible with iOS 9, think about whether you should update it. An iPhone 6 or 5s will run iOS 9 well, but an iPhone 4s — which is compatible with the new operating system — might be sluggish. The same is true for the first iPad mini, the iPad 2, or the iPad touch 5th generation. You might not benefit from iOS 9; it might actually run slower than iOS 8.
Of course, you can't know until you try. So if you have any doubts, wait a while and see what people on the Internet say about specific devices running iOS 9.
Back up before updating
You should back up your iOS device regularly, but you should especially back it up just before you update to a new version of iOS. I discussed backing up iOS devices in this article, explaining the difference between backing up your device to iCloud or iTunes. Unless you have a very fast Internet connection, I strongly recommend backing up to iTunes if you are about to update iOS. If anything goes wrong, it is much quicker to restore your backup from iTunes than it is to do so from iCloud. I am a strong believer in the belt-and-suspenders philosophy of backing up to both iCloud and iTunes, alternating between the two. This way, no matter what happens, you won't lose any of your data.
Free up space
When Apple released iOS 8, you needed about 5 GB of free space on your device to install it. Because of this, many users put off updating to iOS 8. If you have a 16 GB iPhone, it really only has about 13 GB of space, and once you have added some apps, taken some photos, and downloaded some music, it may be hard to find 5 GB for the update. Apple fixed this issue with iOS 8.1.3, saying that this update "Reduces the amount of storage required to perform a software update." Nevertheless, you may need to delete some files if your iOS device is almost full.
Note: There is one advantage to using iTunes to update an iOS device: You don't need to free up as much space. So if you are hesitant about deleting things from your device, use iTunes to update it instead.
Start by deleting apps you never use. Come on, there are lots of them. Swipe through your many home screens and tap all your folders and find the apps that you haven't used in a long time. To delete apps, tap and hold one of them until all your icons wiggle. Tap the small X at the corner of an icon to delete it. When you're finished, press the home button to stop the icons from wiggling. (Don't forget that you can't delete Apple's default apps.)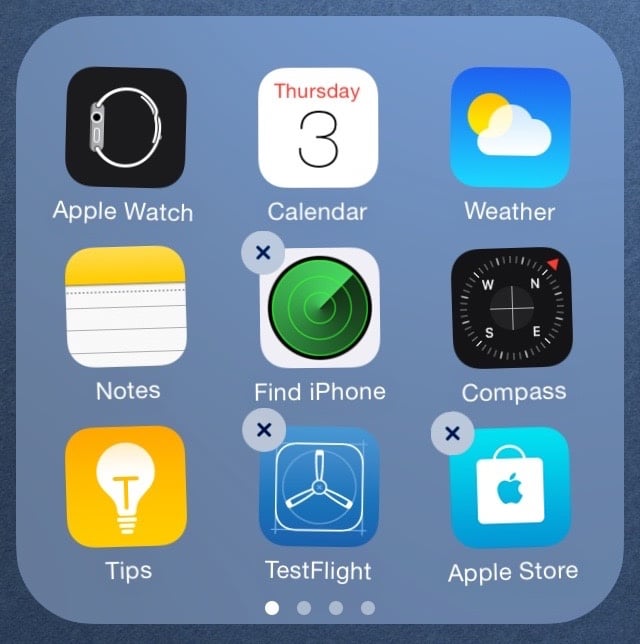 If you still need space, look for the largest files you have that are easy to add back to your device. In many cases, these will be videos. Check Apple's Videos app to see if there are any movies or TV shows that you have watched and can delete.
Next, you can delete some of your music if you need more space. In Apple's Music app, view your music by artist or album. Tap the "…" button to the right of an item, and choose Delete to remove it from your device. If you're using Apple Music, tap Remove Download.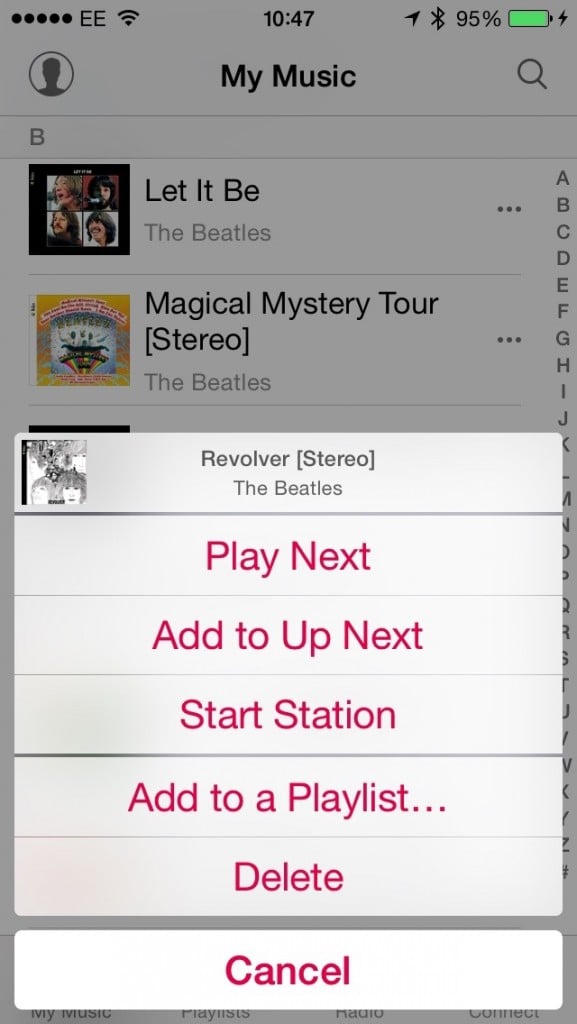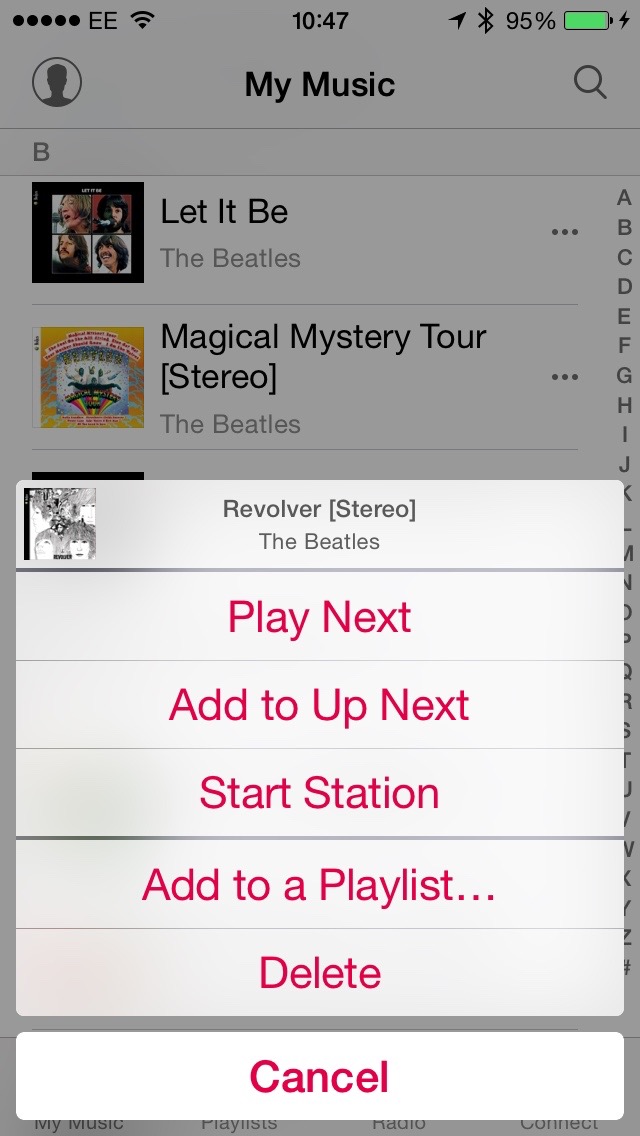 If you use Apple Music, you may have downloaded a lot of music, and it could take up much of your free space. If you want a quick way to clear up space, go to the Settings app, and tap General > Usage > Manage Storage. Tap Music, and then swipe All Songs to the left and tap Delete. Or, on the same screen, you'll see a list of artists and the amount of space they take up. Pick the ones you listen to least, swipe to the left, and then tap Delete. You can always re-download this music from Apple Music.
Update apps
Can you see the App Store icon? Does it have a little red badge on a corner with a number in it? If so, that means there are apps on your iOS device that need to be updated. It's not absolutely essential to do this now, but it's a good idea to update all your apps before updating to a new version of iOS. This ensures that most of your apps will work correctly with the new operating system. It's possible that not every developer has updated their apps, but most of the apps you use regularly should have been updated.

Take a break
When Apple releases a new version of iOS, millions of people around the world try to download it immediately; because of this, early adopters may have to wait a long time for the download to complete. Unless you absolutely must have iOS 9 right away, you might want to wait until the next day to update your device. Downloads can take hours instead of minutes when there is a heavy demand.
Update to iOS 9
Okay, if you have done all of the above and are ready to update your device, go to Settings > General > Software Update. If the update is available, you will see it there. Tap Download and Install to begin the process.
You may prefer updating your device through iTunes. In that case, connect your device to your computer, open iTunes, and select the device. On the Summary tab, click Check for Update. If the update is available, iTunes will download it and install it.
About Kirk McElhearn
Kirk McElhearn writes about Apple products and more on his blog Kirkville. He is co-host of the Intego Mac Podcast, as well as several other podcasts, and is a regular contributor to The Mac Security Blog, TidBITS, and several other websites and publications. Kirk has written more than two dozen books, including Take Control books about Apple's media apps, Scrivener, and LaunchBar. Follow him on Twitter at @mcelhearn. View all posts by Kirk McElhearn →