How to Easily Remove Old Tweets and Facebook Posts
Posted on May 16th, 2018 by Kirk McElhearn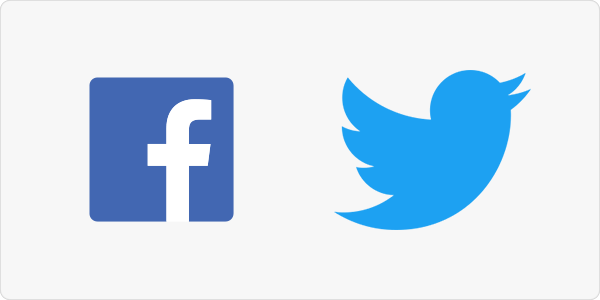 Your social media accounts are a reflection of your life—at least the part of your digital life that you share with your friends, family members, and perhaps strangers. People post all sorts of things on social media: photos of selfies and vacation pics, links to articles you find interesting, comments about your favorite sports teams, random thoughts about movies, music, politics, and more.
While fun to banter on social media, if you were to take a look back at comments you've posted on Facebook and Twitter over the years, you may cringe. There may come a time in your life when you want to clean up what you've shared on social media; not that what you've posted is necessarily wrong, but this unfiltered content, often composed in the spur of the moment, may not be flattering when taken out of context years later.
In this article, I'll show you how to use free tools to easily delete old tweets and clean out your Facebook content.
How to Delete Old Tweets
Personally, I use Twitter a lot. I use it to keep up on the news, share articles that I've written or found interesting, and converse with friends and colleagues. Twitter is like a water cooler for me, and some of my tweets may reflect that informal feeling.
Yet I recently realized that my Twitter account had too much stuff: it contained more than 60,000 tweets, dating back many years. And to me, tweets are ephemeral, not meant to live in an archive. I'm not embarrassed by anything I've said, but it just seems like this is too much data to keep public for advertisers to scrape. So I decided to erase them.
There are a number of so-called free tools that can help you delete old tweets, but the best one I found is Cardigan, a web-based app. Most such tools have a limitation that is part of Twitter's API: they can only delete the 3,200 most recent tweets. Cardigan differs in that it lets you upload an archive of your tweets, and it can delete them all.
To delete old tweets, start by going to Twitter and download an archive of your tweets. To obtain your archived tweets, follow these steps:
Click your avatar near the top right of the window, and then click Settings and Privacy.
Click Your Twitter Data, enter your password, and then scroll down to the Download your Twitter data section.
Click Request Data; Twitter will send you an email when the archive is ready, together with a download link.

Next, go to the Cardigan website (www.gocardigan.com), click Sign In with Twitter to authorize Cardigan to access your tweets, and then click Get Started. Click Import Timeline Archive, and select the .zip file that you downloaded from Twitter.
If you have a lot of tweets, Cardigan will take several minutes to upload and confirm all the data.
Cardigan will display a list of your tweets, and you can see that, at the top of the window, you have several options. You can select All Tweets, Only Retweets, or Only Replies from a menu at the top left. There are two date fields, which you can use to limit which tweets you want to delete. For example, if you want to delete, say, all your tweets before the January of this year, click the second field and choose that date. Your timeline will update to reflect this filter. You can also filter by keywords—say your favorite sports team, or a specific hashtag—by entering that text in the Search box.
You can select individual tweets by clicking them, and then click Delete Selected to delete just those tweets, or Delete All to delete all the tweets that display according to your filters. Be aware that there is no undo, so make sure you really want to delete them.
It takes a while for Cardigan to delete old tweets, because it simulates the process of deleting them individually. If you want to delete several years of Twitter activity, you may want to run this overnight. I've done it in steps, filtering a year at a time, to make it easier.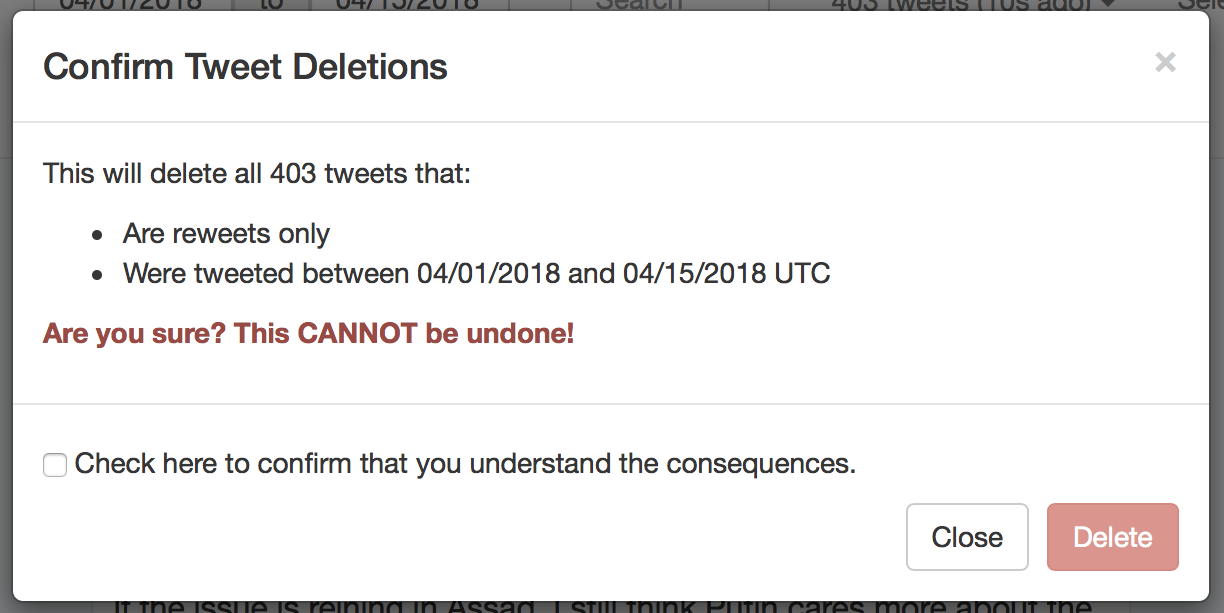 After you've cleansed your Twitter account, you may want to come back from time to time to delete more recent tweets. You may only want to keep the last six months, or three months, or one month of your activity. Just go back to the site, update its list—if you have fewer than 3,200 tweets, you won't need to upload an archive again; Cardigan can fetch your tweets—and delete.
How to Delete Old Facebook Comments and Posts
With Twitter, you have a single timeline, and three types of content: tweets, retweets, and replies. It's relatively easy to delete one type of content, as you saw above. With Facebook, however, deleting old comments or posts you've made is very different. When you view your Activity Log (click the down-pointing arrow at the top right of the window, and then choose Activity Log), you'll see there's a very complex categorization for the content you've posted on Facebook.
If you look in the left-hand sidebar, you'll see Posts, Posts You're Tagged in, Other Posts to Your Timeline, and Hidden from Timeline. A bit lower, you will see Photos and Videos, Likes and Reactions, Comments, and then a More link; click the More link to see 19 other categories. Below that you will see Apps; click more to see the names of apps you have used on Facebook. To the right of the timeline, you'll see a list of years; from 2018 back to the year you joined Facebook. Click a year to see the content from that period.
You could go through these categories and manually delete items you don't want to keep, or you could use a free Chrome plugin (there's no Safari version), called Social Book Post Manager. This tool lets you choose what you want to delete, from which year and month, and simulates the process of deleting an item. In other words, it performs the delete operation for you, by simulating clicks. This isn't a click-once-to-wipe-all operation, and can take some time, but it allows you to delete as much of your Facebook content as you want.
Want to delete old Facebook posts? After you've installed the Social Book Posts Manager plugin, go to Posts, and then click its button at the top right of the Chrome toolbar. Choose a year and a month—or choose Select All in either of the menus; you can select all years, or all the months of a selected year—then click Delete. The plugin will scan your Activity Log, select items, then ask you to click the Confirm button to delete them.
By default, the plugin operates at 4X speed; this is about four times as fast as you could click yourself. You'll see the list of items in the selected categories slowly delete. This can take a long time, and the plugin misses some of them, due to the way it works. What I found useful was to run it first at 8X, then run it again at 4X, or even 2X, to clear out the items that didn't get deleted at the first pass.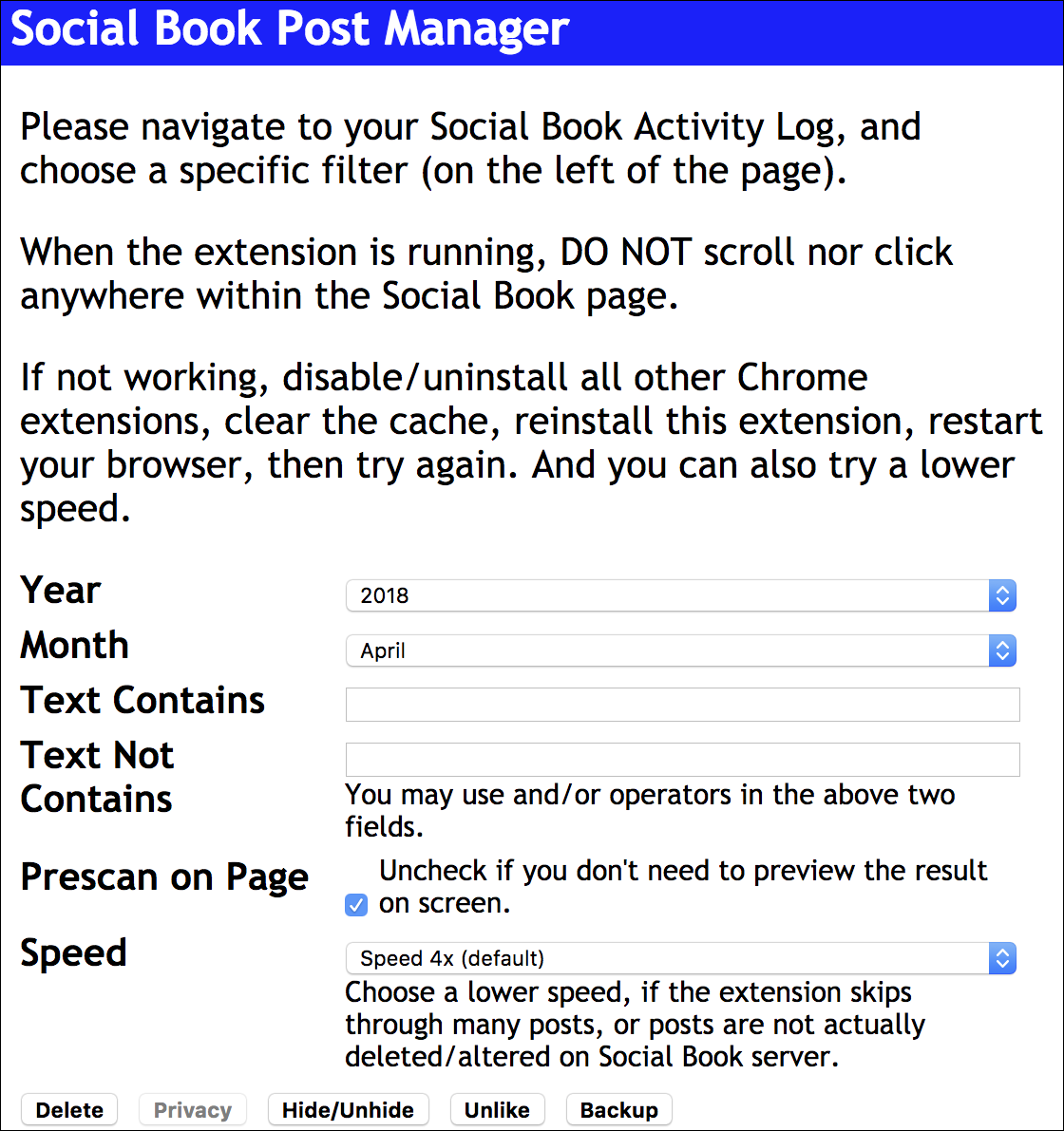 You can also use its search fields to only delete items that contain certain terms, such as the name of a person, a sports team, or a company. And if you don't want to delete your content, you can click the Hide button to hide items.
Depending on how much content you want to scrub from Facebook, you may need to individually choose each of the categories I mentioned above and run the plugin. Deleting most of my Facebook content took several hours, and required multiple passes of the plugin for most categories, but that's simply because it doesn't have access to an API that would allow it to mass delete items.
A Fresh Start
Your Facebook content is, for the most part, only visible to friends, but your Twitter account is public unless you've taken steps to protect your tweets. (You can change the visibility settings for both of these social networks, but even so, all of your content is used to create an advertising profile about you.)
Going through the process to remove old tweets and Facebook posts, you may realize how much data Twitter and Facebook have about you. This isn't data they've collected surreptitiously; this is data you have given them, voluntarily. It's also not guaranteed that deleting old tweets and Facebook content will also remove the advertising profile data that these services have gathered about you, but deleting this content will at least mean that it's not public any more (or accessible to selected friends and contacts).
Have something to say about this story? Share your comments below!
About Kirk McElhearn
Kirk McElhearn writes about Apple products and more on his blog Kirkville. He is co-host of the Intego Mac Podcast, as well as several other podcasts, and is a regular contributor to The Mac Security Blog, TidBITS, and several other websites and publications. Kirk has written more than two dozen books, including Take Control books about Apple's media apps, Scrivener, and LaunchBar. Follow him on Twitter at @mcelhearn. View all posts by Kirk McElhearn →