Hands On with Apple's AirTags: Find Lost Keys, Bags, and More
Posted on by Kirk McElhearn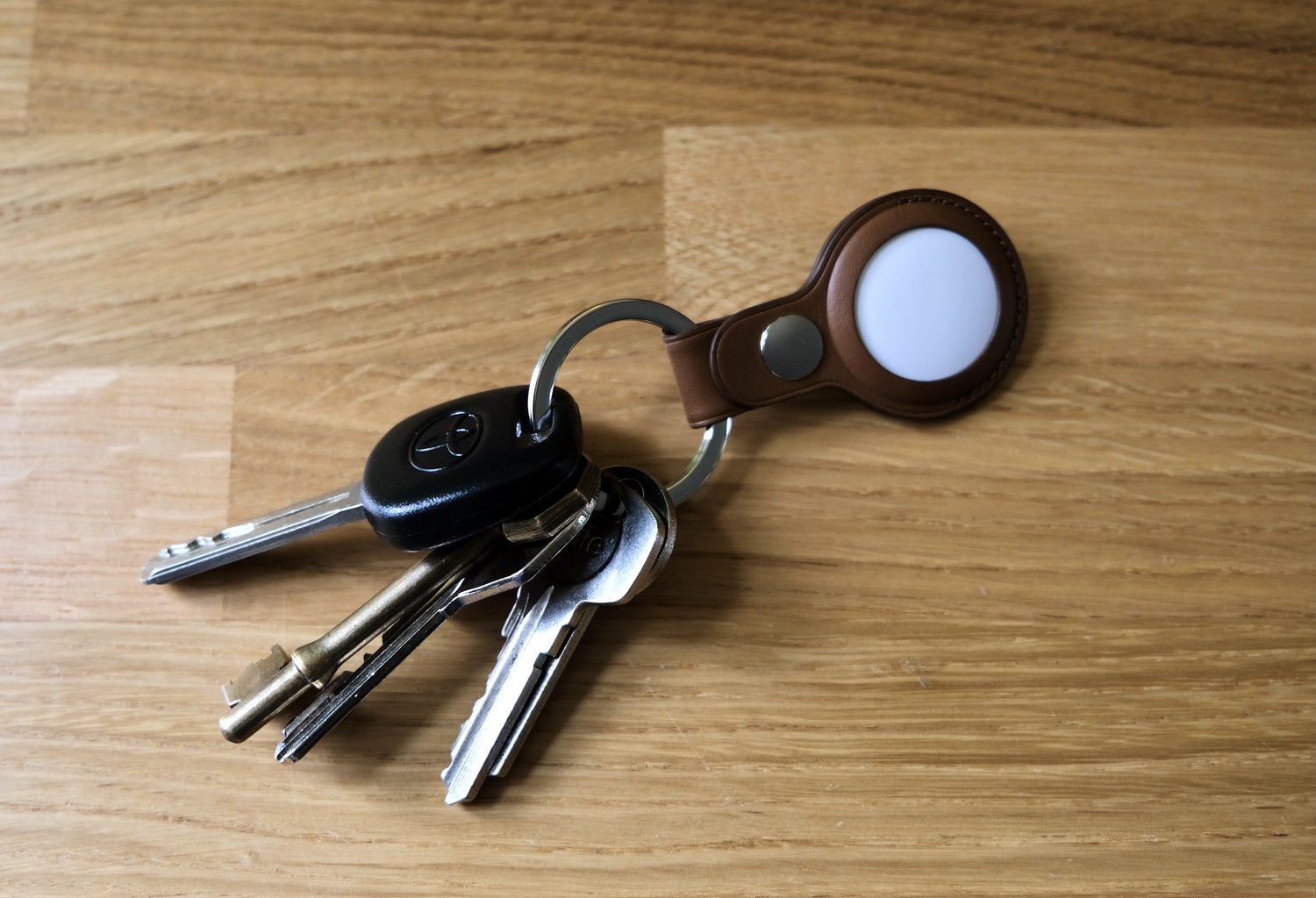 Apple's new AirTags are now available, and these small devices are great for those who misplace their keys, want to track their bags, and want to keep tabs on other items. They're easy to set up, and easy to use. Here's how to work with AirTags.
Tagging things
We came up with a list of 23 items you might want to track with AirTags, but there are certainly plenty of other things you might want to track. Most obvious are keys and bags, but the list is endless.
To tag something with an AirTag, you'll need an accessory, and Apple sells a number of them, as do third-party companies. Otherwise, you can slip an AirTag into a pocket or pouch, but there a risk of it falling out. (Though if it does, you should be able to find it.)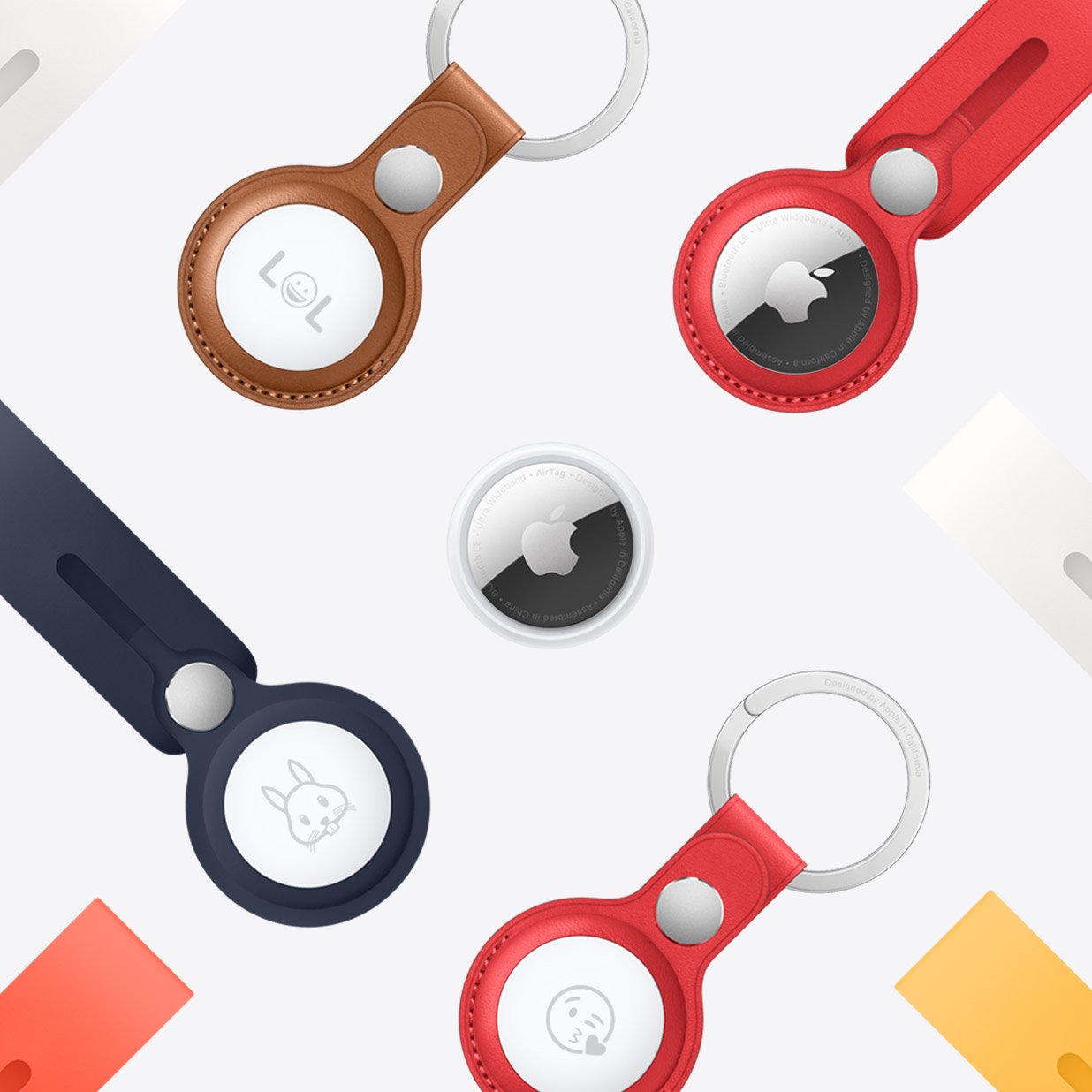 Notably missing in Apple's accessory line is something sticky: you might want to stick an AirTag under your bike seat, or on something where you don't want to use standard accessories. There are third-party sticky accessories, but never underestimate the power of duct tape.
Setting up AirTags
Setting up AirTags is incredibly simple. You'll need an iPhone, iPad, or iPod touch running iOS or iPadOS 14.5 or later. You'll need to make sure Find My is turned on (in Settings > Apple ID), and that Bluetooth is enabled (Settings > Bluetooth).
Take the AirTag out of its packaging, remove the plastic wrapping, and pull out the tab to activate the battery. The AirTag will play a sound. Hold your device near the AirTag, and you'll see this: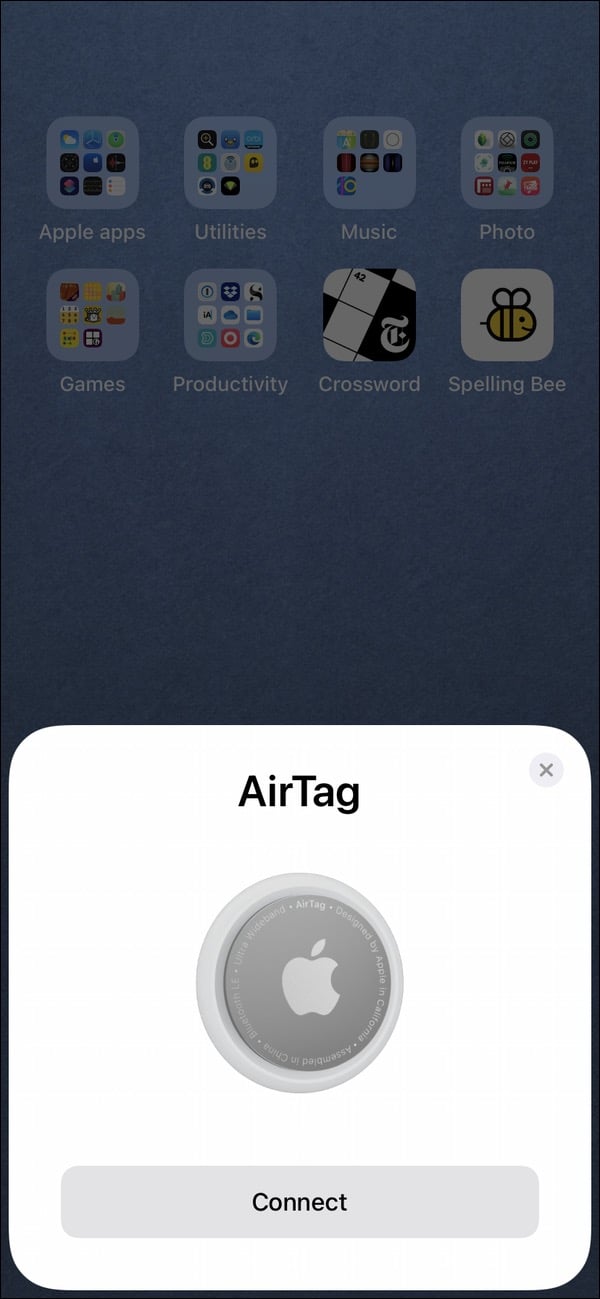 You'll then see a screen asking you to choose what the AirTag is tracking: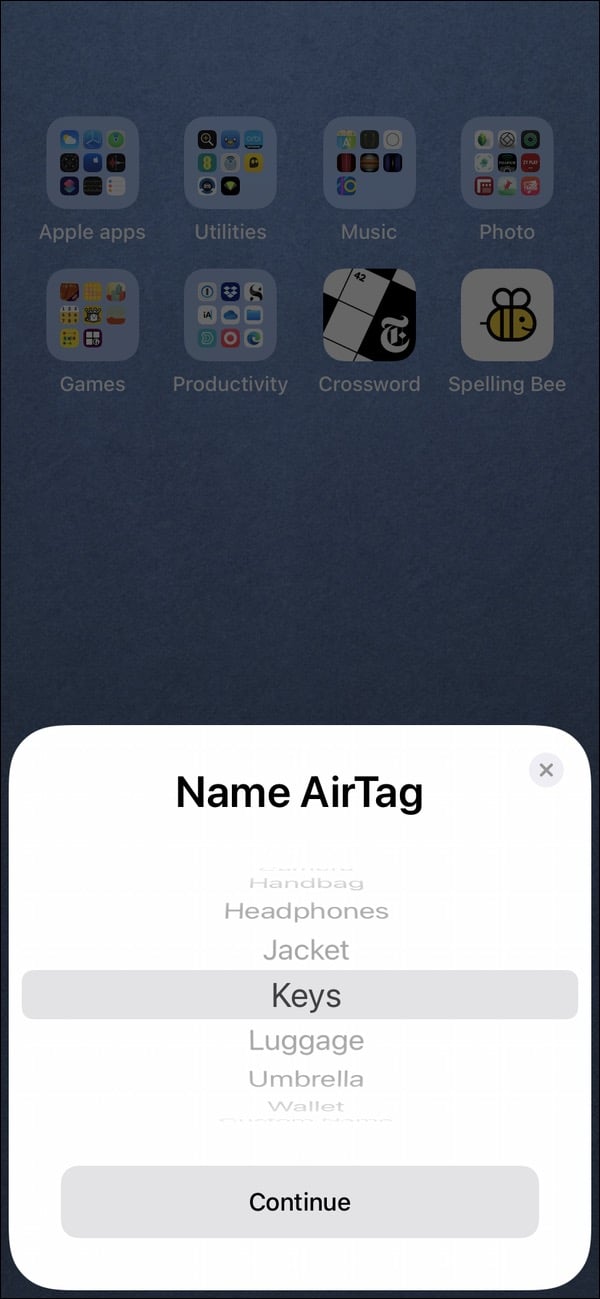 If the choices in the menu don't match the item you're using the AirTag with, scroll down and choose Custom, then enter a name. In a few seconds, the AirTag will be set up, and you'll see its current location on a map, with some information about how you can find the AirTag.
You can view the AirTag in the Find My app, or tap Done to exit the setup.
Finding an AirTag
In the Find My app, tap Items on the bottom, then tap the AirTag you're looking for. If Find My can find the AirTag, you'll see its location on a map. (You can use the Find My app on any Apple device, or on iCloud.com, to find the approximate location of an AirTag.)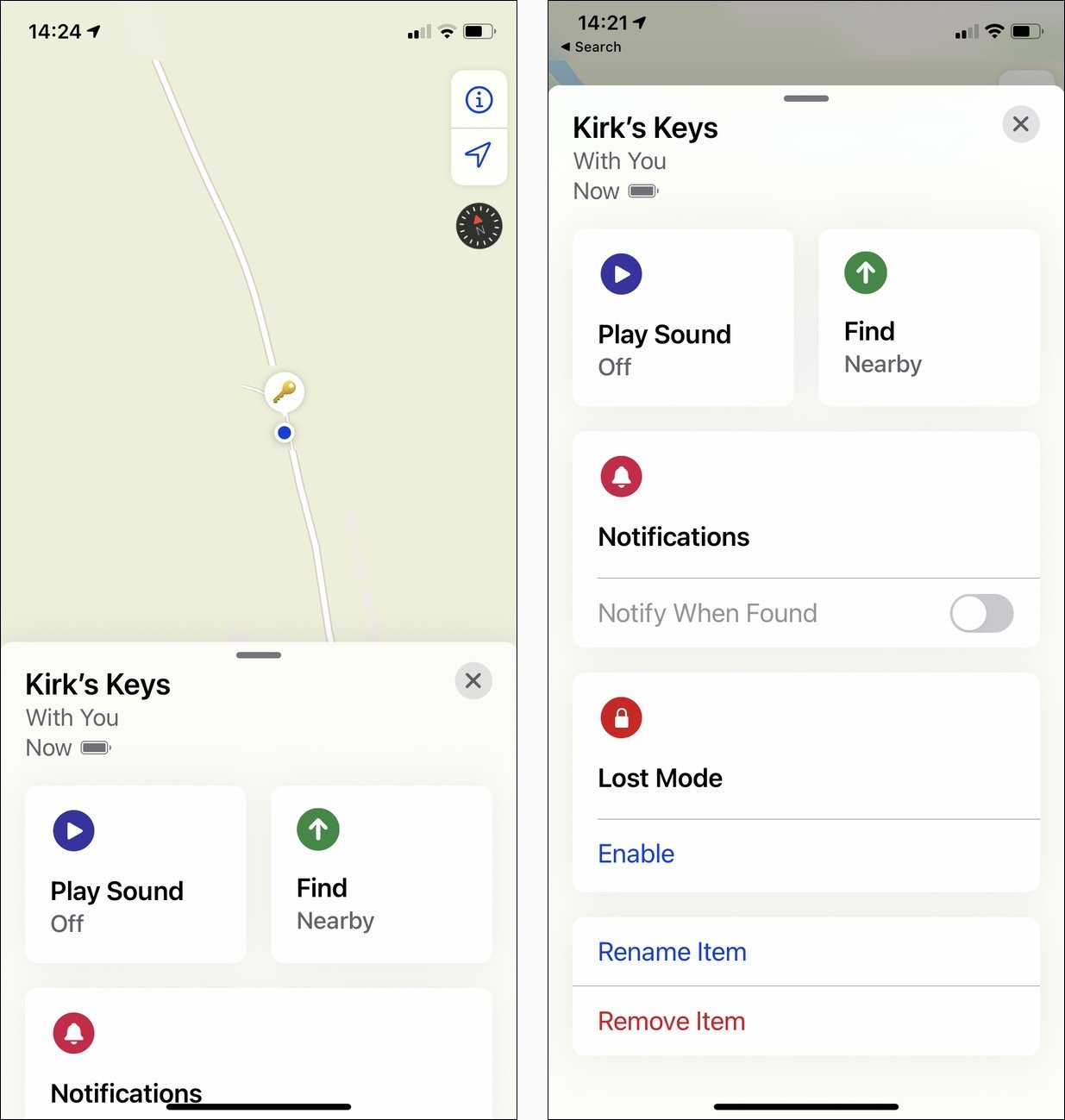 You can have the AirTag play a sound, which is practical if it's nearby, but the sound isn't that loud; if you're on a different floor, or if the AirTag is inside a bag, you might not hear it. Tap Find and your device will start looking for the AirTag.
If it's not nearby, the Find My app will query the network of nearly one billion Apple devices to try to find your AirTag. This is totally secure; as Apple says:
No location data or location history is physically stored inside AirTag. Communication with the Find My network is end-to-end encrypted so that only the owner of a device has access to its location data, and no one, including Apple, knows the identity or location of any device that helped find it.
Use the map to locate your AirTag. If you are already at that location, and if you have an iPhone 11 or 12 (iPhone, iPhone Pro, iPhone Pro Max, or iPhone mini), you can use precision finding. This leverages the ultra-wideband chip in these devices to precisely locate your AirTag, and give you detailed directions. Here's what you see if you're looking for an AirTag. If it's in your home or office, you may need to move around until your iPhone picks up the AirTag.




If you've lost an item with an AirTag, then mark it lost in the Find My app. As you can see in the screenshot above, there is a Lost Mode that you can enable.
What to do if you get an alert that an AirTag is nearby
If you find an AirTag, or an item with an AirTag, tap and hold the top of your iPhone or other smartphone with NFC to the white side of the AirTag. A notification will display; tap it. This opens a page in Safari that gives information about the AirTag. If the owner of the AirTag has marked it as lost, you might see a message about how to contact the owner of the item.
If you get an alert on your iPhone saying AirTag Found Moving With You, then someone may have planted an AirTag on you, or you may just have your spouses keys in your bag. Tap the message, tap Continue, then tap Play Sound to find the AirTag. If you've simply borrowed your spouse's keys, tap Pause Safety Alerts to turn off these AirTag Detected notifications for one day. If not, tap the instructions to disable the AirTag.
There are legitimate worries that AirTags could enable domestic abuse, because of their ability to track people. If you're worried that someone is stalking you or tracking you, you should contact your local law enforcement officials.
Replacing AirTag batteries
Apple says that AirTag batteries should last about one year. To open an AirTag, press down on the stainless steel side of the AirTag and turn it counterclockwise. AirTags use the common, and inexpensive, CR2032 batteries.
How can I learn more?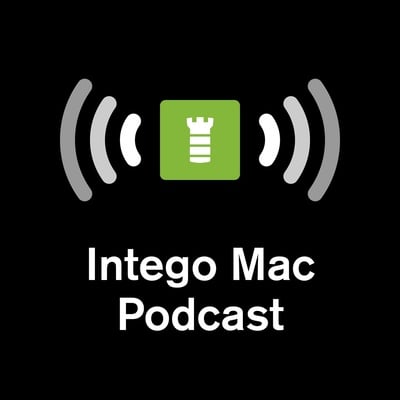 Each week on the Intego Mac Podcast, Intego's Mac security experts discuss the latest Apple news, security and privacy stories, and offer practical advice on getting the most out of your Apple devices. Be sure to follow the podcast to make sure you don't miss any episodes.
We discussed AirTags and more in episode 185 of the Intego Mac Podcast.
You can also subscribe to our e-mail newsletter and keep an eye here on Mac Security Blog for the latest Apple security and privacy news. And don't forget to follow Intego on your favorite social media channels: Facebook, Instagram, Twitter, and YouTube.
About Kirk McElhearn
Kirk McElhearn writes about Apple products and more on his blog Kirkville. He is co-host of the Intego Mac Podcast, as well as several other podcasts, and is a regular contributor to The Mac Security Blog, TidBITS, and several other websites and publications. Kirk has written more than two dozen books, including Take Control books about Apple's media apps, Scrivener, and LaunchBar. Follow him on Twitter at @mcelhearn. View all posts by Kirk McElhearn →