Enjoy Device-Free Dinnertime with Family Protector's Meal Time Action
Posted on by Derek Erwin

Have you ever wondered if mobile devices cause temporary deafness in children?
You spend the day cooking a fancy dinner while your kids are off in their own worlds, staring into the depths of a high-resolution Retina display on their iPhones or iPads. "Come to dinner!" you holler, and your voice trails off, falling on deaf ears. And in that moment, in a flash, dinnertime becomes scream time. Well, those days are gone.
If you've installed Family Protector and completed the steps to add your children and their devices to your account, you may have noticed a feature called Meal Time.
With Family Protector, you can let your whole family know it's time to put down the iPhone or iPad and head to the dinner table by restricting their devices with the Meal Time action. Meal Time turns off web browsers, all App Store installed apps, and the camera; however, calling and texting will still be available.
Here's how to use the Meal Time feature:
In the Family Protector Web Admin, go to Actions and tap the Meal Time icon.
Tap the button next to the children you want to be included in this action.
The Start Time indicates when you want the action to begin. Tap the time displayed on the screen to schedule your Meal Time.
The Send Warning option lets you send a 5-minute warning to your children before the Meal Time action begins, letting them know it's time to finish up what they are doing and come to dinner; after time expires, their devices will be restricted. You can disable the Warning Message and begin Meal Time right away by sliding the switch from "On" to Off."
When you are ready to initiate Meal Time, tap Send (upper right corner of your screen).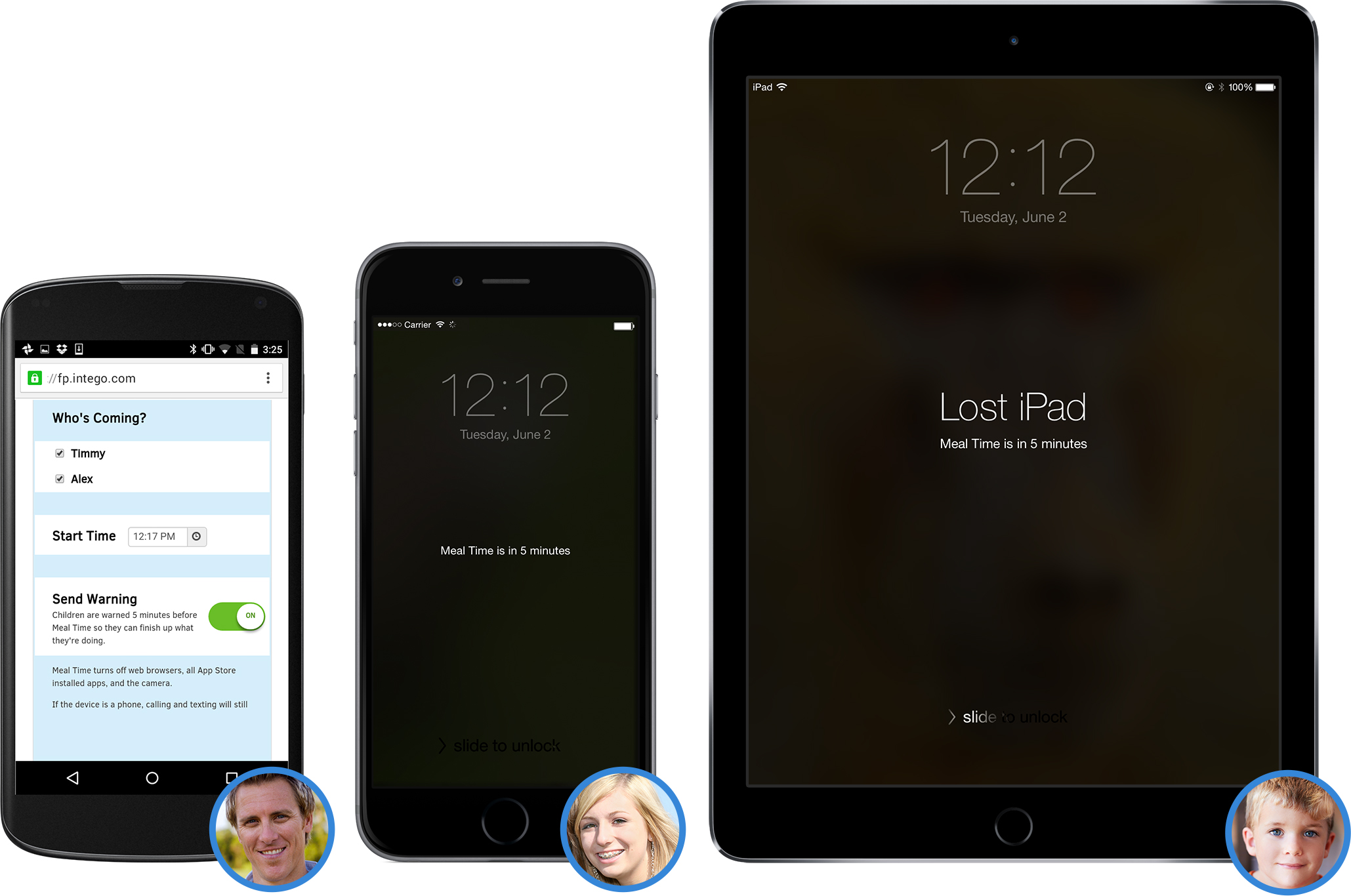 Note: If you see a "Lost iPad" message, please disregard. Apple's iOS does not allow us to change that message at this time. 

You will see a confirmation in the Actions section when the message has been delivered to your family's devices.

If you struggle to get your kids to put their devices down when it's dinnertime, take action with Family Protector's Meal Time feature and enjoy a nice family dinner – device free.
---
Get your kids to put down their iPhones and pick up their forks with Family Protector today, and enjoy a 14-day free trial while you get started!
Read more about how to use Family Protector to its fullest in our Family Protector Tips.