Finding the Right Words: iOS Dictionaries and Thesauruses
Posted on July 30th, 2015 by Kirk McElhearn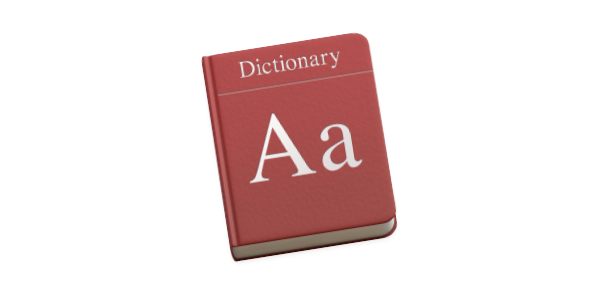 This story comes to you as part of our Top 10 List Bonanza series helping students prepare for back to school. Everybody loves a top 10 list; some of our lists might not be exactly 10, some might be 5 or 15, but these are the top lists for you as a student or parent to get revved up for back to school — on the right foot. And we'll give you some discounts along with way!
It's getting to be that time again. Your summer vacation is ending, and you'll be heading back to school. Either back for another year at the same high school or college, or starting out a new stage of your life in a new school.
One thing you'll be doing a lot of is writing. You'll have all sorts of assignments, from simple papers for homework to a Master's thesis or PhD dissertations. To get good grades, you'll need to show that you can use words: that you have a good vocabulary, and that you understand the words you use.
There are lots of iOS apps you can get for your iPhone or iPad that can help you: English dictionaries, bilingual dictionaries — if you're studying a foreign language — and thesauruses, to help extend your vocabulary. Here are 10 of the best free and for pay dictionary apps and thesauruses.
Dictionary apps
One of the most important tools for learning is a dictionary. Gone are the days of needing to carry around a pocket-sized dictionary, which is too slim to contain enough words, or having to keep a huge unabridged dictionary at home. You can search the web, of course, but there are some good dictionary apps that can help you.
Dictionary.com has a free app (and a $2.99 iOS version) and is one of the best dictionary apps you can get. You can use their website, of course, but the app makes it a lot easier to search for words and save the ones you've looked up. It claims to have more than 2 million definitions, and has pronunciation, quizzes, a search history, and much more. It can translate words in thirty languages, and you can even use it on your Apple Watch. (I wonder if you'll get dinged for cheating if you use it to look up a word during a test…) The free version has ads, and the $2.99 version includes an encyclopedia, a slang dictionary, a rhyming dictionary, and more.
Merriam-Webster's dictionaries are a staple in classrooms and homes across the United States, and with good reason. They're some of the most authoritative dictionaries you can get. On the app front, Merriam-Webster has two versions of its dictionary, and separate apps for the iPhone and iPad. The free app is just a dictionary, and displays ads, while the $3.99 version is a dictionary and thesaurus. Both iPhone apps offer voice search, powered by Nuance, the maker of Dragon Dictate and Dragon Naturally Speaking (and the technology behind Siri). The iPhone app also supports the Apple Watch. There are separate HD versions, which is a bit annoying if you use both an iPhone and iPad; you need to buy both, but these are excellent dictionaries that lean on the long history of Merriam-Webster's lexicographical team.
Thesaurus apps
While dictionaries tell you the meanings of words, thesauruses (or should it be thesauri? Check your dictionary…) help you extend your vocabulary. It's not that you should always use what may be more complicated words, but the broader your vocabulary, the better you can express subtle differences in meaning.
The two dictionaries I discussed above both have thesaurus modules (though in the Merriam-Webster, that feature is only available in the premium version). But there are other apps you might want to use to expand your store of words.
The $2.99 Terminology is a different kind of app. While it also contains a dictionary, its power comes from its ability to show you word relations. One of its best features is the way it shows you related words, some that are "more specific," and others that are "less specific." Terminology helps you not only find more words, but also helps you understand their nuances.
And it does so much more. It's a dictionary, it syncs your searches via iCloud, you can use wildcards to search (such as for a word root, like "extra*"), and you can integrate it with other apps, including the same developer's Drafts. It's a dictionary for geeky users who want their word reference tool to be extensible. Even if you don't use those features, Terminology is a great dictionary and an excellent thesaurus.
The $4.99 Chambers Thesaurus is a bare-bones thesaurus, that just gives you lists of words. It helps you understand which words are, for example, formal or colloquial, but you'll need to find the meanings yourself.
Bilingual dictionary apps
If you're studying a foreign language, you'll need a bilingual dictionary. There are lots out there, but I've found, over the years, that you get what you pay for with this kind of dictionary. (I'm bilingual English-French, and worked as a translator for many years.) So take it from me: Don't go for the free ones.
The best French-English dictionary is the $15.99 Collins-Robert Concise French Dictionary. This is still my go-to paper dictionary, and, while the iOS app is limited in the number of words it contains, it's about as good as you can get. The company that makes the app, Ultralingua, also sells their own $19.99 French-English Translation Dictionary and Verbs, which looks pretty similar. The other Collins dictionaries — the $24.99 Spanish-English Dictionary, and German-English Dictionary — are also excellent.
Oxford also has a great collection of dictionaries, from standard English dictionaries, to bilinguals, such as the $21.99 Oxford French Dictionary, an app version of their Oxford-Hachette paper dictionary. And Oxford has a full series of bilingual dictionaries, covering languages such as Spanish, German, Italian, Chinese, Greek, and Japanese.
And how about a bit of fun…?
Learning words shouldn't be drudgery. The $2.99 Vocabulary.com app lets you learn words while having fun, accessing this website's many games and quizzes. What makes it useful for students is the ability to choose lists of specific types of words to learn. For example, you can use its quizzes to learn words from Shakespeare, specific SAT words, vocabulary from certain novels or writers, words in the news, and much more. Vocabulary.com is the best way to expand your vocabulary, and have fun doing it.
We all need to know and learn more words. With these iOS apps, you can do so without breaking your back, having to carry heavy books. They're easy to use, and they can help you in school, or in work.
What app do you use for a dictionary or thesaurus? Have something else to say about this story? Share your comments below!  
---
Stay tuned for the next installment of our Top 10 List Bonanza series. Next week, we will offer some Mac-hardening tips to protect your privacy (especially helpful for students!).
About Kirk McElhearn
Kirk McElhearn writes about Apple products and more on his blog Kirkville. He is co-host of the Intego Mac Podcast, as well as several other podcasts, and is a regular contributor to The Mac Security Blog, TidBITS, and several other websites and publications. Kirk has written more than two dozen books, including Take Control books about Apple's media apps, Scrivener, and LaunchBar. Follow him on Twitter at @mcelhearn. View all posts by Kirk McElhearn →